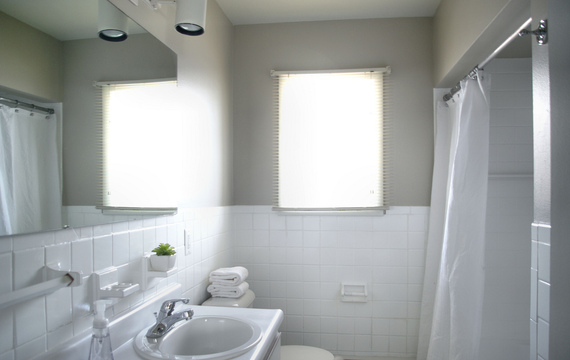 Credit: Flickr/Urbane Apartments
It's easy to be intimidated by the way IKEA stages their perfect showroom bathrooms, but it's a lot simpler than you'd believe to transform your dull washroom into a spa-caliber sanctuary using their furniture just a little differently than intended. To help get you there, we've rounded up 15 spectacularly (mostly) simple hacks to give your loo a fresh look.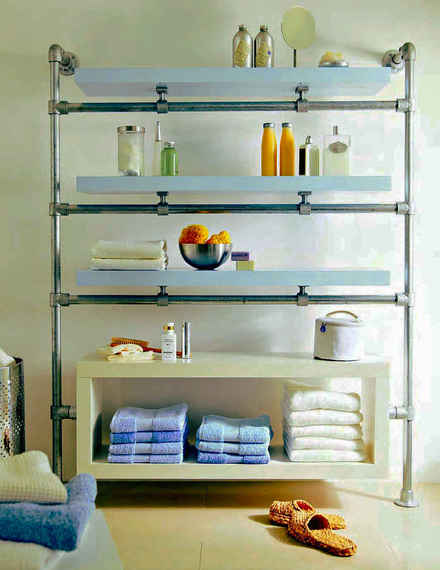 Credit: Simplified Building
1. Industrial floating storage
Price: $140
Materials needed: 5 43.25" LACK shelves, 2 11.75" LACK shelves, galvanized pipe and fittings
You'll need to whip out your tool belt to do some minor carpentry to construct the bottom shelf of this slightly more involved project and coordinate the whole pipe frame, but just keep reminding yourself it's worth it.
2. The butcher block vanity
Price: $160
Materials needed: BEKVAM kitchen cart, TÖRNVIKEN countertop sink
While the BEKVAM may have been developed with kitchens in mind, it makes for a simple and rustic vanity too. You'll need to cut a hole out of the top to fit the bottom of the sink basin, and perhaps test your carpentry skills on the shelving below, depending on how the plumbing from your wall is aligned.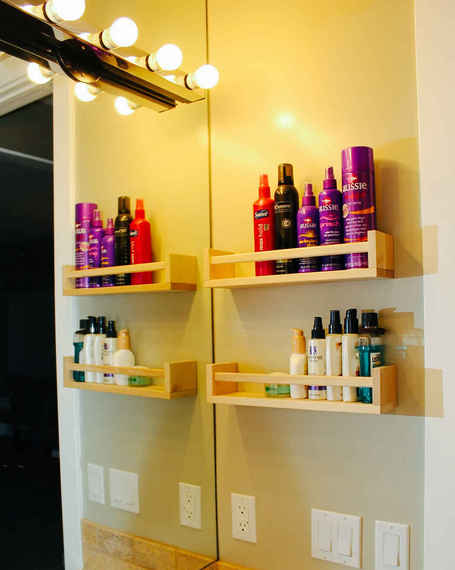 Credit: Suite Revival
3. Toiletry spice racks
Price: $8
Materials needed: BEKVAM spice racks
Turns out, IKEA's handy wall-mountable wooden spice racks are perfectly sized to stash all the random hygiene products you've got squirreled away in all the vulnerable nooks and crannies of your bathroom.
4. Sink-side shelving
Price: $130
Materials needed: 2 KALLAX shelving units, 1 1" x 3" board, paint
If you're lucky enough to have some extra room on either side of your sink, these tall KALLAXs can provide some much-needed storage space. To give them that expensive "built-in" look, simply cover the the top and bottom with the 1" x 3"s you've cut to lay flush against them.
5. Outdoor decking spa mat
Price: $35
Materials needed: 1 pack of RUNNEN floor decking
Ditch the dingy terry-cloth bath mat for something a little more sophisticated by creating a wood platform. Fasten six of IKEA's outdoor floor decking tiles together into a rectangle, shear off the nobs along the edges, and you've got yourself a nice new place to towel off when you step out of the shower.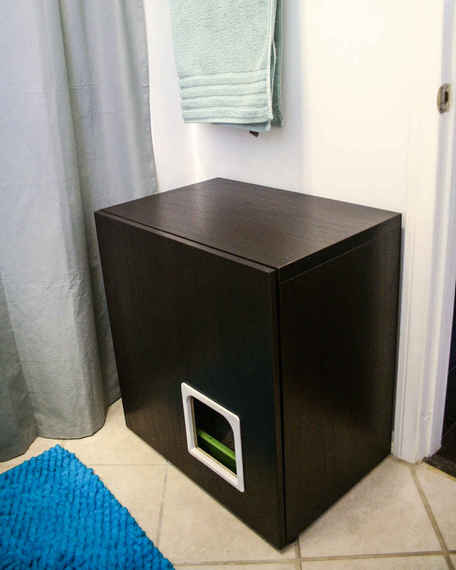 Credit: Flickr/Claire Armstrong
6. The grown-up's kitty litter box
Price: $65
Materials needed: BESTA shelf unit, cat flap
For those who'd rather not be subjected to the sights and smells of their feline friends' business, this tidy setup should serve you well. It's fairly simple, too, since all you need to do is add a hinge to the door, cut out a small section and install a cat flap.
7. Rustic tub front panel
Price: $70
Materials needed: 5 GORM shelves, metal brackets, anti-vibration rubber mounts, paint
Your inexpensive tub liner may work perfectly well, but it's nothing to look at. Give it an interesting rustic facelift by fastening a series of connected wooden shelves along the facade, painted whatever color best suits your existing decor.
More from Supercompressor: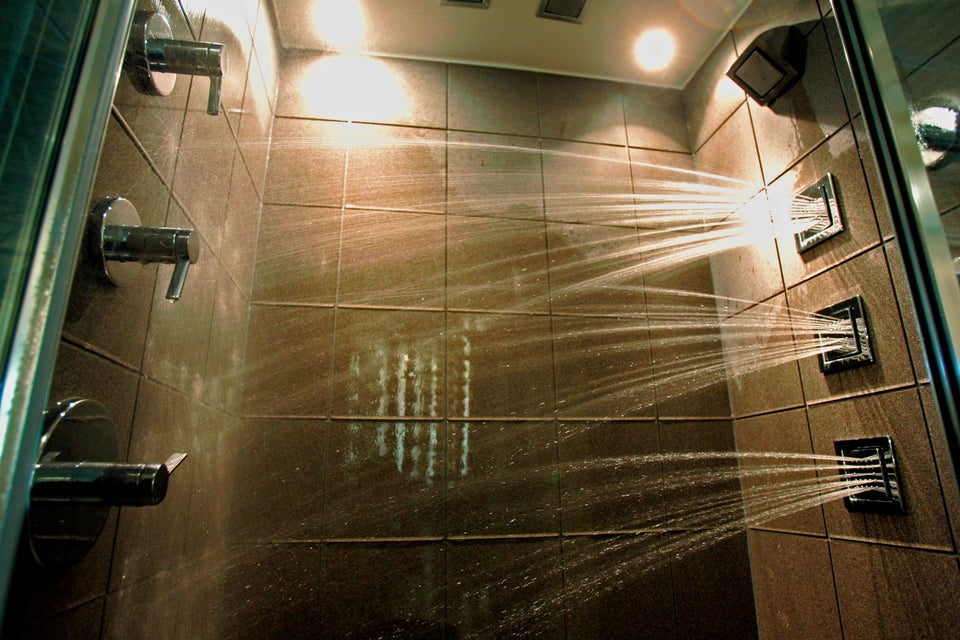 bad
Related