Moundsville, West Virginia
There are two types of Halloween mounds: One is the delicious coconut candy bar. The other is the tumulus or Hügelgräber, a.k.a. the burial mound. You'll find both in Moundsville, the spooky destination named after Grave Creek Mound, a 2200-year-old Native American tomb. 
And while the local history is a key attraction, the big kahuna is the epically unsettling, gothic-style West Virginia State Penitentiary. Reminiscent of Shutter Island's mental hospital, the stone leviathan has been host to riots, fires, escapes, and 36 murders since its 1866 construction. Today, visitors tour the hallways daily, and brave adventurers can even spend the night. Come Halloween, there's a haunted house and—whew—a less-intense kid's walk, too.
Get more information:
Moundsville, West Virginia
Deadwood, South Dakota
You probably know Deadwood from the colossally profane, rough-and-tumble HBO series, set in the Gold Rush city during the 1870s. These days, it's a popular tourist destination, thanks to its gambling scene, as well as its violent and fascinating history, riddled with murder (including the shooting death of Wild Bill Hickok), fire, drugs, and lots (and lots) of prostitution.  
All that great backstory makes the town an excellent setting for Deadweird, an annual Halloween festival featuring a Zombie Walk, Monster's Ball, Costume Contests, and creepy tales at the super-spooky Adams House Victorian Mansion. Visit … IF YOU DARE.
Get more information:
Deadwood, South Dakota
Bat Cave, North Carolina
Quick, readers! To Bat Cave! That's the tiny southern Appalachian town where you'll find "the largest known granite fissure in North America," according to the Nature Conservancy. And while the cave itself is closed to visitors (to protect the numerous species of bats from disease), the surrounding country, including gorgeous Hickory Nut Gorge and craggy Chimney Rock State Park, is eminently hike-able.
On your trip, don't forget to check out Old Cider Mill and its authentic apple press, located right on Rocky Broad River. The family-owned store is a good starting point for exploration, and a cute stop in itself.
Get more information:
Bat Cave, North Carolina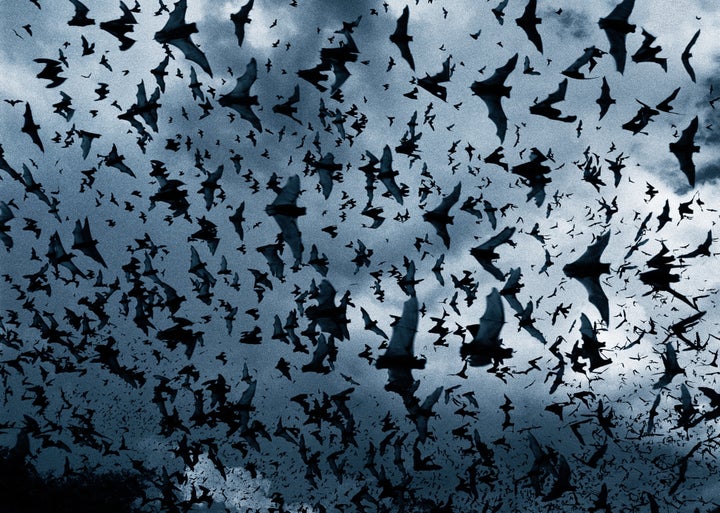 Casper, Wyoming
The second-largest city in the Cowboy State, historical Casper is home to countless ghosts, hauntings, and Dick Cheney. Rumor has it that apparitions stalk the hallways of Wonder Bar pub and restaurant, the Ivy House Inn B&B, Natrona County High School's auditorium, and most famously, the Townsend Hotel, where the scent of fresh-brewed coffee wafts through the air of upper floors, even though they're abandoned.
But those ooky phantasms aren't the only reasons to visit: Casper does it up for Halloween, too, with multiple haunted houses, races, and trick or treat trails. 
Get more information:
Casper, Wyoming
Satan's Kingdom, Connecticut
Abandon all hope, ye who enter here!
Just kidding. Today, Satan's Kingdom State Recreation Area is actually a pretty lovely New England park where you can spend a fun afternoon swimming and tubing with the kids. But back in the 1800s, the area was known for another reason entirely. Legend has it that criminals used the woods as a home base from which to terrorize the local population. 
Fun fact: Satan's Kingdom is one of many Lucifer-themed locales in Connecticut. On your next trip through the state, don't forget to check out Devil's Kitchen, Beelzebub Road, and many more.
Get more information:
Satan's Kingdom, Connecticut
Tombstone, Arizona
Need a dead rattlesnake for that potion you're brewing? Tombstone is the place to go! Rattlesnakes and other unusual items can be found in the shops that line the boardwalk on Allen Street, the main drag of "The Town Too Tough to Die." 
The best time to visit is the third weekend of October, when you can take part in Helldorado Days. A disgruntled miner is said to have coined the phrase to describe the life he found in Tombstone – shoveling manure and washing dishes, rather than striking gold as he had dreamed. We suspect even he would enjoy the Helldorado Days Festival, when natives and visitors recreate the grit and glamour of the city's glory days with Wild West costumes, a reenactment of the O.K. Corral gunfight, street entertainment, and a family-friendly carnival.
Get more information:
Tombstone, Arizona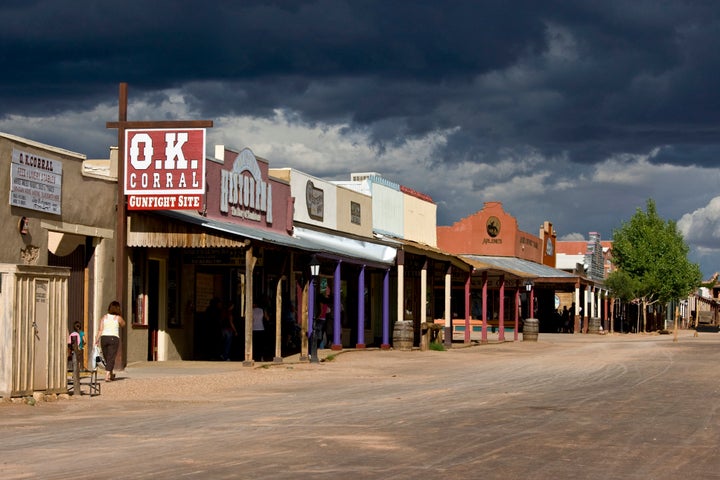 Wilder, Kentucky
Looking for a Halloween that's a little on the wild side? You just may want to head to Wilder, where almost nothing is wilder than Bobby Mackey's Music World. Locals say it was built on the site of what once was a slaughterhouse. Rumors of grisly murders and tragic suicide help fuel the club's reputation as the most haunted honky-tonk in America. 
The club and its ghosts have been the subject of at least two full-length books and numerous television shows. But even if you come away from Wilder without visiting the infamous Gate to Hell that is said to be in the basement of Bobby Mackey's club, you'll have enjoyed an evening of great country music and – dare we say? – "spirited" fun.
Get more information: 
Wilder, Kentucky
Mystic, Connecticut
If you're looking for Halloween fun that's suitable for young and old alike, there's more than the ghost of a chance you'll find just what you want in Mystic. The Seaport offers plenty of activities for little ones, like trick or treating, specially designed with small children in mind. 
Look for other "spook-tacular" area events, as well, like the Haunted Hayrides sponsored by the fire department, and the Haunted Corn Maze at the Nathan Hale House. 
Get more information:
Mystic, Connecticut
Killen, Alabama
Down south in the frightful-sounding town of Killen, there's a Halloween attraction designed to scare even the most stouthearted among us. Arx Mortis is a haunted house that earns rave reviews from visitors, many of whom return year after year. Don't go with young children – the movie-quality special effects are rated by the owners as PG-13 – but teens who think grisly is good should have a ball. If you should get your fill of chills before the story ends, just take advantage of one of the 23 early-exit options provided.
Get more information:
Killen, Alabama
Transylvania, Louisiana
It's a bloody shame Dracula never made it to this little town, because we bet he would have loved Transylvania the Louisiana way! Though it wasn't originally named with anything vampire in mind, the town has embraced its moniker, and you'll find lots of "fangtastic" souvenirs at the General Store. 
But what really makes this a town worth sinking your teeth into is the fact that it's built on ancient Indian burial grounds that date back to 1400 A.D. There are local legends of a guardian ghost that's half dog, half gargoyle who wanders the burial grounds and some swear that once, an entire house near where the elementary school now stands disappeared in a supernatural storm. 
The burial mounds in Transylvania are marked, but rest on private property, so head to nearby Poverty Point to check out mounds that are open to the public.
Get more information:
Transylvania, Louisiana
Salem, Massachusetts
Maybe Salem wasn't always a scary word, but since 1692, it's been synonymous with witch trials that led to the deaths of 27 innocent men and women—19 were hanged, one was crushed to death with stones piled on his chest, and seven others died in prison. Small wonder that the town reports its share of ghosts and haunted tales.
At Halloween, Salem hosts "America's biggest Halloween party." The entire month of October features special events, many of which are suitable even for very young children. With costume balls, face painting and, of course, tours of historical sites, Salem lives up to its self-acclaimed title of Halloween City.
Get more information: 
Salem, Massachusetts
Kill Devil Hills, North Carolina
Kill Devil Hills is located on the Outer Banks in North Carolina, part of the shoreline that borders what's known as The Graveyard of the Atlantic. The sunken hulls of pirate ships and German U-boats alike can be found in these waters, and you can walk where Blackbeard and Captain Kidd themselves walked. In fact, Kill Devil Hills takes its name from its history with pirates: They used to hide barrels of a potent rum in the nearby dunes – rum so strong it was rumored it could kill the devil himself. 
When you've exhausted the area's pirate lore, be sure to visit Kitty Hawk next door, along with the site of Orville and Wilbur Wright's first flight.
Get more information:
Kill Devil Hills, North Carolina
Death Valley Junction, California
Sci-fi master Ray Bradbury and magician Criss Angel are among the celebrities who have stayed at the Amargosa Opera House and Hotel in tiny Death Valley Junction, CA. The site is considered by many to be one of the most haunted hotels in the country, and has been featured on the Travel Channels' Ghost Adventures and The Dead Files. Filmmaker David Lynch even used it as The Lost Highway Hotel in 1997's Lost Highway.
If you're daring, book one of the hotel's haunted rooms and spend the night. But even if you just pop by to look around, plan to stay for dinner. The dining room is said to serve especially tasty cheeseburgers.
Get more information: 
Death Valley Junction, California 
Hell, Michigan
Are you game to spend Halloween with the self-named Hellions of Hell, Michigan? The residents of this small town definitely have a devilishly good sense of humor. The local ice cream parlor is called Screams and is a favorite haunt of locals and visitors alike. You walk through painted flames to enter Hell's General Store, where you'll find souvenirs to prove you've been to Hell and back. You can even get a diploma from Damnation University – Dam U for short. 
If you're up for a challenge, sign up for the Run Thru Hell, held right before Halloween at nearby Hell Creek Ranch. Proceeds from the race are donated to charity. For something less intense, rent a canoe or kayak and explore Hell's water trail. Just make sure they give you a paddle.
Get more information: 
Hell, Michigan
Sleepy Hollow, New York
Don't count on sweet dreams if you visit Sleepy Hollow in October. The home of Washington Irving's infamous Headless Horseman goes all out to offer visitors hair-raising adventure (if that's what they seek). Horseman Hollow, which is held in the historic Philipsburg Manor, may thrill older visitors, but is likely too intense for young children. The Haunted Hayride wending its way through the hollow is more appropriate family fare, and may still provide a glimpse of the legendary Horseman. 
Calling all HuffPost superfans!
Sign up for membership to become a founding member and help shape HuffPost's next chapter
BEFORE YOU GO
PHOTO GALLERY
Most Haunted Places In America