Ray Wang, bestselling author of Disrupting Digital Business, and I invited three of the most social CIOs in higher education to join us on our weekly show DisrupTV, where we cover the latest and most important leadership, business and innovation industry trends by engaging with true trailblazers and transformational change agents.
Here is a summary of the 15 lessons learned from these three extraordinary higher-education CIOs: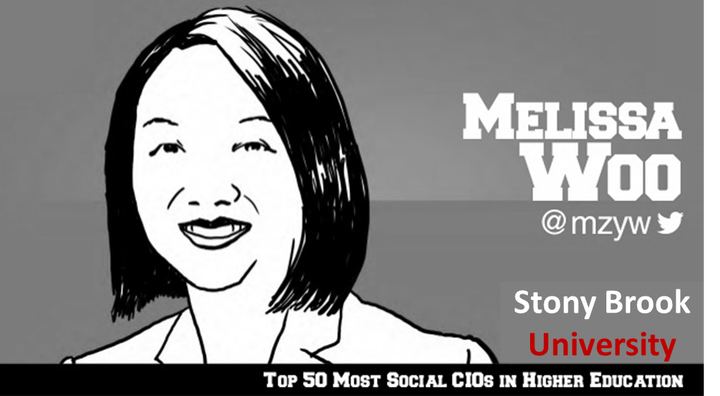 Melissa Woo is the Senior Vice President of Information Technology and Chief Information Officer for Stony Brook University. She previously worked at the central IT organizations at the University of Oregon, University of Wisconsin-Milwaukee, and the University of Illinois at Urbana-Champaign. Woo is very active in higher education professional organizations such as EDUCAUSE and Internet2. Woo was the recipient of the EDUCAUSE Rising Star Award, which recognizes an emerging leader in higher education IT whose record reflects ongoing and exceptional growth in contribution to the profession and increased levels of leadership and responsibility. You can follow Woo on Twitter at @mzyw.
1. Successful people work outside of their job descriptions - Woo's career path to becoming an extraordinary CIO started when she began to improve communication barriers in business, and getting people to communicate with each other, taking on assignments in IT that was outside her official job description. By leaning into technology to further improve collaboration and communication within her organization and company, Woo was able to bolster her technical and leadership skills.
2. Organizations will use analytics to deliver personalized services - Woo and her team are developing personalized services and consultancy capabilities by using big data and advanced analytics to support adaptive learning models - varying the pace of learning that is unique to a student's competency and capabilities. CIOs must enable organizations to improve mass personalization of services at scale. Another element of success is flexibility and mobility, meaning the services must ultimately be delivered on mobile smart devices.
3. In a digital world, analog skills matter most - Women in general are great communicators. IT and the technology industry needs strong leaders who are collaborative and able to effectively communicate, connect and inspire communities to leverage technology to improve business and professional outcomes. A learning, graceful, tactful and growing culture in technology is perfectly suited for women managers and business leaders.
4. Chasing a technology fad is not necessarily a strong career move - The ability to analyze, organize and communicate is key to future of work and a better career. The ability to code, learning about Internet of Things, Artificial intelligence, and other emerging technologies is important but abilities like critical thinking, collaboration, creativity, teamwork and communication skills are most important in the digital economy.
5. CIOs must become more agile and be comfortable with experimenting - Woo reminds us that 18 month projects are no longer an option. To better serve the customer, we have to better understand the business and stakeholder needs, and then to execute with urgency and faster pace of innovation. CIOs must listen more, be empathetic, and educate and inspire the community to be more comfortable with use of technology to deliver better experiences and business outcomes.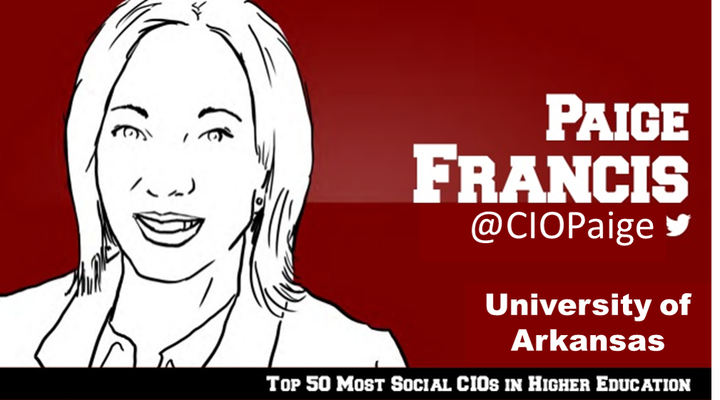 Paige Francis, is the Associate CIO at the University of Arkansas. Francis is a successful executive I.T. leader with wide range of experience. Paige has developed a reputation for being a strategic leader, a collaborator and a technologist that can effectively implement new technologies to create a constant learning and growth environment. Francis is a national visionary speaker for technology and mobility, award-winning 'Education Innovator' and consistently ranks among the top Social CIO's in higher education. You can follow Francis on Twitter at @CIOPaige.
6. CIOs must continually be asking, 'is there an app for that?' An example is automatic student attendance tracking using beacons in the classroom. Digital textbooks is another example of deliver mobile learning via streaming audio/video content on smart mobile devices.
7. The I in CIO cannot be Chief Impediment Officer - The I in CIO is information and integration, infrastructure, intelligence (business), imagination, insights and more. You cannot be the person that walks in the room, throwing technology acronyms around and making the tech feel scary. Successful CIOs are collaborators and connectors. CIOs must invest time in articulating why the technology matters and how it can deliver businesses outcomes. CIOs need to academic and business partners. CIOs must understand who they are serving (student, faculty and administration stakeholders) and define IT's success based on their success.
8. Demonstrate how technology can improve business outcomes - CIOs must co-create value using a continuous improvement mindset and strategic framework. Your vision is forward looking but avoid trying to paint a picture that is 5 years or more. The pace of innovation is unprecedented and therefore IT organizations must be agile, adaptable and collaborative.
9. The focus of technology has shifted from infrastructure to customer oriented services - Stakeholders view high-speed access, security and privacy and scale as table-stakes. CIOs must keep the conversation going to services that can accelerate innovation velocity, improve efficiency and increase conveniences. There are no IT projects, there are only business projects - advice from former Intel CIO Kim Stevenson.
10. Women leaders in technology can standout and have an amazing career - Francis wanted to be the best and most qualified leader in technology. Today's IT is not your grandfather's or father's IT. There is space for everyone in IT. The starting salaries within IT versus outside of IT alone should be motivator. Today's IT includes both technical and creative skills - marketing, graphics, web design, mobile app development, and more.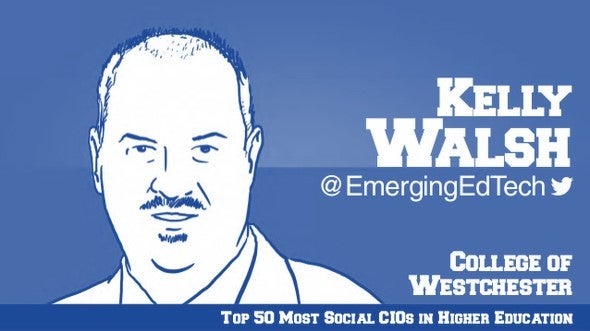 Kelly Walsh is the Chief Information Officer at The College of Westchester in White Plains, NY, where he also teaches as a member of Faculty of Administration. In 2009, Walsh founded the popular website EmergingEdTech.com, where he writes regularly about engaging students and enhancing learning outcomes across all grade levels with the help of evolving digital technologies. Walsh frequently speaks and conducts workshops about a variety of education technology topics at schools and conferences across the U.S.. Walsh was ranked by the Huffington Post at #3 in a listing of the "Top 100 Social CIOs in Higher Education". In 2013, Walsh published the Flipped Classroom Workshop-in-a-Book, which guides teachers through the development of their own flipped instruction implementation plan. In June of 2016, he became Community Administrator for the Flipped Learning Network, a non-profit organization that provides resources and research about flipped learning. you can follow Walsh on Twitter at @EmergingEdTech.
11. The flipped classroom is the future of classroom learning - 90% of K12, colleges and universities are using or experimenting with the flipped classroom. Today, delivering education is no longer about one-way lectures. The new learning model is about collaboration and student engagement in the classroom.
12. CIOs must start to think about mobile first to mobile only - Video is the future of learning and CIOs must enable a learning environment where students can conveniently learn using their smart devices - engage in learning, communicate with all stakeholders, pay bills, and access/transfer content. We must deliver a synchronous online models and be able to deliver educational content while taking advantage of the social element of learning.
13. The micro-credentials movement is growing, requiring technology investments - MOOCs are still active and growing and certificates and digital badges will disrupt the legacy accreditation models. In 10 years, students can potentially assemble their own degrees from multiple institutions. There are universities today that are in the process of delivering a persistent and progressive student profile, enabling students to be connected with multiple institutions and potential future employers. Enabling the micro-credentials movement will require investments in CRM platforms, mobile, social, big data, AI and community technologies.
14. Invest in creating your digital profile and footprint - Walsh reminds students to apply their learning by creating digital content that educates, inspires and ignites positive action. Kelly is a social CIO and he passionately feeds his community with content. In a digital economy, your personal brand is your digital footprint plus your digital exhaust. If you can create digital content - social sharing, blogs, video presentations, podcasts, info-graphics, etc. - you are well-poised to be more employable and relevant. I believe the traditional resume or CV is dying and I strongly agree with Walsh's advice regarding the importance of developing and sustaining a strong digital profile. This is wonderful advice for CIOs as well.
15. Cybersecurity is an important and ever evolving and complex focus area - CIOs must proactively create a cybersecurity strategy with the very best talent, process and tools. From email encryption to data privacy and protection processes and procedures, CIOs must continue to actively engage technology partners and stakeholders in order regularly educate their staff, students, faculty and administration. The best defense will always be proactive communication and education to improve security postures. Colleges and universities are prime targets for cybersecurity threats and CIOs must continue to champion efforts to develop the best possible threat mitigation strategies and capabilities.
I highly recommend that you spend time watching our video conversations with these three extraordinary CIOs. Woo, Francis and Walsh are three of the brightest and most social CIOs in higher education. They are true trailblazers and digital business transformation change agents with role models.
Related
Popular in the Community