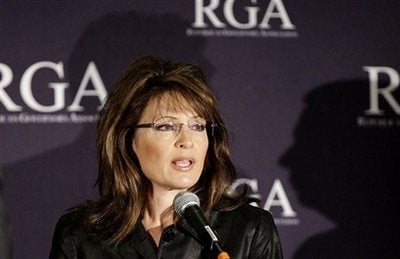 When she ran for Governor of Alaska, Sarah Palin campaigned on a promise of "open and transparent government."
What she didn't say was that such political transparency came with a hefty price tag--in some cases, more than $15 million.
That's more than twice what a book by Palin would reputedly fetch on the international literary market and considerably more than the GOP spent on her controversial wardrobe during her two-month stint as John McCain's roving pit bull on the campaign trail. It even makes the $68,400 for her traveling makeup artist and $42,225 paid to her hairstylist for two months of work pale by comparison.
Ever since she became governor two years ago, Palin's activities have generated concern and suspicion among longtime political watchdogs in Alaska, from all ends of the political spectrum. Zane Henning, a self-defined "fiscal conservative and social moderate" who has kept an eye on Palin since her early days on the Wasilla City Council, suspected foul play in Palin's efforts to oust Randy Ruedrich as chairman of the state Republican Party.
Henning requested email records for Palin aides Ivy Frye and Frank Bailey to see if they were conducting partisan politics on state time. Much to his surprise, Henning discovered that a good deal of Palin's state business was being conducted on private email accounts, and that Palin's husband, Todd, had been copied on much of her state business.
Henning doled out a hefty $1,091 for his discovery.
Once Palin was named John McCain's running mate on the Republican ticket in late August, the number of requests for Palin's email records skyrocketed and, so too, did the price tag. One request by the Associated Press--for "copies of all e-mails and attachments" from the "mccain08hq.com domain since Aug. 1, 2008"--was met with a prospective state fee totaling $15.4 million.
Alaska administrative director, Linda Perez, applied a flat rate of $960.31 per email account searched; given that there are approximately 16,000 full time employees in Alaska, the fee would have topped $15 million. Had Alaska's part-time employees been included in the search, the fee assessed would have been $27.8 million.
Several other requests by NBC and the AP--most notably NBC's request for all records of Todd Palin's email activities on his government issued BlackBerry--also soared above the $15 million mark. Had news agencies agreed to these exorbitant fees, Palin's emails would have topped Alaskan crude oil as the state's No. 1 export. In fact, most news agencies refined or rescinded their requests in response to the projected fees.
At the same time, the speed at which the requests were accommodated slowed down considerably. The Alaska Public Records Statute requires that the state make records available "as soon as practicable," but no longer than the "10th working day" after an agency receives such a query. But by early October, MSNBC investigative journalist Bill Dedman had been informed by Perez that the information he was requesting would not be available until after the November 4 election. She cited excessive workload and the necessity of legal review for the delays.
Some of the requests went nowhere; still others led to significant revelations. For instance, the recent news item that Palin failed to file proper financial disclosure forms for two free trips that she took nearly two years ago was discovered by the AP following a records request in October. (Palin has since amended her disclosure form.)
The one request that seemingly got lost in all the shuffle was made in June of 2008--more than two months prior to Palin being named to the national ticket--by Andree McLeod, a registered Republican, who, like Henning, suspected Palin and her staff of playing party politics on the state's nickel.
In response to McLeod's request, Palin's office withheld more than 1,000 emails on the grounds that they were confidential and contained "official policy deliberations" between Palin and her staff. Many of those emails, it turned out, had subject lines indicating they were not about policy matters (one from Frye was entitled "I may be in trouble here guys," while another was headed "from Sheila Toomey," in reference to an Alaska gossip columnist) and several were copied to Palin's husband, Todd, who holds no official position in his wife's administration.
"The people of Alaska have a right to know the inner workings of their government. They have a right to know how the individuals they elect to public office are discharging the public trust," McLeod said in a public statement at the time. She called Palin's position "bogus."
More importantly, McLeod's request, like Henning's earlier, revealed that Palin conducted even more state business on private email accounts, which meant that they could not be retrieved from the state's server.

That created a classic Catch-22 in the Alaska bureaucracy: The only way they could track down Palin's emails sent on her private accounts was to do a search of all of Alaska's employees to see if they had been the recipient of such communications, resulting in a price tag (you guessed it) of $15-plus million.
Last month, a state judge in Anchorage "ordered" Palin "to preserve all emails" she has sent from or received at her private accounts, until McLeod's lawsuit demanding that the emails be made public is resolved. That legal challenge still awaits Palin in the governor's office.
Meanwhile, MSNBC continues waiting for a response to its September request seeking email correspondence between a group of 13 state employees and 11 potential recipients.
The state is still citing workload and legal review as cause for the delays.
Watchdog Henning, who's currently working on the cold North Slope of Alaska's oil fields, is having none of the state's explanations. He's issued a letter to Alaska Attorney General Talis J. Colberg demanding that the state expedite the records request process. "With the technological knowledge of the computer age, I'm extremely disappointed in the length of time it has taken to receive records from the State of Alaska," he wrote. "Frankly it is unacceptable in my opinion. I would hope that the commitment of the Palin Administration to maintain 'clear and transparent government' would include providing requested information in a timely manner."
And, one would hope, without rock star price tags. Not even Palin herself can afford those.

REAL LIFE. REAL NEWS. REAL VOICES.
Help us tell more of the stories that matter from voices that too often remain unheard.