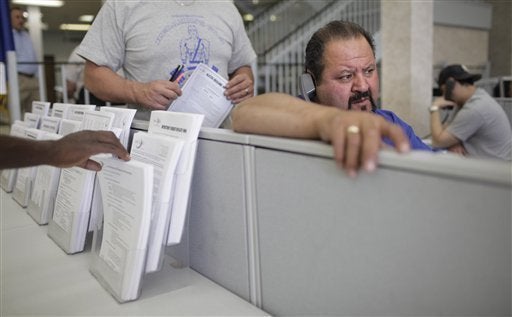 More than 500,000 Americans will exhaust their unemployment benefits by the end of September. And by the end of the year, the number will near 1.5 million, according to a report released Friday by the National Employment Law Project.
"It is clear we are coming up on a tidal wave of need for more extensions and help from the federal government," said Andrew Stettner, NELP deputy director, in a statement.
David Smith, spokesman for the Pennsylvania Department of Labor & Industry, told the Huffington Post that up to 25,000 people will exhaust their unemployment benefits this weekend alone.
"It's the first large wave," he said.
In California, 177,759 will lose their benefits come January; in New York, the total is 131,893. More than 72,000 people in Michigan, where the unemployment rate hit 15.2 percent in June, will stop getting checks at the beginning of the year.
The NELP praised the $787 billion stimulus package for covering the full cost of extended benefits for 2.8 million workers. But the report, noting the record number of long-term unemployed -- 4.4 million people have been out for 6 months or longer -- calls for an expansion of benefits for people who will run out in September.

"Never in the history of the unemployment insurance program have more workers been unemployed for such prolonged periods of time," Stettner said. "With an onslaught of exhaustions just around the corner, Americans still need robust benefits to keep their families and communities above water."
Federal Reserve leaders forecast on Wednesday that they don't expect the economy to get its act together for another five or six years. Many economists are calling for additional stimulus spending by the government.
Popular in the Community