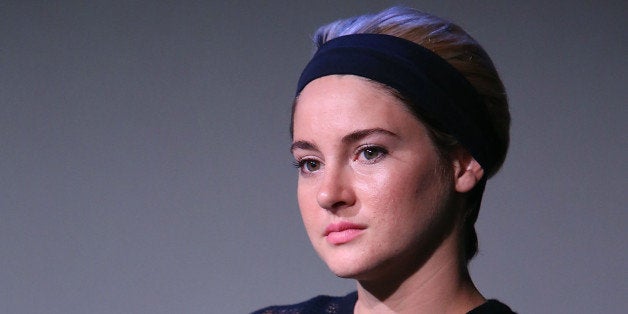 The first time I interviewed Shailene Woodley she was doing publicity for Alexander Payne's 2011 gem The Descendants. At the time, she was Hollywood's latest It Girl, with Oscar buzz surrounding her performance as George Clooney's on-screen, angst-ridden teenage daughter. In our conversation, Shailene shared something I found fascinating: During breaks from filming the ABC Family TV series The Secret Life of the American Teenager, she'd fly to New York City and work full-time at American Apparel. I'd never heard of a successful television star spending her down time working in retail, and asked her why she did it? She said she loved it.
I'm borderline obsessed with American Apparel, and am in favor of obsession in general. I feel I'm not living life to the fullest if I'm not obsessing over something. I frequent the American Apparel on Melrose Avenue in Hollywood. The employees seem happy, but I can't imagine them keeping their retail gig if they booked a lead role on a hit TV series. Shailene Woodley worked at American Apparel while starring on The Secret Life of the American Teenager. That happened. And now, having starred in The Spectacular Now, Divergent and The Fault in Our Stars, she's solidified herself as one of her generation's best film actors. With her latest film White Bird in a Blizzard, Shailene showcases her talents and range with a stellar portrayal of a young girl steeped in emotional turbulence following the mysterious disappearance of her loony mom.
I enjoyed White Bird in a Blizzard, and recommended it to friends.
Now I'm in the Beverly Hills Four Seasons, polishing off a complimentary plate of Turkish spiced seabass and chicken koobideh, and thinking about buying a new hoodie at American Apparel. I'm hurting for cash, and can probably get another year or two out of my current hoodie, but I'm impressed with American Apparel's current selection and badly want one of their tri-blend hoodies. The last time I was in the store, I tried one on as a beautiful salesgirl informed me its thin material made it appropriate for both warm and cold weather. Living in LA, this was music to my ears, but I held strong and left without buying it. Today, my will power is waning. The Melrose Avenue American Apparel store is a short drive from the Beverly Hills Four Seasons. Temptation has me by the throat. I'm strongly considering buying the hoodie -- obsessing over it -- when Shailene Woodley enters the room to discuss White Bird in a Blizzard.
"Even though she's an adolescent, she's extremely mature and strong and confident in a way you don't often see in coming-of-age films," Woodley says, when asked what got her interested in playing her troubled character. "I think part of that lends itself to the fact that her parents weren't emotionally available to her when she was a child and so she had to age herself quickly and realize that, for her own survival, she had to be her own parent. As we evolve and grow, the things you suppress always sneak up on you. I thought it was interesting, the juxtaposition of her as a teenager having so much anger and disrespect for her parents and trying to be somebody they weren't, and then you see her in university and realize that she's subconsciously becoming her mother and subconsciously has her father's traits. I think that's something that we often do. The things we try to run away from end up running towards us."
Could Shailene relate to her character?
"Oh, yeah," she says with a laugh. "I definitely went through my own version of teenage angst. We all do. Mine was a very angry year. It's just part of the growing process."
As an in-demand Hollywood actor, how does Shailene Woodley choose her films? What does she look for in a script?
"It's an instinctual decision," Woodley shares. "When I read a script, I either get butterflies or I don't. If the screenplay doesn't elicit a certain physical response or physical passion to do something, then I probably won't do the film. But never say never. You never know."
Shailene has a bold and daring sex scene in White Bird in a Blizzard. How did she feel about filming it?
"The thing about intimate scenes in movies is that it's not a sexy environment," Shailene explains. "You are not heated in the moment. It's a very clinical action. I really loved that scene. When I first read the script, that was one of the butterfly moments. To prepare for a scene like that, you just have to learn your lines and show up and see what happens. There's not a lot of preparation. I love that scene. I felt like it was very truthful and I felt like it lent itself to this movie. Intimacy is a natural part of being a human being. There's something that bothers me about seeing people have intimate scenes in films and the woman has clothes on and has full makeup and the man has boxers. That's just not how it works."
Shailene Woodley is very smart, articulate and poised. And now she's left the room.
I wait for my car at the Four Seasons valet, and wonder who I'll take to a swanky Halloween party at the Loews Santa Monica Beach Hotel. I've secured complimentary passes, but everyone I've invited already has Halloween plans. I experience their previous engagements as personal rejections, stirring up my crippling abandonment issues. My hurt feelings meet with temptation, and a powerful urge hits. I drive to American Apparel, where, despite my dwindling checking account, I purchase the hoodie, along with a new t-shirt and a super cool pair of shoes. I tell myself I'm entitled to new clothes as a treat to ease my abandonment-induced emotional suffering. I know I'm full of shit. I'm trying to justify spending money I don't really have on things I don't absolutely need.
I survey the American Apparel store, and understand what Shailene Woodley was thinking. The scene is sexy and trendy, brimming with attractive retail salespeople who vibe well and clearly enjoy their work. I wonder if they're hiring?
With graying hair and Joe Cocker songs in my head, I don't exactly fit the American Apparel employee profile. But I might get hired, and work long enough to pay off the clothes I bought before everyone decides it's best I move on.
White Bird in a Blizzard opens in theaters on October 24 and is now playing On Demand!
REAL LIFE. REAL NEWS. REAL VOICES.
Help us tell more of the stories that matter from voices that too often remain unheard.