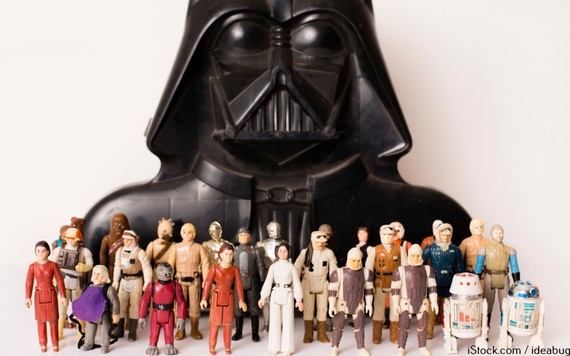 By Alaina Tweddale, Contributor
A long time ago, in a marketing department far, far away, vendors prepared for the arrival of the first film in the third Star Wars trilogy. "Star Wars VII: The Force Awakens" arrives in theaters on Dec. 18. With the movie's arrival comes some of the most outlandish Star Wars products that people could think up. If you're a fan of the franchise -- or even if you're not -- you won't want to miss these ingeniously ridiculous products.
1. Fallen AT-AT Lawn Ornament: $39.99
Relive the Battle of Hoth in your own front yard with this fallen All Terrain Armored Transport (AT-AT) walker lawn ornament. Rumor has it that AT-ATs will return in episode VII, and they're even stronger than you remember. Still, the version available on the ThinkGeek website is of the legendary imperial walker from "Star Wars Episode II: The Empire Strikes Back." The statue's snow-white backdrop will blend in perfectly with your Christmas decorations, and you might even be able to catch it on sale.
2. Star Wars Twin Bed from Pottery Barn: $3,999
For almost $4,000, your child can charter a flight to Alderaan -- from his own bed. This Pottery Barn twin bed features the iconic cockpit shape, knobs and gauges featured in the first Star Wars trilogy's famous Millennium Falcon. Let's just hope your child isn't captured by the Death Star -- this bed is way too expensive to replace.
3. Coffee-mate Limited Edition Star Wars Creamer: $3.19 and up
The rebel forces have aligned with the dark side to bring you the most epic cup of coffee in the galaxy. These limited edition Star Wars themed Coffee-mate bottles are available in Darth Vader Espresso Chocolate, Chewbacca Spiced Latte, Boba Fett Sweet Crème, R2-D2 French Vanilla and C-3PO Hazelnut. They're available at many grocery store chains for about $3.19, but they're going fast. Bottles are already available on Amazon for $14.99 and up. Your chances of finding a bottle might be 725 to one. That's what C-3PO said, anyway.
4. Star Wars AT-AT Walker Dog Costume: $29.99
Now your dog can get in on the action, too, by dressing up in this four-legged tank costume from ThinkGeek. There's a good chance this imperial walker costume won't last long, though -- and it won't take harpoons and tow cables to take him down. Some dogs would simply chew the hat and jumpsuit off, and the ensemble would last barely five minutes.
5. Star Wars X-Wing Knife Block: $99.99
Thanks to the creators of this ingenious knife block, you no longer have to be a kid to "play" with Star Wars toys -- and children probably shouldn't play with these. Now you can chop, carve and pare at the speed of light -- with a Rebel Alliance Starfighter-shaped knife block from ThinkGeek.
6. Star Wars Darth Vader Toaster: $49.99
Now you can give yourself to the Dark Side ... at breakfast every morning. This Darth Vader shaped toaster, available through the site Super Hero Stuff, burns the Star Wars logo into every piece of toast you make. Only now can breakfast be complete.
7. Star Wars: 'The Force Awakens' Limited Edition Watch by Devon: Estimated Value $28,500
This limited edition watch, modeled after the Galactic Republic's Tie Fighter wing, is being used as a force for good by Bloomingdale's Force 4 Fashion Auction. Bloomingdale's is publicly auctioning this watch, and several other Star Wars-themed items online, to raise funds for the Child Mind Institute. The power of the dark side is limitless when you use it to donate tens of thousands of dollars to do good.
8. Star Wars Cover Girl Make-Up: $5.49 to $6.99
Move over Ellen and Pink, Cover Girl is using a different kind of star to promote its newest beauty line. Limited edition Star Wars branded mascara, nail polish and lipstick is now available on the Cover Girl website or at your local pharmacy. These are the cosmetics you're looking for.
9. Men's Star Wars Darth Vader 'Holiday Sweater' Sweatshirt: $38
No ugly sweater holiday party would be complete without a Darth Vader-themed pullover. The delightful sweatshirt from Kohl's -- made to look like a Christmas sweater -- perfectly brings together the unexpected combination of the Dark Side and holiday joy.
10. Star Wars Princess Leia Pet Hood: $7.92
There's no need for your cat to be jealous of your dog's AT-AT walker costume. Kitty can join the Rebel Alliance with a cat-sized Princess Leia double bun hood, made available through Party Bell. You can pit dog and cat against each other in your own epic Dark Side battle.
11. R2-D2 Star Wars Costume: $99.99
Halloween might be over, but that doesn't mean inappropriately sexy costumes need to wait until next year. R2-D2 never looked as good as he does in this crisscross bikini with tutu costume. Available from crafter StaticThreads online at her Etsy store, this costume will be a big hit for your next cosplay.
12. Star Wars C-3PO Shoes: $159.50
Trust me, trust me -- these black faux suede C-3PO styled flats will make an excellent addition to the wardrobe of any fashionista. As if C-3PO's face on your toes isn't enough to make you happy all day, they also come with the Star Wars logo embroidered on the heel and pictures of the original Star Wars cast pasted to the sole. These shoes are available from Hot Topic.
13. Star Wars: Darth Vader Lightsaber Pizza Cutter: $19.99
Get ready for combat with the Jedi masters or just prepare to cut your pizza with the mighty power of this kitchen utensil. Available from Atomic Empire and billed as a "fun and functional kitchen utensil," this toy-shaped knife makes irresistible sound effects, making it unsuitable for family pizza night.
14. Star Wars R2-D2 Lighted Lawn Ornament: $89.99
While you're decking your halls with boughs of holly, throw up this holiday-themed, light-up ornament of everyone's favorite little droid available from ThinkGeek. Your neighbors will know he's just stationed out front in case a holiday starship lands and needs maintenance work on the hull. Because you can never be too safe -- and droids can never be too jolly -- around the holiday season.
15. Star Wars Luke Skywalker Helmet Cuff Links: $124.99
Don't wear your favorite formal French cuff button down with anything other than these silver-plated Luke Skywalker helmet cuff links, available from Bed Bath & Beyond. Bring the power of the Jedi masters with you as you confront the tyranny of your next executive board meeting or as you celebrate your daughter's wedding nuptials. Because science fantasy and formal events always go hand-in-hand.
More from GOBankingRates: