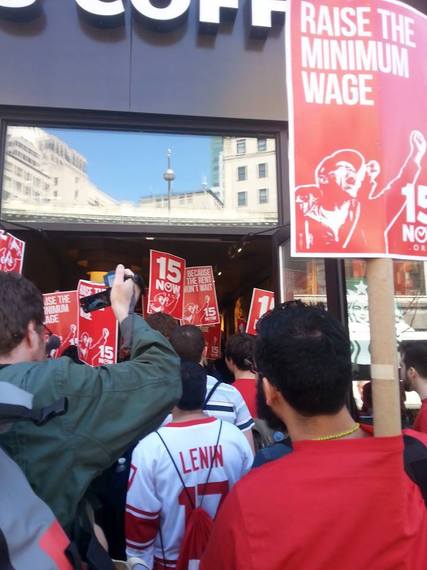 On Saturday, April 12, New York City workers and 15 Now (15now.org) activists gathered on the Fulton Mall in Brooklyn to participate in a national day of action against Starbucks Corporation. With more than 60 people present, including Green Party gubernatorial candidate Howie Hawkins, the protesters filled the sidewalk in front of the Fulton Street Starbucks to demand that CEO Howard Schultz put his money where his mouth is and pay his employees a minimum wage of $15 an hour.

Part of a national movement advocating a $15-an-hour minimum wage, the protests were called in response to recent statements by Schultz who openly opposes the $15-an-hour minimum wage currently being debated in Seattle. Though Schultz told NPR's KPLU that a minimum wage increase is a good idea, and that his company could indeed manage to pay its employees the proposed $15 an hour that the Seattle city council is considering, he argued that the bill could have unintended consequences and that "most companies, especially small- and mid-sized companies, would not be able to afford it."

Not surprisingly, Schultz offered no evidence for the claim that small businesses would be hurt by a $15-an-hour minimum wage. That's because almost all of the studies conducted have shown that there is, in fact, little correlation between higher minimum wages and employment. Economists at the University of California, Berkeley, for instance, recently analyzed the effects of minimum wage increases in San Francisco and eight other large cities and found that the impact on small businesses and employment was practically zero. They wrote of their findings, "Our studies show that the impact of these laws on workers' wages... is strong and positive and that none of the dire predictions of employment loss have come to pass."

Besides offering no evidence for why $15 an hour would be bad for small businesses, Schultz also argued that any minimum wage increase in Seattle should be calculated by the "total compensation" an employee receives (such as health care, meals, and bus passes) and not merely the hourly wage. This idea of "total compensation" has been a contentious issue in the debate over the minimum wage in Seattle, and 15 Now advocates vehemently reject this idea, claiming that such an approach would undermine the very meaning of a "minimum wage" and would open the window for employers to manipulate the law to their advantage.

Schultz is currently the highest paid CEO in the Northwest and in 2012 received a staggering $28.9 million from Starbucks. For comparison, the average pay for a Barista at Starbucks in 2012 was just $8.79 an hour, or about $17,580 a year for 40 hours work a week (minus two weeks unpaid vacation). Based on his previous year's earnings, Schultz would have had to work just 1.2 hours to earn what the average Starbucks barista makes in an entire year. That's about 1,644 times as much per year as the average worker. This sort of disparity is, to put it mildly, shocking.

It is clear that Schultz's advocacy on behalf of small businesses is nothing more than an attempt to use them as a pawn to secure continued record profits for his company. Cynically hiding behind small businesses while paying your employees unsustainably low wages is not all right, and 15 Now activists are demanding that Schultz immediately raise the minimum wage of his employees to $15 an hour. After all, even he admits Starbucks can afford it.

To learn more about the 15Now movement and the struggle for a $15 an hour minimum wage visit 15Now.org.
Support HuffPost
The Stakes Have Never Been Higher
Popular in the Community