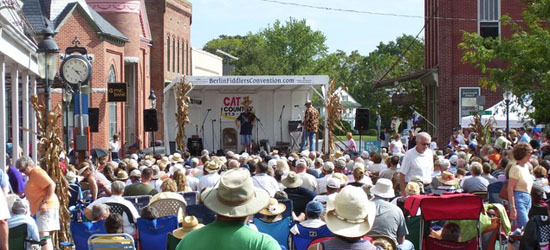 Photo of Berlin, MD, courtesy of Worcester County Tourism. Article by Robert Firpo-Cappiello of Budget Travel.
At Budget Travel, we know a cool town when we see one, and these 15 finalists -- the result of weeks of nominations from BT's online audience -- are now vying for bragging rights to the title of Coolest.
This year's 15 contenders -- which stretch from upstate New York to Hawaii -- have a few things in common: populations under 10,000, beautiful locales, thriving downtowns, outstanding community spirit, and a noteworthy food, wine, art, or music scene. One thing they can't share is the top spot in our ninth annual America's Coolest Small Town contest. Cast your vote -- up to once a day! -- between now and 12:00 a.m. on February 25, when one town will be crowned Coolest.
Here, our 15 contenders for the title of America's Coolest Small Town 2014:
Berlin, MD (Population: 4,563) Like the scenery in the films Tuck Everlasting and Runaway Bride? You'll love Berlin, MD, where both movies were shot! Downtown is a National Register Historic District that plays host to fun events all year long, from a regular farmers market to one-of-a-kind bashes like the Berlin Fiddlers Convention, Victorian Christmas, and, yes, even bathtub races.
Buckhannon, WV (Population: 5,645) Smack dab in the heart of West Virginia, Buckhannon received the most nominations of any town in this year's Coolest Small Towns preliminary round. With an artsy Main Street (with specialty shops, antiques, and galleries), historic downtown, and a paradise for nature and wildlife lovers just outside of town, Buckhannon just may be "the little town that could."
Cazenovia, NY (Population: 2,756) If Central New York isn't already on your travel radar, get ready for a big, and very pleasant, surprise! Cazenovia, on the shores of Cazenovia Lake, may make you feel like you've discovered the perfect small town you thought didn't really exist. Stroll down Albany Street for a trip back in time, and drop by the Scottish-themed Brae Loch Inn for its exceptional Sunday brunch.
Deadwood, SD (Population: 1,263) These days, the "wild" in "wild west" has more to do with gaming, fine dining, and having fun than white hats and shootouts on Main Street. Take a tour of the Broken Boot Mine, visit any number of historic homes and shops, and even visit the graves of real-life western legends Calamity Jane and Wild Bill Hickok.
Elkin, NC (Population: 4,024) Here, you'll find just about every outdoor activity you might like, including hiking, kayaking, canoeing, fishing, bird watching, and cycling. But when you're ready to relax after a day in the wild, the town's galleries, historic sites, shops, theaters, wine trails, and restaurants will make you feel that you're in a town more than twice the size.
Estes Park, CO (Population: 6,017) When your town is the headquarters for Rocky Mountain National Park, you've got a pretty good head start on other cool burghs. Skiing and snowshoeing the surrounding mountains is a must in winter, and rafting, fishing, and wildlife viewing are on tap in warmer months (if you're lucky, you'll catch a glimpse of the iconic bighorn sheep with its curved horns).
Everglades City, FL (Population: 403) This lovely, tiny town is truly the gateway to the unique mangrove estuaries and 10,000 Islands of Everglades National Park, not to mention a prized destination for tasty stone crabs (reserve a table at the Seafood Depot, a nice eatery housed in the town's 1928 train station).
Galena, IL (Population: 3,400) Nestled among rolling hills along Illinois's Galena River, this bustling town, once home to Civil War general and 18th president Ulysses Grant, has a thriving downtown with unique boutiques, antique shops, art galleries, and restaurants. Visit one of the area's three local wineries, hike the easy, beautiful hills just outside town, kayak the gentle rivers, and golf at one of the state's most prized courses.
Huntington Woods, MI (Population: 6,288) Ranked one of America's friendliest towns by Forbes and one of America's top 10 suburbs by MarketWatch, Huntington Woods is a quiet suburb of Detroit (with a small piece of the Detroit Zoo within town limits!) appropriately nicknamed the City of Homes.
Kelleys Island, OH (Population: 313) Located in Lake Erie, about 12 miles from Sandusky, Kelleys Island proves that good things come in small packages: Spend a long weekend here (it's a 20-minute ferry ride from Marblehead) and you'll likely agree, especially if you like getting up close and personal with nature.
Mathews, VA (Population: 8,884) Mathews is not just a town but also Virginia's smallest county, with just 84 square miles and no traffic lights. But we know "small" and "cool" go together like beaches and cottages. Speaking of which, Mathews includes miles of Chesapeake Bay shoreline that make it a prime summer destination for beachgoers, bird watchers, cyclists, fishermen, and kayakers.
Nevada City, CA (Population: 3,046) Nevada City may be a little off the beaten path (60 miles northeast of Sacramento, in the foothills of the Sierra Nevada Mountains), but residents value the Gold Country town for its music and art scene, food, and proximity to some of California's amazing rivers, lakes, and the Sierras.
Pahoa, HI (Population: 945) Located on Hawaii's Big Island not far from Hilo, Pahoa has unique shops, a retro mid-20th-century vibe, and puts you in beautiful volcano country, a short drive from dried lava fields and about an hour from Hawaii Volcanoes National Park.
Rockport, TX (Population: 9.133) Never heard of Rockport? Well, we hadn't either, which just means it's now not only a candidate for Coolest Small Town but also for one of our best-kept secrets. Here, artists, saltwater fishermen, and birdwatchers have been lured to Texas's warm Gulf coast.
Travelers Rest, SC (Population: 4,750) Travelers Rest gets its travel-mag-ready moniker from the pioneer days, when travelers followed a trail dotted with the occasional tavern or inn. But the town offers not only restful, comfy lodgings but also world-class outdoor activities.
Related