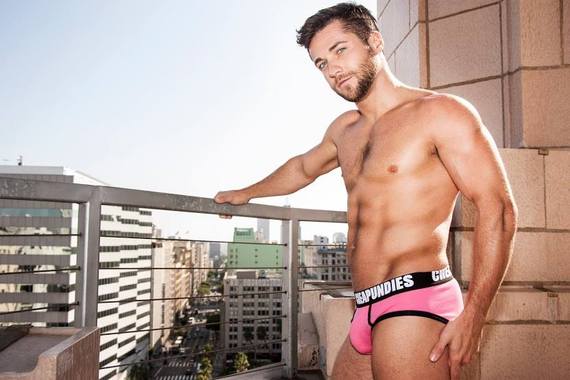 photo credit: Garrett Bridwell Photography
Colby Melvin is an underwear model, a designer, a gay rights activist, and a businessman. His social media reach is well over a half a million and his fan base could not be more loyal. Colby has recently starred in several viral video ads for Cheap Undies and rumors are going around he is moving to San Diego to start his own underwear line soon. He has so much going on, I had to ask him, "15 Questions."
1. What were you like as a child? How are you different now?
Growing up I live on a horse farm in the middle of nowhere, so I didn't have a lot of other kids to play with. When you're living in the country, your imagination is your best friend. You learn to keep yourself entertained with nothing more than dirt and sticks. My mother always encouraged my creativity and imagination. I think that's where I get a lot of my creative inspiration today. I still feel like I never grew up from the kid who turned a cardboard box into a superhero hideout. Considering I still wear a cape around the house, I guess not much has changed.
2. You model for a lot of companies. What are some of your favorites and Why?
For me it's more about the team behind the camera: the director, other models, photographer, and any one else on set. We all get into the vibe and we are having a good time, it shows on camera! Cheap Undies has recently let my weirdness shine. (our last photo shoot with the butter (lol), the "Naked Glitter" video, and the Holiday video) I love when companies just let me be me.
3.What are three of your favorite videos you have been in and why?
Mean Boyz - Todrick Hall, Wrong Direction - Disclosure, and The Newbie-Brad Hammer. Each of these videos allowed me to be more than just the guy in his underwear. I'm a serious goofball and I love embracing it. Mean Boyz was so fun to do because of the cast. We had an amazing time laughing the entire time we were shooting. The Wrong Direction video for Full Frontal Freedom was one of the first videos I did and has been the most successful. It was amazing to take a topic that usually makes people tune out and deliver a message in an entertaining way. It was nice to do work that made a significant difference. The Newbie video took the focus of underwear modeling from sex to entertainment and that's what I like. It's basically an entire video of me being the ultimate goof.
4. What physical features do you get the most compliments on? What are you insecure about?
Hands down my eyes. They go between light blue, lime green, and a clear gray. People always ask if my eyes are real. Most people don't know I'm considered legally blind (without corrective vision) so it's definitely a trade off. I also get compliments on my butt, but I think that's just because I'm always in my underwear and it's just kind of out there. I've got genetic bags and dark circles so I'm always worried that I'm walking around like a got punched by a gorilla.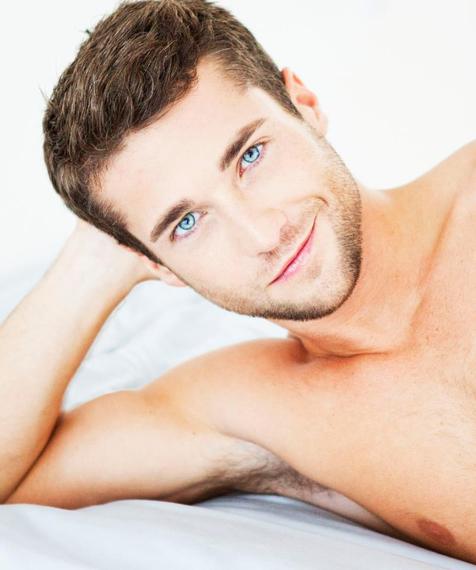 photo credit: Brad Hammer Productions
5. I know your fans always ask you about doing porn. How do you feel about being in very sexual videos and ads?
I think sex is a part of life and it's beautiful. I am not a huge fan of raunchy or pointless displays of sexual activity. Sex does not automatically mean entertaining. In order for a sexual ad to be effective and tasteful it must first grab your attention and THEN give you a call to action. If it's just a sexual ad, then it's empty and pointless.
6. What would be a typical breakfast, lunch, and dinner for you?
I won't lie. I'm the worst person when it comes to dieting. I recently started dating someone that has got me to start doing meal prep every week so I eat healthier. I am constantly eating though. I have a very fast metabolism so if I don't eat every two hours, I'll drop weight really quick. For breakfast, I'll have chorizo and egg breakfast burrito and a protein shake using Pro 7 Synthesis protein. This specific protein releases over 8 hours so I'm constantly processing protein. Lunch and dinner typically involves steak or chicken with vegetables like sweet potatoes or asparagus and quinoa.
7. Who are some of your favorite models to work with and why?
Rather than pick favorites and hurt friends' feelings I'll tell you the models I'd love to work with in the future. Roman and Kirill Dawidoff, these two Russian fitness models have been some of my favorites for a long time and their work is stunning. Nate Bateman, have you seen him work his staff?! Max Emerson, I think our silly personalities would be great on camera.
8. Are you ever going to have your own underwear line?
I've been working on an underwear line for over a year now. People seriously underestimate how much goes into creating a line. I've learned a lot about the other side of the apparel industry and am happy to announce it is coming in 2015. I am working on several different labels including swimwear, active wear, street wear, accessories, and YES underwear.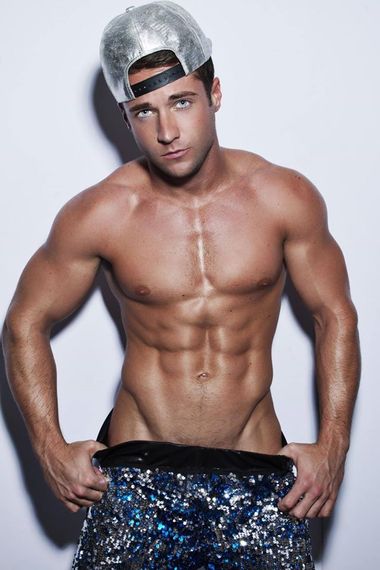 photo credit: Paul Boulon Photo
9. What would you like to say to your fans that are still upset over you and Brandon breaking up?
I've never talked about my breakup in an interview before. When it happened I was completely silent and did not want that part of my personal life becoming the property of social media. At the end of the day a relationship is between two people and their issues are their own. I think one of the biggest growing experiences I had this year was learning that people come into your life and change it forever, but it doesn't necessarily mean they are supposed to be in your life forever. People come into our lives and give us the opportunity to grow and learn. A lot of people were very upset about the breakup and it was very touching that so many people felt connected to our story, but it wasn't the journey I needed to be on anymore. People forget that they see only the tip of the iceberg on social media. You see exactly what people want you to see, and what I want people to see now is that I am happier than ever, my life is filled with wonderful people, life experiences, and I have found happiness with myself. That's what really matters in life.
10. I know you get asked this a lot: Do you miss working for Andrew Christian?
I still get a lot of questions about AC even though I left them almost two years ago. Here is what I'll say: I am grateful for the opportunity and my time with the company. It helped me get where I am today, however there was nothing left for me to do with them. I think the underwear industry is a ladder to climb. If you stay with one company your entire career you don't grow as a model, you eventually plateau. Honestly, taking pictures in the same underwear year after years sounds incredibly boring. Each company has its own unique character so you have to adjust to match their style. Working with only one company is like getting an entry-level job and never moving up.
11. It seems you have not had trouble booking modeling gigs even though you not 6 foot tall. Do you have any advice for other shorter male models?
When it comes to fitness and underwear, shorter models have an advantage. It's much easier to gain size as a shorter model. The magical tools of Hollywood like lighting, makeup, and angles can make a 5' moderately fit model look like a 6' ripped Olympic god. If you want it, go and get it. Quit waiting to be discovered and reach out to the brands you want to work with and don't get discouraged if you don't immediately get picked up. This industry is an endurance race and you have to go through a lot of crap to make your goals happen. It's just a matter of how much you want it.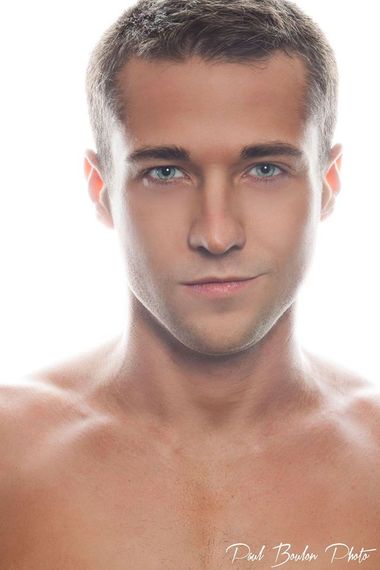 photo credit: Paul Boulon Photo
12. Do you want to talk about your new relationship?
I am in a relationship ☺. After my last very public relationship, I promised myself I wouldn't make that part of my personal life available to social media like before. I'm in the public eye enough that it's important for me to keep this between my partner and me. I will say he one of the most driven, talented, and definitely the goofiest person I have ever met. I feel completely blessed that he came into my life when he did and my world is infinitely brighter with him in it.
13. What or who, inspires you?
Some of the biggest inspirations in my life are Chad Griffin (president of the HRC), my mom, and Marco Marco. Chad has been so influential in this generations human rights movement that it makes you question what you are doing with your own life. He is so driven and lives his life constantly fighting for our community. I hope to one day have that level of dedication. My mom has been my biggest and longest supporter. No matter what it is she has always been there for me rooting for me. I wouldn't be here today without her support and cherish the fact that I have a loving parent that truly loves me for me no questions asked. Marco and I have been friend since I first moved to L.A. He's been my involuntary mentor both spiritually and professionally. Thanks to him I've found spiritual balance and a career I am passionate about.
14. What are 5 of your favorite movies?
Finding Neverland, UP, The Bucket List, Aladdin, Cruel Intentions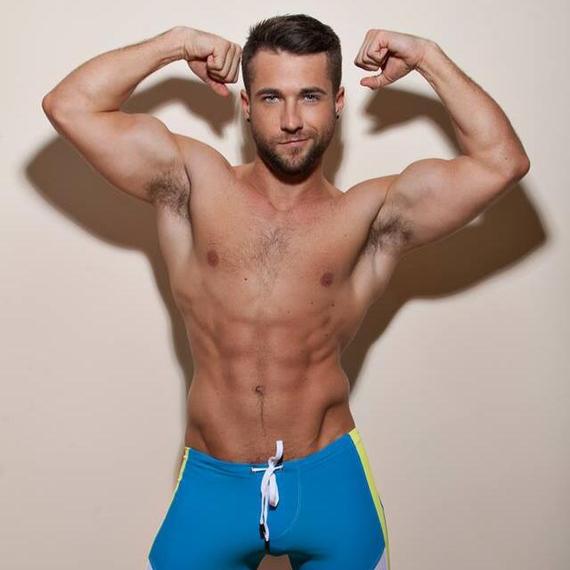 photo credit: Paul Boulon Photo
15. You have a huge social media following. Do you read what the fans write? What are some of the funniest things people have said?
I try to read as much as possible. Some of the funniest are Google translator results from fans across the world. I've received quite a few wedding proposals, invites, and requests to officiate weddings. It's always crazy when I get a message from someone saying they named their child or pet after me. However, the strangest request came from my mom when she told me her friends requested a pair of my underwear.
Oh my! You can follow Colby Melvin on Twitter, Facebook, and Instagram. Don't forget, you can always tweet me (@hammerbrad) the person you would like me to ask "15 Questions." Happy Holidays everyone!
Calling all HuffPost superfans!
Sign up for membership to become a founding member and help shape HuffPost's next chapter