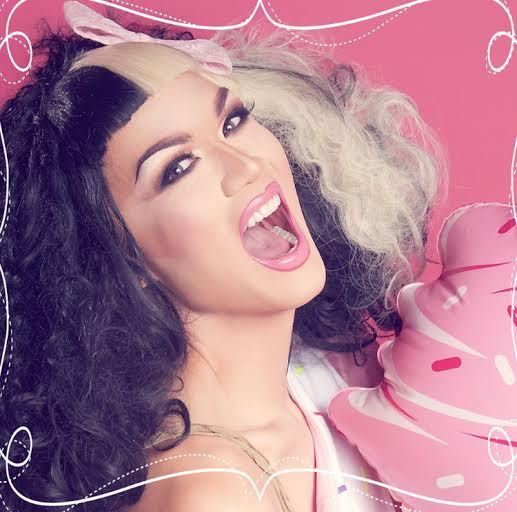 Manila Luzon is known for her campy creativity and a strong work ethic. These two things (combined) have helped keep her on the top of the list of favorite Drag Race alumni. Manila is always up to something, whether it be a new song and video, or stirring up some trouble on the road. I felt it was time for an update, so I asked Manila, "15 Questions."
1. I see you have been traveling a lot. How was your trip to Manila...Manila?

Since competing on RuPaul's Drag Race 4 seasons ago, I've had the pleasure of doing my cross-eyed routine in nightclubs, concert venues, and festivals in so many amazing cities around the world. But traveling to the capitol of the Philippines was truly a dream come true! I had been trying to go there for nearly 5 years, since I heard that they started airing my season of drag race in the Philippines because there was a drag queen named after Manila. My first time in the Philippines was was 20 years ago, so it was a whole new experience of my Filipino culture. I got to experience the city my mother grew up in and it put a whole lot of things into perspective for me as a Filipino American. A fantastic trip, I cannot wait to return!
2. You have released a lot of new music and videos recently. How would you describe yourself as a music artist?
Yeah, I've already released four music videos on my YouTube channel this year. I don't consider myself a musician at all! My parents made me take piano lessons from 1st grade to I graduated from high school, and music never came to me as naturally as my other more visual artistic talents. I consider myself more of a video artist and the music is a soundtrack. Luckily I have great soundtracks to my videos, like Hot "Couture" and "Ice Cream."
3. A lot of fans are comparing your "Ice Cream" song and video to Cazwell's "Ice Cream Truck." Is he a friend and was his version an inspiration to you?
Well I don't know how anyone would make the connection!!! Of course Cazwell has been an inspiration for me long before I was on TV. We met in N.Y.C., he's super sexy and even more talented, we did a record together called "Helen Keller" and it's one of my favorite songs. When making my video "Ice Cream" I made sure I referenced his video. I even ordered Cazwell's Ice Cream Truck underwear online to help me get into the mood!
4. What is your most embarrassing moment as Manila Luzon?
I can't even say! I've just had so many embarrassing moments in my drag career from tripping on stage, to my tit falling out of my bra through the bottom of my dress. Most moments for me are all rather embarrassing but I take it all in good humor; I'm a silly cartoon.
5. What song/video is your favorite by another Drag Racer?
There are several! I love everything by Alaska like "Your Make Up Is Terrible". Violet's "Betty" is stunning. Don't sleep on Tammie Brown's "Love Piñata"! I love the scary movie themed outfits in Sharon Needle's "Ouija Board." But my all time favorite is "Pump With Me" by the late great Sahara Davenport. She was one of the first queens to do music and videos and of everyone, she's still the best performers and dancers in my eyes.
6. Have you ever regretted the "Heathers" clique?
Never! Did we act like mean girls? Yeah, but it was all in the confines of an entertainment-based competition. And til that point there hadn't been that type of group rivalry on the show. In a competition like drag race, everyone is your enemy and it can be very lonely and intimidating. But I was very happy that I was able to make life long friends with Delta, Carmen and Raja. We shared in a unique experience and it created a bond I cherish.
7. How did you learn how to cross your eyes like that?
My late grandma taught me by telling me to hold my finger in front of my face, focus on it and slowly move it closer. And I've been a cross-eyed cartoon character ever since! Thanks Grandma!
8. What three queens you feel deserve to be on All Stars 2?
If I can only pick three: Alaska, Adore and Gia Gunn!!!
9. You are known for giving us a full look. What look is your all time favorite?
I love the pineapple dress the most, but most recently I made this gown with Christian Stratesgui that looks like a box of popcorn. Christian did such an amazing job on the fit of the dress and it packs up tiny in my suitcase and it never wrinkles! I've already worn it in three continents!
10. Everyone deals with heart ache and hard times. What helped you keeping going after Sahara's passing? What advice would you give your fans when faced with similar adversity?
Life is short. It's not guaranteed. So make sure to live your life to the fullest! Put your problems into perspective and it usually turns out things aren't nearly so bad. And when they are, look to those memories of happy times. Keep some happiness on reserve for those rainy days!
11. Who or what inspires you and why?
I'm inspired by my surroundings. That's why I create dresses or videos around simple everyday things! I also love playing with nostalgic things from my childhood like cartoons. I like my art to trigger some sort of memory from my viewers, something they can relate to.
12. What are the first things you do when you wake up in the morning?
Go back to sleep!
13. What is the grossest thing you have ever eaten?
When I was in Singapore earlier this summer, I bit into a pastry cream puff thing at a friend's party. It was made with durian, this big spiky Asian fruit that sticks so bad, it's banned on public transportation in Singapore. It was awful and no matter how many mints I ate (because chewing gum is illegal there) I could not get the taste out of my mouth all day.
14. What projects are you currently working on?
I'm continuing to make music with the Prodigal, the producers of "Ice Cream." And I've been working on the creation of a line of shirts. I have a background in graphic design and have been designing t-shirt graphics for years. I have got a lot of success through my Manila branded t-shirts, so I am expanding to other designs I think my fans would love to wear.
15. Where do you see yourself in 10 years?
I haven't thought that far ahead. Ten years ago I wouldn't have believed that my life would have taken me here, so I can't even try to imagine what it'll be like in ten years. I look forward to loving life and acting silly in a dress for many more years!
REAL LIFE. REAL NEWS. REAL VOICES.
Help us tell more of the stories that matter from voices that too often remain unheard.