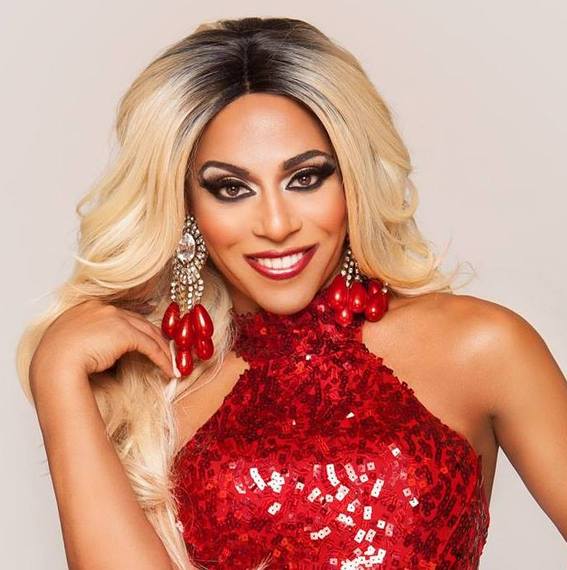 photo credit: Mat Wulff Photography
Shangela is proof that hard work really does pay off. We all know she was on two seasons of RuPaul's Drag Race and given a lot of flak for her aesthetic. Yet, she is back and serving the kids "fish" on a platter with a super catchy song and video. I love a good success story, so I had to ask her "15 Questions."
1. First of all I want to say congrats on all of your success since Drag Race. You were even selected as the hostess for all the premiere parties. How did that come about?
I'm so thankful to be a part of the Drag Race legacy, and am always so honored when asked to extend my relationship with the show in any way. LOGO and event producer Brandon Voss first invited me to host the season 4 premiere and since then have trusted me each year after to bring my classic Shangie entertainment to the mic.
2. During that tour did you become close with the season 7 girls? Who in this group are your favorites and why?
I only knew a handful of the girls prior to the show so I definitely was looking to get to know them on the premiere tour. Some of us had lunch together (these hoes can EAT!) and others I took time to chat with in the dressing rooms. All but three of them even did cameos for me in my new music video (to be fair, the other 3 said yes but we ran out of time the night of the LA premiere and didn't get to catch them). But honestly, it's too early in the season to say who my fave is...they're all so different! And Miss Fame raised chickens!!! I'm from the country boo...She stole my heart with that!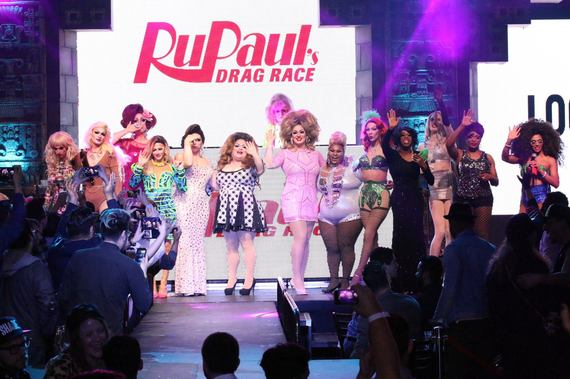 photo credit: VOSS EVENTS
3. There are a lot of complaints online about this season. Do you feel the fans have a valid point?
There will forever be complaints online about something honey. But I know fans are already in love with these season 7 queens and the show itself is receiving some of its highest ratings yet. Of course as we get to a seventh season of a series, people become accustomed to the "formula" of the show so I think Ru and World of Wonder will have even more tricks up their sleeves to keep it fresh as we go deeper into the season.
4. You have also been traveling with the Haus of Edwards on a world tour. Has traveling together brought you closer or are you all fighting like sisters do?
It has definitely brought us closer...without a doubt. I mean Alyssa and I have been friends for nearly ten years but because we live in different states and we both run businesses as well as club tour individually, we barely get a chance to spend time together. This tour has given us a chance to not only travel together and kiki with our usual antics, but we've been able to spend some down time shopping, eating, and dishing about boys. The same with Laganja...through this tour I've gotten to see how hard Laganja works and how focused on her show she is. And she loves to be behind the camera as much as in the spotlight. Check out some episodes of "Keeping Up With the Edwards" on her YouTube channel. Ultimately I love these H.O.E.s (get it? Haus Of Edwards)... Usually I stand in the stage wings and scream at them as they perform "Werq Ho!" We like to compare ourselves to the Kardashian sisters...except we switch roles from day to day. Laganja is Courtney...she's always the most punctual, organized and laid back. Alyssa is Kim...yall can't tell her she is not an Armenian goddess in drag and she reminds us all multiple times a night LOL. And I'm Khloe (the shorter version)...everybody's homegirl that can get rowdy & fun, but can't seem to keep a good husband!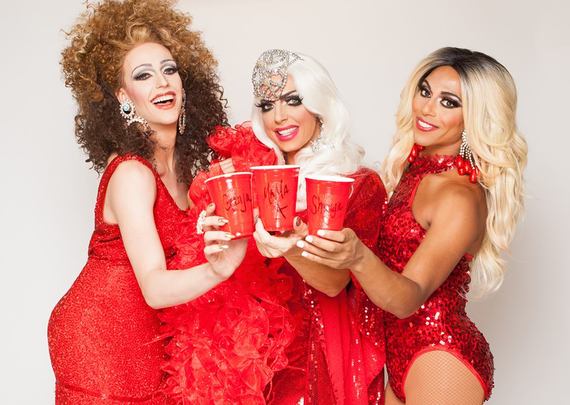 photo credit: Shangela
5. When you are traveling how do you spend all that down time on the airplane?
Answering interview questions on email like right now. Haha. Honestly, I have a journal I write in (gearing up for that book deal one day!). Alyssa sleeps...she lives for a Benadryl and a nap. And Laganja is forever on that cell phone!
6. Tell about your new song "Uptown Fish". How did this parody come about ?
I love the original. And after I heard it, I just felt like there was an opportunity there to make something fun specifically aimed at the gays and those who live for Glam! So I wrote the lyrics for Uptown Fish while on a flight. Then i asked my sista Willam (who has had great success with parodies) who could make this project come to life. She introduced me to The Prodigal music production team and the rest is history. Or FISHtory!
7. I have to say your video for Uptown Fish turned out fantastic ( wink wink ) and looks stunning. To what or whom do you credit for the progression of your drag?
I've come a long way in four years, but I still am so open to learning new things and evolving every day. Of course i first have to thank Rupaul who believed in me enough to twice put me on his show so early in my drag life. This forced me to (in the words of TS Madison) "step my p*#sy up" and take an active role in getting better at makeup and drag so that my aesthetic could match the fiery diva I had within. I also thank God for Actress and friend Jenifer Lewis in my life. At a time when I was still getting comfortable with believing in myself in drag, she was so supportive and encouraging to me...she would help me read lines for an audition in drag and say to me "You have nothing to fear...you're Fabulous. And if they don't see it, F*ck 'em!" And most importantly, my fans have made me who I am today. All the love they've shown me online and in person, all the comments (even the reads) have made me stronger and filled with a determination to succeed....so that I can say to them, "Even if people doubt you and you have to fight for everything you get in life, don't give up. I was the first voted off season 2 of drag race, and on season 3 I was downplayed and called "queen of the boogers" ...Look at me now. Still standing strong."
8. What is one of your all time favorite looks? How would you describe his look?
I love the photo that was shot for Out Magazine when I was named one of their Most Compelling People of 2011. At the root of me is a lot of heart, and although i don't see myself coming down the aisle in a gown .. I definitely believe in love and hope to one day be married and sharing my life journey... legally.
9. You and RuPaul seem to have a nice relationship. Have the two of you always had a connection?
The first time I met Ru, it was a quick hello outside Jenifer Lewis's annual Xmas party. I had just moved to LA (before drag) and I had volunteered to park cars that night (#StartedFromTheBottomNowWeHere), and I just remember him stepping out of his car and being so tall. I was star struck but not so much that I couldn't ask for a quick photo. He was so nice and chipper. And now after Drag Race, the coolest thing is he is the same RU. When i was in the hospital with a broken leg, he even sent me a nice email saying "this may offer you some much needed rest. Take ur time, get better and look me up when you're back for tea or coffee." I'll never forget that.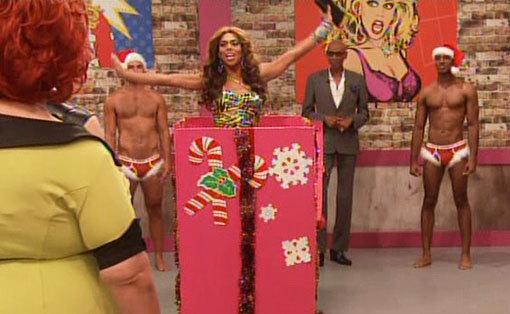 photo credit: NewNowNext
10. What queens do you look up to?
Hard working hoes across the world. Any drag queen that gets up in her gig and proudly goes out in public confidently with her head held high...I respect that. You don't know the life and challenges of a queen until you've been one. Of course I love dancing divas on a drag show, but I also look up to creative queens that have expanded outside just lip syncing to host shows, work in TV/Film, organize events, write comedy shows... They inspire me to do more in every genre.
11. What queens do you think should be in Drag Race but haven't yet ?
That's a tough one because the show is made up of so many elements. It's not just a question of who is SICKNING queen...I could name you hundreds. But it's also who is good for television....who will fans connect with...who has an IT factor. I would actually hate to be in casting because they are so many talented queens around the world that deserve a shot at this show.
12. When you have moments of insecurity and self doubt ( like we all do). How do you manage it and stay so strong?
Oh you're trying to have an Untucked moment Huh?? Welllll..... I can be really critical of myself. I know I have a lot of creativity to offer and sometimes I get mad at myself because I feel like i should be doing more or I could be doing something better. But honestly, I come back to the belief that I'm right where I'm supposed to be in this moment. I write in my journal a lot. About things I want to do, where I see myself going, how appreciative I am for where I've gotten to now. But sometimes I like it when I'm hard on myself because it makes me try harder. I also credit my friends with keeping me encouraged and sane. Surrounding yourself with good people who are doing something positive with their lives makes a huge difference.
13. I heard a rumor that you and Alyssa are thinking about doing a song together. Is that true?
Yes. We recorded it already. It's called Turn the Party. I was supposed to release it last year but I didn't feel confident that the music was the very best it could be...and I'm a perfectionist. So I held onto the song and recently started working with a new production team to get the song up to where I want it. So it does me and Alyssa's first collaboration justice. And you know the video will be Ovah! Stay tuned...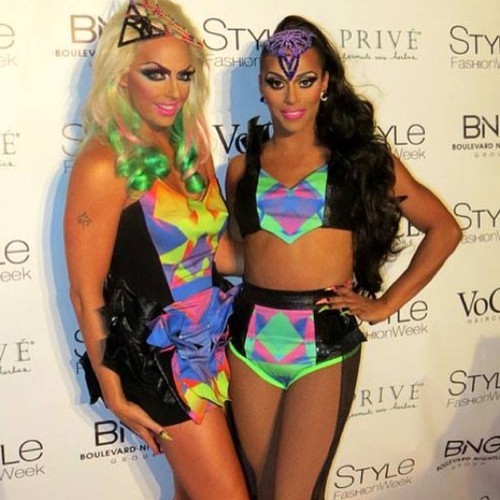 photo credit: NewNowNext
14. I was shocked when you told me you still do death drops, even after your injury. Doesn't hat scare the shit out of you?
No. I want to live my life without fear. I know how to safely do it and I'm not looking to reinjure myself... Mama Michelle Visage hates that i still do it but to me It's like getting back on a bike after U fall off. You don't just stop riding.
15. What can we expect from Shangela in the next 5 years?
World Domination!! LOL. My ultimate goal is to be a series regular on a network television show...whether in or out of drag. I want to continue work as a comedian, fulfill some creative project goals online, learn to cook better and continue to connect with (and hopefully inspire) as many people as possible. Halleloo!