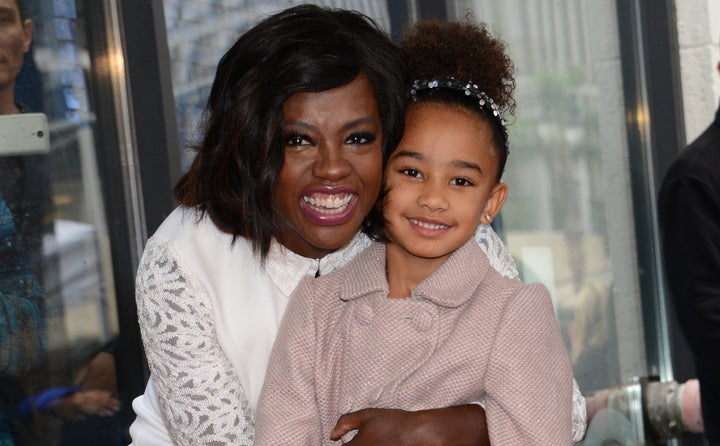 Viola Davis knows the challenges of raising a child today.
The actress became a mother through adoption in 2011, and now her daughter Genesis is 8 years old. Over the years, she's opened up about the journey of parenthood in many public appearances.
In honor of Davis' birthday, we've rounded up some of her lovely quotes about motherhood. Keep scrolling for her parenting wisdom and anecdotes.
On Adopting
"I always tell Genesis she was born from my heart, not my belly. ... There are so many ways to mother rather than to carry a child in your body. So many children need parents, and so many of us want to mother. Know that you will experience motherhood to the full extent."
On Becoming A Mother
"I always wanted a child but acting is a very self-focused profession. We're late getting married, late having children, all of a sudden you stop for five minutes and think, 'What have I been missing?' [Now] this is bringing me to my knees, having a child. My grandmother had 18 children. Can you imagine? Even with one, I feel I'm always on survival mode, just trying to get through each day. I never thought that I could feel like such a failure, but at the same time I'm amazed at how much I feel like the greatest hero alive."
On Encouraging Her Daughter To Embrace Her Natural Hair
"I really push it. I push it. I say, 'You gotta wear your hair exactly the way it is. You can be Wonder Woman, but you gotta be Wonder Woman with your hair. You can be Elsa, but you gotta be Elsa with your hair.'"
On The Values She Emphasizes As A Mother
"Your ability to adapt to failure, and navigate your way out of it, absolutely 100 percent makes you who you are. I tell my daughter every morning, 'Now, what are the two most important parts of you?' And she says, 'My head and my heart.' Because that's what I've learned in the foxhole: What gets you through life is strength of character and strength of spirit and love."
On Instilling Resilience In Her Daughter
"I need for her to be OK. I need for her to forgive. I need for her to have some kind of a good life. Even though I know she's going to have some nicks and scrapes in there."
On Making Mistakes
"When you have a child, you want to be a perfect mother. You feel like you have the absolute plan to be a perfect mother — and then you make a mistake, and we all make mistakes. We all at some point lock our kid in a car by accident or lose our kid in the mall for 30 seconds or more. I know one girl who's a fantastic mother, [but] she lost her daughter in an aquarium for 30 minutes."
On Keeping Her Daughter Grounded
"[M]y number one fear ... is entitlement. I never had a house; Genesis has a house. I do shop at Target, I buy all her clothes at Target or H&M. And maybe, if I'm feeling really good, Nordstrom Rack."
On Her Parenting Principles
"I will not be a mystery to my daughter. She will know me and I will share my stories with her—the stories of failure, shame and accomplishment. She will know she's not alone in that wilderness."
On Acting With Her Daughter
"She likes looking at the last scene from 'The Help.' Inevitably she cries. Then she says, 'OK, Mommy, let's do the scene. You be Aibie and I'll be Mae Mobley.' When we do the scene, she lights up."
On Being A 'Perfect' Parent
"I am a woman of a certain age who has been single and lazy and living for herself her entire life and all of a sudden this human being enters it and I am frantic every single day but you know what, I do it with forgiveness, knowing that I am not going to do it perfectly. Maggie [Gyllenhaal] gave me the best advice, and I can say this on national TV. She looked at me when I was in the process of adoption and she said, 'Do you think you're going to be a perfect mother Viola, because you know it's not going to happen. There's no way to even do it beautifully.'"
On Judgment
"You have those moments: exhaustion, the stress of having an exuberant child, and you don't want to be judged by your worst mistakes. It's a part of life, and it's a part of what makes us who we are."
On How Motherhood Changes Your Life
"It changes your life because it opens your heart to so much joy and love but also you die to yourself and we are essentially selfish people. I like taking naps, I like listening to music. I like having time with my husband and literally taking him in and having space in my brain and a lot of that is gone. You mourn the loss of that."
On Not Letting Her Daughter Play With Barbies
"Mostly she plays with small animals. I don't want her to begin to create images throughout her life featuring women that do not look like her at all that she puts too much value in."
On Being A New Mom
"Becoming a mother has opened up my whole life and given me a whole new purpose. I feel like a star at home only because she loves me so much. I mean, it's a red carpet every day. It's wonderful!"
On Her Love For Target
"They have the greatest clothes for kids, and I always get at least $200 worth of stuff. My husband doesn't know that. Sorry, Julius."