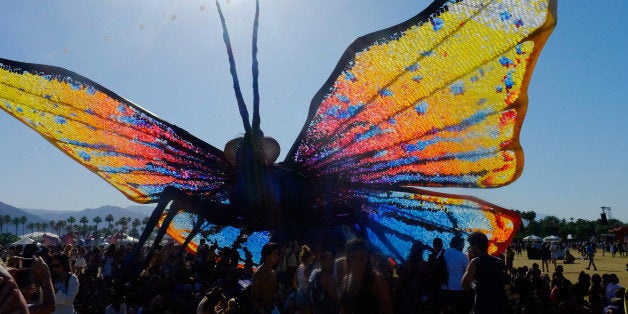 Music. Drugs. Celebrities and over privileged 20-somethings in their best hippie apparel.
Yep, you guessed it. It's the time of year where the Hipster Heaven known as Coachella takes over Indio, California for two weekends. I have never personally been to Coachella, but I have lived with a young child and it seems like pretty much the same thing.
15 Reasons Going To Coachella Is Like Living With A Young Child

1. You whisper "What the hell just happened?" multiple times a day.
2. No one wants to go to sleep.
3. The most popular clothing style is absurd, mismatched outfits.
4. You always have to be careful where you step.
5. Everyone around you could probably use a nice, long bath.
6. You are surrounded by people unabashedly dancing around.
7. People are running around barefoot and dirty.
8. Getting puked on is not out of the question.
9. Walking around topless is not a big deal at all.
10. You get stuck in ridiculous conversations where you're never quite sure what you were talking about.
11. You'll see people wandering around aimlessly.
12. Flower crowns are insanely popular.
13. There's always a risk that someone might not make it to the bathroom in time.
14. Your surroundings kind of of smell like pee.
15. By the end of the day you are physically and emotionally exhausted.