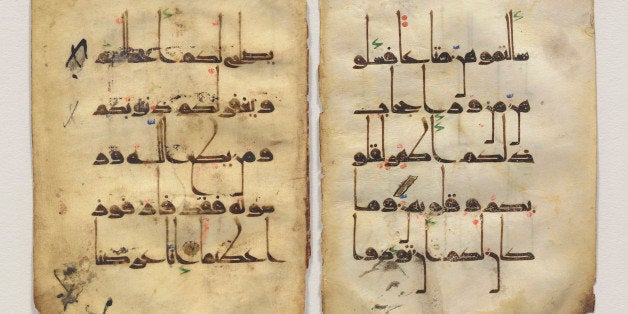 No one today would speak of Yale as a church school. The gothic tower, not the church steeple, would be the apt symbol of this Ivy League institution. It's been 60-some years since a young William F. Buckley wrote God and Man at Yale, skewering Yale for its secular, liberal ways, and the university has hardly gone back to its churchy origins.
But nor has it entirely left them.
In reality, this supposed bastion of elite godless education is teeming with people studying religion, teaching religion, and doing religion. Yale has a divinity school with a Christian identity, albeit a non-denominational one that welcomes students of other religions and no religions. It has two large chapels, the famed Battell Chapel on the undergraduate campus and the graceful Marquand Chapel at the divinity quadrangle. And Yale, a place that started out as a training ground for Congregationalist ministers (whose students included none other than Jonathan Edwards) retains to this day a dazzling array of religious treasures and relics, all publicly available.
Here, in no particular order, are 15 treasures that have captivated me, a newcomer to the university who has a fascination with religion.
Johann Gutenberg; "Biblia latina" (Gutenberg Bible); 1454; paper and 18th-century calf.
Gutenberg Bible - Beinecke Rare Book & Manuscript Library

Five-hundred years ago, the Reformation transformed Christianity and the Western world. What made it possible was the dissemination of the Bible into many people's hands. And what made that possible was the printing press, which allowed, for the first time, mass production of Bibles. Printed in Latin and known for its high aesthetic quality, the Gutenberg Bible was the first book ever printed by movable type. The 22 complete copies that exist today are among the most valuable books in the world. By appointment, Yale classes get to take this priceless piece of history out of the case and page though it, like the first Protestants half a millennium ago.
James Weldon Johnson; "Lift Every Voice and Sing"; published by Edward B. Marks Music Corporation; c. 1940; sheet music.
"Lift Every Voice and Sing" original text - Beinecke Rare Book & Manuscript Library

Often when I attend big events hosted by the Urban League and other African American organizations, I notice the evening beginning with a sing-along rendition of a song many refer to as the black national anthem: "Lift Every Voice and Sing." Given the strong religious themes and God references, it's not stretch to call the song a hymn. The paper from 1900 bearing the original notes and lyrics by James Weldon Johnson lies in safe keeping in the Johnson Memorial Collection at Yale's Beinecke Library.
Sir Thomas More; "Psalterium cum hymnis secund uvsum & cosuctudin e Sarum et Eboracen ..." (Book of Hours and Psalter); 1552.
Thomas More's "Book of Hours" - Beinecke Rare Book & Manuscript Library
Imprisoned in the Tower of London, awaiting execution for refusing to acknowledge the religious authority of King Henry VIII, Thomas More contemplated life with the kind of focus one gets from the prospect of his imminent beheading. In the margins of his prayer book, More penned the words that would inspire many believers in the five centuries since. "Give me your grace, good Lord, to set the world at naught ... to have my mind well united to you; to not depend on the changing opinions of others."
James Gamble Rogers, architect, and Lee Lawrie, sculptor; Memorial Room, Harkness Tower; 1917–21.
Vaulted ceiling at Buddhist shrine beneath Harkness Tower

Harkness Tower is one of Yale's most conspicuous and oft-photographed landmarks. Far less known is the tiny chapel at its base that has one of the few fan-vaulted ceilings constructed since medieval times. Students who frequent the space--recently dedicated as a Buddhist shrine--can gaze up at ornate, geometrically complex patterns that lull one into a meditative state. As one recent Yale grad wrote of that ceiling, "You begin to float in the complicated swirls of the lattice carvings while feeling perfectly grounded in the ceiling's geometry."
William Blake; "Virgin and Child"; 1825; tempera on panel.
William Blake's "Virgin and Child" (a.k.a. "The Black Madonna") - Yale Center for British Art

Mary is smiling ... and crying. The baby Jesus has one palm extended outward ... and the other turned back toward his mother, indicative of the artist's conviction that "all deities live within the human breast." Behind the mother and messiah: a black sky bejeweled with lovely stars. William Blake's painting "Virgin and Child" is also known as the "Black Madonna," which not only sounds like a cool name for a band but also captures what is so intriguing about this revered religious art. It's definitely painted in dark shades--yet it has an effect exactly the opposite of what that might suggest.
Jonathan Edwards; Deut. 32:35(c): "There is nothing that keeps wicked men at each moment out of hell but the meer pleasure of God," from "Sinners in the Hands of an Angry God"; June 1941; paper; Jonathan Edwards Collection.
Original text of Jonathan Edwards' sermon "Sinners in the Hands of an Angry God" - Beinecke Rare Book & Manuscript Library

Rarely has a single piece of sermonizing conjured fear of hell like Jonathan Edwards' "Sinners in the Hands of an Angry God." As the story goes, this Yale alum didn't stir much of a reaction when he first delivered the sermon (a milder, more pastoral version than what was to come) to his own congregation in Northampton, Mass., in 1741. Edwards amped up the scary parts as he began to give the sermon at other churches. "There was a great moaning - & crying out throughout ye whole House"--that's how one witness described the effect after hearing Edwards give the sermon. The outline from which Edwards preached it out on the circuit, like the original "Sinners" sermon, resides in the Beinecke collections. (They say cursive writing is a dying art these days. Judging from Edwards' penmanship, not everyone was great at it in the 1700s either.)
John Giuliani, Triptych, 2007, paint on wood.
The triptych at the Nouwen Chapel - Yale Divinity School

A revered Catholic priest, professor, writer, and theologian, Henri Nouwen was enormously popular with students at Yale Divinity School during his time on the faculty from 1971 to 1981--so much so that when the YDS campus underwent a major renovation in 2001, his former students raised money to refurbish the hidden-away chapel on the library's lower floor and have it named in his honor. The true showpiece of the tiny, oft-used chapel is a triptych, dedicated in 2007, depicting a Native American Christ at the center and, on the outside panels, Nouwen and those who most influenced and inspired him: people including Gandhi, Martin Luther King, Jr., Vincent Van Gogh, Oscar Romero, and Teresa of Ávila.
Dharani sutra; 764–770; Yale Association of Japan Collection.
Eighth century sutras from Japan - Beinecke Rare Book & Manuscript Library

As impressive as it is, the Gutenberg Bible is hardly the oldest printed specimen in the world. The scrolls known in Japanese as the hyakumantō darani ("the one million stupa dharani") are the world's oldest printed texts that can be reliably dated. One million small, wooden pagodas were commissioned by Empress Shōtoku somewhere between 764 and 770, each housing a tiny printed scroll in the central core. The dharani sutras are Buddhist spells in Sanskrit recorded phonetically in Chinese characters; with their pagodas, they were distributed to ten major Buddhist temples in 8th century Japan.
Detail of Gen. 3:13¬–15 from the Standard Bible Committee Records, 1938–1968, paper and pencil.
Original drafts of the Revised Standard Version of the Bible - Yale Divinity School Library

By the 1930s, Americans were no longer using words like "thy" and "thou." The problem was, their Bibles still sounded like Shakespeare. Under the auspices of the International Council of Religious Education, a team of scholars began the arduous process of translating the Bible into more common and accessible language. Their headquarters: Yale Divinity School. They labored for some 15 years, poring over draft after draft and doing copious research in pursuit of the precise meanings of the words with which they grappled. Published under a cloud of controversy in 1946 (the New Testament only) and 1952 (the entire Bible)--"heretical," some called it--the result was a translation that gradually became as common and ubiquitous as the second word of its moniker implies: the Revised Standard Version. The library at Yale Divinity School is home to the scholars' hundreds of typed and pencil-marked pages.
Standing Jizo Bosatsu; late 10th century–early 11th century; single, carved block of cypress with wood additions and traces of linen, gesso, lacquer, and gilt.
Standing Jizo Bosatsu - Yale University Art Gallery

In the Asian area of the Yale University Art Gallery, gracefully carved from a single block of cypress and adorned with touches of linen, lacquer, and gilt, stands a depiction of Jizo Bosatsu that absolutely exudes peacefulness. Revered in East Asian Buddhism, the subject of this work is a deity originally known as a compassionate one who saved those in agony in hell, and who later evolved into one seen as a guardian of children.
Ambrogio Lorenzetti, "Saint Martin of Tours Dividing His Cloak with a Beggar," c. 1340, tempera on panel.
"St. Martin of Tours Dividing his Cloak" - Yale University Art Gallery

You've heard it said of an especially generous person that "he'd give you the shirt off his back." Or, if he were the young Roman legionary now known as St. Martin of Tours, he might cut his cloak in two and give half to a near-naked beggar. This tiny 14th century painting by Ambrogio Lorenzetti captures the moment--and the essence of Christianity, some would say--in delightful medieval strokes.
Shrine to the God Mithras (Mithraeum), c. 240 AD, painted plaster.
The Mithraeum - Yale University Art Gallery

Back when Rome was an empire and paganism prevailed, there was a secretive, mystery religion that revolved around the god Mithras. The cult, composed mainly of merchants and soldiers, would gather for initiations, ritual meals, and the other activities in cave-like temples, like the one preserved in Yale's art gallery. Commissioned by Palmyrene archers serving in the Roman army, the temple's centerpiece art depicts Mithras in action slaying the cosmic bull.
Pages from a Qur'an in Kufic Script; 10th–11th century; deerskin; Hobart and Edward Small Moore Memorial Collection.
Pages from a Qur'an in Kufic script - Yale University Art Gallery

Not much is known about this striking artifact in the Islamic arts collection in the Yale University Art Gallery, other than the fact that is consists of pages from a Qur'an printed in Kufic script on deerskin, and it dates back to the 10th or 11th century from what we now know as Iran. And anyone who gets a look at this Qu'ran can tell you this, too: It's beautiful.
Baruch ben Shemaryah, Micrographic Script of the Song of Solomon, 1794.
Micrographic script of the Song of Solomon - Judaic Studies Collection, Yale University Library

Written in Hebrew by a scribe named Baruch ben Shemaryah in 1794, this book presents the Hebrew Bible's Song of Solomon in letters that serve as text and decoration, a technique known as micrography. The word "shir" (song) appears at the center of the page, and the rest of the text revolves around it. What a fitting way to render what many would consider one of the most lyrical (not to mention sexy) books of the Bible.
John Hamilton Mortimer; "Death on a Pale Horse"; c. 1775; Pen and black ink and gray ink on moderately thick, moderately textured, cream wove paper.
Mortimer's apocalyptic "Death on a Pale Horse" - Yale Center for British Art

If you've been watching the popular TV series "Sleepy Hollow," you probably have some fanciful familiarity with the fourth horseman of the apocalypse. Well, the show is hardly the first cultural production to dwell on this super creepy image from the Bible's Book of Revelation. This 1775 pencil drawing by John Hamilton Mortimer typifies what one 19th century scholar describes as Mortimer's fascination with scenes evoking "horrible imaginings." Indeed, it's hard to imagine anything more horrible than this: a skull-faced horseman in a pointy crown, wretched people being trampled under the horse's hooves, and a vulture flying just over the horseman's head. Yikes.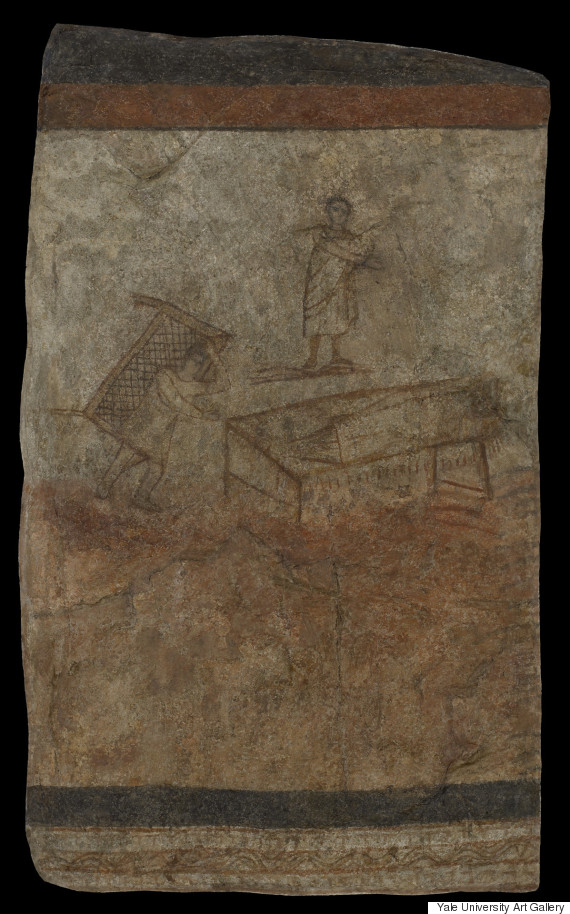 Added by popular acclaim…

Dura-Europos wall painting - Christ Healing the Paralytic – Yale University Art Gallery

This baptistery wall painting dates to the third century A.D. and was discovered nearly 100 years ago during archaeological excavations at the famed Dura-Europos site in present-day Syria. Adorning the wall of a small house church, the painting has darkened and become discolored. What dazzles is its provenance: Along with a few paintings like it at Dura-Europos, it is the oldest known artistic depiction of Jesus.
Tom Krattenmaker is a writer specializing in religion in public life, a frequent Huffington Post and USA Today contributor, and communications director at Yale Divinity School. His most recent book is The Evangelicals You Don't Know.
Related
Popular in the Community