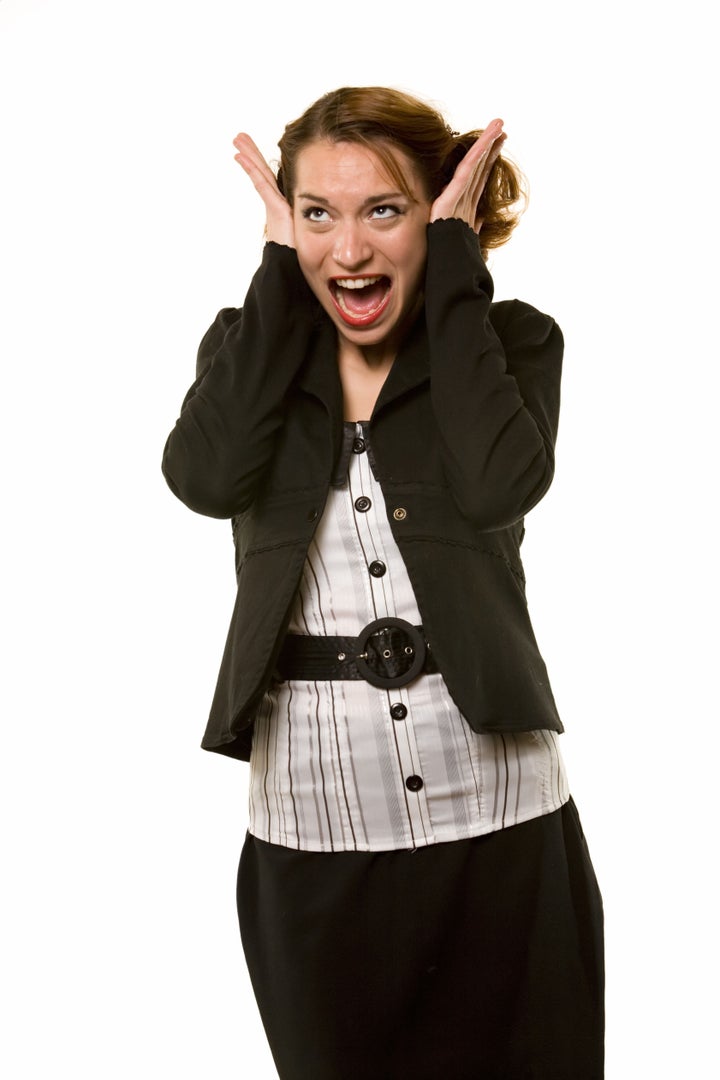 Being excited about your wedding is normal, but when you let it become an obsession, it totally takes the fun out of the experience! Too many brides allow their big day to become their all-day, everyday reason for living -- annoying everyone around them in the process -- and often, they don't even realize that they've gotten that bad. Read on for all the warning signs (and ways to reclaim your sanity).
1. You're Too Obsessed If ... You Promised No Wedding Talk, But You Do It Anyway.
This can happen during date night or girls' night out, and it frustrates the people who want to spend time with you.
How to Dial It Down: Tell loved ones, "If I start talking about the wedding, just tell me to stop." This shows that you're aware you have a problem, and you'll all get a laugh each time they "catch" you veering into wedding mania. Have a sense of humor about it and friends and family will lighten up, too. What doesn't work? Giving them a dollar each time you mention the big day -- that could get very expensive!
2. You're Too Obsessed If ... You're Doing A Lot Of Research But Not Making Any Decisions.
For instance, you've visited 10 floral shops for consultations, tried on 50 dresses, looked at 17 invitation designers' portfolios ... but you haven't booked anything. You're too afraid to commit to one style or choice to the point where the pressure is driving you (and your groom) nuts.
How to Dial It Down: Start by jotting down a very detailed priority list for each major wedding decision you'll have to make (everything from your invitation to your cake), so that you and your groom both know your likes and dislikes. Armed with your wish list, make a rule that you'll research lots of vendors online, but only schedule consultation appointments with the top three to five who meet all of your criteria. This organized approach will help you stop the indecisive cycle and find what you truly want.
3. You're Too Obsessed If ... You're Checking The Weather Report For The Countries Where Your Exotic Flowers Are Grown.
The exception, of course, is if there's the threat of a hurricane or some other natural disaster before your wedding, which would make checking weather reports understandable. But checking weather.com in Ecuador to see how the roses are doing? That's just overdoing it.
How to Dial It Down: Accept that weather reports are not set in stone and one day's predictions could shift from rain to sun and clouds to flurries. Limit your weather check-ins to a few days prior to the wedding and take the predictions with a grain of salt. Instead of fretting 24/7, spend your time planning a terrific Plan B in case the weather doesn't cooperate. When you know you have an alternate plan and a wedding coordinator who can handle it, you won't have to worry so much.
4. You're Too Obsessed If ... You're Telling Friends That They Can't Choose The Same Vendors Or Color Palette As You.
Or you get angry when they've already selected similar preferences, even though they're getting married before you.
How to Dial It Down: Do a quick image search online and you'll see that no two orange-themed weddings look alike. Vendors create customized, one-of-a-kind details for each event they work on. Even if your bestie hires the same wedding planner and chooses tangerine as her main hue (like you), her day is going to be vastly different. Besides, no one in your social circle should look down on you because of something as trivial as this! If they do, then you need to find better friends.
5. You're Too Obsessed If ... You Text Your Wedding Coordinator 10 Times A Day.
You may think you're being attentive to detail, but texting your planner at 2 a.m. will do more harm than good, regardless of whether your wedding is a year from now or tomorrow.
How to Dial It Down: Ask your wedding coordinator what time of day is best to reach him/her with any questions you might have. Also take into account whether they prefer that you call, text, or email them. Write your urgent-seeming issues down on a list throughout the day. Seeing them on paper and getting it off your chest may even help you solve your own problem. Only contact them outside of working hours if it's truly a life-or-death emergency.
6. You're Too Obsessed If ... You're Planning Your Own Bridal Shower To "Make It Easy On Your Friends."
You started off just sending a few images and ideas, but you've escalated to "I'll just do it" or "I know what I want for the cake, so I'll just order it." If your maid of honor and bridesmaids just look at you with blank stares and reply, "who are you?" then you know.
How to Dial It Down: Only give your bridal party crucial input (i.e. "I'd prefer not to have an outdoor party, since I'm allergic to bees and it'll be too hot in August). Your MOH and 'maids need to know all of the essential info so that they can plan a party you'll love. Certainly tell them who you'd like to include on the guest list, but leave the theme, color, menu, games, and other details up to them. This is the fun part, so don't steal their enjoyment. Just trust them.
7. You're Too Obsessed If ... You Want Your Bridesmaids And Flower Girls To Get Spray-Tanned For Your Wedding Day.
It's not a requirement that all of your attendants' skin tones match! Remember that you're not on "Jersey Shore," here.
How to Dial It Down: Just boot this one from your thoughts, since it would be Bridezilla-ish to require your ladies to undergo pricey spray-tan treatments they might not be comfortable with.

8. You're Too Obsessed If ... You're Skipping Girls' Night Out So That You Can Watch Wedding Reality Shows On Your DVR.
There's nothing wrong with watching and re-watching your favorite reality shows about brides! They're filled with ideas and inspirations. Plus, it's rewarding to see the happiness of the bride and groom after they've overcome so much in their planning.
How to Dial It Down: The key here is to make your friends a higher priority than anything on television. Plan relaxing nights out (or in) where you don't discuss anything wedding-related. Remember to still be the same friend you were before you got that shiny ring on your finger.
9. You're Too Obsessed If ... You're Having Nightmares About Your Wedding Every Night.
Your definition of a nightmare: The cake has buttercream frosting when you asked for fondant.
How to Dial It Down: Most brides have dreams about their weddings, since it is important to them, but when you're having night terrors about insignificant details, it's a telling sign you've gone too far. Create a time limit for the planning to help ensure a peaceful slumber. Stop at, say, 7 p.m. and fill your mind with happier concerns, like snuggling with your groom.
10. You're Too Obsessed If ... All Of Your Facebook Posts Are About Your Wedding.
Brags, worries, thinly veiled swipes at your future mother-in-law -- nothing is off-limits and your friends count is going down, down, down.
How to Dial It Down: Instead of venting where everyone can see, e-mail your maid of honor when you need a boost. It's fine to post the occasional happy photo or news update (your friends do enjoy sharing your joy!), but be sure to keep posting about other topics, like you did before you got engaged. Also, don't forget to respond to friends' posts with your Likes or comments.
11. You're Too Obsessed If ... You're Posting Pretty Wedding Images On Pinterest All Day During Work.
This could actually cost you your job if the bosses catch on or if your company monitors your online activities.
How to Dial It Down: Schedule a reserved Pinterest Time (such as an hour after dinnertime), where you wind down from your busy day with inspirational photos. Make it your evening ritual, but limit "research" to an hour only, so that your groom doesn't feel abandoned while you're zoned out in front of your computer.
12. You're Too Obsessed If ... You're Calling Your Groom At Work To Talk About The Wedding Plans.
He may start off patient, but you'll soon hear exasperation in his voice, and that can escalate into arguments.
How to Dial It Down: Don't think that e-mailing him at work is better, since you'll just sit there fuming when he doesn't respond right away. Respect his worktime and the clear mind he needs to do his job -- just like you need at yours -- and don't risk either of your jobs with personal calls. Make it a point to wait until you get home to discuss important wedding issues. Just allow him to decompress first -- you don't want to overwhelm the poor guy with 20 tasks the second he walks through the door.
13. You're Too Obsessed If ... You're Thinking Of Selling Your Grandmother's Jewelry.
You can't stop thinking about ways to save money so you can buy more things for the wedding.
How to Dial It Down: Lock those precious jewels in a lockbox and don't even think about it. Family heirlooms are way too important to lose just to get a taller wedding cake or a designer dress.
14. You're Too Obsessed If ... People Are Telling You To Elope "For Your Own Good."
They're worried about you, especially if your obsessions are making you stressed out, angry, or depressed.
How to Dial It Down: If you're experiencing symptoms of stress and depression, please visit your doctor. A professional can help you determine whether your wedding-related obsession is actually just a cover-up for deeper-rooted issues. In a few weeks, you'll be back to your old self again ... maybe even better.
15. You're Too Obsessed If ... You're Thinking More About The Wedding Plans Than You Are About Who You're Marrying.
How to Dial It Down: Tell your groom how lucky you are to spend the rest of your life with him, write him love notes, thank him for asking you to marry him, talk about the future you envision with him, and make sure he still has you right there with him. Be the woman he fell in love with, and bliss will be there ... for both of you.
Sharon Naylor is the author of over 35 wedding books, including "1001 Ways to Save Money and Still Have a Dazzling Wedding," www.sharonnaylor.net
More from BridalGuide.com
Related