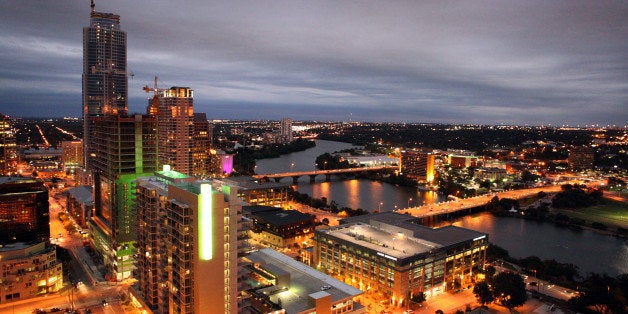 Start your morning with the most important taco of the day, and other solid advice for those headed to Austin for SXSW this month.
1) Tacos are not a breakfast food.
Fact: You can't actually survive a day in Austin if you don't start with the most important taco of the day. Breakfast tacos fuel the city, and endlessly arguing about where to get them is critical. Tacodeli? Veracruz All Natural? Enchiladas y Mas, Tamale House East? Congrats, everyone wins. And never call them "breakfast burritos." You're not at a Utah McDonald's.

2) Let's go see a movie at the multiplex at the mall.
Never. Alamo Drafthouse will sell you a bucket of beer, a pizza and a milkshake with whiskey in it. They'll bring it to your seat. And they'll throw out the guy who's texting next to you. They are heroes.
3) Stop complaining about traffic, it's way worse in [anywhere].
Nope. Traffic is terrible here, and it's only getting worse. We're the fastest-growing city in the U.S. for the fourth consecutive year. We can't pass a rail transit bill--in 2000 or 2014. While it's possible all those new Austinites will learn the bus routes, odds are better they'll end up in front of you, parked on Mopac.
4) BBQ is better in other cities.
Not a chance. Austin is home to the best barbecue on the planet. And it's only getting better. Stiles Switch is chicken-frying its beef ribs, Blue Ox is throwing pancake and brisket brunch. Legendary Hill Country institutions like Black's (Lockhart) and Cooper's (Llano) have set up shop inside city limits. We're too sleepy from gorging on brisket to even mention Franklin, John Mueller, Micklethwait or La Barbecue.
5) Austin's summer weather is fine! Let's stand around in the sun.
Sweat trickles down your face and pools in your beard. You've ruined all The Sword t-shirts that you jog in. Your Hops and Grain IPA steams out of its aluminum can. Your scalp is sunburned. You look at the calendar. It is May.
6) It's too hot to do anything outside.
Even when it's 110 degrees, Austin still flocks to Barton Springs and other beloved swimming holes. The hike-and-bike trails stay crowded on sweltering weekends. Grab the sunscreen and hydrate like you're an astronaut. You'll be fine.
7) Please come see my band tomorrow night!
We're busy tomorrow, we told our roommate we'd come to his crustpunk gig at Red 7. Which we're doing just after our coworker's western swing set wraps up at the White Horse. And that's after our girlfriends' skee-ball match at the Scoot Inn. So...oh, fine, we'll make it--can we get in on your drink tickets?
8) I love SXSW, it's pure Austin!
SXSW hosts a fine film festival. It draws thousands of bands into its gravitational pull, and if you're lucky or disciplined, you will see excellent concerts. It's also a dystopian marketing hellscape where #brands compete to plumb cynical, new depths. (2014's winner: Doritos Bold hashtags for the heart with celebrity vomit buzz.) The restaurants are overbooked, downtown's streets are unnavigable, and your aunts keep asking you if you spotted Fergie from the Black Eyed Peas. SXSW's finest moment: When the last social marketing guru leaves town in an Uber Bentley.
9) Pardon me, can you help me find Man-CHAKA or Bur-NET or MAHNor?
I cannot, my friend. You're saying those things correctly, which means it's all wrong. In Austin, it's safe to assume that every place name should be said weirdly. Throw some Ws into "Jollyville" and go ahead and call it 6nd Street.
Manchaca = Man-SHACK
Burnet = BURR-net
Manor = MAY-ner

10) Austin's music scene is overhyped.
Your mom is overhyped. Big music festivals like Fun Fun Fun Fest and ACL get the ink, but Austin sustains an ever-expanding constellation of locally-grown and locally-loved music. There's no shortage of venues, traditional or otherwise. (Is any other city booking gigs at its grocery stores, markets or its airport?) There is no Music Scene in Austin, there are dozens of them.
11) Austin's food scene stalls out at tacos and barbecue.
Our chef-run restaurants are legit. Paul Qui continues to break hearts as the best chef in the U.S. Ramen Tatsuya gets national press, as does Dai Due, Barley Swine, Uchiko, Wink, Foreign and Domestic and many more. Too uptight or expensive? Find one of Qui's East Side King trucks and order anything.
12) Willie Nelson is no big deal.
Try and say that again, pardner. Say it in front of City Hall, now located on Willie Nelson Blvd. Or in front of the Willie statue at ACL Moody Theatre. Or up at Poodie's. Good luck, Slim.
13) Let's go to Torchy's--I'll have a Trailer Park taco, make it Trashy.
Torchy's Tacos: a great idea, any time of day. But why aren't you ordering from their secret menu? Hillbilly Style is the new Trashy.
14) Let's go drinking on Sixth Street!
Sixth Street, Austin's infamous college bar gauntlet, will never fade. But barhoppers might also enjoy Rainey Street or the East Side. Cocktail fans should head to North Loop and visit Drink.Well and the Tigress, or seek out Peche' or Bar Congress downtown. And neighborhood joints all over town serve a growing roster of excellent locally-made beers.
15) Dallas is cooler than Austin because...
Hahaha, good one.