I hear it all the time—a local business owner asks me how they can rank better online in their local area. They're currently surviving off bits of referrals. Just recently they overheard someone talking about this thing called SEO, or search engine optimization. They want in.
For those who aren't sure what SEO is, it's the somewhat technical term we use in the industry to describe the best practices and methodologies used to improve the chances of a web page outranking other web pages for a search query on a search engine. You can get a more in-depth explanation what SEO is on Moz.
I open up my laptop and head to their website.
It looks like the Cookie Monster has finally eaten too many cookies and threw up all over my monitor. The website looks terrible. Necessary elements are missing. I tell them they aren't ready for SEO; they need a new website. They look shocked, like I'm talking crazy. They just had this internet baby of theirs created with a wizard straight out of Oz using the latest from BuildAnAwesomeWebsite.itsfree.
It's time to step up your game. If you want the search engines to take you seriously, you need to take your website seriously. Before you can even think about SEO, you need to positively answer these 15 questions about your website. In doing so, you're likely going to have to make some changes. You may even need a new website altogether.
This list of questions isn't in any specific order and in fact some of them do impact SEO, but in a technical and fundamental way that can affect whether you need a new website built from the ground up or not.
#1) Is your website mobile friendly?
Your website needs to be mobile friendly—no exceptions. If you want to rank well, you need to start here. As of April 21, 2015, Google rolled out a change to their algorithm making mobile-friendliness a ranking signal. If you think about it, it makes a lot of sense. Google wants to make sure it delivers the best possible experience to the user. If the user has to pinch and zoom in to read your website, that's not a great experience. You should also want the user to have an awesome experience! First impressions are everything. If you want them as a customer or client, show them you care.
In the web design world, we use the term "responsive design" to deliver a single website that automatically adjusts its rendering based on the device viewing it. So it doesn't matter if the user is using a desktop computer, a Samsung Galactic Nexus Zeus 2 tablet, or an Apple iPhone 28 running on iOS Werewolf. Ok, those aren't real, but you get the point. Using any device, any screen size, and any orientation, the user gets a consistent experience.
If your website isn't mobile friendly you should still read the rest of this article, but keep in mind that you definitely need a new website.
#2) Does your website look terrible?
The actual design, colors used, and layout of your website is also very important. Your website not only represents your business but also your quality of service. It doesn't matter if you're a lawyer, plumber, or a restaurant. In most cases your website is the first interaction the user has with your business. You want it to be the best it can be!
Is that red so bright you need sunglasses? Is that image slider in the header going so fast you're about to have a seizure? Do you have imagery that would make a child cry? Are you using clip art from 1997?
If you cringe at the thought of looking at your own website, imagine how your potential customers feel.
Hire someone who knows how to design and develop a beautiful website to represent your business the best it can be. If you want to be taken seriously as a reputable professional, look the part.
#3) Is your phone number readily available at the top of every page?
This sounds like a no-brainer doesn't it? Yet, here we are, because so many local business websites don't do it.
You should have your phone number prominently displayed at the top of every page on your website. You should also make sure that on a mobile device a user can simply tap the number to automatically dial it.
Remember you're wanting to jump into SEO and get found online. What's the point if those who find you can't quickly and easily call you?
#4) Is your correct address at the bottom of every page?
This should be a given, but I see it time and time again. A business moves yet its address remains the same. Other times it's simply not accessible on the website. You need to make sure it is. Ideally it should be at the bottom (in your footer) of every page of your website.
The address should be coded using a structured data markup to help search engines and other applications quickly and easily locate and verify the information when crawling your website.
#5) Do you have daily business hours?
If you're a local business, you have office hours. Make sure they are present and easily found on your website. My suggestion is to place the hours in the header with your phone number as well as in the footer next to your physical address.
#6) Can you easily navigate your website?
All of these questions I'm asking you are very important, but this is critically important. If your website isn't easy to navigate, that's a foundational issue and not something that is always easily fixed.
There are multiple examples of bad navigation structures and designs. Sometimes you simply forget to include a link to an important page and other times the issue is larger. Not being able to interact with the drop-down menus on a phone is a good example of a major issue. Even if your website is responsive, that doesn't mean everything works the way it should.
You want to make sure your navigation menu is easily located, readable, and contains links to every key page of your website. Don't overwhelm the user by including too many links. Categorize them and list the parent pages. Those linked pages can then have sub-navigations that link to the rest of the pages that relate to the parent page.
Let me give you an example. This law firm website has a drop down menu for practice areas. When you interact with the drop down menu item, the options are clearly categorized. Let's click on auto accidents. Here on the auto accidents page you can clearly see all of the related pages on the right-hand sub-navigation. Nice.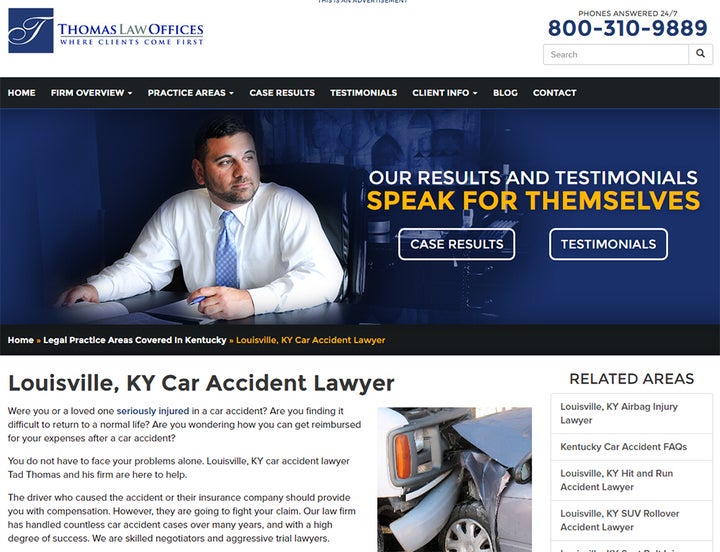 #7) Do pages on your website have multiple H1 tags?
The H1 tag is just an HTML tag that's used to describe a web page and should only be used one time per page. It's very important for SEO. I know, I told you to read this article before going forward with SEO, but hear me out. Your website could actually be coded to use this tag improperly and you may not know it. This can be devastating when you start working on SEO because the tag being used properly is so important to search engines. The H1 tag tells the search engines this is exactly what my content is about, rank me for this!
Do me a favor. Open up a new tab and go to your website. Right click on the page and click "View Page Source". Do a search by hitting CTRL+F on your keyboard, and enter
. If you see it more than once, you have a problem.
Recently I've seen the
tag being used to wrap around the logo image for every page on a website. On another website I saw it being used at a minimum of 5 times on every page. In both cases the website owner had no idea the problem existed. Now you know to look.
#8) Does your website take forever to load?
A slow website can not only make a user quickly click away from your website, it can also hurt your SEO. Again, since this is potentially an issue out of your control, I'm including it here.
There is no silver bullet time frame your website should load in, but I would shoot for under 5 seconds for a local business. Websites selling products via an e-commerce site should strive for even faster.
There are many things that can cause a website to load slowly. Here are just a few:
Poor coding
Images that aren't optimized
No caching
A slow hosting server
Too large of a webpage
There are many tools you can use to see how you stack up against your competitors that also give you a peek into specific problems that could be causing your website to load slowly. I personally like to use the website speed test tool by Pingdom.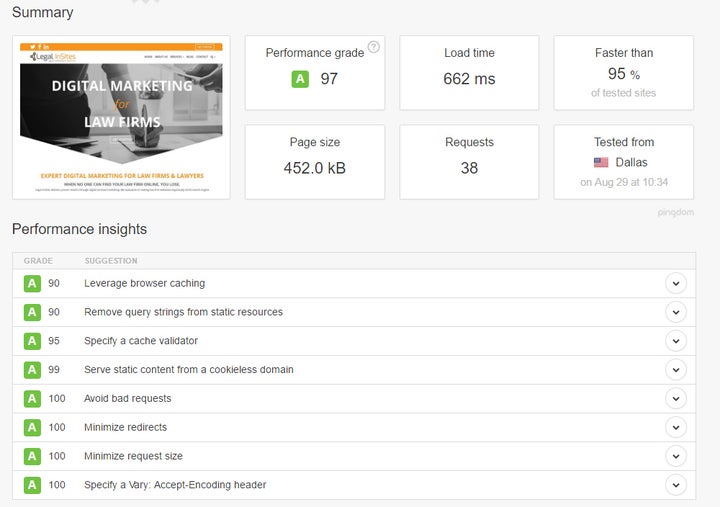 Google has a good tool as well called TestMySite. You can get some good insights into how the tool works here. This tool not only checks and grades your site based on how fast it is but also on how mobile friendly it is.
#9) Is it hard to understand the meaning of the website at first glance?
When a new user engages with your website for the first time, they should instantly know what it's about. You can relay this through your branding, imagery, or messaging. For example, if you're a lawyer, you can include the words "attorney" or "lawyer" in your logo.
You could also use what's called a "hero" section that's a part of the header (top) of your website. This is usually a large image with an engaging message or call to action overlay. For a great example of this, check out the Case Pacer website. As soon as the page loads, you know that site's all about case management software for law firms.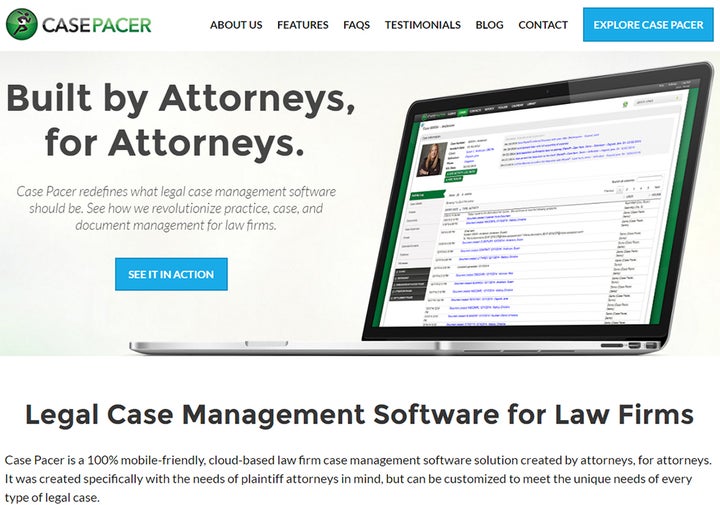 Just remember to make the connection obvious but also clean and not overwhelming to the user. We don't want to scare them away.
#10) Is there a call-to-action on every page?
A call-to-action is any request to the website user that provokes an immediate response. You need at least one on every page of your website, otherwise the user may not know what to do. People like to be steered. This is your chance to steer them in the right direction. The goal is for the user to contact you as quickly as possible. Call-to-actions can trigger immediate reactions from the user and speed up the process.
Be creative. Here are a few ideas you can use:
Plumber: Have a section smack dab, in your face, right in the middle of some content that says, "Sewer backed up? Call us now at 555-555-5555. We're available 24/7!"
Lawyer: Have a form that's readily available next to the content the user is reading. The form could read "Free Consultation" and include fields for name, email/phone, and a short message.
Restaurant: Have a hero section in your header that has an incredible picture of your best dish. Overlay on that image some engaging text with a call-to-action. Examples: "Make a Reservation" or "Order Online".
The possibilities are endless. For a great example of a short and sweet free consultation form as well as a good mix of call-to-actions, check out this website. This website does a fine job of mixing multiple call-to-actions on every page. The user is never confused on what to do next.
#11) Is your home page a giant wall of text?
Your home page should be a summary of what your website and business are about. No one wants to see a long wall of text straight out of a James Patterson novel. It's not the time nor the place. Save this long, high quality content for internal pages.
On the home page, I want you to introduce me to your offerings by using strategically placed and well thought out sections of content that include clear titles, beautiful imagery, to-the-point summary text, and an ability to dive deeper into the content by clicking a "Read More" button.
This is a great place to highlight a paragraph about your business, a section devoted to your latest awards, your best testimonials and reviews, the latest posts from your blog, your featured services, etc. There are endless possibilities, just don't go overboard. Each section should have the ability to dive deeper, so if you list some testimonials or reviews, lead me to a page that lists all of them. That short section about your company? Yep, let me click to read some in-depth historical information about your business.
Just remember, it's a summary of your website. Be engaging and get creative. Most of the time your home page is your #1 landing page, meaning it's the first page someone usually sees when viewing your website for the first time. Make it great.
#12) Do you see a bunch of content you don't remember writing?
Go check out your website. Do you see any content that you don't remember writing? Does the content have nothing to do with your business? If your answer is yes, then you've likely been hacked. Another way to check for content you didn't write is to go to Google and search "site:yourwebsite.com". This is going to return the pages that are indexed on Google. Again, if you see content you didn't write, then you've been hacked.
This all may seem quite obvious, but I phrased this question like this so the average joe can try and figure out if their website has been compromised or not. Believe me, it happens, most of the time unknowingly.
Just recently I visited a law firm's website who was running on popular website content management system, WordPress. Now, don't get me wrong, WordPress is great. I use it for all of my websites as well as my clients' websites. But like a car, you need to take care of it by frequently updating it. You wouldn't drive your car for twenty thousand miles before changing its oil, would you?
Anyway, I did a quick site:awesomelawyerwebsite.com search in Google and saw over 100 blog posts about essay writing. Strange. I didn't think law firms offered essay writing services. I dove deeper, and sure enough, they were running an outdated version of WordPress with outdated plugins. They'd been hacked. For the past 6 months, they had a steady stream of spam content being injected into their website unknowingly.
#13) Are social media icons with correct links prominently displayed?
This should be an easy fix. You don't need a new website based on not having social media icons alone, but these are still pretty important. If you have a Twitter handle or Facebook page, add the appropriate icons to your website and link to them.
If you don't have a Twitter handle or Facebook page, go make them. While they don't directly impact SEO, they can help grow your business and online presence tremendously.
#14) Do you have annoying pop-ups?
If you currently have pop-ups of some sort on your website, whether it's a newsletter signup or live chat, consider removing them. Pop-ups are intrusive, annoying, and can have a negative impact on a user. Google also just announced that as of January 10, 2017, they can have a negative impact on SEO when the website visitor is using a mobile device.
While this negative impact on SEO is slated to be for mobile only, it's in my humble opinion that Google will one day take it further and expand the penalization to all screen sizes and not only on mobile. This is only the first step. I've been saying Google would do this for years now.
Do you like it when you go to a website and all of a sudden something unexpected pops up on your screen? We all hate it. Why make your potentially paying customers suffer? The worst is when I'm using the navigation menu, and wham-o, a newsletter signup. Why would I want to sign up for your newsletter before I've even begun checking out your website?
#15) Do your URLs look weird?
Does your website have URLs that look something like this?
http://www.awesomelocalbiz.com/index.php?page=practiceareas
That's not good. Instead you want a URL that looks like this:
http://www.awesomelocalbiz.com/practice-areas/
This is what we call a semantic URL or what most people call a user-friendly URL. Semantic URLs make it so a user knows exactly where they are while on a page or where they are going when clicking a link. Readability is key here. The more readable by a human, the better.
If you use WordPress or another modern content management system, it should have built-in functionality to set up user-friendly URLs. It should be an easy setup. Conforming to this type of URL structure can also have a positive effect on your SEO.
Wrapping it Up
I've just given you 15 things to check for on your current website before considering the next step of investing in SEO. Sure, not everything listed above by itself will require you to create a new website, but when you add everything up, it's all vital. Don't be cheap when it comes to your website. If used correctly, it can be a powerhouse lead generator that will take your business to the next level.
If you don't know what you're doing, hire someone who does. Don't fool yourself by pretending to know what you're doing, either. Your business is on the line.
When you're ready to hire someone, ask to see examples of their work, actual results, and client feedback. Don't be afraid to ask to speak to a current or former client. Don't feel like you need to go with the cheapest proposal either. Most of the time, you get what you pay for in this industry. If you want a professional, hire a professional.
That's how you probably got here in the first place.
Related
Popular in the Community