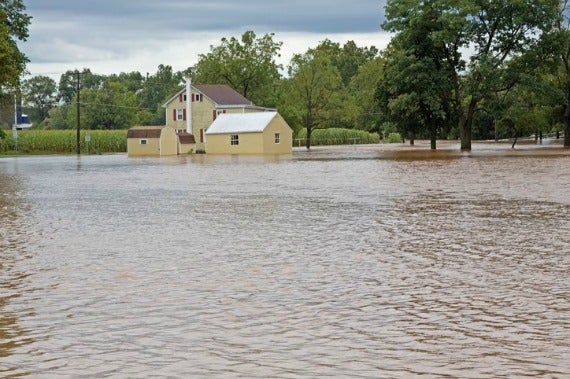 1. Water and Electricity Don't Mix! Nothing that plugs into an electrical outlet in your home is waterproof, except maybe your iPhone...lol! But seriously, on average, there are 50 or more electrical components in your home heating and cooling system. Just because your system is operating, doesn't mean that it's operating correctly.
2. Mold and Mildew. An air conditioning system can be a breeding ground for mold and mildew. In fact, the bacteria found to cause Legionnaires disease, Legionella, has been found in air conditioning drain pans and these will contaminate your household air. According to the EPA, there is no approved biocide to clean mold out of ductwork and/or heating and cooling equipment, and they state you should not run the heating and cooling system if you know or suspect there is mold in the system. It's because mold becomes airborne and poses a serious health risk. If you can see mold, it's already in the air. The best thing to do if your furnace or air handler gets wet is to have it rebuilt and insulated or replaced. To keep mold from coming back, it's very common to install system sterilizers inside the HVAC system to kill anything that cannot be seen. I've had system sterilizers in my homes for the last 19 years and they make a difference.
3. Wet Ductwork. If it gets wet, replace it! Sorry, but the majority of the ductwork in the southern hemisphere is fiberglass and flexible duct, wrapped in fiberglass insulation. In short, it's like a 2" thick sponge and you can't wring it out. It'll get moldy and make you sick. It's non-negotiable; replace it. If you have metal ductwork and it is wrapped with insulation, replacing the insulation will suffice so long as the water has been evacuated.
4. Motors. Motors are one of the most common things to fail when water rises high enough to reach them. Sometimes they'll die right away, but sometimes they just corrode from the water damage and go out on you months later when the insurance won't pay for it! A good reason to call out a pro to inspect your system!
5. Power Surges. If you don't have a "Whole Home Surge Protector" or "Individual Surge Protectors" your furnace or air conditioning system could have sustained permanent and irreversible damage you won't know about. Most homes don't have this protection because it's not required by law. As it works out, just because a furnace or air conditioner works after a storm, doesn't mean there isn't internal damage that you'll end up paying for later in the form of higher power bills, frequent breakdowns, and premature replacement. If you don't have surge protection on your home and its HVAC system, now might be the time to get some! A good surge protector will have an LED indicator on it that lets you know it's working and costs somewhere between $200-350 installed with a guarantee.
6. The Air Conditioner May Have Shifted. Most outdoor air conditioning units in hurricane zones are now required by law to have hurricane straps, but a lot of systems were installed before this law. Even some new systems lack the proper fasteners. Because of high winds, these outdoor air conditioning units will often shift, causing a bend or restriction in the copper pipes that distribute the cooling gases. The end result will be a $1500-3000 compressor failure. A simple inspection or tune-up can catch this issue before it becomes a major problem.
7. Flying Objects and High Winds Cause Coils to Leak. There's a reason a seasoned southerner brings in the outdoor patio tables, and potted plants before a hurricane. We know that with 140 mph winds they become missiles! All it takes is one of those items to go through a window and you're going to lose your roof! The less flying around in a hurricane the better :-) That said, it's not uncommon for air conditioning coils to get pierced by projectiles or for one of the dozens of soldered connections to begin leaking as a result of the violent shaking. If the gases leak out, you're looking at a four-figure repair!
8. Furnaces. Today's new heating systems are full of electronics and computers. Furnaces that are located in basements and under floor crawlspaces are almost always damaged by flooding. If you have a suspicion that your furnace has gotten wet, you should call your local professional heating and air conditioning contractor for an inspection.
9. Filters Get Waterlogged. This is a major concern for someone who has upgraded filtration to keep the air in their house super clean. The better filters are thicker and can suffocate the system if they get wet. Some filters even have an electrical connection that should be checked after a major storm.
10. If You're Unsure, Just Call. There's nothing wrong with being safe! If you have any doubt that your system is free from damage, just pick up the phone or click here.
11. Use a Licensed Company. If you have an unlicensed company or individual perform work on your house and they get hurt or burn your house down, your insurance company won't pay the claim.
12. Use an Insured Company. If they're not, and one of their employees gets hurt on your property, it'll be you or your insurance company that pays the hospital bills. Plus what if they damage YOUR property? Do you really want to pay that bill or take that risk? I didn't think so.
13. Use a Company That Will Guarantee You'll Be 100 Percent Satisfied. Are they willing to guarantee their work in writing? If not, NEXT!
14. Use a Local Company - As someone who's been through a hurricane or two, I've seen the long line of contractors from up north that come down, make a ton of money, and jet six months later. If they're not local, who are you going to call when you have a warranty issue?
15. Financing. I'll probably get some hate mail on this one but if you need to have your furnace or air conditioner repaired or replaced and the company doesn't offer financing, RUN! That company is going out of business. They're either too small, too young or they're stuck in the 1980's. They won't be around to warranty it.
I hope this helps you to save money and keeps you from being taken advantage of.
If you need help with your cooling or heating system and you want a company that fits the criteria above, but you don't want to spend hours or days interviewing contractors to find one, go to cleanmyac.com and enter your information. I have already done the work for you to make your clean up as painless as possible.
If you don't see your city, click on the city nearest to you.
Thanks to Gene Slade with Safeway Home Services, Inc. and Lead Ninja for their invaluable help in writing this article.
Related
Popular in the Community