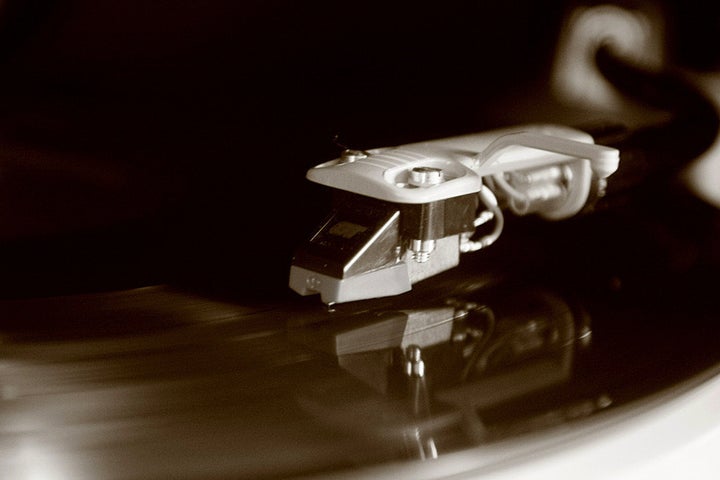 There's good news from Van Dyke Parks, the indefatigable composer-lyricist-producer-conductor-musician-arranger whose brilliant collaborations with Brian Wilson -- especially the epic Smile project -- are only a small part of the story. The man who's been producing his own first-rate work since the '60s -- and has played a key role in the careers of too many iconic musicians to name -- is releasing his first new solo recordings in thirteen years.
"Dreaming of Paris" and "Wall Street" -- with art by Ed Ruscha and Art Spiegelman, respectively -- are the first two of a series of six 7" singles available on VDP's own Bananastan label. And, back from an Australian tour, he's also gearing up for Stateside live appearances, performing on other recording projects and rereleasing must-have vintage material.
This "sui generis" Southern gentleman, raconteur and erstwhile child actor defies linear explication. So here are 15 semi-random items for the not-yet initiated:
1. At age 10, a precocious Parks and his choirmates, finding themselves in Albert Einstein's kitchen during the holiday season, broke into a carol. The violinist/physicist took up his fiddle -- in VDP's words, "fashioning an obbligato to the next verse." An hour of relativistic revelry ensued.
2. In the mid-'60s, Parks joined Frank Zappa's Mothers of Invention on stage, where he was introduced as "Pinocchio." Also during that hazy, heady period, David Crosby invited Parks to join the Byrds. Parks demurred, foreseeing the inevitable compromises and consequences of fame.
3. This stunning Brian Wilson/VDP collaboration -- part of the original Smile sessions -- was released in 1971.
4. VDP's solo work began gloriously with the pop symphony Song Cycle, released in 1968 when he was all of 23. It's full of mysterious Jocyean lines filled with internal rhymes. From the track "Laurel Canyon": "Cracks in the heat and then caught by the wheel catch the Country Store feel for the hackamore crew view the cracker bare coterie standing by."
5. 40 years ago, Parks got hip to the corruption in the record business and, he says, "I fled in terror, as many artists did, in protest against the venal contract practices that eventually came home to roost, leaving the record racket the imploded industry we see today. Phil Ochs would roll over in his grave. (VDP produced and played keyboards on Ochs' Greatest Hits, a 1970 record that, contrary to its title, comprised 10 new tracks.) I must speak for him, in my every endeavor as a tunesmith. What a rarity: a man corruptible by nature, yet unstained by corruption."
6. Longtime Warner public relations chief Bob Merlis once facilitated a Parks interview on NPR's Fresh Air with Terry Gross. "I asked the producer the next day when the piece would air," Merlis says, "and was told 'never.' Seems they determined that there was no way to edit VDP's responses -- his language was so rich and his digressions so entertaining -- and keep a modicum of coherence."
7. Parks was given a demo tape by an unknown young songwriter who was the son of a certain artist he'd worked with. He passed the tape along to Dreamworks exec Lenny Waronker -- who'd produced Song Cycle all those years ago -- with a handwritten note that said, "This kid is inevitable. If you don't want to produce him, I will." Lenny did sign the young Rufus Wainwright, who has turned out to be one of the best singer-songwriters of the past 20 years. And Parks went on to produce and arrange some of Rufus's work. (Hat tip to David Leaf.)
8. Parks says, "The songs I now write have a tighter focus, and reveal an optimism more informed and elusive than reliable. In the onslaught and the dumbing of America, I'm still committed to the song-form, which I see as the most potent political force for public awakening and discourse."
9. He works around the clock but has found time to write music for his son Richard's first film, Music Man Murray, a short documentary about 88-year-old Murray Gershenz, who is seeking a buyer for the half-million or so records in his L.A. rare-record store.
10. Woody Guthrie's daughter Nora, who chose Van Dyke to arrange and perform Note of Hope -- the lead and title track from a forthcoming Guthrie tribute CD, said, "He's one of those guys you only dream of working with. Rather than thinking of Woody's legacy, you think, my God, now I'm a part of his legacy."
11. The Village Voice dubbed one 2010 live Parks performance, "Better Than: A full-semester course in American Studies."
13. Asked about the contemporary landscape, he said, "The world as I see it? It's still my world, but you're more than welcome to it."
14. How does a self-effacing man like VDP, who says he's always worked hard "to be serious about unserious music," land new projects? Here's his business card.
15. A final word? I'm off to the studio, to finish my summer singles series in hi-fi stereo virgin vinyl!"

Popular in the Community