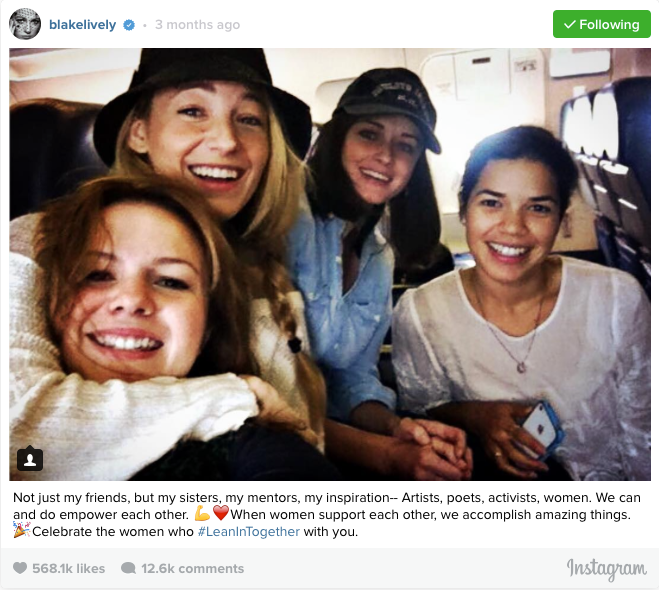 We all know Blake Lively for her killer fashion sense and her ability to rock a red carpet. She is stunning, no matter where she is, what she is wearing, or what she is doing. Dubbed the Queen of Cannes this year at the Cannes Film Festival in France, and looking like actual Disney princesses more than once, she always receives a lot of attention and press for her appearance. I'm not saying there is anything wrong with that — but, perhaps it is a bit of a shame that we overlook the fact that Blake Lively has other things to offer, in addition to her looks.
Highlighted by one of her most recent Instagram posts (that piggy-backed off of Amy Schumer's original Instagram post), for some reason, magazines, articles, and blogs don't necessarily always choose to celebrate or encourage women's efforts beyond their appearances. In the past couple of years, Lively has rocked the red carpet from gala appearances to movie premieres, for which she has received praise; but she has also shed light on some inspirational women and amazing causes that she believes in. I choose to recognize those women and causes today.
2) She promoted the book and film, A Path Appears, that uncovers forms of gender-based oppression and human rights violations in the US and around the world by posting a picture of her with women of the Boston organization called My Life My Choice.
3) She introduced her followers (twice!) to a young woman named Katy who was in need of a lung transplant, encouraged us to Donate Life, and then celebrated her when she received a set of lungs.
4) She posted about International Women's Day and encouraged us to check out NoCeilings.org ― an organization committed to furthering opportunities for women and girls around the world.
5) She celebrated that time the Supreme Court declared that love is love. Marriage equality for all.
6) She encouraged her followers and people everywhere to repost a picture of adorable young sisters with a rare disease to raise money to find a cure for Batten Disease.
9) She introduced us to a mother of a veteran, Teri Kelsall, who lost her son in the line of duty in 2011. Teri Kelsall started a nonprofit called The Jonas Project, which is an organization dedicated to helping veterans when they return home.
10) She highlighted the importance of preserving and protecting sharks and their ecosystem — several times! And she specifically encouraged us to not dine at restaurants that currently offer shark fin soup.
11) Around the time of the Golden Globes, she quoted Sheryl Sandberg, who encouraged people to refrain from calling young girls "bossy" and instead praise them for their leadership skills.
12) She praised a 16 year old girl, Maya, who started her own business, Maya's Ideas, at age 8. Maya is a philanthropist, environmental activist, entrepreneur, eco-designer, inspirational speaker, artist, animator, coder, illustrator, and author.
13) She posted a video at the White House encouraging people to Let Girls Learn — an effort led by First Lady Michelle Obama — and more specifically, to check out 62milliongirls.org.
15) And finally, the post that inspired this article — she chimed in and declared that enough is enough when it comes to magazine covers for girls vs. magazine covers for boys.
I realize there are other charitable celebrities out there, but I happen to be a big fan of Blake Lively and her goofy hashtags. I encounter a lot of articles on social media about her slaying the red carpet, or looking perfect with husband Ryan Reynolds, but with this post, I want to highlight the fact that she makes efforts to promote good causes and celebrate inspirational women. We should all try to recognize and appreciate that in women more often (and also go check out some of the organizations' websites above and make some donations!).
Blake Lively is beautiful, and yes, beauty sells. But I think we should try to do better for girls and women everywhere — beautiful or not — by celebrating our kind and caring hearts just as much, if not more than our appearances.
Related
Popular in the Community