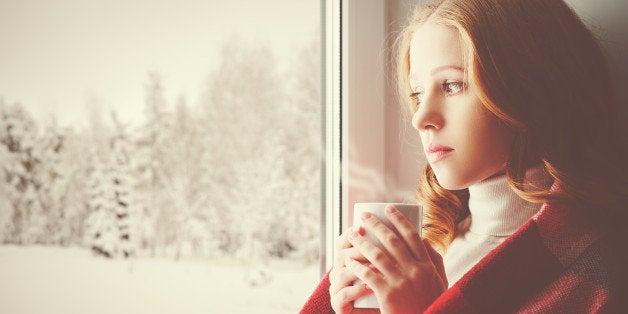 Harsh, cold winters have the ability to freeze you to the core. After living in Chicago for the past 27 years, I'm starting to think of myself as an expert in how to survive winter, no matter how cold and icy it gets.
And through trial and error over the years, I've learned what methods work, which are worth some extra money, and what to avoid. Here are my tips.
1. Run Your Fans on Low, Backwards

Warm air rises, right? Well instead of spending your hard earned cash to heat up your home just to have the air rise up and out, turn those fans on to help push the warm air back down to where you are. Most fans have a setting on the side that can be switched for the winter. It sounds like it wouldn't do much to help, but trust me, it does.
2. Invest in Good Wool Socks

Seriously, the one is important. If your feet are cold, your entire body will feel cold. Wool socks are expensive, but even partly made of wool is worth it. And if they're slightly thicker, that is even better. I tend to try to buy hiking socks of medium thickness, even if they end up being on the pricer side. And if you feel you can't justify the money to have a bunch of these, having just a couple pairs for the really cold days will be more than worth it.
3. Slippers Are Not Just For Old Ladies

Speaking of warm feet, slippers are a must during a cold winter. Especially in any room that isn't carpet. My favorites are the tall Muk Luks. They are worth the money, very cozy, and help keep your legs warm as well.
4. Get a Space Heater For the Bathroom

There is nothing worse than taking a nice hot shower just to get out to a freezing bathroom. But a small space heater turned on a few minutes before a shower will make the experience feel much more like a spa. I usually pick out the clothes I want to wear after the shower and have them in the bathroom as well. That way I can get out, get dressed, and still feel warm and toasty.
5. Schedule Fun Winter Activities

This tip may not keep you warm physically, but it will mentally help you get through the cold times. If you have a favorite activity that you can only do in the winter, make sure to schedule out some time for it. For example, I love ice skating. And as much as I hate being cold, I still look forward to this activity every year. It helps me tolerate the cold coming when I know I can bundle up and get out on the ice soon.
6. Don't Skimp on a Coat

In Chicago we don't mess around with coats. They should be heavy and go down to your knees. A hood is also a must to keep the wind off your neck. Just like socks, at least partially wool is my favorite option. Down can be great as well.
7. Become Best Friends With Your Crock Pot

Throwing a bunch of ingredients together just to come back to a hot, delicious meal for dinner is a great feeling. And hot meals are appreciated so much more on cold nights.
8. Make Sure Your Boots Are Made For Walking

If you've gotten this far into the post, I'm assuming you're also from a chilly climate - and so you know how easy it is to stay inside all day long on the couch, curled up in your blanket burrito. But sometimes you have to go outside (or if you're like me, you start to go crazy without a good long walk under your belt). So make sure your boots are not only tall and warm, but they will also stand up to the test of long walks through snow, slush and salt.
9. Light Some Candles or Get Your Fireplace Going

While candles don't give off much heat, and a fireplace can actually make your home colder in the long run - having either of those near you will make you feel warmer, even if you technically aren't. I'm not sure the exact science behind it, but I think simply our brains see fire and think heat, making us feel warmer. My favorites are Woodwick Candles - they combine the two!
10. Dress in Layers

Layers trap heat between them and so even a couple thin layers will work better than one thick one. Especially if you're located in a town like Chicago, where the wind can be brutal.
11. And Tuck Your First Layer In

This may sound silly, but you will not believe how much it helps. I always wear a tank-top under my clothes during the winter and if I'm going to be outside I will tuck it in. That helps create a seal with your first layer of clothing trapping heat in and wind out.
12. Forget Fashion For a Bit

No, this doesn't have to go for every day in the winter obviously, but if you plan on being outside for more than just a short time, forget being fashionable. This may be different in other cities, but I know in Chicago we can always tell who isn't from the area when they're dressed for looks instead of warmth in the winter. And you know what doesn't look cute? Goosebumps and frostbite.
13. Drink Plenty of Warm Liquids

Having a hot cup of tea does wonders when I'm cold and just can't seem to warm up. And having a hot mug is a perfect way to warm up cold hands. I tend to drink out of mugs more than normal cups as soon as fall hits. And I always laugh when I see people using the cardboard sleeves on their coffee cups - what is the point?
14. Dress Your Bed For Warmth As Well

Flannel sheets and a second blanket are must haves. And if you're generally always cold like I am, invest in a Heated Mattress Pad. And then come back to thank me after you do. Mine is my favorite winter accessory. I don't sleep with it on, but I do turn it on a few minutes before crawling into bed and it is perfect. On extremely cold days, I can usually be found laying in bed with a good book and it turned up.
15. Spend Time With Someone Who Loves Winter and Isn't Always Cold

So clearly you shouldn't count on me for this one... but if you have a friend who loves winter and is generally positive about the season, spending some time with them could help. The emotions of others effect us, so if we surround ourselves with those who jump for joy every time it snows, we may start to dread the snow and cold a bit less.
Calling all HuffPost superfans!
Sign up for membership to become a founding member and help shape HuffPost's next chapter