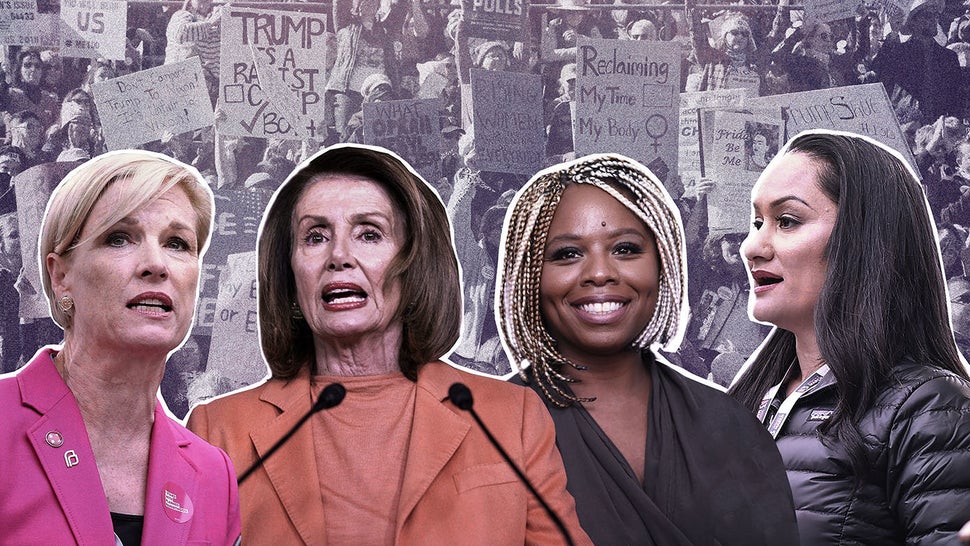 What will future history textbooks say about women's activism in 2018?
That's the question HuffPost asked 15 women currently making history in their respective fields. Everyone from House Minority Leader Nancy Pelosi (D-Calif.) to Black Lives Matter co-founder Patrisse Cullors and comedian Lea DeLaria believe that women's activism today will have a ripple effect in the movements of tomorrow. 
"It's my hope, and sincere belief, that our future history books will look back on 2018 as a year of reckoning and reform," Congresswoman Jackie Speier (D-Calif.) told HuffPost. 
And what a reckoning it has been so far.
So, to kick off Women's History Month this March and to honor all of the badass women making herstory, we spoke with 15 women about what they think future history books will say about women's activism today.
Elizabeth Warren, Senator (D-Mass.) 
"Women across America jumped feet-first into politics and broke down barriers. They raised their voices and unapologetically fought for what they believed in. Because of their courage, change happened."  
Trace Lysette, Actress and Transgender Rights Activist 
"I hope they say it was a game changer. That women didn't have to be fearful after 2018 and that it was a big step toward overall equality in terms of safety, power and closing the pay gap too. Not just for women in Hollywood, but for anyone who has been deemed less important, in whatever industry."
Patrisse Cullors, Co-Founder of Black Lives Matter
"I'd like future history books to talk about the role women have played in changing the country. I want them to be specific. I want them to talk about Black Lives Matter and how it was started by women. I want people to understand that the Women's March was a multiracial group of women fighting for all of us. I want people to understand that black women changed the fate of Alabama and that black women tried to change the fate of the world, that's what I'd want history books to say about women in 2018."
Lea DeLaria, Comedian and Actress 
"My hope is future history/textbooks will say that the activism of 2018 was the straw that broke the camel's back ending sexism and sexual harassment worldwide."
Kirsten Gillibrand, Senator (D-N.Y.)
"When future generations look back, they will see that this was a moment when more women than ever raised their voices, spoke out about the issues that mattered deeply to them, and ran for office in historic numbers — and it changed our country for the better. The next chapter of the women's movement is being written right now, and it's up to each of us to help write it by fighting for what we believe in. I am more optimistic than ever before that women will keep making themselves heard, keep marching, and never give up." 
Amani Al-Khatahtbeh, Founder and Editor of MuslimGirl.com 
"I hope the future history textbooks are written by us. It's almost like a patriarchal legacy that women's triumphs, sacrifices and tremendous hard work get written out of the story. So many history-making women's names are forgotten, none more so than women of color, because we're not the ones holding the pens. I think we're writing our own history right now. We will make them remember our names." 
Bob Bland, Women's March Co-Chair
"I hope that in future textbooks that they say that women who ignited the historical change in this country in 2017 converted their collective power to real political change in the way that changed the entire trajectory for this country moving forward. I would hope that they say that women from all different identities and backgrounds and issue areas came together collectively in support of one another and in solidarity with each other's causes in a way that allowed groups to be centered in 2018 politics in ways that they never had been before. Seeing Emma Gonzalez, seeing how powerful the voice of a bisexual, Latinx, teenage girl can be in a national conversation is going to have a ripple effect. 2018 is the year we changed the game, we changed the rules, we flipped the table and we did so in a way that makes it more inclusive in a way for everyone." 
Nancy Pelosi, House Democratic Leader (D-Calif.)
"In 2018, women are showing their power. It is an inspiration to see millions of courageous women from every walk of life and corner of the country demand their rights, and fight for their health, families, safety and dignity. Together, women are sending a message to the world: We don't agonize, we organize."
Alicia Garza, Co-Founder of Black Lives Matter 
"I hope that future history textbooks say that women of color and Black women were the catalysts for social change during a time of extreme duress. I hope the textbooks reflect that this was the year that women of color and Black women saved democracy from the hands of fascists, and then began to transform democracy so that everyone had a say in the decisions that impacted their lives."  
Cecile Richards, President of Planned Parenthood
"Women are changing history. Women are shaking our foundations and challenging long-held beliefs ― changing the conversation around every issue from sexual harassment to equal pay to affordable health care. From the #MeToo movement to high school activists taking on their elected officials to record numbers of women running for office — there's no doubt that women are the most potent force in 2018. Women in every corner of the country are organizing, and have seen that they have the power to make real change ― and they are."
Jazz Jennings, LGBTQ Activist
"I hope that history books will call this the Age of Women. The era where women are finally elevated and empowered to an equal status as men. It's sad that it's already 2018 and women are still oppressed and treated as inferior in this world. However, the past few years we have stood up to injustice and demanded equality. I know that in 2018 and the years to come our demands won't go unheard and we will recreate a world where women are no longer victimized, undermined and rejected. We can do it, man and woman (and everyone in-between) hand in hand."
Tammy Duckworth, Senator (D-Ill.)
"2018 was the year women said enough was enough, showed up, made their voices heard and changed the course of history."
Jackie Speier, Congresswoman (D-Calif.)
"It's the year that Congress passed landmark legislation to overhaul the deeply flawed process for responding to sexual harassment and discrimination in Congress, including banning members of Congress from using taxpayer money to foot the bill if a settlement is reached or if they are found at fault. It's the year that women continued to cultivate their individual and collective voice and fight for the ERA, equal pay, and respect in the workplace, whether it's in the White House or their own house. I think that 2018 is the year of the Amazons! We're fired up, we're not afraid to flex our political muscle, and we're ready for anything. Bring it on!"
Carmen Perez, Women's March Co-Chair
"I hope that the history books will accurately depict the leadership and hard work of women of color in activism. Our voices have been left out of the narrative about many historical movements, whether we're talking about civil rights, second-wave feminism, workers' rights and more. Even today, we see the Women's March so often depicted in the media as if it were a movement by and for white women, erasing our labor and leadership at the center. I hope that future students will be able to see and learn to value the contributions of women of color to the struggle for women's rights." 
Carolyn Maloney, Congresswoman (D-N.Y.)
"I hope that 2018 will be the second coming of the Year of the Woman and that it will show every little girl that she can do anything she sets her mind to. Years from now, we will look back on this year in awe at the women who marched to assert our 'Power to the Polls,' #MeToo, Time's Up and the historic numbers of women elected to office. And when this chapter of our history is written, it will be about how women across the country reinvigorated a movement for equality and changed our country's mindset about the status and value of women." 
Calling all HuffPost superfans!
Sign up for membership to become a founding member and help shape HuffPost's next chapter