Will Beacons transform education? Technology, especially mobile computing, is having a profound effect on education. According to a survey by the Software and Information Industry Association (SIAA), almost all students have ready access to a mobile device through BYOD, 1:1 computing or a shared device pool. Reliable student access to mobile devices has now opened the door to a new teaching technology: location-based computing using beacons. Brian Rellinger, CIO of Ohio Wesleyan University (OWU), took a look into the technology to see if it ultimately has the potential to transform education.
Technically, beacons are devices that transmit signals that enable other devices like smartphones to determine their relative proximity. The smartphones run apps that deliver content to the users based on that proximity. Beacons go by various names including iBeacon (a registered trademark of Apple), Bluetooth Low Energy (BLE), and Bluetooth Smart. The retail industry has been the first to pick up on beacon technology, specifically to deliver content to shoppers based on their location within a store. In general, strategically-placed beacons connect to smartphone apps and deliver custom location-based content.
As digital tools and online worlds have found permanent homes in the classroom, they have brought an unintended loss of connection between students and the physical world. As a result, the contextual learning that normally occurs when subject matter is related to real world situations has suffered. Jonathan Nalder, founder of JNXYZ Education, believes that beacons can play an important role in rejoining our digital tools back to the real world. "Beacons add a layer of local experience and interaction to connect us with the physical world", says Nalder.
The Clevedon School in the UK has deployed an excellent real-world application of beacons to enhance their students' educational experience. Lewis Smallwood, a student at the school, developed a handbook that uses beacon technology for delivering content. This helps new students become familiar with the school system in an interactive manner. The pupils access the content that is relevant to both their location and the time of day. To make it easier to deploy and update content, Lewis developed an online interface that the staff uses for associating resources to each of the beacons.
OWU is experimenting with three beacons from Radius Networks to explore uses in education. Setting up the beacons was quite easy. They are simply plugged into a computer or wall outlet and configured through a website. In operation, the beacons pass what are known as major and minor values to the mobile app. For initial testing, OWU used the free Beacon Hunt app to create a scavenger hunt. The major and minor beacon values indicate different campus locations to the app. This technology will eventually be incorporated into the OWU mobile app to provide new, enhanced services to students, faculty, staff, and alumni.
Take a look at the SlideShare, 15 Uses of Beacons in Education, which includes, for example, creating augmented and extended classrooms, automatically taking attendance, enabling virtual athletic programs, and tracking student flow across campus. Let us know by Twitter if you believe beacons have the ability to transform education.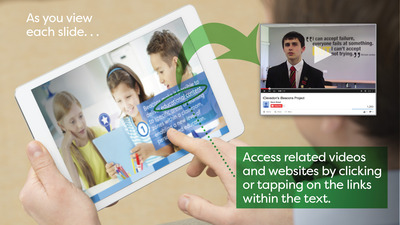 As you view the slides, you'll see links embedded into the content. Be sure to follow the links to explore the software involved, view more video examples, and find ways to implement beacons for education.