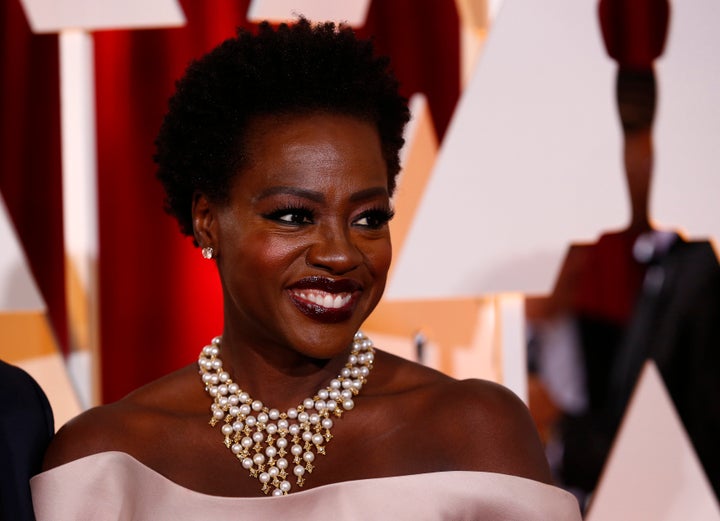 What's not to love about Viola Davis? She's a talented, beautiful, history-making actress. She stars on one of the most thrilling dramas on TV, "How to Get Away with Murder." Her red carpet game is on point. She's making moves in front of the camera and behind the scenes. She's outspoken, consistently sharing nuggets of wisdom and speaking truth to power when it comes to sexism, racism, and ageism within the industry. 
In celebration of her 51st birthday on Aug. 11, below are some of the wisest, realest things Viola Davis has ever said: 
1. On what Hollywood doesn't get about black women: 
"The one thing I feel is lacking in Hollywood today is an understanding of the beauty, the power, the sexuality, the uniqueness, the humor of being a regular black woman." ― Essence 
2. On criticism on her role as a maid in "The Help:"
"The black artist cannot live in a revisionist place. The black artist can only tell the truth about humanity. Humanity is messy. People are messy... We, as African American artists, are more concerned with image and message and not execution. Which is why every time you see our images they've been watered down to a point where they are not realistic at all. It's like all of our humanity has been washed out. We as artists cannot be politicians. We as artists can only be truth tellers." ― "The Tavis Smiley Show"
3. On being a role model:
"A 25-year-old white actress who is training at Yale or Juilliard or SUNY Purchase or NYU today can look at a dozen white actresses who are working over age 40 in terrific roles. You can't say that for a lot of young black girls. That's why I'm doing what I'm doing." ― New York Times
4. On dealing with haters: 
"I don't have any time to stay up all night worrying about what someone who doesn't love me has to say about me." ― Oprah's Oscar Special 
5. On the key to true diversity in film:
"You can't shine if you have two lines in the background as a bus driver. You can only shine if you're included in the narrative, and narratives start when you put pen to paper and you use your imagination. You just tell a story. That's all you do. You tell a story. You don't put any boundaries on it. It's infinite and that's the only way we can do what we do is that people use their imaginations so that we can be included in it." ― Essence 
6. On honoring your individual womanhood: 
"Do not live someone else's life and someone else's idea of what womanhood is. Womanhood is you. Womanhood is everything that's inside of you." ―BuzzFeed
7. On serving others: 
8. On being yourself
"You can't be hesitant about who you are." ― Playbill
9. On #OscarSoWhite controversy: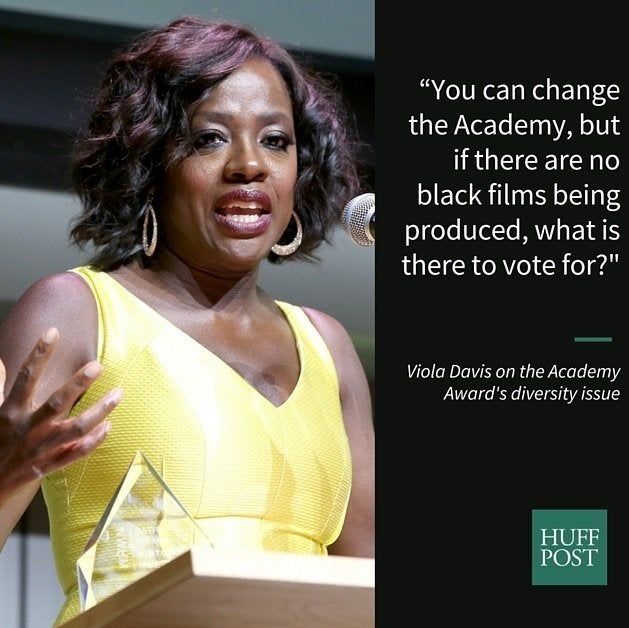 10. On the obstacles for women of color in Hollywood:
11. On learning to find pride in who you are: 
"I believe that the privilege of a lifetime is being who you are, truly being who you are. And I've spent far too long apologizing for that—my age, my color, my lack of classical beauty—that now at the age of, well, at the age of 46, I'm very proud to be Viola Davis, for whatever it's worth."― 2012 Crystal Award speech 
12. On embracing her natural hair: 
"I took my wig off because I no longer wanted to apologize for who I am." ―Essence
13. On the importance of complex representation: 
"It's time for people to see us—people of color—for what we really are: complicated." ― New York Times
14. On becoming a leading lady:
"I will be bold enough to say, I have gotten so many wonderful film roles, but I've gotten even more film roles where I haven't been the show. It's like I've been invited to a really fabulous party, only to hold up the wall. I wanted to be the show. I wanted to have a character that kind of took me out of my comfort zone, and that character happened to be in a Shonda Rhimes show. So I did the only smart thing any sensible actress would do: I took it." ― Television Critics Association Press Tour
15. On the power of black women: 
"As Black women, we're always given these seemingly devastating experiences—experiences that could absolutely break us. But what the caterpillar calls the end of the world, the master calls the butterfly. What we do as Black women is take the worst situations and create from that point." ― Essence
Calling all HuffPost superfans!
Sign up for membership to become a founding member and help shape HuffPost's next chapter
BEFORE YOU GO
PHOTO GALLERY
Viola Davis' Style Evolution