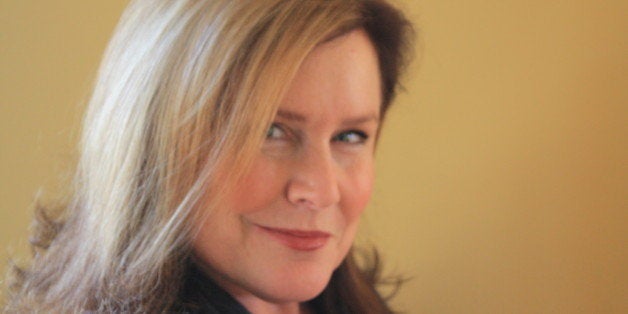 This is one story from Huff/Post50's new series "This Will Be Our Year: 15 Women Over 50 Shaking Things Up In 2015." We'll be following 15 remarkable ladies throughout the year as they make a radical change in their lives, whether it's embarking on a 500-mile hike, starting a new career or attempting to find love on the Internet. Start from the beginning here.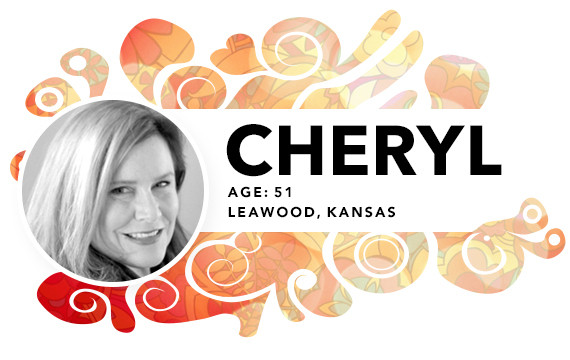 Cheryl McDonald, 50, has moved to Shenzhen, China.
"The morning I left Kansas City, an ice storm was moving through the midwest. My flight to Los Angeles was at 6am and I knew if it was delayed, I would most likely miss my connection to Seoul then on to Hong Kong. As we slid along I-29 I kept thinking 'if this is meant to be it will be.'
In the end all flights were on time and I arrived in Shenzhen, China on February 3. All in all, it was an easy, seamless trip, but I did cry on the flight to Los Angeles thinking about leaving my boys and feeling somewhat scared. It was at that point the enormity of what I was doing hit home because I finally had time to really think about it, because before I left I was so consumed by all of the planning.
I spent the next 24 hours on planes and in airports with a lot of time to sort out my feelings so by the time I arrived in Shenzhen, I was in a good place.
After arriving, I spent a lot of time familiarizing myself with Bantian, the district within Shenzhen where I work and currently live. Language has definitely been a challenge. I know a few words in Chinese but I struggle to hear the "tones" with which they pronounce their words so apparently everything I try to say comes out all wrong. We all agree that for now I will just listen and not speak!
I am often the only non-Chinese person around and the fact I'm a woman with blond hair and green eyes makes me an object of interest. I haven't quite gotten used to being stared at. The beautiful thing about it is I feel completely free to be myself. There is something so freeing about moving to another country and culture where you don't carry the stereotypes with you. It's a freedom to reinvent and completely be yourself.
I have made a very good friend here. Her name is Liubanju or "Rachael" and we have had so much fun together. We often spend our weekends down at the beach either hiking or walking. One Saturday we had an epic 10 mile walk in the rain chugging along with our umbrellas and waterproof gear. It was perfect because the rain kept it cool – the sun here is quite hot. She will soon be headed to Manila, Philippines as our company moves employees to different parts of the world for the experience. I will miss her but Manila is a quick flight from Hong Kong so a good reason to visit another country!
My sons and I miss each other a lot as you can imagine. Each week we Skype and keep up that way but it is never as good as being there. This month I have a business trip to San Francisco and Dallas and I will take a side trip to Kansas to surprise them!
I think what continues to strike me is how kind everyone is and has been. I've also made other friends both Chinese and other expats like myself. Without all of the support I've received, this transition would have been much more difficult. They helped me open a bank account, find a place to live, moved my things (more than once) and the list goes on."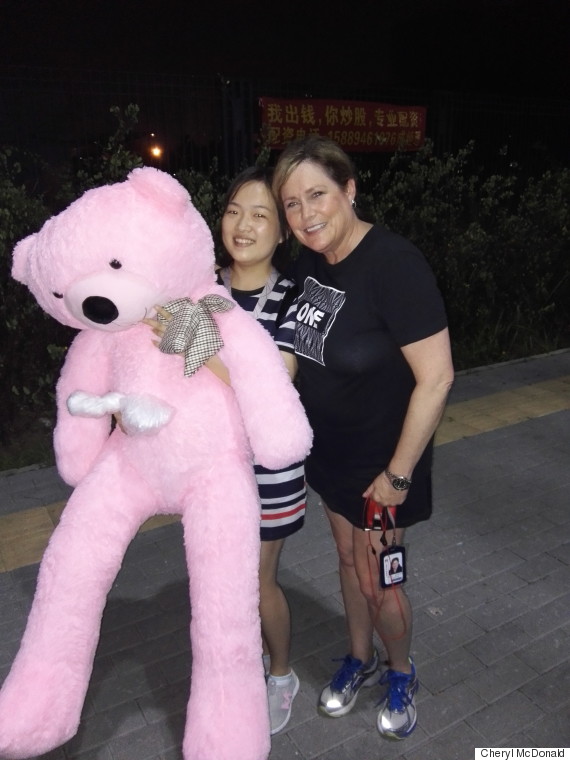 Cheryl with one of her team members.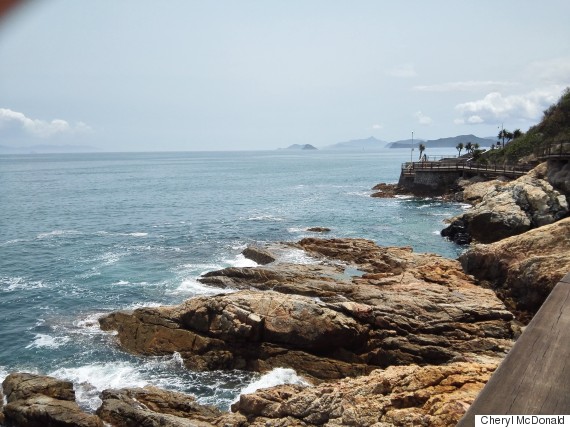 A part of the coast in Yantian district where Cheryl spends many of her weekends hiking and walking.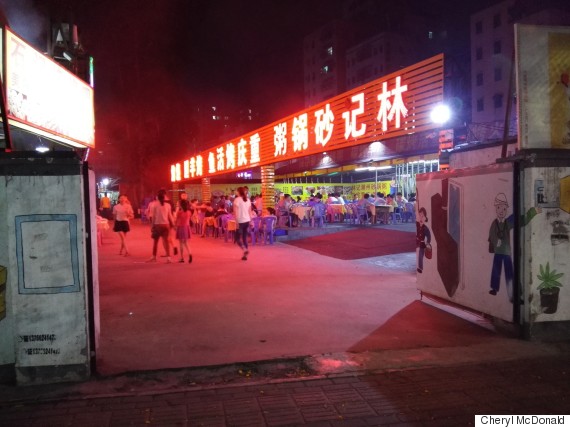 Part of the market across the street from the Bantian district in Shenzhen, China, where Cheryl lives.
REAL LIFE. REAL NEWS. REAL VOICES.
Help us tell more of the stories that matter from voices that too often remain unheard.
BEFORE YOU GO
PHOTO GALLERY
This Will Be Our Year: 15 Women Over 50 Shaking Things Up In 2015