This is one story from Huff/Post50's new series "This Will Be Our Year: 15 Women Over 50 Shaking Things Up In 2015." We'll be following 15 remarkable ladies throughout the year as they make a radical change in their lives, whether it's embarking on a 500-mile hike, starting a new career or attempting to find love on the Internet. Start from the beginning here.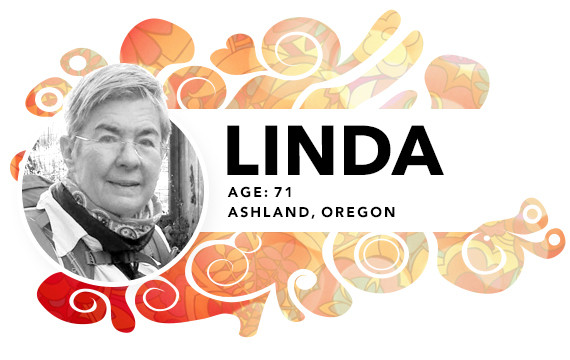 Linda Anderson, 71, is going on a 500-mile hike in Spain.
"All total, I have walked over 1,000 miles to prepare for The Camino. I feel like I'm in good shape. I leave tomorrow for Madrid, and then I'll take a train to Pamplona before heading to the initial spot, St. Jean Pied de Port, France.
It's a cute little town, although it's not very big. I need to go there to the tourist place and get an initial stamp on my credential that shows I started there. Every day, I'll get a stamp on my credential that shows where I've been. It's my proof that I've gone the whole way, all 495 miles. The first three days I'll walk seven to eight miles a day. I'll work up to 10, and then up to 15. But you know, I'm not walking straight through. My partner and I will get up and walk several miles, have breakfast and then walk another couple of hours and maybe have a cup of coffee. There will be stops and things to see along the way. It's an ancient route and there are quite a number of 12th century Romanesque churches that we'll pass and lots of old buildings.
The preparation that surprised me is just getting all of my equipment right. I had a backpack that I was using for four months, and it just wasn't fitting. So I took it in and got another one. After a couple of weeks, that one didn't fit right either, so I took it back and they finally measured me and got me a right-sized one. I now have a backpack I feel really good about that seems to fit me. You want it to rest on your hip -- that's where you want to carry your weight -- but also hang off your shoulders. There's lots of straps and hooks, so just figuring out how it works is quite an exercise. There's a lot of just logistical stuff of getting what works for your body, and my body is not as young as it used to be, so I have to be pretty accommodating to my needs.
I'm taking all of the clothes on my back, extra socks, a spare pair of pants, two wool shirts, a vest, a jacket, a skirt, a cardigan and a sun shirt. That's it for clothes. I also have sleep apnea, so I have a CPAP machine to take. I'm not willing to just use camping soap, so I'm taking my good shampoo, sunscreen and skin cream. I dehydrated pears and roasted almonds to bring, too.
I'm going with the confidence that I will go the whole route. I don't know what I'm facing, though. If something happens, I'll have to deal with it. I feel very fortunate, because my husband has been nothing but encouraging, helpful and a real cheerleader to me. And my friends have all been wonderful. I feel like I go held up by all of them. It's a pretty wonderful feeling, actually."
Linda packed and ready to go: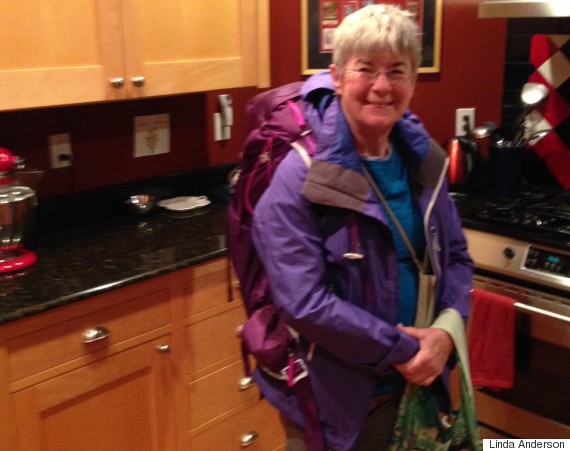 All of the supplies and gear Linda will be carrying on her back: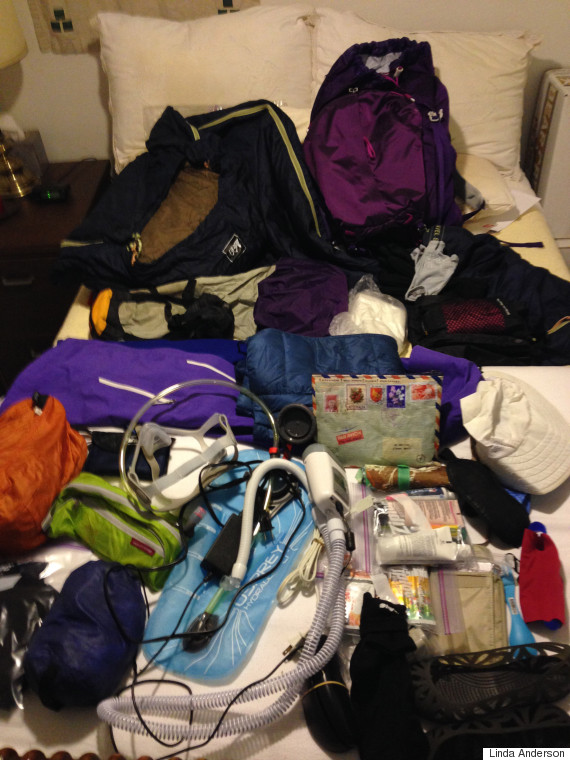 Calling all HuffPost superfans!
Sign up for membership to become a founding member and help shape HuffPost's next chapter
BEFORE YOU GO
PHOTO GALLERY
This Will Be Our Year: 15 Women Over 50 Shaking Things Up In 2015