This is one story from HuffPost Fifty's new series "This Will Be Our Year: 15 Women Over 50 Shaking Things Up In 2015." We'll be following 15 remarkable ladies throughout the year as they make a radical change in their lives, whether it's embarking on a 500-mile hike, starting a new career or attempting to find love on the Internet. Follow each woman's story here.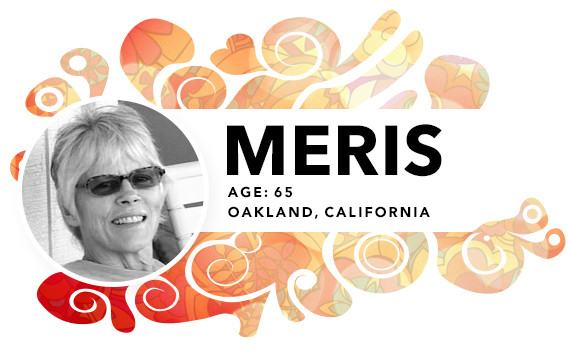 Meris Emory, 65, will be retiring so that she can volunteer to help fellow sufferers of Parkinson's Disease.
"Two years ago, I saw a neurologist about the leg and hand tremors I was having whenever I laid down to sleep. I was tested for all kinds of things -- lead poisoning, thyroid -- and learned I was in the first stages of Parkinson's Disease. I suspected as much; my Dad had Parkinson's and so did my grandmother. I began taking Mirapex, and it helps a great deal. I still have the tremors but the Mirapex helps with the rigidity. I have a sort of weird gait because I have a dropped foot and a frozen shoulder. Parkinson's is not a life sentence, and I am doing my best to ward it off and just say no to it. I don't dwell on what lies ahead. I focus on where things are right now and how to make the most of things.
My goal this year is to retire in April and begin actively volunteering to help people with Parkinson's. I've been an X-ray technician for 40 years. I came home one Friday last year after a long week and told my partner Liz that I'd just had enough. I won't be eligible for Social Security until I am 66, but we talked about it with our financial advisor and know we can manage this financially. Liz is 62 and she's also going to scale back on her work. I've always been so busy with work that I never had enough time or energy left over to help others -- to volunteer. I want to volunteer. I will continue doing Yoga for Parkinson's and teach the people I work with how to use movement and meditation to manage their symptoms. I do facial exercises -- important so that you don't become expressionless. My plan is to volunteer at senior establishments and lead those with Parkinson's with some healthy visualizations, meditation and exercises to give them a lift of encouragement and a healthy feeling through these little practices. I also will play ping-pong with them, which is an excellent exercise.
I have a wonderful home that I love with a magnificent view. I have lots of people who really care about me. I want to take care of myself and do some things for myself as well. The first thing we are doing is going on a four-week camping trip in our pop-up trailer. We'll start in Colorado and tour the southwest, visiting friends along the way. It's on my bucket list and I'm very excited, even just planning the trip."
Meris (right) with her partner Liz (left):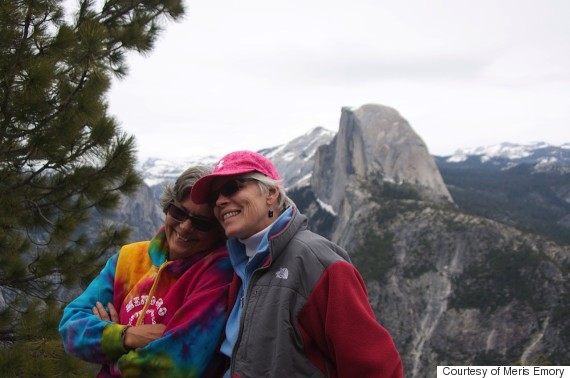 Calling all HuffPost superfans!
Sign up for membership to become a founding member and help shape HuffPost's next chapter
BEFORE YOU GO
PHOTO GALLERY
This Will Be Our Year: 15 Women Over 50 Shaking Things Up In 2015