A pub in the U.K. may have bitten off more than it could chew with a monstrous 150 ounce steak challenge -- it's bested every single challenger to attempt it since its introduction last year.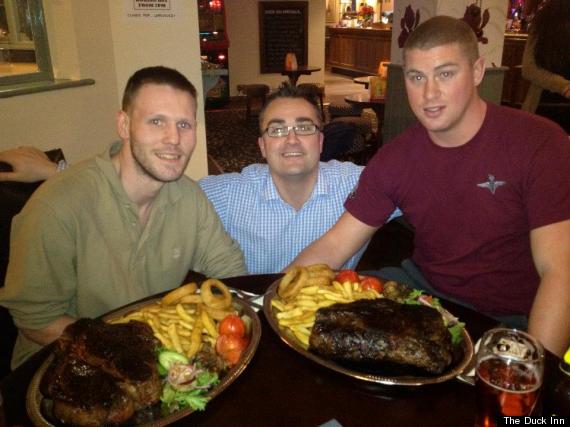 The Duck Inn in Redditch, Worcestershire offers to comp the full $177 (£110) price of the meal to anyone who successfully downs the steak -- and sides of chips and onion rings -- under an hour. The 12 inches long and 12 inches wide rump steak is four inches thick and requires two hours to cook medium rare. At roughly nine pounds, it weighs more than some newborn babies.
Mangalore Today writes that the challenge came about because people were clamoring for larger steaks, and pub landlords Ashley and Louise Gargan obliged. And yet some who attempt it often have to bow out less-than-gracefully, says Ashley:
"There's been a variety of different reactions from those who've attempted it, some go really pale or break into a sweat and give in. Whereas others go for a walk round the restaurant to try and make room for some more or order a soft drink to wash it down but all have thrown the towel in, in the end."
Relatively smaller portions are also available for large steak enthusiasts, although they're still hefty at 80 ounces, 90 ounces, 100 ounces and 120 ounces. Only a handful of people have ever attempted the 150 ounce steak, which means there's hope for a champion in the future.
The Daily Mail suggests that the steak could be the world's largest, but we're not so sure. A quick internet search led us to the "Big Kahuna" steak from AJ's Steakhouse in Grinnell, Iowa that clocks in at 205 ounces. Someone call Guinness World Records to get this sorted out.
Questionable food challenges and competitive eating in general are increasingly commonplace these days. Earlier this month, we learned about a British man who was the first of 300 attempters to polish off the hottest curry in the world. We also watched in horror as a competitive eater wolfed down every single item on Denny's Hobbit menu.
Calling all HuffPost superfans!
Sign up for membership to become a founding member and help shape HuffPost's next chapter
BEFORE YOU GO
PHOTO GALLERY
Best Steak In The U.S.