Picture this: It's the mid-1980s. And after years of living in tiny apartments in & around San Diego, graphic artist Otto von Stroheim is now renting a house.
"And as I was walking around the backyard of this big house, I turned to my then-roommate -- who was an architecture student at the Southern California Institute of Architecture -- I said 'We should do something to celebrate. Like throw a luau,' " Stroheim recalled during a recent phone interview. "And my roommate said 'Let's do a Tiki party with Googie themes.' "
Well, at that time, Otto really didn't know what either of those two words meant. But he said "Okay. Let's do it." And then -- so he could select just the right decor for this backyard party -- Stroheim began to learn everything he could about Hawaiiana.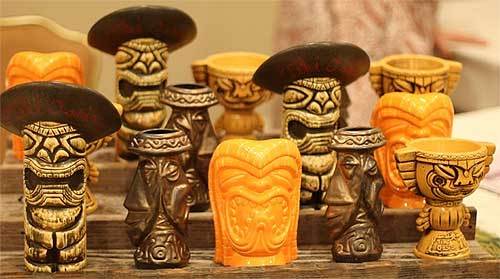 "That's honestly how I got into Tiki. I started a mug collection. And then I started researching where these Tiki mugs had come from. Which then led me to do research on all of these great old Tiki restaurants. Which is how I then started meeting people like Sven Kristen, the guy who wrote all of these great books about the topic like 'The Book of Tiki,' 'Tiki Modern' and 'Tiki Pop," Otto continued. "And everything that I learned about Tiki, I just poured right back into our now-annual backyard party as I tried to make it as authentically Tiki and fun as possible."
And after 10 years, Stroheim's party basically outgrew the backyard. Which is why he -- along with his lovely wife Baby Doe and other like-minded individuals -- began staging these Tiki Weekenders away from the house.
"And that's how Tiki Oasis got started. The Crowne Plaza -- which serves as the main hotel for our three day-long event -- has begun calling us 'the Comic-Con of Tiki.' Which makes our event sound very big & professional. But Tiki Oasis is still basically a backyard party. Only these days, it's a backyard party for 3000," Otto enthused.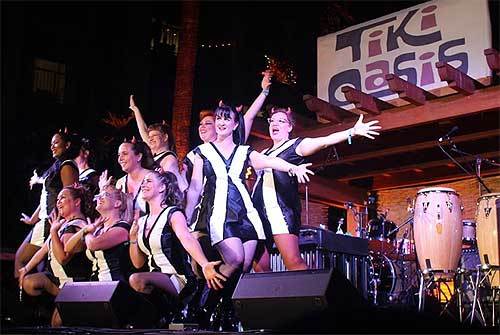 So what's it actually like to go to a happening like this? Which celebrates its 15th anniversary this year and has grown to include 30 symposiums, 22 bands, 26 DJs and 22 burlesque dancers? Well, Stroheim doesn't actually make it easy for first time attendees. Take -- for example -- signage.
"At the stage Tiki Oasis is at right now, I guess we could try and be a bit more professional. Try and help people find their way around the venue. But you know how you go to these conventions in Las Vegas and they feel really sterile? There's all this signage like you see at Walmart & Target. 'The line forms here.' 'Aisle One,' " Otto explained. "I mean, we could do stuff like that to help people out. But I honestly prefer that Tiki Oasis attendees kind of find their own way. That -- in the spirit of discovery & adventure (which I hope permeates this entire event) -- these people are actually forced to interact with other attendees. Have conversations. Form friendships."
So what will one discover as they wander the corridors of the Crowne Plaza while Tiki Oasis is underway? They may encounter a magic show down by the pool. Or -- better yet -- the 6th annual art show (which is presented in the foyer of the Grand Hanalei Ballroom). Which -- this year -- celebrates the theme of "Yesterday's Future, Today."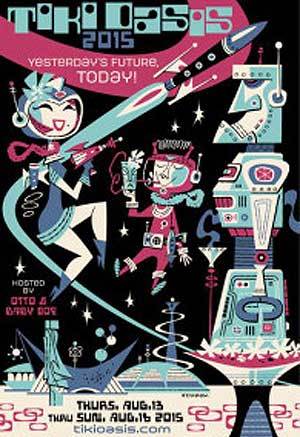 "Each year, Tiki Oasis incorporates a theme. Something that's a part of, that complements Tiki. These themes have to be contemporary with Tiki culture but not really of Tiki culture. More importantly, they have to be drawn from the same period when Tiki was at the height of its popularity. Which was the 1950s & 1960s," Stroheim stated. "In years previous, we've had themes like Espionage, Surf City and Zombie Island. This year, it's the Space Race."
"A lot of Tiki Heads say 'Why does there have to be a theme?' I think it adds dimension to the show. And it's also educational for myself and Baby Doe. Just last year, when Tiki Oasis had a Beatnik theme, we had to take a crash course in Beat history because we had some authentic Beat experts & legends speaking at that show," Otto said. "So it's educational for our fan base to incorporate different themes into Tiki Oasis. And it then allows us to do different things. Because otherwise ... Look, I know a lot about Tiki. Maybe not as much as some of the others. But you can only go so far. It wouldn't be exciting to learn about one more Tiki restaurant in New Jersey."
So a you can see, Stroheim incorporate the "Big Tent" philosophy when it comes to Tiki Oasis. All are welcome, be they burlesque performers or pin-up girls.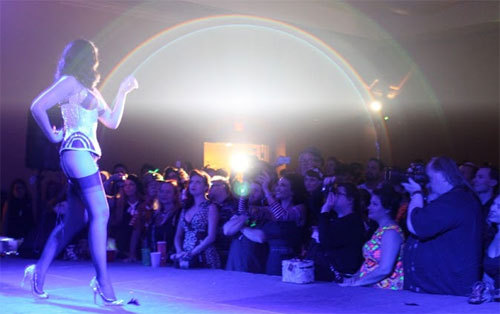 "The whole point of this event is to replicate that classic Tiki bar feel. That unique atmosphere where -- within minutes after you come through the door -- you're relaxed. You're happy. You're meeting new people. You're comfortable with the idea of trying new things like maybe taking an art class," Otto said.
"That's why I do Tiki Oasis year after year. I love that moment when people come up to me and Baby Doe and say 'Thanks for doing this. This is so great,' " Stroheim enthused. "And I look at these people. And they've got shorts and flip-flops. Nice Hawaiian shirts. Straw hats. And I'm like 'Okay. How long have you been coming to Tiki Oasis?' And they're like 'This is my first year and I'm coming back every year.' So people really get into it. And you can feel the enjoyment they feel. Because they've been in the environment and are participating it. Everyone has a good time."
And speaking of the environment, as Tiki Oasis attendees wander the halls of the Crowne Plaza on their way to a Phenomenauts performance or private room party, Otto suggests that they keep their eyes open for some authentic Polynesian artifacts.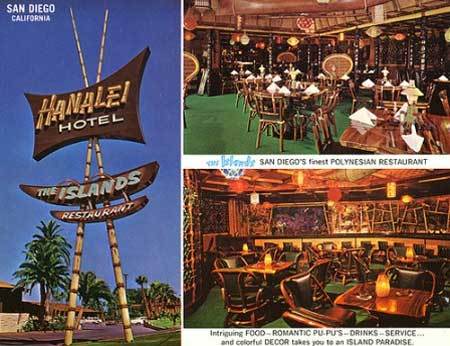 "What a lot of people don't know about this hotel is that it used to known as the Hanalei. It used to have this huge 100 foot-tall sign out front that you could see for a mile away out along the freeway that was fake bamboo. With Poles crossing with the logo at the top," Stroheim enthused. "And the Hanalei had this huge Polynesian-themed entryway. And its bar restaurant was amazing. Tiki artists used to say that this was their favorite restaurant because of all the unique details and the guys who did it, Oceanic Arts. John Mock was the architect along with George Nakashima. Who's like this super-famous Polynesian restaurant designer."
"Anyway, the Hanalei was appreciated by Tiki fans and locals alike. But then it got sold to Red Lion and then Crowne Plaza. And bit by bit, all of that great theming got stripped out of the place," Otto recalled. "We literally had Tiki Oasis there and brought a thousand people to that hotel. And later that same year, they remodeled and obliterated that great Tiki-themed restaurant and bar. I couldn't believe it. I asked 'Why did you do that?' And they said 'I wasn't us. It was the owners and they already had this planned. They didn't even tell us. They just said 'Here are the plans. We're going to begin work in a month.' "
Mind you, to show their appreciation for Tiki Oasis making their hotel the main venue for this annual event, the crew at the Crowne Plaza recently rediscovered some of the artifacts that used to be part of the Hanalei' decor and then had them installed in this hotel's atrium.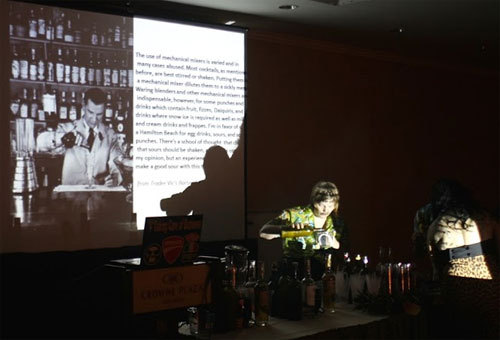 "That was a really nice gesture on the Crowne Plaza's part," Stroheim stated. "I like how -- even during those weeks & months when Tiki Oasis isn't being presented at this hotel -- those masks & paddles remind people of the Tiki spirit."
And if you'd like to get some sense of what Otto is talking, experience this Tiki party that basically outgrew the Stroheim's backyard ... Just be aware that the 2015 edition of this four night / three day event is now basically sold out. At this point, there are only limited tickets remaining for Tiki Oasis' Sunday nights showcase.
But don't fret. There's always the 2016 edition of Tiki Oasis. Which Stroheim promises will recreate the fun of those original backyard parties but on a much bigger scale.
Popular in the Community