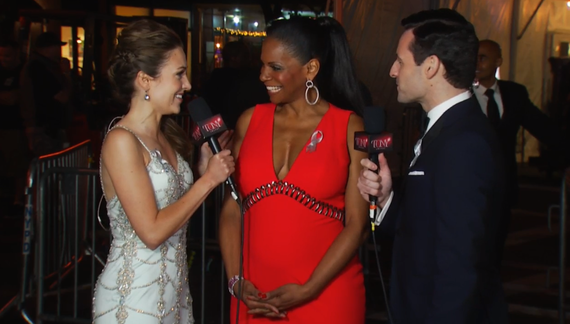 Audra McDonald (center) with livestream hosts Laura Osnes and Max von Essen
Photo Credit: The Tony Awards
The Beacon Theatre auditorium was no doubt the room where it happened on Sunday, June 12, as Broadway toasted the best of the theatrical best at the annual Tony Awards celebration (which, it should be noted, also marked the ceremony's 70th anniversary). Fueled by an incredible message of love, kindness, acceptance in light of the Orlando tragedy that occurred earlier that morning, late-night personality James Corden led a high-energy evening jam-packed with musical performances, topical comedy bits, and, yes, even a bit of "Carpool Karaoke."
But yet, while the annual television broadcast was kicking off on CBS, there was a whole 'nother show going on backstage. Those who tuned in to TonyAwards.com were treated to a unique second-screen experience that was just as high-octane as the main event.
Broadway mainstays Laura Osnes and Max von Essen conducted interviews with celeb presenters, performers, and even some winners (!!!) as they entered and exited the theatre, while Justin Guarini, Jenna Ushkowitz, Josh Segarra and Karen Olivo presided over the indoor "Winner's Circle," chatting with the night's correspondents and winners, and presenting a variety of taped pieces and video packages, which showcased important "Behind-the-Scenes" personnel, and chronicled major themes of the season at large.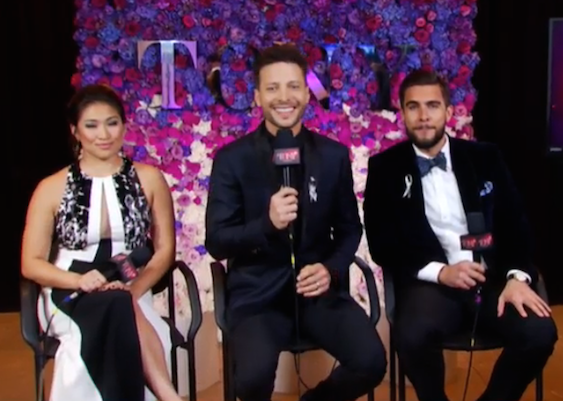 (L-R) Livestream hosts Jenna Ushkowitz, Justin Guarini, & Josh Segarra
Photo Credit: The Tony Awards
Throughout their conversations with Broadway luminaries and exclusive sneak peeks at "Behind-the-Scenes" footage, the hosts uncovered a few secrets, from special backstage rituals to who's dating who to recognizing unprecedented Tony moments.
Here are 16 of our faves... we bet you didn't know some before!
1. Hamilton costume designer Paul Tazewell designed his own tux.
The newly minted Tony winner, who mentions also working with Lin-Manuel Miranda on In the Heights, treated himself for the occasion. "I decided that even if I didn't win the Tony, I wanted the night to be really special," he tells Osnes and von Essen. "I...spend so much time dressing others -- you know, the actors -- so, I thought "'well, I'll do something special for myself, so I designed my own tuxedo.' ... It's a nice treat."
2. Lifetime Achievement Tony winner Marshall W. Mason discovered Jeff Daniels.
Yes, you read that correctly. As Mason explains to Guarini, Ushkowitz, and Segarra, "[Daniels] was a student at Central Michigan University and I was a director at Eastern Michigan [University] and he came in to do Summer and Smoke for me. And I said, 'Why don't you come to New York ['cause] you're a real actor?' And so, he did." The rest, as you know, is history.
3. Mason also directed the first play about AIDS on Broadway.
Titled As Is, the groundbreaking production, which Mason considers his most significant to date, was the first show of its kind to be produced on the Great White Way. "[It] felt very important," Mason emphasizes, "that we not only did something artistic [but] of social significance as well."
4. The iconic Phantom of the Opera wedding dress actually consists of five to six separate pieces.
"All those pieces tie together so that they can come apart for washing and get put back together easily," says Production Seamstress Annette Lovece. She notes, too, that the dress, while it looks "like it's got all this structure and shape and... [is] really substantial" is actually rather light, to allow for both an easier costume change and for Christine to get tossed around (as she does in the Final Lair) without doing damage to the material. The change into the famous costume -- worn after the Don Juan Triumphant sequence -- is also "the quickest quick change in the show," says Lovece. "It happens in about 50 seconds."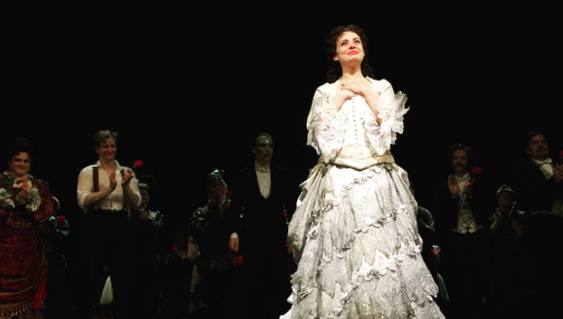 Click here for more on the complete journey of the dress.
Photo Credit: Julia Udine
5. In an effort to foster education in the arts, Hamilton offers $10 performances to students in public schools throughout New York City and across the five boroughs.
Every other Wednesday, producers invite these special audiences to "come in, see the show, learn about history, [and] have a chance to interact with the cast afterwards," explains Playbill.com's Blake Ross, who served as Theatre Correspondent for the evening. Considering the goal is to then integrate the production into classroom studies, Ross says, "There's no better way to understand theatre than seeing it... seeing the emotions, and seeing the people live in front of you." The initiative is made possible through a $1.46 million grant by The Rockefeller Foundation to Gilder Lehrman.
6. The School of Rock kids have some unique backstage rituals.
The pint-sized performers either take part in an elaborate handshake -- "It's very long," reiterates Luca Padovan, who plays Billy in the tuner -- or recite a mantra (with accompanying hand-clap routine, natch), colloquially dubbed "Smack Smack," before heading out onstage every night. You could say it's their way of pledging allegiance to the band.
7. It took eight months for Alex Lacamoire to orchestrate Hamilton.
"I really thought about every decision... I didn't want anything to be carefree," he tells Osnes and von Essen, after his Best Orchestrations win. "I wanted everything to have a purpose to be there. I made demos of all the orchestrations so that I knew what I was going into.... I didn't want to take any chances, because I didn't want to screw it up. Lin was giving [me] such great material, I had to, you know, like, carry it through."
8. Winners receive a "Tony dummy" they must return at the end of the night.
"You do know you have to give this back, right?" Olivo (a Tony winner herself for her performance in 2009's West Side Story) asks The Humans winner Reed Birney, half-jokingly.
When Birney asks Olivo to share handled parting with hers, the actress admits, "I didn't do it willingly. ... They were like, 'We're coming to get it from your dressing room,' and I was [disappointed]." But the disappointment didn't last too long, 'cause "then, they give it right back."
Yes, readers -- the Broadway League doesn't keep the award forever, nor have they snatched it for malicious reasons. They "shine it up, make it look nice" and engrave it with the winner's name. The fresh, good-as-new, personalized (!!) Tony is then delivered by mail to each recipient within two to three weeks' time. So technically, Birney should be placing his brand new toy in the "weird, little nook in [his] bedroom" as we speak.
9. The complete Tony Awards ceremony is first rehearsed in broadcast order only five days before show time.
"You usually rehearse all the [numbers] out of order during the week, and then we have a dress rehearsal [where we] put them all together," explains Garry Hood, Head Stage Manager of the Tony Awards. "The time that we actually do that is five days or less. On a Broadway production or show [of a larger scale], you have months to prepare for that and rehearse that over and over and over. We do everything in a matter of days." Between the Tony Awards and a regular Broadway show, Hood notes, undoubtedly, "That's the biggest difference."
10. Having already established herself as the first performer in a wheelchair to play Broadway, with Spring Awakening's landmark Tony performance, Ali Stroker makes history once again as the first person to perform in a wheelchair on the Tony Awards telecast.
"It's amazing," comments Stroker, on the subject, following the performance. "It's such a dream come true."
11. On Your Feet!'s Gloria Estefan and Ana Villafañe got schooled in the same place.
For one, "[Ana] grew up in Miami, as did Gloria Estefan," Ross shares. A fitting connection, as the actress portrays the singer in the bio-musical based on Estefan's life. But the ties are even closer than that: "They actually went to the same high school." While they weren't in school together, Estefan and Villafañe both graduated from Our Lady of Lourdes Academy in Miami, FL. Small world, isn't it?
12. With her (first!) Tony win, Jessica Lange is now one award away from the EGOT.
The Long Day's Journey winner previously received the Oscar -- first in 1982 for Tootsie, then in 1994 for Blue Sky -- and several Emmys, for her work in Grey Gardens (2009), and the American Horror Story miniseries (2012, 2014). "And she sang on American Horror Story [as well], so she's a step [closer]," says Ushkowitz, referencing Lange's missing Grammy Award. "She's gettin' there. She'll be fine."
13. Spring Awakening's Austin P. McKenzie initially turned down the role of Melchior....
"It was totally an accident," he tells Osnes and von Essen, of his casting. The actor first applied for an interpreter position, but when the Deaf West team recognized his potential, McKenzie ended up with an offer for the radical atheist. Apprehensive, "I [at first] said 'no,'" he admits, "and my mother [then] said I was an idiot if I [turned it down], so I [went back and] said 'yes,' and here I am." Spring Awakening premiered at the Wallis Annenberg Center in Beverley Hills in late Spring 2015, before transferring to Broadway last fall. The production earned two Tony Award nominations: Best Revival of a Musical, and Best Director of a Musical, recognizing the work of Michael Arden (who, in fact, is not Christopher Fitzgerald).
14. .... And Spring Awakening's Sean Grandillo is dating Kimiko Glenn.
The Orange is the New Black actress is now appearing as Dawn in Waitress, which coincidentally plays at the Brooks Atkinson -- the same theatre where Spring Awakening played in the fall. Grandillo provided the voice of Otto in the Deaf West production.
15. In Asia, it's customary to hold your applause until the end of the show.
While discussing how performance reception differs from country to country, Ross adds, "I know a lot of American performers who have been a little jarred by that [custom]."
16. All four acting awards were given to African-American performers -- the first time in Tony history such an achievement has occurred.
"Hollywood, take note!" says presenter Audra McDonald, shooting a look toward the camera. "We do it right over here!" The winners in question are, of course, Renée Elise Goldsberry (Hamilton), Daveed Diggs (Hamilton), Cynthia Erivo (The Color Purple), and Leslie Odom, Jr. (Hamilton). In light of the historic event, quoting a tweet he read earlier in the evening, Guarini states, "The Tony Awards is such a great show because it brings equality and diversity and education [and] mindfulness to the forefront, and tonight is such a wonderful example of that." Say it with us: History is happening in Manhattan. #TonysSoDiverse indeed.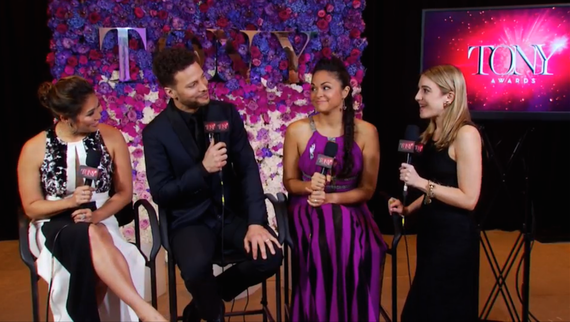 (L-R) Livestream hosts Jenna Ushkowitz, Justin Guarini, & Karen Olivo with Theatre Correspondent Blake Ross
Photo Credit: The Tony Awards
"The Room Where It Happens" Video Credit: Atlantic Records
"The Journey of the Dress" Video Credit: The Phantom of the Opera
The 2016 Tonys Behind-the-Scenes Livestream Show was presented by BroadwayHD. For more information, visit www.broadwayhd.com.
REAL LIFE. REAL NEWS. REAL VOICES.
Help us tell more of the stories that matter from voices that too often remain unheard.