Yosemite National Park has been touted by many to be among the most beautiful places in the world. In the world. That is a very tall measure! With such a claim it's impossible not to ponder: 'how beautiful can it really be?' Driving into the valley we were eager for it to show itself, to reveal its unmatchable beauty, and it did--boom--just like that after exiting the Wawona Tunnel and perched upon Tunnel View there it was: the most beautiful place in the world.
It just might be. It's right up there, that's for sure. It would certainly be a challenge to determine a place more lovely than Yosemite is when judging it by the sum of its parts. Individually, they are melodies; together, they are a symphony. Case in point: the breathtaking vision as seen from Tunnel View...
...humor me for a moment and try not to look at the scene in the picture above as a whole view, but instead have a look at each component of it. The frothy clouds that make way for blue sky but still hang on the horizon; depth of field that delight painters and photographers. The dramatic multi-hued granite rock formations infer how very hard (geologically speaking) those surfaces are, surfaces that when weathered by erosion split into expansive vertical cracks; an ideal place to build technical climbing routes that people come from all over the world take on. Blankets of trees laying on top of the rocks and covering the valley--pine, oak, cedar, fir--all serve a different purpose to the whole of the ecosystem and wildlife habitats that live there, while simultaneously enfolding the humans that wander between them (but which in this view we cannot see.) The shape of the valley that cradles the world living on top of it--it's almost as if you are looking into a snow globe. And punctuating the entire scene is that waterfall, Bridalveil Falls, cascading perfectly down while breathing life into the whole of the scene. This place couldn't have been dreamed up or drawn better--it is an overwhelming state of raw beauty.
With such visual enormity, Yosemite can be a daunting park to explore. Where do you start? From where can you take it all in? It certainly doesn't happen all in one place... In that spirit, we briefly outlined below most of the places we visited while there in May, including two others that we missed but would have visited had we been able to. It was by exploring these 16 places that we were able to take in Yosemite in a way that mesmerized us both to no end.
1. Tunnel View (pictured above) -- This is without a doubt the most iconic viewpoint in the park. Ansel Adams captured it endlessly producing some of his most recognizable photographs while in turn popularizing the location. It was picturesque long before Adams ever laid eyes on it and it has been magically captured by many photographers since. Perched at the western entrance to the valley, just as you pass through the Wawona Tunnel, you will see it in all its glory. At any time of day there is some size of a crowd at the overlook waiting to get their view or shot of El Capitan, Half Dome, Sentinel Dome, spires of cliffs framing the evergreen meadow, and Bridalveil Falls --the 317-foot cascading waterfall that flows year round and streams down to the valley floor. No scene could ever be composed more perfectly proving yet again, that Mother Nature is the world's greatest artist.
2. Half Dome -- This granite rock formation is among the most recognizable of its kind with one side boasting the sheerest cliff in North America (93% grade) and the other, sloping down in a perfect curve. Geologists once thought that the formation was a true dome that was split in half -- leaving one standing while the other dissipated from erosion. Today it is more widely believed that the second half never actually existed. Either way, it is spectacular to view and to photograph from such locations as Tunnel View (bottom-up view) and Glacier Point (face-to-face view as shown below.) To hikers, this climb that was once declared an impossible fete for humans to conquer is now regarded to be one of the great hiking challenges of its kind. Learn more about this harrowing cable climb on the official National Park Service site for Half Dome hiking at Yosemite (and known your ability level before taking it on!)
3. Glacier Point -- This is the best place in the park to experience the Yosemite high-country while observing panoramic views of Half Dome, various distant waterfalls, and the whole of the valley floor -- in other words, the best of Yosemite within one gaze. Glacier Pass Road takes you there by car, but do watch for closures that could cause you to reroute your plans, especially during shoulder season when ice renders the pass impassable. We faced this situation and lapped up the rare opportunity to experience an unusually desolate Glacier Point by hiking to it on the Four Mile Trail (see next section.) The viewpoint is equally remarkable when open to all. With two sizable lookouts, there is plenty of view-space to go around and with many others to view it with, you can dice up your photos by incorporating people after you get the shot that you first thought you came for.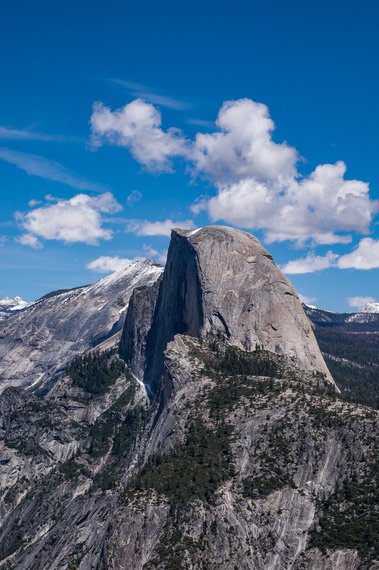 Half Dome as seen from Glacier Point. Photo credit: Jonathan Irish
4. Four Mile Trail -- Appropriately named, this 4-mile+ trail is a steep hike ascending 3,200 hundred feet. That's a lot of gain. It is commonly traveled as an out-and-back hike; as a one-way hike with a shuttle ride back from the top or bottom; or adjoined with the rightfully popular Panorama Trail that starts at Glacier Point leading back down to the valley floor (that was our route.) What was so awesome about Four Mile Trail is the unique views you are able to see as you reach different levels of elevation. The terrain follows a well-beaten path (it was built in 1872) with lush flowers and vegetation on either side the whole way up. This is a tough, rewarding, and gorgeous way to and from the lookout at Glacier Point.
5. Panorama Trail -- This is one of the most popular hikes in all of Yosemite -- so popular that it was hiked by POTUS, FLOTUS, and their daughters during the First Family's visit to Yosemite in June. Starting at Glacier Point you will meander around the perimeter of the valley walls crossing a rugged but well-beaten trail from the high-country all the way to the basin while taking in panoramic views of the Yosemite Valley the entire way. Walking along a portion of the John Muir Trail, (stretching all the way to Sequoia and Kings Canyon,) you will see distant views of Vernal Falls and Nevada Falls until you find yourself among them. This 8.5-mile (one way) hike is often done on its own with auto transportation at the trails end. We paired it with the Four Mile Trail which together turned out to be pretty much one of the best and most rewarding day hikes either of us has ever experienced.
6. El Capitan -- Who knew that a 3,000-foot boulder could cause so much heartbreak and joy? El Capitan is an enormous granite monolith sitting on the north side of the Yosemite Valley. It stands statuesque above the valley floor for onlookers to ogle from Tunnel View, Bridalveil Falls, and El Capitan Meadow; and as a place for experienced climbers to summit. It was 'El Cap' (as it is known to locals and climbers) that inspired the sport of rock climbing in its modern form during the mid-20th century. We felt that El Cap and the climbing culture at Yosemite deserved a separate write-up, so we did a small outpost on that near the bottom of this page. As for viewing El Capitan solely for its geological beauty, enjoy and don't forget your binoculars--tiny humans riding an enormous exposed cliff is always worth a look.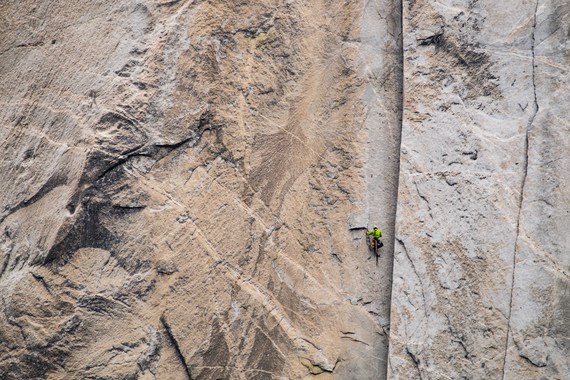 A climber on The Nose of El Cap. Photo credit: Jonathan Irish
7. Vernal Falls -- It was at Vernal Falls that we had the chance to see rock climbers repelling from the top down more than 300 feet to the valley floor. We also caught a quick rainbow, you know, for good measure. Viewing areas at the top of the falls are split into two on either side of the falls and are joined by a bridge crossing over the thrashing water. If you want right-up-in-there waterfall viewing, this is your jam. If you fear exposure, not so much.
8. Yosemite Falls -- As the tallest waterfall in North America, and the 6th tallest in the world, this is naturally one of Yosemite's most popular attractions. The close proximity from the Yosemite Village to the 1-mile loop trail at Lower Falls makes it even more so. Everybody loves a momentous waterfall that is easy to explore! Upper Falls is not as easy to get to, you will need to forge a strenuous 7-mile roundtrip hike with a 2,700-foot elevation gain to get there ... it sure is beautiful when you do. Yosemite Falls has another claim to fame -- it is one of the few locations on Earth from where you can view a rare moonbow (see the last bullet in this section for more on that.)
9. Bridalveil Falls -- Yosemite is well-known as a home to troves of waterfalls. Bridalveil is one of the most prominent, and is one of the first that many see when entering the park from the Tunnel View on State Route 41. To get up close, drive to the Bridalveil parking lot and walk the short, slightly steep trail to the base of the falls (and bring a waterproof bag and lens cloth for your camera! It gets wet standing beneath the misty falls.) Unlike Yosemite Falls which flows only from November through July, Bridalveil flows all year long. One of its most noted characteristics is that it has a swaying mist that rises from the front of it making it dazzle when viewed from afar.
10. Valley View -- It was the 145-mile Merced River that carved the Yosemite Valley giving us the picturesque riches that we get to enjoy today. For awesome views and photos of the granite monoliths reflected in the river, head to the Valley View pull-off just before you exit the park. Even if you plan to explore the area for days, stop when you see that the water is calm. The stillness provides great opportunities for reflection photos and we found that this photo op was somewhat fleeting -- when we wanted the shot, the breeze chopped up the mirrored view. When it was still, it was perfection.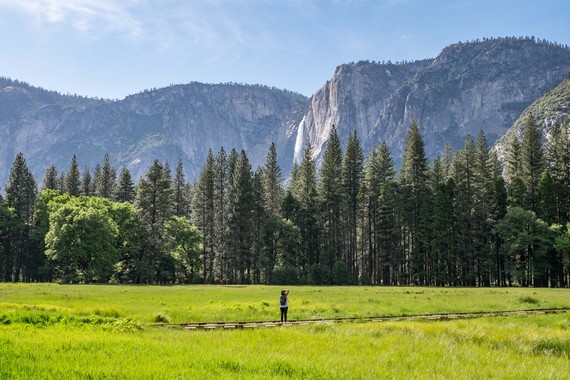 Dwarfed beneath the size and beauty of Yosemite Falls. Photo credit: Jonathan Irish

11. Mist Trail -- This 3-mile hike is perhaps the most popular in Yosemite. Mist Trail climbs 1,000-1,900 feet (depending on your turnaround point) to lookouts peering onto Vernal Falls and Half Dome, and descents that walk you through sprays of rogue mountain water, hence the naming Mist Falls. Walking through this at the end of our 13-mile+ Four Mile Trail/Panorama Trail hike was ideal timing -- the cool down was epic and so were the photos!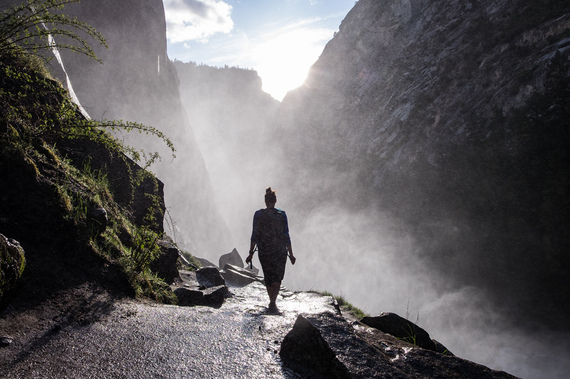 Stefanie Payne catches the light at Mist Fills. Photo credit: Jonathan Irish
12. Mariposa Grove -- This ancient sequoia grove is found in the southernmost point of Yosemite in the Wawona area of the park. After a visit to this area with John Muir, President Teddy Roosevelt remarked that being there was like "lying in a great solemn cathedral, far vaster and more beautiful than any built by the hands of man." It is also home to two of the 30 largest trees on Earth (the number one and two largest trees are located in Sequoia and Kings Canyon National Park.) The iconic Mariposa Grove is closed until spring of 2017 for a restoration project that when completed will enhance visitor viewing while protecting the delicate sequoia habitats for decades (maybe centuries) to come.
13. Mirror Lake -- At stop #17 on the free Yosemite Shuttle you can hop off and set out on a short hike leading to a loop trail around a still lake that holds a beautiful reflection of Half Dome. The lake is a little small to encapsulate the full reflection of Half Dome, and the mosquitos in this area are viscous, life-sucking monsters, but the view is insane in a good way. We found Mirror Lake to be a cool area that is still within reach of the populous areas of the valley but on the outskirts enough that it feels much more wild. And with such a strong reflection in the lake and much to reflect upon it, it is a great place to capture abstract photographs.
14. Hetch Hetchy Valley -- Located on the northwestern edge of Yosemite National Park, this area was once described by John Muir to be 'one of nature's rarest and most precious mountain temples.' Today, it is a reservoir that helps to feed the city of San Francisco with their water supply. As a present-day national park destination, this is what we found: perfect spring meadows filled with a rich concentration of wildflowers; old and new growth forests; birds, insects and other wildlife, and an enchanting valley floor ... socked by the man-made reservoir that is fed by the Toulumne River. You get a very strange feeling standing on the overpass that crosses the reservoir that the whole scene is quite unnatural. A visit to Hetch Hetchy is a must for anyone who wants to develop a more intimate understanding of Yosemite, John Muir, and American politics as they relate to the National Park Service. It is also a wonderful place to explore.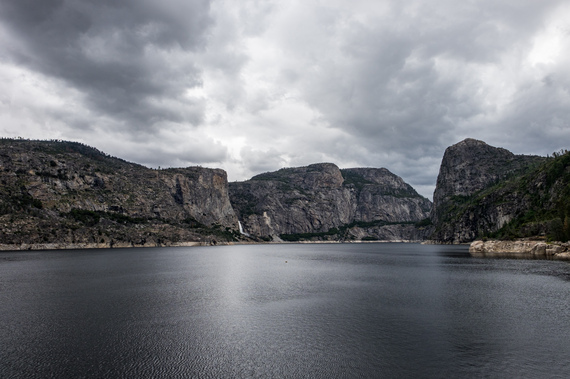 Hetch Hetchy Valley in 2016. Photo credit: Jonathan Irish
15. Horsetail Fall -- Each year during mid-to-late February, Horsetail Falls is illuminated by the sun in a way that makes it look as though the waterfall is on fire. The waterfall flows only from December to April, and the "Firefall" occurs only at sunset just once or twice a year. According to the National Park Service, the best place to witness this one-of-a-kind sight is from the El Capitan picnic area. And so it goes....we missed it due to seasonality, but it is on the lifelong photography must-get shot list for sure.
16. Yosemite Moonbow -- Just a couple of times each year, you can catch a rare glimpse of a "moonbow" arcing over Yosemite Falls. The stars (and Mars and Jupiter) aligned in our favor this year and we found ourselves at Yosemite during the right time of year to see and photograph it.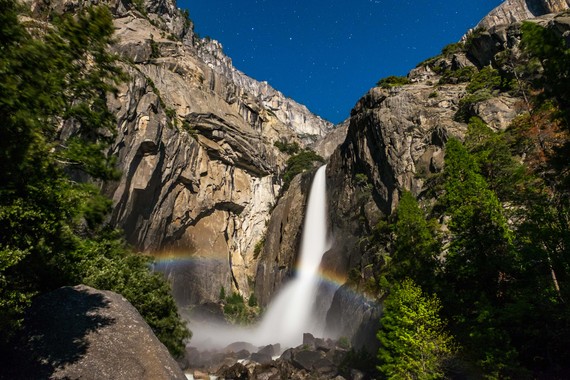 The Yosemite Moonbow as seen in 2016. Photo credit: Jonathan Irish
Lodging: Yosemite is one of America's most popular national parks and as a result, finding accommodations can be a real challenge. Planning in advance is a really smart idea! There are historic hotels such as the Majestic Yosemite and the Yosemite Valley Lodge on the valley floor, reservable campgrounds at places like be the popular Housekeepers Camp, and lottery tent and RV camping that can be secured (if you're lucky) the day of your stay (but for only one day at a time, so note this if you are planning a multi-day adventure.) For a beautiful stay away from the fray, head to the Tenaya Lodge located just two miles outside of the south gate of the park. With restaurants, spas, pools, free bicycle rentals, a practice climbing wall, and hiking trails into the Sierras that begin just outside of your room, you might find that your Yosemite adventure starts before you ever reach the valley floor.
Popular in the Community