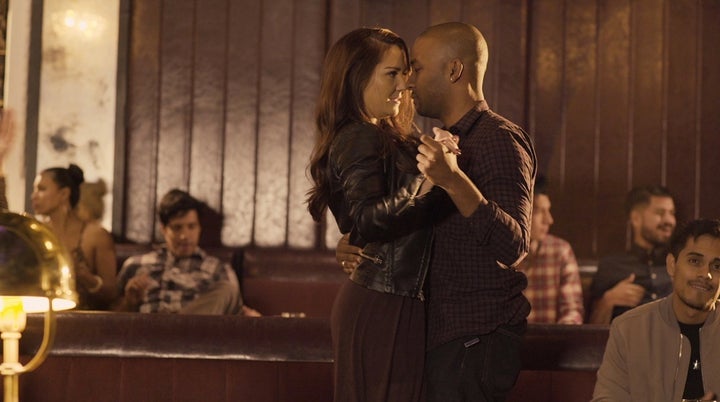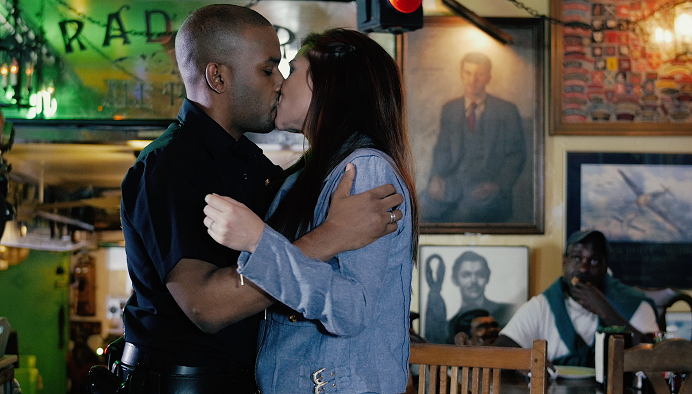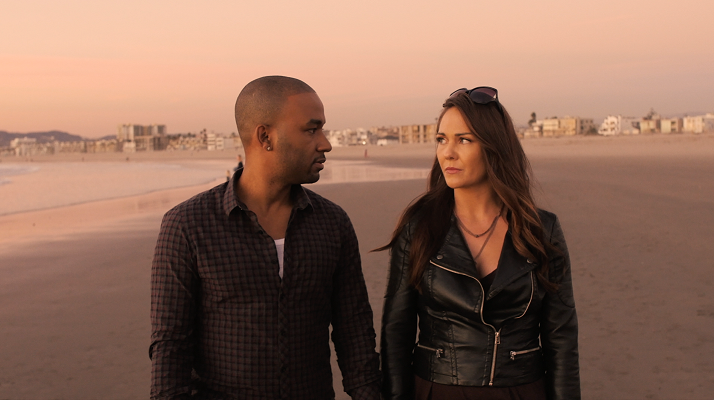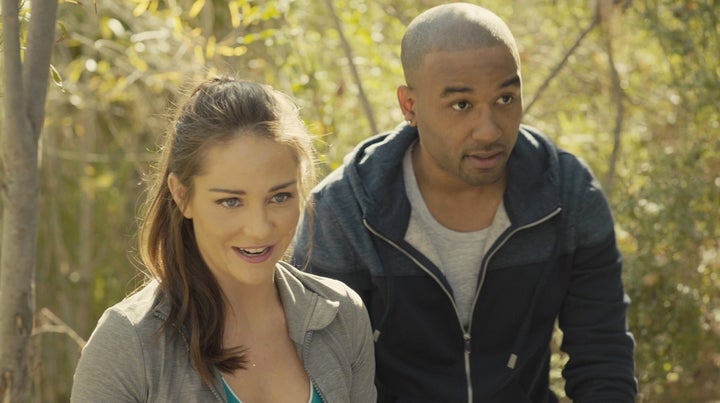 "I recognized Derrell and Jade's chemistry since their first scene together. " Says Showrunner, Creator, EP of The Bay, Gregori J. Martin. "They shared such a great connection on and off the screen that it was inevitable that I would soon turn them into one of "The Bay's Super-Couples" (and a fan fave). He continued "The fans love them together and it's no question why, once you see the realness these two talented actors possess."
Derrell Whitt (Will Campbell) and Jade Harlow (Lianna Ramos) have been heating up the screen the past two seasons on "The Bay", in season three their characters romance has created some incredibly memorable and sexy moments, at the same time both Will and Lianna have experienced tremendous growth personally and professionally. Executive Producers Gregori J. Martin and Wendy Riche are experts at spotting talent and then creating material for the actors that lets them shine. As viewers we see so much with Derrell and Jade, their commitment to their characters and the story make Will and Lianna characters we want to see more of and we want to be together. Their mutual respect and admiration for each other extends off screen as well, which isn't always the case in the business. Now, let's get to know these two super talents a bit more as we continue our "16 Questions Series" with some of The Bay's Emmy® winners!
Here's what Derrell had to say about his co-star. "Jade Harlow is hands down one of the best actors. That's it. I would liken it to the same way red is a color, her being one of the best just IS. It's just a FACT. Not "best on the show"....not "best for her age". One of THEE best actors that the industry has. Point blank period. I've known her for years and we have had so many experiences simply being friends that the chemistry is so fluid on screen. She helps me give my best and I'm extremely thankful I was paired with someone so talented and reciprocal in their attention to detail and respect for the craft.
Here's what Jade had to say about her co-star. "By far the most underrated actor on our show is Derrell Whitt, he's warm, he's super talented and he's the best teammate in any and all situations."
To help celebrate the release of season 3 episode 13 (episode 14 is releasing 11/28) Derrell (Will) and Jade (Lianna) answer our reader favorite 16 questions:
What is your favorite word?
Derrell: Congratulations.
What is your favorite color? Derrell: Electric Blue.
What is your favorite city?
Derrell: New York, hands down. One of a kind. It's also home. Vegas is a close second.
What is your favorite season?
Derrell: Of "The Bay"??....Lol. THIS ONE! Winter, if anyone else is asking.
What is your astrological sign?
Who has been the most positive influence on your life?
Derrell: I've had many people influence my life in a positive way over the course of my entire journey here thus far. First I would say my mother hands down, for too many reasons to type here. Right on her coattails would Be Gregori J. Martin (Creator of The Bay) who has been a brother and huge support from the time I first met him in his acting class he was conducting when I was 12, to the release of season 3 of The Bay.
What trait do you find most attractive in other people?
Derrell: Intellectual potency A.K.A intelligence and wit. No pun intended.
Jade: A great sense of humor.
What is something most people don't know about you (Hobby, Favorite TV Series you never miss or Film you have seen many times or Secret Talent)?
Derrell: I am an AVID and very good poker player. It is my second life.
Jade: I can bark like a big dog.
What inspires you creatively?
Derrell: GOD!...That's not me frustrated with the question, that's the answer. I think the most effective creative inspiration comes from a person's own recollection of the power of their own thoughts and imagination if they only chose to focus their mind on things that would please them. The effect of witnessing a great performance is also very inspiring & enthralling, to artist and others alike. Seeing someone masterfully control and manipulate emotion authentically: Priceless.
Jade: Compelling, well told stories.
What is your favorite swear word?
Derrell: It's a toss-up between the F word and S**t. They are so Universally useful.
Jade: Hahaha, same as my favorite word ;-P (oops, if I'd known this question was coming, I'd have picked a classier word for question 1).
Derrell: When I surprise my mother by coming home for the holidays and she says "Derrell?" on the other side of the door.
Jade: The sound of a needle popping on vinyl.
What is your favorite food?
Derrell: SALTADO DE POLLO is #1 food in the WORLD!!! Peruvian: TRY IT, LOVE IT!
What is your favorite beverage?
Derrell: Arizona Lemon Iced Tea. Perfection.
Where do you keep your Emmy's®?
Derrell: My mom and Dad have asked about me sending it to them so I think It will have a new home shortly after I handle this raffle I told them I would set up to determine a winner.
Jade: Top shelf of my bookcase in my living room.
Derrell: Professional Poker Player.
Jade: There's never been a plan B.
What would you like to hear the Angels say when you arrive at home on the other side?
Derrell: "Let me show you Dad's office so we can tell him you made it..."
Jade: Welcome Home, your loved ones are here to greet you.
To end this interview here is a quote for Showrunner, Martin, on his feelings for the talented onscreen lovers.
"I've known Derrell (Whitt) since he was 13 years old. I was his acting coach back in New York and recognized his immense acting talent since the beginning. I then soon became his guardian for his Senior Year when he moved out here to star in a film I was producing and directing. He ended up attending and graduating from Hollywood High School, which was completely suitable for him. Many iconic names graduated from Hollywood High and he's surely going to become their next alum recognized as one of Hollywood's greatest. Such a talented actor and as his big brother and acting coach for nearly a dozen years I'm so proud of him." Gregori J. Martin (Showrunner, Creator, EP "The Bay")
"I met Jade (Harlow) 7 years ago through a well-known Soap Opera manager, Michael Bruno, who she was rep'd by at the time. I took a general with her and knew right away that there was something very special about her. She eventually became one of my favorite actresses to write for. Not only do I love her as a person, but I find her to be an incredible actor, and for great reason! She's just wonderfully honest on screen." Gregori J. Martin (Showrunner, Creator, EP "The Bay")
Popular in the Community