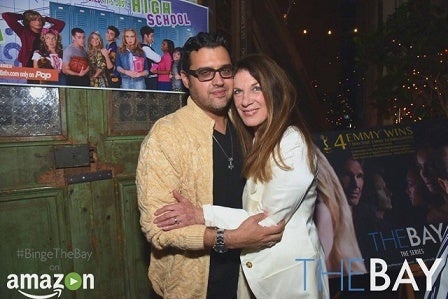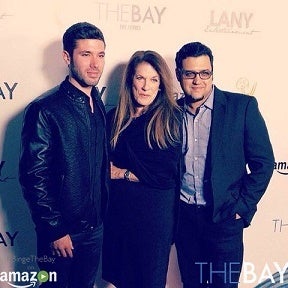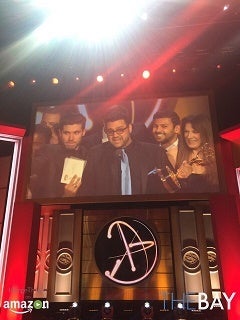 Bay City is a place everyone should visit, the residents are charming, delightful, scheming, secretive, and lovable. Seasons 1,2, and 3 of "The Bay, The Series" total 42 episodes and are currently available on Amazon Prime and Amazon Video #BingeTheBay.
The creative genius behind "The Bay" is Creator, Head-Writer, Director, Executive Producer & Showrunner Gregori J. Martin, who began working on creating Bay City in grade school. Working closely with his producing partner Kristos Andrews and Legendary Executive Producer and Executive Story Editor Wendy Riche, the trio in this new golden age of television have masterfully crafted a series that realistically captures the lives of the Garrett's, the Blackwell's, the Ramos's and friends and extended families.
One of the most unique elements with "The Bay, The Series" is layered storytelling of each character, the word simmer comes to the front of mind, after viewing all 42 episodes. It is a brilliant way to get viewers emotionally invested, keep their attention, and they keep them begging for more. Do we really have to wait 11 months for season 4?
42 episodes and these characters are just getting started, as they grow and evolve so does the viewer. Gregori, Wendy, and Kristos invite the viewer to get into the passenger seat with the characters and never move away from that. At the same time "The Bay, The Series" brings a stark focus to many experiences that have people every day, that don't get enough attention, and are important to address. More reasons for everyone to #BingeTheBay!
On working with Gregori (and Kristos) Wendy said: "Working with Gregori and Kristos is one of the best experiences I have ever had in my career. I love working with them! It's pure joy and creatively exhilarating in every possible way. They are tireless in their pursuit of excellence, and they always bring integrity and love to the process. It is fun and inspiring! Gregori has such a clear vision yet he is always open to new ideas, collaborating with enthusiasm and grace. We challenge each other, push each other , illuminate, enlighten, debate with each other in a very healthy creative process. And we make each other laugh. As we move forward into developing Season 4 of THE BAY, we've got lots of surprises and secrets that will be revealed will complicate and challenge all the people of Bay City, hopefully in the way THE BAY audience loves and expects!"
On working with Wendy Riche, Gregori said: "Kristos and I are so grateful to have Wendy on THE BAY. I've been a fan of hers since I first saw her work on General Hospital back in the early 90s and I just knew I would be working with her someday. I had to! She's brilliant and I adore her. When I introduced her to Kristos they hit it off from the very start and we knew we had a great thing and had to keep it going. Working with her has been an absolute breeze for me and I'm so grateful to have her as part of our team. We spend a lot of time complimenting each other too which is always a good positive confidence booster in this competitive industry! We truly love her!"
Here are their answers our readers favorite 16 Questions with Gregori J. Martin and Wendy Riche:
1. What is your favorite word?
GJM: Yes! LOVE! It's the most important word in the world, but the action of LOVE (real love) is even more important.
2. What is your favorite color?
WR: I wear black but love the color Green like the grass, trees, leaves - it soothes my soul
GJM: Blue, of almost any shade.
3. What is your favorite city?
WR: No question - LA - I LOVE it!
GJM: I think it's Los Angeles also, because this is where my life is, but I also love New York City because it is a part of me and London! It's amazing!
4. What is your favorite season?
WR: Love them all - I'm a gardener living in LA which means all year round gardening!
GJM: Season 3 (haha). I think maybe fall. I'm a workaholic so summer is over and the world usually stops wasting time and getting back to work lol
5. What is your astrological sign?
GJM: Taurus! I love being a Taurus but if I had to choose another sign I'd say Virgo, cause some of the best people I know are Virgos. And of course, Capricorns!
6. Who has been the most positive influence on your life?
WR: My parents - I am very fortunate to have had wonderful parents.
GJM: I have a lot of great influences in my life. First and foremost are my children. They are what keep me breathing, what keeps me going and fighting the good fight every day. It wasn't until the birth of my son that I really understood the meaning of love and for that I'm eternally grateful. My kids are my world and my true influences for everything. Next it would have to be Kristos (Andrews). He has been there for me in ways no other human being has and I don't know what I would do without him. He's such a humble guy and doesn't always take the credit for what a true talented genius he really is. His contributions to LANY and The Bay are so important and so incredible and should never go unnoticed. I couldn't do what I do without such an amazing partner in crime in my life. And then of course there's my mother. She has always been my mother and my father combined. She's taught me the true meaning of family values which are so important in life, is an incredibly loving woman and has showed me how to love. She's also beyond talented in so many ways and any talent I have is truly thanks to her. There are so many close friends and family like Derrell (Whitt), who will always own a big part of my heart, Carol (Hedgepeth) who I often say is the other half of my brain, Wendy (Riche) who I am so blessed to be working with, and my mentor Jerry (Kessler) who taught me almost everything I learned about business and about life in general. There are so many other people I can mention but I'd be here forever... so grateful to all the great influences I have received in my life and know I will continue to receive.
7. What trait do you find most attractive in other people?
WR: Their awareness of the world around them and their honesty about how they feel.
GJM: Loyalty and true hard work is the key to my heart. There's definitely not enough of either, especially in this town, but when you find the ones that understand both loyalty and the true definition of hard work, you cherish them and keep them close to you.
8. What is something most people don't know about you (Hobby or Secret Talent)?
WR: I'm a scuba-diver and underwater photographer.
GJM: Hmm, I'm a pretty mean chef, can dance salsa, and I've been told I have a nice singing voice.
9. What inspires you creatively?
WR: Intriguing characters, good story and working with creatively open people…like Gregori.
GJM: Love. Love inspires everything I do. Without love my creative juices just won't flow. I have to feel love to be creative.
10. What is your favorite swear word?
WR: Probably the "f-bomb" - I'm from Flushing, NY and it's how you turned a phrase, made a joke, told someone off and charmed them. I definitely need to get it more under control though.
GJM: F***. S***, or DAMN! But I don't think I curse too often. Not to sound too boring. Maybe I'm wrong and I just don't realize I do.
11. What sound do you love?
WR: The sound of the ocean.
GJM: The sound of my children's voices. And then the sound of rain and thunder.
12. What is your favorite food?
WR: Probably chicken, any kind, cooked anyway.
GJM: Good Indian food! But really anything spicy and flavorful. And I love blueberries.
13. What is your favorite beverage?
WR: Water, coffee, white wine - in no special order.
GJM: Water. And as far as alcohol goes, gotta go with tequila and pineapple at the moment.
14. What was career plan B?
WR: Never had a career Plan, just fell into it and loved it!
GJM: I was an imaginative kid. I thought my career was already in full swing when I was 7 so there hasn't been a plan b.
15. Where do you keep your Emmy® awards?
GJM: My bedroom, my living room, my dining room and my office. I am so grateful for my Emmys® and never EVER take them for granted! What a blessing they've been.
16. What would you like to hear the Angels say when you arrive at home on the other side?
WR: "What did you learn?"
GJM: "Oh you are here! We've been waiting! Come join the rest of your loved ones!" And "How would you like to direct our next movie?"
@CanyonCatz (Wendy Riche)
Popular in the Community