The United States is a great place. From New York to Los Angeles and covering everything in between, the U.S. boasts unprecedented diversity, natural wonder and opportunity. Americans love freedom so much, they have hot dog-eating contests on Independence Day to prove it. And good luck finding something better than a cronut.
Despite that general awesomeness, though, the U.S. isn't the best at everything. That's not dinging the land of the free and the home of the brave for no reason, but rather, to say that Europe just does some things better.
Here are a few arenas where the U.S. could learn a thing or two from the old country.
As the U.S. Congress plows into gridlock again over Obamacare, Europe offers a number of examples of far more efficient health care systems. According to a Bloomberg study, four European nations rank in the top 10. Apparently, the U.S. could learn something from Spain, Italy, Switzerland and Sweden.
In fact, of the 48 nations surveyed, the U.S. ranked 46, edging out only Serbia and Brazil.
Europe produces wonders such as Gruyere, Parmesan and Feta.
Meanwhile, this yellow, nondescript foodstuff bears the name "American."
Across the pond, larger cities flaunt extensive metros and buses circumnavigate nearly every town. Granted, the U.S. takes three days to drive across, but a high-speed train in Germany is the closest thing to being in "Star Trek" as any mode of transport in this half of the 21st century.
What's that? You don't live in New York/Washington/Chicago and don't have a car? OK. Enjoy waiting for your transfer bus for the next three hours.
The annual Eurovision Song Contest brings out the best (and sometimes the worst) of pop music. But as much as anything, it takes nationalism, shakes it up with a whole bunch of ridiculous, and pops out an entertaining spectacle.
Get ready for five minutes of Eurovision awesome.
"American Idol" was once a juggernaut. But for a good chunk of the show's running, half the fun has just been watching how terrible the tryouts are.
Switzerland and San Marino -- the microstate surrounded by Italy -- tied Japan for the world's longest life expectancy, at 83 years, according to a 2011 World Health Organization study. From there, eight European nations tied for fourth place, at 82 years, including Italy, Andorra and Sweden. In fact, 24 European nations rank ahead of the U.S. on the list, which comes in at...
...No. 33, just one spot ahead of Cuba.
European nations have won 10 of 19 World Cups, led by Italy, Germany and reigning world champ, Spain. And you don't have to wait four years to see soccer magic — the 2012 UEFA Champions League final drew a global audience of 150 million on average, compared to 106 million for the 2013 Super Bowl.
Then it didn't qualify for the tournament for 40 years after 1950.
The top seven nations in the world, in terms of time off? All European. Austrians get 35 (35!) paid days off per year. Nobody criticizes them for being lazy.
Meanwhile, the U.S. is the sole developed nation that requires no paid vacation time or holidays by law.
When anyone says the word "Belgian," three things come to mind: Beer, waffles and Jean-Claude Van Damme.
But seriously. Belgium and chocolate are practically synonymous.
M&Ms are tasty and all, but that candy-coated shell can't hold a candle to Brussels' finest.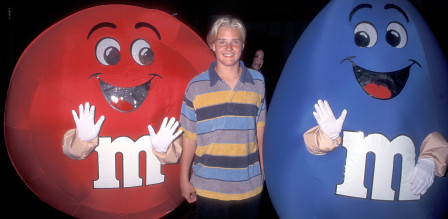 (And yes, that is "Home Improvement" star Zachery Ty Bryan hanging out with M&Ms.)
9. POLITICAL SEX SCANDALS
And that's not even bringing up that Sarkozy divorced and remarried while he was president.
Then you have Americans like Mark Sanford, who cried in public about his infidelity, making the story even more sad than it ever was interesting.
Europe uses the metric system. If you can multiply by 10, you now have the next highest unit. Boom. Done.
There are 3 teaspoons in a tablespoon, 16 tablespoons in a cup, 2 cups in a pint, 2 pints in a quart and 4 quarts to a gallon. There are 12 inches in a foot, 3 feet in a yard and 1,760 yards in a mile (or 5,280 feet, as is more commonly known). There are 144 square inches in a square foot and 43,560 square feet in an acre. There are 16 ounces in a pound and 2,000 pounds in a ton.
This list excludes such fun units as picas, furlongs, fathoms, nautical miles, survey townships, bushels and hogsheads. Yup. A hogshead is a unit of measurement and not a Harry Potter character. Look it up.
Here's Spanish actress Penelope Cruz speaking English:
Here's New York City Mayor Michael Bloomberg speaking Spanish:
In Europe, nobody laughs at the guy driving the car that's only slightly larger than a bathtub...because they're likely driving those cars, too.
Meanwhile, here's a familiar sight from an American parking lot: A gas-guzzling SUV, probably parked over the lines at the grocery store, with one of those stick figure family decals in the back window. Because gallons of milk need to be transported in tanks.
Royal-family-peeping aside, it's just not a big deal in Europe.
Pretty much anyone over the age of 15 knows full well how Nipplegate ushered in a new era of American Puritanism.
Dat. Tunnel. (FF to 1:00).
Cinderella's is probably America's most well-known castle. And it costs $92 to go there.
A long lunch in a Parisian café, a siesta in Spanish sunshine, or sipping wine on an Italian terrace -- it's hard to argue with the ways Europeans spend their time. As the saying goes, Europeans work to live and Americans live to work.
Americans are seemingly always in a hurry. They have to be first on and off the subway car. They need to be able to buy size XL sweatpants and Fruit Loops at 3 a.m. And if they don't reply to emails within 10 minutes, coworkers start considering missing persons reports.
BONUS (TIE): MOVIE ICONS WHO AGED IN WEIRD WAYS
Popular in the Community