There are a number of ways we can pray for our foster children. We need to become prayer warriors for our foster children, lifting them up in prayer on a daily basis. Not only should we pray for the children, but our foster children's case workers also need prayer. After all, their job is a difficult one, and they have emotional ties to the children, as well. Just today, as I write this, I spoke with a case worker who told me she worked with a child for over two years, who was placed back into a birth parent's home, despite the case worker's pleas. With tears forming in her eyes, this case worker told me of the concerns she had about the child's reunification with the parents came true, and that she continues to pray for the child each day.
Along with this, the birth parents of the children are also in need of prayer. Indeed, despite the abuse, neglect, and other challenges and horrors the biological parents and birth family members may have placed upon these children, they are children of God, just as you and I are. This might be difficult, though. Are we praying for the well being and healing of the birth parent, or for the family to spend more time in jail? Are we praying that the children be reunified with their biological family, or that the parent's rights to the child are terminated so we can adopt the child? To be sure, you just may be the only one praying for these parents, and we need to put aside our personal judgment and beliefs and instead pray that God's healing hand and will be done, for all involved. As Christians, we are called to pray for mercy and justice, for not just the children, but for their parents, too. These parents may be victims of abuse, neglect, rape, and violence, also. To be honest with you, my friend, I need to remind myself some times that I need to walk humbly with our God, that I am a sinner just like anyone else, and that I am no better than those who would hurt their child, my foster child. We all need to keep the words of Micah 6:8 in or hearts when we pray for our foster child's family members. The words of this Scripture verse are both beautiful and powerful reminders of this directive.
"He has shown you, O mortal, what is good. And what does the LORD require of you?
To act justly and to love mercy and to walk humbly[a] with your God."
1)We can pray for the children who are coming into foster care right at this very moment.

2)We can pray that children in foster care do not experience multiple disruptions, or move from foster home to foster home to foster home.
3)We can pray that the children remain in foster care for as short as time as it is safely possible.
4)We can pray that the child is able to form a health relationship with his case worker, and that the case worker is one that is loving, kind, compassionate, and understanding to his needs.
5)We can pray that if the child has siblings in other foster homes, and that they are all able to stay in contact with each other and able to remain in a foster home together.
6)We can pray that God heals the trauma, pain, and profound damage that these children have not only been exposed to, but that they are able to heal from these experiences, as well.
7)We can pray that the judge, case workers, and those who decide the child's fate receive the wisdom they need in order to make the best decision that is in his best interest.
8)We can pray for those teens that have aged out of the foster care system.
9)We can pray that we as foster parents can be the hands, feet, voice, and heart of our loving God.
10)We can pray for the biological children of our foster parents, that they are instruments of God's love, and that their hearts are open to their fellow foster sibling.
11)We can pray that more people would choose to follow the path of becoming foster parents.
12) We can pray for the birth parents and biological family members.
13)We can pray for the social workers.
14)We can pray that social workers receive the funding and resources they need from the state.
15)We can pray that the lawmakers in each state make decisions that are best for the children, as well as for the foster parents.
16)We can pray that our churches hear the call to help children in foster care, and that they answer this call from God with the grace, and mercy.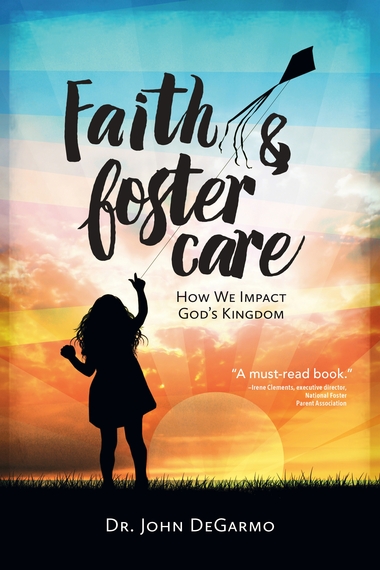 Dr. John DeGarmo has been a foster parent for 13 years, now, and he and his wife have had over 50 children come through their home. He is a speaker and trainer on many topics about the foster care system, and travels around the nation delivering passionate, dynamic, energetic, and informative presentations. Dr. DeGarmo is the author of several foster care books, including the brand new book Faith and Foster Care: How We Impact God's Kingdom, and writes for several publications, including Foster Focus magazine. Dr. DeGarmo is the host of the weekly radio program Parent Factors with Dr. John, He can be contacted at drjohndegarmo@gmail, through his Facebook page, Dr. John DeGarmo, or at his website.
Related
Popular in the Community