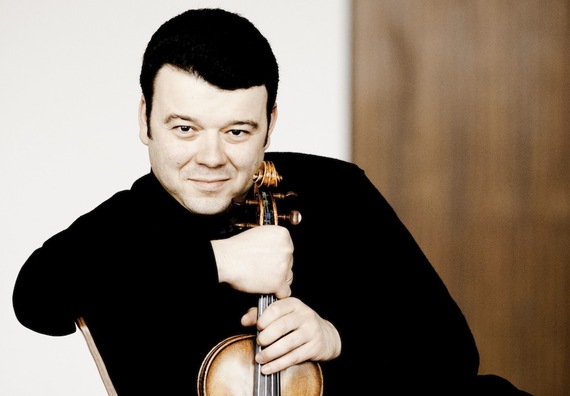 By Christopher Johnson, ZEALnyc Contributing Writer, January 27, 2017
Vadim Gluzman, the Ukrainian-born Israeli violinist whose recent gig with the Chicago Symphony won rave reviews, joins the Orpheus Chamber Orchestra for its next concert at Carnegie Hall, on February 4. The program features two headline events: the Tchaikovsky Violin Concerto--a first for Orpheus--played on the instrument it was written for, and the New York première of a new piece by Michael Hersch, one of our most compelling younger composers, who is having a banner year.
Gluzman will use the 1690 Stradivarius once owned by Leopold Auer, the Russian titan whose playing inspired Tchaikovsky in the first place. Unfortunately, Tchaikovsky was so inspired that he wrote at white heat and published the piece with a dedication to Auer, without waiting for Auer's permission. Auer, miffed at having his name attached to a piece that he felt was almost unplayable, refused to touch it for the next fifteen years, never played it without his own cuts and alterations, and insisted that all his students (Zimbalist, Elman, Heifetz, and so on) follow his example. Gluzman's performance on February 4 is the first time the concerto will be heard as Tchaikovsky wrote it, in the hall he opened, on the instrument he had in mind. (Somewhere, Piotr Ilyich is enjoying a hearty last laugh.)
The "ex-Auer" Strad comes to Gluzman as a long-term loan from the Stradivari Society of Chicago, a philanthropy that puts "great instruments in the hands of rising stars." Founded in 1985, the Society provided the fourteen-year-old Midori with her first adult violin, then moved on to benefit a who's-who of up-and-coming players including Joshua Bell, Sarah Chang, Leila Josefowicz, Leonidas Kavakos, Rachel Barton Pine, and Gil Shaham, among many others. In an economy where fine stringed instruments are such hot investment properties that young musicians can no longer afford them, this is a win-win-win situation: great instruments get to come out of the display-case and have some exercise, prolonging their useful lives; promising young players gain access to high-quality instruments that might help them make the jump to artistic greatness; and donors get a chance to back something that has both musical and moral value, and gives great pleasure into the bargain.
The concert also marks a high point in Michael Hersch's busy season, which began with a three-day festival at Spectrum, continues through a slew of premières in the US, Britain, and Europe, and reaches a climax this coming spring with the release of a film of his lavishly praised opera On the Threshold of Winter. The new work, end stages, inspired by a set of drawings by Kevin Tuttle showing the impacts of physical illness and mortality, was commissioned by Orpheus as part of its American Notes initiative, and premièred earlier this month on a tour through the Southeast.
Mendelssohn's "Scottish" Symphony, an Orpheus specialty, opens the program. For more information or to purchase tickets, click here.
Cover: Vadim Gluzman; photo: Marco Borggreve
______________________________
Christopher Johnson writes frequently for ZEALnyc about classical music and related performances.
Popular in the Community