As Women's History Month comes to a close, we look at 17 awesome songs with feminist messages that were ahead of their time. Many of these songs have lyrics that are still so relevant today.
"Just Because I'm a Woman" by Dolly Parton
"Yes I've made my mistakes, but listen and understand, my mistakes are no worse than yours just because I'm a woman."
In 1968, Dolly Parton addressed the sexist double standards women face with the title track off her second solo album. "Just Because I'm A Woman" was an anti-slut shaming anthem before the phrase "slut-shaming" even took hold in mainstream media.
"Four Women" by Nina Simone
"My skin is yellow my hair is long. Between two worlds I do belong. But my father was rich and white. He forced my mother late one night. And what do they call me? My name is Saffronia."
Nina Simone's "Four Women" details black female archetypes and tackles questions of identity for women of color in a post-emancipation America. A powerful black feminist song, "Four Women" nicely accompanies other empowering Nina Simone tunes like "To Be Young, Gifted and Black" and "Ain't Got No, I Got Life."
"You Don't Own Me" by Lesley Gore
"And don't tell me what to do. Don't tell me what to say. And please, when I go out with you, don't put me on display."
Long considered a "feminist anthem," this Lesley Gore song recently reemerged in the pop culture sphere with a cover version by Australian singer Grace, featuring G-Eazy. Although, the 1963 hit "You Don't Own Me" has a strong message about female agency, it's almost hard to believe the song is by the same artist who released "That's The Way Boys Are."
"Bounce Your Boobies" by Rusty Warren
"Loosen the bra that binds you! Take it off if you feel like it! Come on, bounce your boobies. Here we go. Doesn't that feel good?"
"You know girls, men aren't the only people in the world today that have something to give, but it sure looks like it sometimes."
Comedian Rusty Warren encouraged listeners to embrace the freedom offered by U.S. democracy and look at women's liberation in a new way with "Bounce Your Boobies." The hilarious, irreverent song implores the ladies to "give your boobies some freedom."
"Cell Bound Blues" by Gertrude "Ma" Rainey
"I walked in my room the other night. My man walked in and began to fight. I took my gun in my right hand. 'Hold him folks, I don't wanna kill my man.' When I did that he hit my 'cross my head. First shot I fired my man fell dead."
Considered "The Mother of Blues," Gertrude "Ma" Rainey generally sang tunes from the perspective of women. This 1924 blues song is the lament of a woman facing jail time after she shot and killed her abusive husband in self-defense.
"The Pill" by Loretta Lynn
"I'm turning down your brooder house cause now I've got the pill. All these years I've stayed at home while you had all your fun and every year that's gone by, another baby's come. There's gonna be some changes made right here on nursery hill. You set this chicken your last time cause now I've got the pill."
The meaning of Loretta Lynn's controversial 1975 song, "The Pill," is quite straightforward. It's a celebration from the perspective of a woman who just gained control over her reproductive health through access to birth control.
"Harper Valley P.T.A." by Jeannie C. Riley
"Mrs. Johnson, you're wearing your dresses way too high. It's reported you've been drinkin' and runnin' round with men and goin' wild. And we don't believe you oughta be a bringin' up your little girl this way."
This narrative song tells the story of a widow and mom who stands up for herself after being slut shamed for the way she dresses and raises her teen daughter. In a PTA meeting, she calls out the parents who shamed her by highlighting their various examples of misconduct and utter hypocrisy.
"Sisters, O Sisters" by Yoko Ono
"Freedom, O freedom, thats what we fight for. And yes, my dear sisters, we must learn to fight."
In this somewhat upbeat feminist song, Yoko Ono calls upon her fellow women in power to rise up and aid their oppressed sisters. "Sisters, O Sisters," appeared on her 1972 album with John Lennon, Some Time in New York City.
"You Let Me Down" by Billie Holiday
"You told me that I was like an angel. Told me I was fit to wear a crown. So that you could get a thrill. You put me on a pedestal. And then you let me down, let me down."
While the song is ostensibly about a woman spurned by her lover, deeper analyses by scholars like Angela Davis suggest that it's in fact about the systemic oppression in racism and sexism.
"It Wasn't God Who Made Honky Tonk Angels" by Kitty Wells
"It's a shame that all the blame is on us women. It's not true that only you men feel the same."
"It Wasn't God Who Made Honky Tonk Angels" highlights the impactful role of men's misconduct on the women they disrespect. Put simply, her premise is that women who "go wrong' usually do so after being taken advantage of by men.
"Sam Jones Blues" by Bessie Smith
"I'm free and livin' all alone. Don't need your clothes, don't need your rent. Don't need your ones and twos. Though I ain't rich, I know my stitch. I earned my strutting shoes. Say, hand me the key that unlocks my front door. Because that bell don't read Sam Jones no more, no. You ain't talkin' to Mrs. Jones. You speakin' to Miss Wilson now."
The lyrics of this blues song by singer Bessie Smith focus on a wife who asserts her independence by freeing herself from a bad marriage.
"Different Drum" by Stone Poneys (with Linda Ronstadt)
"Yes, and I ain't saying you ain't pretty. All I'm saying is I'm not ready for any person, place or thing to try and pull the reins in on me."
Another ode to female independence, this version of "Different Drum" is about turning inward and focusing on personal growth as a woman.
"March of the Women" by Ethel Smyth and Cicely Hamilton
"Comrades, ye who have dared, first in the battle to strive and sorrow! Scorned, spurned, nought have ye cared, raising your eyes to a wider morrow. Ways that are weary, days that are dreary. Toil and pain by faith ye have borne. Hail, hail, victors ye stand, Wearing the wreath that the brave have worn!"
Back in 1910, Ethel Smyth composed "The March of the Women," with lyrics by Cicely Hamilton. The song became an anthem for women's suffrage, with activists singing it at rallies, marches and even in prison.
"I Am Woman" by Helen Reddy
"I am woman, hear me roar. In numbers too big to ignore. And I know too much to go back an' pretend 'cause I've heard it all before. And I've been down there on the floor. No one's ever gonna keep me down again."
Over forty years ago, the United Nations declared 1975 "International Women's Year," kicking off the annual celebration of International Women's Day on March 8. The official anthem for the year was Helen Reddy's "I Am Woman." That same year, Reddy released her top ten hit "Ain't No Way To Treat A Lady."
"Do Right Woman, Do Right Man" by Aretha Franklin
"A woman's only human. You should understand. She's not just a plaything. She's flesh and blood just like her man."
Franklin's 1967 single, "Do Right Woman, Do Right Man," encourages men to respect women and treat them as equals instead of using them.
"No More Tears (Enough Is Enough)" by Donna Summer and Barbra Streisand
"If you've had enough, don't put up with his stuff, don't you do it. If you've had your fill, get the check pay the bill, you can do it. Tell him to just get out. Nothing left to talk about. Pack his raincoat show him out. Just look him in the eye and simply shout: Enough is enough."
This empowering duet by Donna Summer and Barbra Stresiand is all about giving women the courage to leave bad relationships and understand that they don't owe their male partners anything.
"Don't Put Her Down (You Helped Put Her There)" by Hazel Dickens
"You abuse her, accuse her, turn her round and use her. Then forsake her any time it suits you. There's more to her than powder and paint, than her peroxided bleached-out hair. And if she acts that way it's 'cause you've had your day. Don't put her down, you helped put her there."
This song by bluegrass singer-songwriter Hazel Dickens is another one that calls for men to understand the way their mistreatment of women and complicity in oppression creates certain female archetypes.
Before You Go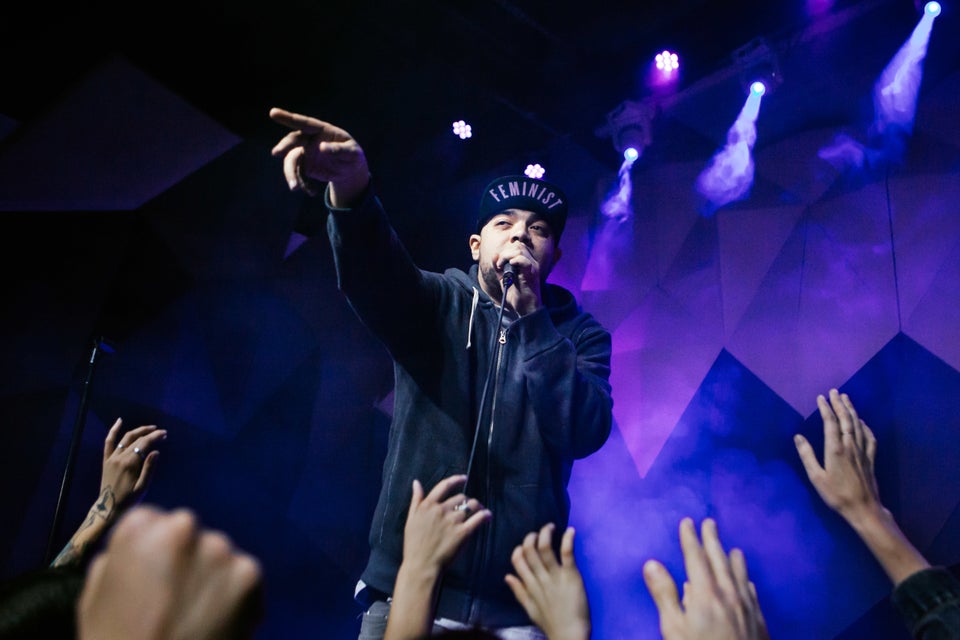 Images That Prove Anyone Can Be A Feminist
Popular in the Community