As the host of the Mompreneur Show, I have the privilege to be connected to the most remarkable mom entrepreneurs and hear their inspiring stories. Today, our guests and some incredible community members share the most valuable lessons their mothers taught them about motherhood. I hope that what these mothers share encourages you and inspires you to be the mother you always wanted to be.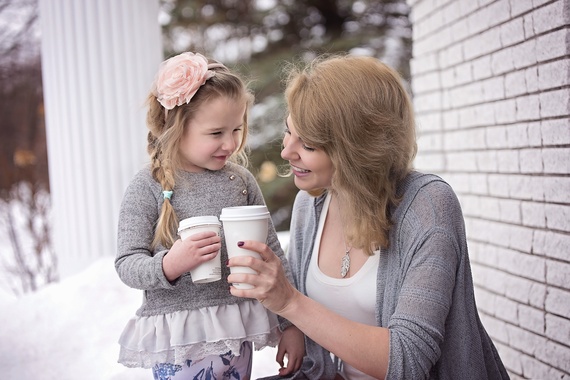 Motherhood Is 100 Percent Risk-Free
"The most powerful lesson my mom taught me is that motherhood is a 100 percent risk-free time, love and money investment. The more you give the more you get your investment back. For her, this is a proven formula that she had experienced 6 times. I am trying to do the exact same thing with my 14 months daughter, I hope that I will get the same results in the future" - Selwa Rafi
"My mom was always so good about structure. When we were home from school during the summer, it didn't mean we had 2 months to do whatever we wanted. She would allow us to help set up the summer schedule so that we were learning, playing, helping and creating in one hour segments throughout the day. This included everything from swim lessons, to reading, to being in charge of making our favorite dinner. I do the same with my kids year-round and it makes the days run much more smoothly." - Renee Harris
"I had the tremendous fortune of being raised by incredibly selfless, loving, and generous parents. My mother was always present. Always listening. Always encouraging. Because she was such an amazing role model, I know that the best thing I can give my children is not material gifts, but love -- and my full attention." - Rachel Needle
"It wasn't something she said, but something she did. She lived out selfless and unconditional love towards my 4 sisters and I. Yes, 5 girls and all one year apart! She is and always will be my greatest role model in raising my own children." - Award winning blogger Natasha Kravchuk
"Motherhood isn't always perfect or pretty. It is often exhausting, frustrating and overwhelming. But it is what it is...accept the journey and keep on going. Once you embrace the good, the bad, the ugly, you will see the beauty in the everyday." - Mallika Malhotra
Don't Sweat the Small Stuff
"My mother taught me not to sweat the small stuff, because if I let the skinned knees and chipped tooth bring me to tears, wait until the first heartbreak or major accident! She taught me to be grateful that's it's JUST a skinned knee and JUST a chipped baby tooth. Totally changed my perspective." - Sara Walka
"She taught me through her actions to have a sense of humor and to move past frustrations quickly. Mom always said, "You get 20 minutes to complain about something, then you either have to fix it or laugh and live with it." My daughter has learned this mantra well." - Gwendolyn Gardner
"My mom was a woman who liked recreation and fun, but she also spent time in challenging and forcing me to do and learn things that didn't come naturally and she wasn't worried about always being the "easy/nice" mom. She valued life skills and taught me independence in a healthy way." - Leilani Orr
"My mom taught me that I can grow a career while raising a family, which is what she did. That's why I founded MUMZY, to help other moms build their confidence to launch a business with the unique support moms want and need." - Catherine Merritt
"All the little things we do everyday and think may be insignificant are really important. On top of all the work we do to keep the house running and in order, the talks late at night when mom just wants to crash, snuggles on the couch, answering the same questions over and over, fresh cookies for a treat, doing something your child loves... just because, laying in the grass watching the clouds take shape. riding around looking at Christmas lights. So many little things that we do out of love for our precious children matter so much and these are the memories they hold deep in their hearts." - Mary Clendenin
"My mom taught me that love is my superpower. In her gentle ways (she raises seven of us without ever raising her voice :0) she taught me to listen for and follow the still small voice. Some call it a mother's intuition. I call it Love." - Suzanne Tucker
"The most powerful lesson my mom taught me about motherhood was to always BE there for my kids, as she was for us. You can always build a business, but you can't go back and re-capture time and moments with your children. Also, to involve your children in your business, as my mom included me in her fitness business. I learned sooo much from her about health, fitness, nutrition, and keeping family first. I felt so important coming with her to her classes and participating, sometimes visiting TV and radio studios with her, when she was interviewed." - Heidi Dietrich
"My momma taught me that working hard pays off. She is one of the most hard working women I know. She came to the U.S. With two small children and a two carry on luggages. She's worked and hustled all her life and made her American Dream come true." - Sharon Covaciu
"You are enough and you do enough for your kids. So many times we concentrate on what we should've done or what we are not doing and forget all the wonderful things we do for our kids." - Polina Perju
"The most powerful lesson she has taught me has to be to enjoy every single day. I always hear about how my siblings and I grew up way too quickly. So she tells me to squeeze my babies as long as they'll let me squeeze them, to read to them as long as they'll let me read to them, to play on the floor with them as long as they'll let me play with them -- to enjoy every tear, scraped knee, and sleepless night. Because before I know it, they won't be sleeping under my roof. They will be grown and gone. Because of my momma's wise words, I have chosen to enjoy every single day with my little ones...no matter what." - Erica Canant
"The most powerful lesson my mom taught me was never spoken directly, it was indirectly by her actions. She gave as much of herself to her six children as she could and still made time to achieve her goal of getting a higher education. She was a stay at home mom while we were little. Once we went to school she pursued a college degree and now has a career she loves. The lesson was, no matter what season in life you're in, embrace it. The next season is coming, it's only a matter of time." - Natalia Cristurean
"Forgive yourself and say sorry to your hubby and kids. You can't be perfect and you WILL screw up but if you are willing to forgive yourself, and say sorry to your loves then you show your them that you are human. A great lesson to teach your kids is that it's okay, screw ups happen but love stays strong no matter what and taking responsibility for your actions build character and strength. Forgive yourself when you mess up, these are teaching moments that allow you to move on to be a better wife and mama. My mama always says to let go and let God. So do just that, surrender and move on." - Natalie Hixson
Now I'd like to pass it on to you -- what is the most powerful lesson YOUR mother taught you? Please let us know in the comments below! I look forward to reading them! Happy Mother's Day, Mama! You are truly amazing and one of a kind!