Let me be direct: I neither admired nor respected the work of Antonin Scalia as an associate justice of the U.S. Supreme Court. I think he was a powerful negative force who did more damage than good to the interests of the American people and the cause of American justice.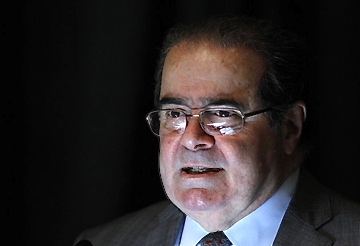 Nevertheless, I am troubled by the lack of clear answers to basic questions surrounding Scalia's sudden death on Saturday and by sketchy "who," "what" and "when" details of his passing.
Scalia, who was 79, died while attending a private weekend gathering at Cibolo Creek Ranch, a resort/retreat facility on 30,000 acres of land in Presidio County just off U.S. Highway 67 in an isolated corner of southwest Texas near the Mexican border. The justice was one of 35-40 invited guests of the ranch's owner, Houston entrepreneur John B. Poindexter.
The Washington Post reported that Scalia had arrived on Friday by chartered plane, accompanied by a friend who was not identified. The ranch has its own private airstrip with a mile-long runway.
On Friday afternoon, some guests went on a quail hunt, said Poindexter, who bought the deteriorated property and buildings in 1990 and restored them. Scalia, an experienced hunter, went with them but did not participate in the hunt.
What is the name of the friend who accompanied Scalia to the gathering?
What was the purpose of the private gathering?
Who were the attendees?
Was Scalia scheduled to address the group and, if so, on what subject?
Poindexter is the chairman and chief executive of Houston-based J. B. Poindexter & Co., a privately held manufacturing firm specializing in trucks, motor coaches and vehicle accessories. He told news organizations he found Scalia's body Saturday morning.
Poindexter said he first knocked on the door of Scalia's suite about 8:30 a.m. when the justice did not appear for breakfast. Poindexter said there was no response. He returned to the suite around 11 a.m., this time with someone identified only as a friend of Scalia's. They entered the suite after receiving no response to knocking.
Poindexter told the New York Times that Scalia was in bed and was clearly dead, a judgment he said took no medical training to discern. He also said Scalia had no pulse.
Questions:
What is the name of the person who discovered the body with Poindexter?
Who took Scalia's pulse?
Was any attempt made to resuscitate Scalia, and, if so, by whom and with what methods?
Given the remote location of the ranch, is it equipped with first-aid equipment and supplies? If so, does that include a defibrillator operable by people who are not medical professionals?
Is anyone on the staff trained in administering first-aid?
If Scalia had begun experiencing distress sometime after he left dinner Friday night, was his suite equipped with a way for him to summon help, i.e. a telephone or Internet service? Did he have a functioning mobile phone with him?
Poindexter said he then notified the U.S. Marshals Service of Scalia's death, which dispatched deputy marshals to the ranch. There followed attempts to assign a county judge to handle an official inquest into Scalia's death. The first two judges contacted were both a long distance from the ranch and unavailable. David Beebe, the first judge who was called, told the New York Times he never was informed that the dead person was Scalia. Finally, a third judge who also was many miles from the ranch, Presidio County Judge Cinderela Guevara, agreed to conduct an inquest via telephone, a practice permitted under Texas law.
According to the Associated Press, Guevara said she spoke to Ken Roberts, a deputy U.S. marshal who had arrived at the ranch after Scalia's body had been found, and Presidio County Sheriff Danny Dominguez, who also got there after the fact. Both law enforcement officers had looked at Scalia's body and the condition of the suite, Guevara said, and told her there were no signs of foul play.
Guevara said she spoke on the telephone Saturday night with "Dr. Monahan," identifying him as Scalia's personal physician. She said Monahan told her Scalia had "a history of heart trouble, high blood pressure and was considered too weak to undergo surgery for a recent shoulder injury."
Rear Adm. Brian P. Monahan serves as the attending physician for Congress and the Supreme Court. He declined to say anything about Scalia when reached at his home Monday by the Washington Post.
In an AP story filed Tuesday, Guevara also mentioned speaking to an "attorney for Scalia" who conveyed to her the Scalia family's preference to avoid a needless autopsy that would delay the body's return to Washington. The lawyer was unnamed.
Based on her phone conversations, Guevara said she ruled that Scalia's cause of death was "natural causes" and did not order an autopsy.
Questions:
Did Guevara solicit or receive input from other people regarding the possibility of an autopsy? If so, who provided information and what was their advice?
What is the name of the person Guevara described as the "attorney for Scalia"?
Is Monahan the attending physician for members of the Court, Scalia's personal physician, or both?
Was the Court aware that Scalia had been diagnosed with serious health problems?
Was Scalia being treated for his medical conditions? If so, how? Did he have medications with him?
Following Guevara's official determination, Scalia's body was moved by hearse to the Sunset Funeral Home in El Paso. The manager of the facility, Chris Lujan, told the Washington Post that Scalia's family did not request an autopsy, so the body was embalmed, a process required by Texas law before it can be transported out of state.
Questions:
Who did Lujan speak to from the Scalia family?
Why was Scalia's body taken to a funeral home in El Paso, some 230 miles from Cibolo Creek Ranch, rather than to the Alpine Memorial Funeral Home in the town of Alpine, which is only 65 miles away?
Associate Justice Antonin Scalia was the senior member of the U. S. Supreme Court and one of the 10 most important public servants in the country. For better or worse over the course of his 29 years on the Court, he was arguably the most influential person in America. He died suddenly and unexpectedly in a blip on a map of southwest Texas. He was, by his own choice, without a security detail. He was 1,900 miles from home and without his family.
Although the Supreme Court has been in recess between sittings, it is scheduled to reconvene in conference on Friday, the same day Scalia's body is to lie in repose in the Grand Hall just inside the building's main entrance on the west side facing the Capitol. A funeral mass is scheduled for Saturday at Washington's Basilica of the National Shrine of the Immaculate Conception.
With several crucial cases awaiting decisions in the Court's current term, Scalia's death is certain to have significant impact. And beyond immediate Court business, his death already has touched off the latest political sideshow of this intensely grating election year as presidential candidates and their parties jostle for electoral advantage. Scalia's death also has fueled a hyperbolic outpouring of imaginative paranoia from the conspiraciti, a development as predictable as it is regrettable.
By any reasonable calculus, Scalia's stature alone should have mandated an autopsy to determine the cause or causes of his death. The specific time-and-place circumstances only magnified the justification, but the embalming of the body has made that impossible.
At this point, the least the American people have a right to expect are some straight answers to some unanswered questions.
Support HuffPost
The Stakes Have Never Been Higher
Popular in the Community