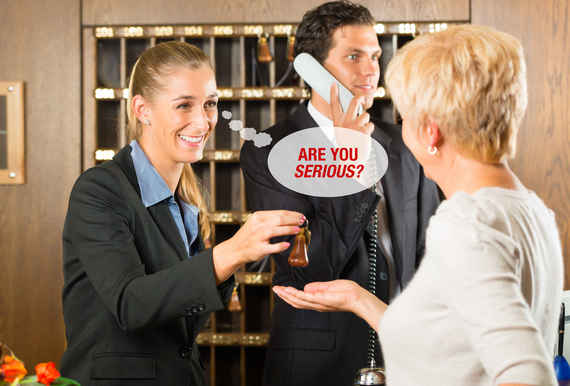 Remember that old say-no-to-drugs PSA with the egg and the frying pan -- this is your brain, this is your brain on drugs, blah blah blah? Well, that commercial could just as easily have been re-dubbed for the travel industry to say: "This is your brain on vacation." Because for whatever reason, people who pack 14 suitcases to go to the beach always seem to forget something very important: common sense.
Or so say this nation's hotel workers. We asked a bunch of them for some of the most annoying, obtuse, or just flat-out rude questions guests ask while staying at a hotel. Here are 17 of the worst:
1. "Can I have a late check-out?"
See, when you do eight Jaeger shots, wake up at 11am, and realize your check-out time was 10.30am, we now have to rush to have your room ready by 4pm for the next guest. Making your hangover the problem of our poor housekeeping staff -- who you absolutely, 100% will not tip.
2. "Why are you charging me for Wi-Fi?"
You agreed to the charge when you made your reservation, read the login instructions, and then clicked that "I agree" button on the page. Please stop pretending that you're outraged.

3. "Can I get a room upgrade?"
Sure. We've actually have a special room set aside for guys who book the cheapest room in the hotel and then ask for an upgrade. It's called the Ray J Suite.

4. "What is there to do here?"
Well, there's a Sizzler across the street and an AM/PM about a block down. So... perhaps some in-room adult television?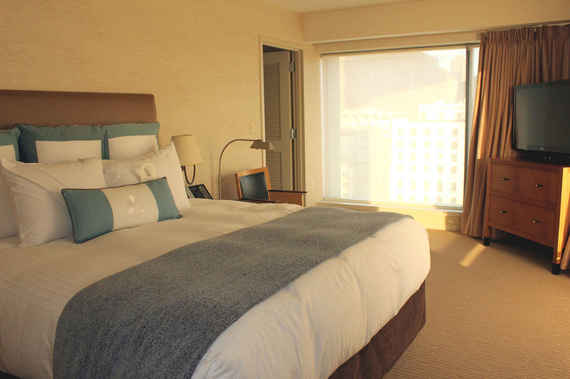 Credit: Flickr/prayitnophotography
5. "Can I get a king-sized bed?"
This is really a question you should have asked yourself, oh, maybe when you were making your reservation and saw the options of "King" or "Standard."

6. "Do you have a map?"
You may be surprised to learn this, but there's actually a difference between being AAA-rated and actually being AAA. This would be like going into a Michelin-starred restaurant and asking for tires.

7. "Why do I have to pay a city tax? I didn't get charged one in Des Moines."
Not sure what exactly about this red shirt and name tag screams "ninth grade civics teacher," but here goes nothing... You see, different cities have different governments and, therefore, charge different taxes. This is why nobody in New York City can ever afford anything.