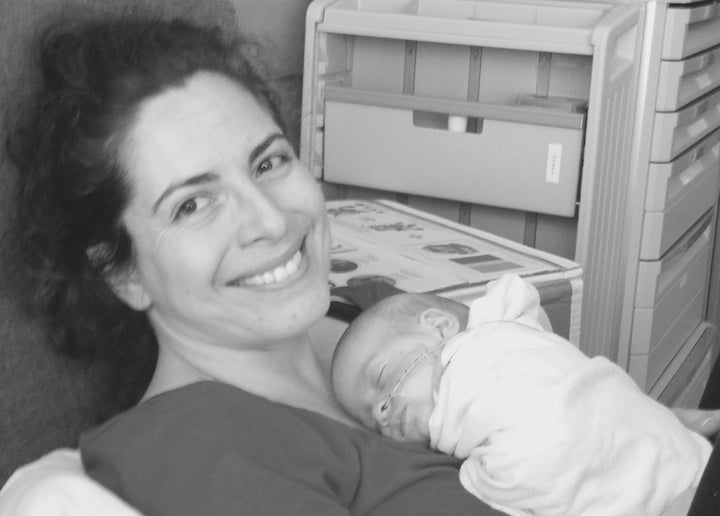 Our baby blindsided us. He entered the world screaming from his tiny underdeveloped lungs at 28 weeks. Our friends and family scrambled to help us in the NICU but we were too stressed to guide them.
A year later, we have perspective on what worked and what could've helped them help us better. While every family is different, these tips can offer some guidance to the wonderful people supporting preemie parents in the NICU.
1. Preemie parents are different from "term-ie" parents so don't go on autopilot. We have a hospitalized child fighting to survive. The scene isn't jubilant yet. We are neither physically nor mentally prepared for the usual frozen meals, cute onesies or requests for photos. Wait until we start celebrating (likely after discharge).
2. Curb your curiosity. Please don't pry. We might not know why the baby was born early but feel shock and guilt about it. Talking about our baby's health issues and roller coaster of the NICU is too scary and everything is unknown. The same discretion goes for mom's body and health status. If we share, listen. Until then your curiosity must go unsatisfied.
3. Respect our privacy and let us announce the preemie's birth. We came out of our post-labor stupor to find our intimate, traumatic news spread far and wide. Be discreet. Let preemie parents announce our news on our schedule our way.
4. Offer to help but don't be too proactive. Sitting in the NICU inventing errands or shopping lists to make loved ones feel useful is a burden. Let us focus. My favorite texts were question-free and read, "Thinking of your family. Here to do anything when you want help. No need to reply now." If we don't respond, be patient. You might be on standby for a few days—or weeks—but we'll probably take you up on the offer.
5. Keep baby gear out of the house or at least hide it. After my delivery, with the baby still in the NICU, I came home to a lovely display of new baby clothes on my kitchen counter. But to my husband's shock I collapsed to the floor and sobbed the rest of the night. The clothes reminded me our baby couldn't come home and his survival wasn't guaranteed. Thank goodness we didn't have a nursery yet. Wait until we say we're ready and then stick to our registry—some preemies need special gear.
6. If you must send a gift, shop for the parents. Useful items include a nursing apron (or any cover-up for mom while pumping in the NICU), an insulated lunch bag (filled with snacks), a file box with folders (for the mountain of medical paperwork), a notebook and folder (to track conversations and forms), and a chest freezer (for breastmilk).
Subscriptions to Netflix and HBO helped us stay awake during kangaroo care. My husband appreciated cash cards to spend on parking and hospital coffee. I enjoyed a home mini fridge for breastmilk and midnight snacks.
7. Pack high-protein food to eat with one hand. We were frazzled parents glued to a hospital chair with no oven in sight, so we couldn't heat up large frozen casseroles. Luckily some friends assembled lunch packs of little sandwiches, hard boiled eggs, cheese cubes, nuts, apples, breakfast bars, fresh salads, and chocolates. Those packs kept us going without leaving our son's bedside.
8. Skip preemie clothes. Younger preemies in incubators don't wear clothes. At our NICU, gifts of new outfits for older preemies required separate tracking by the nurses and extra laundry from me. Unless we request outfits with specific features (yay snaps!), wait until baby is home and then go nuts with fashion.
9. Be calm and cautiously optimistic in front of preemie parents. Crying to us on the phone or telling us you're worried sick makes things worse. Be zen. Our parents kept their cool and it reassured us. And please don't tell us our child's birth was traumatic for you, too. Please sort through your emotions with anyone but us.
10. Tell preemie parents you think of them all the time. From Dominican nuns in Brooklyn to a minyan in Denver to co-workers in Seattle, people rooted for us. Their faith pulled us through the toughest weeks.
11. Recognize that each preemie parent has a unique—possibly competing—coping style. My husband preferred running errands and being distracted. I loved being left alone to hold the baby in silence. Care for each parent accordingly.
12. Give preemie parents time to get their bearings. In the NICU, parenting can feel untenable. Our home was the only place we could have control or predictability. Coming home to a cleaned house was wonderful. Coming home to a reorganized one was frustrating.
Remember, baby was born early but isn't coming home early. There's no need to take over. Protect the normalizing things, like nesting or making a registry, for us to enjoy later.
13. Let preemie parents find their own silver linings. We heard some well-meaning but demoralizing comments like, "At least you get to sleep through the night." No we don't. "Isn't it a relief not to be pregnant?" Stop. "Small babies hurt less to deliver, right?" Ugh. "Welcome to parenthood!" Hmmm..wanna trade places?
Yes, there are blessings. Let us discover them—and we will!
14. Skip asking when the baby will come home. The due date is the target and we're more impatient than you are. We'll share when NICU staff give the green light.
15. Wait until you are invited to meet the baby. We might not be ready for NICU visitors. After discharge, we'll want quiet time to breathe and hold each other without wires and monitors around. We'll invite you when and where the time is right for us.
16. Respect the quarantine. Preemies build immunity with time, not exposure. If you're invited to the NICU (or the house after discharge), get vaccinated and follow sanitizing protocol. These precautions are doctor's orders, not overprotective paranoia. We're taking a risk having you over, so please comply. The best guests wear clean clothes without perfumes and wash and gel up without being asked.
17. Most of all, tell preemie parents you believe in them. Friends and family told us we were good parents doing everything right. Your love is powerful medicine and we need it now more than ever.
Every family with a preemie is different. What worked for yours?
Related