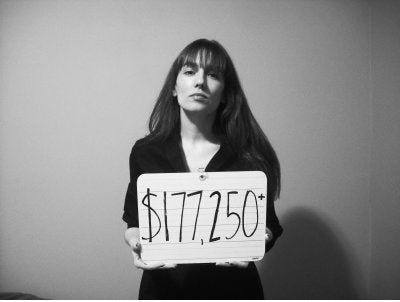 The importance of education was never stressed for me growing up. My parents both dropped out of high school early on and advised me to take the GED and begin working as soon as possible.
Upon graduating from high school, I soon discovered that if I wanted to go to college it was up to me to finance my education. I was one of the first in my family to graduate from high school and I am the first college graduate so far.
In effort to lessen the financial burden I was about to take on, I attended community college to fulfill my academic requirements before transferring to a private art school. I applied for all grants and scholarships that I was eligible for and did benefit from a few. I maxed out my federal loan limit early on and then began taking out private loans. Just before my last semester I was cutoff from private loans for not having a cosigner. To complete my degree I was forced to charge my last semester on my credit cards. My end total at graduation was $177,250.91 in student loans and approximately $15,000.00 in credit card debt.
I am currently trying to start a business as a freelance photographer and am unable to put the money needed towards my business because I pay about $2,000 a month in loan payments. I have excellent credit and have so far been able to make all of my payments in full and on time.
My biggest issue with the student loan industry is the complete lack of regulation. I accept full responsibility for my decision to attend an expensive private art school and have no problem paying that money back, but make it a fair system. Charging almost 10 percent interest and forcing on time payments to be late in order to take away earned interest rate reductions is not fair. The majority of my payment goes directly towards interest so no progress is made in decreasing the principal amount due. For one private loan alone I have paid $30,805.97 and only $4334.76 of that has been applied towards the principal.
I also have a federal consolidation loan with Citibank and after 36 months of consecutive on time payments I was able to get my interest rate lowered to 1.875 percent from 2.875 percent which definitely helps. To have the interest rate lowered on the private loan it's 48 months of on time consecutive payments. I am a few months shy of meeting this requirement and noticed that Citibank decided that the last 2 payments made were late. Both payments were made online and well before the due date and I can prove that, but Citibank is somehow claiming that they are late. So now they have increased my interest rate on the Federal loan back to 2.875 percent and have disqualified me for the private loan interest reduction. It's not a fair system, you are set up up to fail. I have followed all of the rules, made all payments on time and on a whim, they have taken away my reward.
Popular in the Community