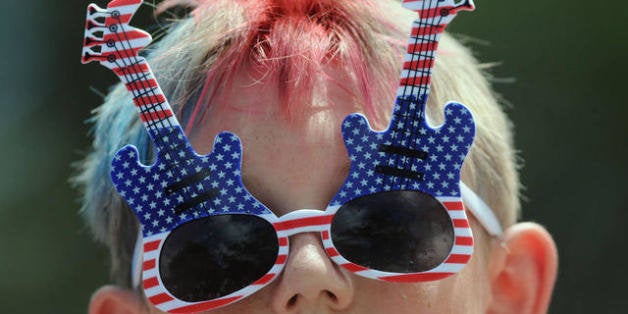 It's time to switch things up, America!
This year, forget the same old parties and boring routine. Here are 1776 reasons why staying home and watching TV is all you need to have the best 4th of July weekend ever.
Because all men have the right to life, liberty and "The Pursuit of Happyness" On Demand.
Because it's what our Founding Fathers would have wanted.
Because if not, what were our guys fighting for anyway?
Because TV is the best.
Because winter is coming.
Because relatives are coming.
Because parties are awkward and uncomfortable.
Because some parties are too comfortable.
Because you're alive.
Because other people are alive.
Because you're too full from eating ribs.
Because you're not full enough from eating ribs.
Just because of ribs.
Because the color red.
Because the color white.
Because the color blue.
Because America just red, white and blew our minds.
Because "Today I don't feel like doing anything."
Because you'll be lounging on the couch, just chillin in your snuggie. Turn on MTV so they can teach you how to Dougie.
Because of Independence.
Because of the movie "Independence Day."
Because of the speech Bill Pullman made in "Independence Day."
Because Will Smith bought his fiancé a dolphin ring in the movie "Independence Day."
Because Will Smith's fiancé liked her dolphin ring in the movie "Independence Day."
Because now you're going to buy a ring for your fiancé that's in the shape of a dolphin.
Because what happened to "Miss Independent"?
Because the Nathan's Hot Dog Eating Contest.
Because seven-time hot dog eating champ Joey "Jaws" Chestnut.
Because Ryan Seacrest is all "This is American Idol!"
Because it's what George Washington would've wanted.
Because it's what George Washington does want currently.
Because Patrick Henry would say, "Give me television or give me death."
Because "One if by land, and 'Two and a Half Men' if by sea."
Because there's probably "World Series of Poker" on or something.
Because Benedict Arnold wouldn't want to, and we don't like that guy.
Because "Hey Arnold!"
Because Helga Pataki's unibrow.
Because "I have not yet begun to fight ... for the remote."
Because "Don't fire until you see the Walter Whites of their eyes"
Because American spy Nathan Hale learned everything he knew from "Harriet the Spy."
Because American spy Nathan Hale regretted that he had just "One Life to Live" for his country.
Because of sparklers.
Because sparklers can get out of hand real fast.
Because with sparklers, you can write your name and stuff.
Because of patriots.
Because of the New England Patriots.
Because of Tom Brady.
Because of Tom Brady's UGGs for men.
Because Tom Brady never looked so comfortable in the pocket.
Because of the movie "The Patriot."
Because Mel Gibson wasn't crazy yet in the movie "The Patriot."
Because Mel Gibson never wore UGGs for men in "The Patriot."
Because Mel Gibson was all over his sister-in-law in "The Patriot," and then Jaime and Cersei had to one-up him in "Game of Thrones."
Because Heath Ledger was in the movie "The Patriot."
Because Health Ledger was the Joker in "The Dark Knight."
Because "The Dark Knight" was awesome.
Because of "The Dark Knight" again.
Because the 4th of July is whatever Gotham needs it to be.
Because of patriotic clothing.
Because you don't want anyone to see you in your patriotic clothing.
Because your dad has the most patriotic clothing of them all.
Because people are pledging allegiance to your dad's shirt.
Because of socks with stars on them.
Because of stars with socks on them.
Because your Hogwarts letter won't come on a holiday.
Because you want to entertain your family.
Because your family is getting on your nerves.
Because not watching TV is getting on your nerves.
Because you pinched a nerve.
Because Grandma wants to watch EWTN.
Because the World Cup, duh.
Because you're already eating off TV trays.
Because you want to eat off TV trays.
Because you're really excited.
Because you're bored.
Because fireworks are overrated.
Because fireworks on TV are underrated.
Because if you've seen one firework, you've seen them all.
Because fireworks hurt your ears.
Because fireworks hurt your eyes.
Because the fireworks aren't good.
Because the fireworks might be too good.
Because there were no blue fireworks.
Because there were too many blue fireworks.
Because everyone else is finally out of the house.
Because everyone is in the house.
Because it's too hot outside.
Because it's too cold outside.
Because you didn't buy AC for nothing.
Because you did buy AC for nothing.
Because you're out of potato salad.
Because you wish you were out of potato salad.
Because you don't like potato salad.
Because you're eating too much potato salad.
Because you're now talking too much about potato salad.
Because there are no more bread rolls.
Because you don't want to get on a tangent about bread rolls like you did with potato salad.
Because now you're talking too much about bread rolls.
Because we don't want another "coleslaw incident."
Because we all remember what happened. ( See #98)
Because it's what Uncle Sam wants.
Because it's what Uncle Sam doesn't want.
Because what's even the point?
Because if you don't, England wins.
Because upon thinking about it, you don't know what that last reason means.
Because Netflix is going to be the best man at your wedding.
Because Netflix is going to be the maid of honor at your wedding.
Because Red Solo Cup.
Because that one show with that guy from that thing.
Because that one show where the girl was all,"Whattttt!"
Because "Boom goes the dynamite!"
Because if England won, we'd all be speaking English right now.
Because we're speaking English anyway.
Because you just got a new TV.
Because you still don't know how to use your new TV.
Because the United States of America.
Because Los Estados Unidos de América.
Because Los Estados Unidos de América is Spanish for Los Estados Unidos de América.
Because it's the land of the free and home of the brave.
Because it's the land of the free and home of the movie "Brave."
Because you're a time traveler, but you really don't feel like going anywhere right now.
Because of our Founding Fathers.
Because you finally found your father watching the game in the basement.
Because of the 13 original colonies.
Because of bee colonies.
Because flags.
Because stripes.
Because stars.
Because of apple pie.
Because of cherry pie.
Because of blueberry pie.
Because of strawberry pie.
Because of moon pies.
Just because of pie.
Because 3.14.
Because of our ancestors.
Because of Ancestry.com.
Because of Match.com.
Because on Tinder, you'd swipe right for America.
Because on Tinder, you'd swipe left for everything except America.
Because you can't think of anything else to do.
Because you can think of other things to do, but this is better.
Because it's probably "Harry Potter" Weekend on ABC Family.
Because even if it's not "Harry Potter" Weekend, that's why they make DVDs.
Because you want to finally figure out who "A" is.
Because you don't trust any of the "Pretty Little Liars."
Because you were shocked the "Pretty Little Liars" were regular sized people, and you were expecting them to be abnormally little.
Because you don't want to clean the grill.
Because you already cleaned the grill.
Because someone else cleaned the grill.
Because you are wearing a new grill.
Because you don't want to make the fruit salad.
Because you already made the fruit salad.
Because you don't even like fruit salad.
Because TV means freedom.
Because freedom means freedom.
Just because freedom.
Because you're not paying DirecTV for nothing.
Because you are paying DirecTV for nothing.
Because you don't even have DirecTV.
Because you're more of a Verizon FIOS type of person.
Because being a Verizon FIOS type of person is a lonely life.
Because you're Team Jacob.
Because you're Team Edward.
Because Bella deserves a team too.
Because Jacob nicknamed Bella's baby after the Loch Ness monster.
Because the Loch Ness Monster.
Because Uncle Jesse already left for the Smash Club.
Because "High School Musical."
Because having such separate cliques, the kids in "High School Musical" perform pretty elaborately choreographed dances.
Because that time Zac Efron danced on the golf course singing "Bet on It."
Because Global Warming.
Because Obamacare.
Because Global Warming vs. Obamacare.
Because "Mega Shark Versus Crocosaurus."
Because Bill Clinton did not have sexual relations with that woman.
Because Bill Clinton did have sexual relations with that woman.
Because you suspect Nic Cage will steal the Declaration of Independence.
Because Nic Cage is definitely stealing the Declaration of Independence.
Because you support Nic Cage and his pursuit of the Declaration of Independence.
Because Nic Cage is a "National Treasure."
Because Nic Cage is a "National Treasure: Book of Secrets."
Because it's what Thomas Jefferson would've wanted.
Because it's what Benjamin Franklin would've wanted.
Because it's what your neighbor Fenjamin Branklin would've wanted.
Because you suspect that's not your neighbor's real name.
Because of liberty.
Because of the Statue of Liberty.
Because of Liberty Mutual.
Because of "Mutual of Omaha's Wild Kingdom."
Because it's what Oprah wants.
Because Oprah always gets what she wants.
Because everybody gets a car!
Because how else will you keep up with the Kardashians?
Because you don't want to keep up with the Kardashians.
Because you have no choice but to keep up with the Kardashians.
Because you want to know what the "Real Housewives" are up to.
Because they don't really seem like "Real Housewives."
Because "Pawn Stars" is probably on.
Because do you mind if Rick from "Pawn Stars" calls his buddy in to take a look?
Because you wonder if shrimp watch a show called "Prawn Stars."
Because you want to daydream about being chosen for "The Price is Right."
Because you want to daydream about being chosen for "The Hunger Games."
Because you have messed up day dreams.
Because "What does the fox say?"
Because you have Apple TV.
Because you have Apple TV, meaning a TV channel dedicated to apples.
Because you tell people you have Hulu Plus.
Because you really just use the free version of Hulu.
Because you Hula while you Hulu.
Because you're paying for Netflix.
Because your friend is paying for Netflix.
Because turn up!
Because turnips.
Because you are trying to figure out your roommate's Netflix password.
Because Netflix just added new movies.
Because Netflix just got rid of a lot of movies.
Because you are still trying to figure out your roommate's Netflix password.
Because it's fun.
Because other stuff isn't as fun.
Because you finally figured out your roommate's Netflix password.
Because now you can't decide what to watch on Netflix.
Because that's cray cray.
Because "Girl Meets World."
Because "Boy Meets World."
Because Cory and Topanga.
Because Cory and Topanga again.
Because you can't believe Cory kissed that girl at the ski lodge. Topanga deserves better.
Because that episode where Cory bought all that cork furniture.
Because "FEENY!"
Because you want to watch Netflix on the PS3 you bought from Craigslist.
Because you're not 100% sure the PS3 you bought from Craigslist isn't stolen, and you want to enjoy Netflix before the cops come.
Because you just ate and need to wait 30 minutes before going in the pool.
Because you have a TV in your pool.
Because you don't have a TV in your pool.
Because you wish you had a TV in your pool.
Because you don't know why they call pool "billiards," and it makes you really mad.
Because you're at your in-laws' house.
Because you wish you weren't at your in-laws' house.
Because you have no choice but to be at your in-laws' house.
Because "Full House" is on.
Because you wish your family was like the one on "Full House."
Because actually you're glad your family is not like the one on "Full House."
Because your family hugs more than the one on "Full House."
Because you never want Uncle Joey to "Cut. It. Out."
Because you always want Uncle Joey to "Cut. It. Out."
Because a day without "Breaking Bad" would be pretty methed up.
Because you like using "Breaking Bad" puns, and you don't care what your parents say about it.
Because Mr. White from "Breaking Bad" reminds you of your Chem teacher.
Oh, God! Mr. White from "Breaking Bad" reminds you of your Chem teacher!
Because you want to try this whole "binge-watching" thing.
Because "binge-watching" makes being lazy sound a lot more cool.
Because "binge-watching" doesn't make being lazy sound more cool, but you don't really care.
Because your parents don't want you to, but you're totally in your rebellious stage.
Because your parents want you to, and you're totally not in your rebellious stage.
Just because of your parents.
Because you have nothing to talk about.
Because you have too much to talk about.
Because you want to get something to talk about.
Because you want something to tweet about.
Because talk is cheap.
Because talk is expensive.
Because you want to see what "Four Weddings" is all about.
Because "Four Weddings" in Westeros would probably be a lot different.
Because "Game of Thrones."
Because Dany from "Game of Thrones" takes what is hers with "fireworks and blood."
Because when you play the "Game of Thrones," you win or you don't stop hearing about it until the next family reunion.
Because any man who says, "I am the king," is probably just Uncle Pete after he found the Mike's Hard Lemonade.
Because Jon Snow knows nothing.
Because Jon Snow must know something.
Because nope. Jon Snow knows nothing.
Because Prince Oberyn blew your mind.
Actually because the Mountain blew your mind.
Because everyone from "Game of Thrones" blows your mind.
Because "Pants on the ground. Pants on the ground. You're lookin' like a fool with your pants on the ground."
Because HBO.
Because it's Showtime.
Because it's literally show time.
Because "Orange Is The New Black" Season 1.
Because "Orange Is The New Black" Season 2.
Because "Orange Is The New Black" Season 1 again.
Because once you go "Orange Is The New Black," you never go back.
Because in "Harry Potter," Sirius Is The New Black.
Because "All men must die."
Because all "Mad Men" must die.
Because "Calm and Sensible Men" would probably be less interesting.
Because "House of Cards."
Because you don't want to build an actual house of cards.
Because we got "House of Cards" from the British, just like America.
Because yay America.
Because documentaries you fall asleep to.
Because documentaries you don't fall asleep to.
Because the History Channel.
Because anything besides the History Channel.
Because "The Twilight Zone" marathon on Syfy.
Because "The Twilight Zone" marathon on Syfy again.
Because Syfy in general.
Because it's educational.
Because it's not educational.
Because other countries aren't America.
Because other countries might be America.
Because never mind. Other countries aren't America.
Because it's what your mom wants.
Because it's not what your mom wants.
Because you think it's what your mom wants.
Because when robots take over, they're going to destroy TVs first.
Because if "iRobot" taught us anything, it's that robots are scary as Hell.
Just because robots.
Because you want to do homework, and you don't know what's wrong with you.
Because if it's wrong, why does it feel so right?
Because if it's right, why did we make a left back there?
Because "Do the Right Thing."
Because "Adventure Time" is on.
Because "Adventure Time" is not on.
Because "Adventure Time" might be on soon.
Because channel surfing counts as exercise.
Because you're trying to convince yourself that channel surfing counts as exercise.
Because sitting in a chair is a yoga pose, right?
Because you need to make sure your TV still works.
Because your TV is not working, and you need to fix it.
Because your TV is working, but you feel like you should still make sure.
Because if you don't, the Decepticons win.
Because if you don't, The Capitol wins.
Because Jennifer Lawrence wants you to.
Because Katniss wants you to.
Because Jennifer Lawrence and Katniss are the same person.
Because Hannah Montana and Miley Cyrus are the same person.
Because that just blew your mind.
Because Megan Fox probably doesn't care, but what if she does?
Because "True Blood" is on.
Because "True Blood" isn't on.
Because "True Blood" could be on.
Because you'll wait for "True Blood."
Because TBS is very funny.
Because you don't think TBS is very funny, but you'll give it another chance.
Because TNT knows drama.
Because TNT doesn't know as much drama as your family parties.
Because USA came up with "characters welcome" after meeting your family.
Because AMC has a "Breaking Bad" marathon.
Because AMC has a "Breaking Bad" marathon again.
Because at AMC, story matters.
Because to Carl Winslow, "Family Matters."
Because AMC are the first three letters of your alphabet.
Because there's a "Power" marathon on Starz.
Because there's a "Power" marathon on Starz, and your couch is super comfy.
Because there's a "Masters of Sex" marathon on Showtime.
Because there's a "Masters of Sex" marathon on Showtime, and your mom isn't in the room.
Because there's also a "Walking Dead" marathon on AMC.
Because AMC is calling it a "Dead, White and Blue" weekend.
Because AMC likes puns.
Because the Hub has a "Transformers" marathon.
Because you didn't even know the Hub was a channel.
Because MTV has an "Awkward" marathon.
Because MTV's "Awkward" marathon is less awkward than whatever is happening at your house.
Because MTV has a "Ridiculousness" marathon.
Because MTV's "Ridiculousness" marathon isn't as ridiculous as your Aunt's new boyfriend.
Because USA has a "NCIS" marathon.
Because USA's "NCIS" marathon isn't as big a crime scene as your dad wearing those shorts.
Because USA has a "Modern Family" marathon.
Because you love spending time with your "Modern Family," meaning the TV show.
Because you love spending time with your "Modern Family," meaning your regular family, but you'd rather watch TV.
Because E! has a "Sex And The City" marathon.
Because E! has a "Sex And The City" marathon, and you're a Miranda.
Because E! has a "Sex And The City" marathon, and you have no idea what a Miranda is.
Because there's a "South Park" marathon on Comedy Central.
Because there's a "South Park" marathon on Comedy Central, and they killed Kenny. You bastards!
Because there's a "Futurama" marathon on Comedy Central this weekend.
Because TNT's "Lord of the Rings" marathon.
Because TNT's "Lord of the Rings" marathon is the one marathon to rule them all.
Because one does not simply go through July 4th without watching a "Lord of the Rings" marathon.
Because Food Network's "Diners, Drive-Ins and Dives" marathon.
Because Food Network's "Guy's Grocery Games" marathon.
Because Food Network is going to great lengths to make you hungry.
Because you won't be watching Adam Richman's new show anytime soon.
Because A&E's "Dog the Bounty Hunter" marathon.
Because you thought "Dog the Bounty Hunter" was about animals.
Because A&E's "Criminal Minds" marathon.
Because you knew "Criminal Minds" wasn't about animals.
Because TLC's "17 Kids And Counting" marathon.
Because TLC's "18 Kids And Counting" marathon.
Because TLC's "19 Kids And Counting" marathon.
Because you're starting to suspect all these "Kids and Counting" shows are really the same thing.
Because TLC's "A Very Duggar Wedding" marathon.
Because TLC's "Say Yes To The Dress" marathon.
Because you don't just say no to the dress.
Because TLC's "Extreme Couponing" marathon.
Because TLC's "Extreme Couponing" marathon is starting to make you take a hard look at your life.
Because Travel Channel's "Food Paradise" marathon. 
Because your personal "Food Paradise" is the dollar menu at McDonald's.
Because Discovery's "Fast N' Loud" marathon.
Because you weren't aware "Fast N' Loud" was so loud since it's normally on mute at the gym.
Because you want people to know you go to the gym.
Because Discovery's "Alaskan Bush People" marathon.
Because Discovery's "Alaskan Bush People" marathon makes you feel better about your studio apartment.
Because Discovery's "Alaskan Bush People" marathon looks a little too similar to your studio apartment.
Because Discovery's "Deadliest Catch" marathon is on.
Because Discovery's "Deadliest Catch" marathon is on, and it's better than talking to Uncle Louis.
Because IFC's "Batman" the TV show marathon.
Because IFC's "Batman" the TV show marathon makes you think about "Dark Knight" again.
Because "Freaks and Geeks" on Netflix.
Because "Freaks and Geeks" on Netflix makes you feel better about your high school days.
Because "Freaks and Geeks" on Netflix reminds you a little too much of your high school days.
Because "The West Wing" on Netflix.
Because "The West Wing" on Netflix makes you wonder why they didn't make an "East Wing."
Because "Doctor Who" on Netflix.
Because you still don't know who actually watches "Doctor Who."
Because "Archer" on Netflix.
Because "Archer" on Netflix is like the inappropriate James Bond you always wanted.
Because you never wanted an inappropriate James Bond, but you're glad "Archer" is on Netflix anyway.
Because "Buffy the Vampire Slayer" on Netflix.
Because "Buffy the Vampire Slayer" on Netflix makes you feel like you don't have to sleep with the covers over your head.
Because you sleep with the covers over your head anyway.
Because "The X-Files" on Netflix.
Because you can finally watch "The X-Files" on Netflix without wetting your pants.
Because you can't watch "The X-Files" on Netflix without wetting your pants, but you're single so YOLO.
Because YOLO.
Because you want to figure out what the heck happened in "Lost."
Because you just figured out "Lost," and it still doesn't make sense.
Because Olivia Pope is dope.
Because the real "Scandal" is why this show isn't on every day of your life.
Because "Dancing with the Stars."
Because you watch "Dancing with the Stars" and think, "I can do that."
Because you watch "Dancing with the Stars" and think, "Wait, no I can't."
Because you found old episodes of "Laguna Beach" online.
Because you found old episodes of "Laguna Beach" online, and all your friends are like, "Where!"
Because you like watching Taco Bell commercials.
Because who doesn't like watching Taco Bell commercials?
Because your friends think you're watching too many Taco Bell commercials.
Because you want to know the next name on "The Blacklist."
Because you think your name is on "The Blacklist."
Because "Homeland," duh.
Because "Homeland," double duh.
Because you're losing your head over "Sleepy Hollow."
Because other people are losing their heads over "Sleepy Hollow."
Because you secretly watch "The Bachelorette."
Because you openly watch "The Bachelorette."
Because you don't know what the guys do with all the roses after the rose ceremony on "The Bachelorette." Are they putting them in a vase? Do they give them back to her? What the heck is going on?
Because "Under The Dome" doesn't sounds terrible.
Because "Under The Dome" can't be more terrible than Aunt Lysa.
Because "America's Got Talent" got your attention.
Because Heidi Klum on "America's Got Talent" got your attention.
Because "Suits." That is all.
Because other shows besides "Suits." Now that is all.
Because "Arrested Development" happened.
Because Mary-Kate and Ashley solve any crime by dinnertime. Yay!
Because Rust Cohle and Marty Hart take 17 years to solve a crime while struggling with inner demons and ruining the lives of everyone around them. Yay?
Because you decided to give "Agents of S.H.I.E.L.D." a chance.
Because you decided to give "Agents of S.H.I.E.L.D." a second chance.
Because your mom wants to watch "Mom."
Because your dad wants to watch anything besides "Mom."
Because you're a new mom, and you're looking to pick up some tips from "Parenthood."
Because you're not a new mom, and the tips you got were to never enter "Parenthood."
Because "How I Met Your Mother" is Legen …
.. Wait for it …
.. Wait for it …
.. Wait for it …
Dary!
Because you're looking to pick up some tips from "How I Met Your Mother" to meet ladies. Not to meet your mother.
Because TV makes you happy.
Because TV makes you so happy you clap along if you feel like a room without a roof.
Because you don't really know how a room without a roof should feel, so you stop clapping.
Because books are lame.
Because book adaptations aren't lame.
Because you don't have a social life, and you're cool with that.
Because you do have a social life, and you're cool with that.
Because TV is better than a girlfriend.
Because TV is better than a boyfriend.
Because TV is better than significant others in general.
Because you like watching TV with your significant other.
Because TV is better than hugs.
Because TV is better than bugs.
Because TV is better than rugs.
Because TV is better than male UGGs. (We're looking at you, Tom Brady).
Because TV is better than cats.
Because TV is better than puppies.
Because do you want to build a snowman?
No? Okay.
Because TV is better than fireworks.
Because TV is better than ants.
Because TV is better than aunts.
Because Uncle Dave won't stop talking about the time he met Gunnar Stahl from "D2: The Mighty Ducks."
Because Cousin Lucy threw up.
Because the dog ate your keys.
Because the cat ate your keys.
Because Grandma ate your keys.
Because Great Grandma Nan wants to get her Pat Sajak swerve on.
Because Sister Mary Clarence is in witness protection and needs to find something to do.
Because your mom says there's "Leftovers" on the counter, but it's just a DVD of an HBO show.
Because "Live long and prosper." - Spock
Because Jerry Seinfeld gave you a new appreciation for Muffin tops.
Because "Look! Up in the sky! It's a bird! It's a plane! It's Superman!" - "Adventures of Superman"
Because "Baby, you're the greatest." - Ralph Kramden
Because "Yabba dabba doo!" - Fred Flintstone
Because "The thrill of victory and the agony of defeat." - Jim McKay, "Wide World of Sports"
Because "To the Batmobile!" - Batman
Because "Danger, Will Robinson!" - "Lost in Space"
Because "Kiss my grits!" - Flo, "Alice"
Because "Good night, John Boy." - "The Waltons"
Because "This tape will self-destruct in five seconds." - "Mission: Impossible"
Because "No soup for you!" - The Soup Nazi
Because "Did I do that?" - Urkel
Because "Cut it out." - Joey Gladstone
Because "We've got a situation." - Mike "The Situation" Sorrentino
Because "Oh, my God! They killed Kenny!" - "South Park"
Because "Sock it to me!" - "Rowan & Martin's Laugh-In"
Because "Book 'em, Danno." - "McGarrett, Hawaii Five-0"
Because "Bazinga!" - Sheldon Cooper
Because "Just one more thing..." - "Columbo"
Because "Marcia, Marcia, Marcia!" - Jan Brady
Because "Stifle!" - Archie Bunker
Because "Dude." - Hurley, "Lost"
Because "Clear eyes, full hearts, can't lose." - "Friday Night Lights"
Because "You hear that, Elizabeth? I'm coming to join you, honey." - Fred Sanford
Because "Will you accept this rose?" - "The Bachelor"
Because "No? What about you? Will you accept this rose?" - "The Bachelor"
Because "It's Okay." - Juan Pablo, "The Bachelor"
Because "That's Amazing." - Everyone on "The Bachelor"/"The Bachelorette"
Because "God will get you for that." - "Maude"
Because "You're fired!" - Donald Trump
Because "Who loves ya, baby?" - "Kojak"
Because "Dy-no-mite!" - J.J., "Good Times"
Because "Aaay!" - The Fonz
Because "Come on down!" - "The Price is Right"
Because "Is that your final answer?" - "Who Wants To Be a Millionaire"
Because "De plane, de plane!" - Tattoo, "Fantasy Island"
Because "Nanu-nanu." - Mork, "Mork & Mindy"
Because "Tenk you veddy much." - Latka, "Taxi"
Because "Let's be careful out there." - Esterhaus, "Hill Street Blues"
Because "More cowbell!" - "SNL"
Because "Well, isn't that special?" - The Church Lady, "SNL"
Because "Eat my shorts." - Bart, "The Simpsons"
Because "I'm listening." - "Frasier"
Because "It's a good thing." - Martha Stewart
Because "Holy crap!" - Frank Barone
Because "Bam!" - Emeril Lagasse
Because "Make it work." - Tim Gunn, "Project Runway"
Because "Everybody lies." - "House"
Because "Who's your daddy?" - "Veronica Mars"
Because "Serenity now!" - "Seinfeld"
Because "Giddy up!" - "Seinfeld"
Because "A Festivus for the rest of us!" - "Seinfeld"
Because "Hello!" - "Seinfeld"
Because "Maybe the dingo ate your baby." - "Seinfeld"
Because "The jerk store called. They're running out of you." - "Seinfeld"
Because "George is getting upset!" - "Seinfeld"
Because "Hello ... Newman." - "Seinfeld"
Because "They're real, and they're spectacular." - "Seinfeld"
Because "Master of my domain." - "Seinfeld"
Because "Not that there's anything wrong with that." - "Seinfeld"
Because "These pretzels are making me thirsty!" - "Seinfeld"
Because "Yada yada yada." - "Seinfeld"
Because "I'm Rick James, bitch!" - "Chappelle's Show"
Because "What!" - "Chappelle's Show"
Because all your family is outside, so you sneak indoors to watch "All in the Family."
Because all your family is inside, so you sneak outdoors to watch "All in the Family."
Because "M*A*S*H" isn't just for potatoes.
Because watching "M*A*S*H" is better with potatoes.
Because you want more "Mary Tyler Moore."
Because you still want more "Mary Tyler Moore."
Because you want to figure out why everyone at Sterling Cooper Draper Pryce is so "Mad."
Because you know why everyone at Sterling Cooper Draper Pryce is "Mad," but you want to watch anyway.
Because you have a beer, and it's time for "Cheers."
Because you don't have a beer, but it's still time for "Cheers."
Because you fumbled it when it came down to "The Wire."
Because "The West Wing" is your thing.
Because "The West Wing" could be your thing.
Because you don't if "The West Wing" is your thing.
Because you like "The Simpsons" better than your family.
Because your family likes "The Simpsons" better than you.
Because you like parties, but you "Love Lucy."
Because everyone loves "Lucy."
Because everyone's breaking bread, but you're "Breaking Bad."
Because "Breaking Bad" is better than seeing Grandpa breaking wind.
Because "The Dick Van Dyke Show" keeps Grandma from criticizing your life choices.
Because you get blue without "Hill Street Blues."
Because your family is more like the Bluths than you'd like to admit.
Because you wish your family was like the Bluths, and that's scary.
Because "The Daily Show" is called that for a reason.
Because "The Daily Show" is better than listening to your drunk uncle talk politics.
Because "The Daily Show" is actually just like listening to your drunk uncle talk politics.
Because you wish "30 Rock" was your address.
Because "30 Rock" is your address.
Because it's time for "Friday Night Lights," and we're not talking about sparklers.
Because it's time for "Friday Night Lights," and we are talking about sparklers.
Because you like to say "Cheers" to "Frasier."
Because you like to say "Frasier" to "Cheers."
Because life's all about "Friends."
Because all your friends just want to watch "Friends."
Because you need more "Friends."
Because Monica and Chandler.
Because Ross and Rachel.
Because Joey and … sandwiches?
Because "Live from New York, it's Saturday night!"
Because your girlfriend just dumped you, so it's time for some "X-Files." (Like because she's your Ex.)
Because you wish your girlfriend dumped you so you can watch "X-Files." (Like because that whole she's your Ex thing again.)
Because without J. J. Abrams, you're "Lost."
Because with J.J. Abrams, you're found.
Because you pronounce "ER" like "Errrr."
Because "ER" just gave you a heart attack.
Because "The Cosby Show" is even better than JELL-O pudding pops.
Because "The Cosby Show" is just as good as JELL-O pudding pops.
Because you like watching "The Cosby Show" with JELL-O pudding pops.
Because life can be frustrating, so maybe it's time to "Curb Your Enthusiasm."
Because life's frustrating, so it's past time to "Curb Your Enthusiasm."
Because the honeymoon is over, but "The Honeymooners" is forever.
Because the sticks in the bonfire won't light. They call that "Deadwood."
Because surprise! "Deadwood" is also a TV show.
Because you can't live long and prosper without "Star Trek."
Because you can live long and prosper without "Star Trek," but you don't want to.
Because "Star Trek" beams you up to fun times.
Because your twins keep looking inside the grill and letting all the heat out. They call that "Twin Peaks."
Because your life is like an American television serial drama set in a fictional Washington town. They also call that "Twin Peaks."
Because without "NYPD," you're "Blue."
Because without "NYPD," you're green?
Because "The Carol Burnett Show" is real a thing.
Because swerve.
Because swaggy.
Because it's time to get together with your "Girls."
Because you don't want to get your butt muddy.
Because watching "Arthur" is better than Hurricane Arthur.
Because you always thought it was called "Downtown Abbey," and the fact that it's "Downton Abbey" means you need to watch it all over.
Because your life is chaos without "Law & Order."
Because "Law & Order" is chaos without your life.
Because people just need "Law & Order."
Because you just put "SVU" in the DVD player in your SUV.
Because you originally went to buy "SVU," but you accidentally got an SUV. (Happens to the best of us.)
Because you'd rather be somewhere else, and that's why they made "St. Elsewhere."
Because Porta-Johns.
Because they made "St. Elsewhere," and you wouldn't rather be anywhere elsewhere.
Because "The Colbert Report" doesn't have to many episodes left, Mom.
Because Colbert is taking over on CBS, Mom.
Because there's nothing more American than Colbert, Mom.
Because you have a "Good Wife."
Because it's a holiday, but you still need to check in with "The Office."
Because you need to check in with "The Office" from the UK.
Because even when you're at the office, you're watching "The Office."
Because one day you'll look back and just think about "The Wonder Years."
Because right now you are currently thinking about "The Wonder Years."
Because "Planet Of The Apes."
Because it doesn't get more American than apes on horses.
Because "Fargo."
Because no one will tell you how to get to "Sesame Street."
Because you could easily ask how to get to "Sesame Street," but you want to figure it out for yourself.
Because it's the day we celebrate Christopher "Columbo," right? No? Whatever.
Because "Columbo" discovered America.
Because all the people who lived in America weren't discovered until Christopher "Columbo" got there.
Because everyone else can listen to music outside, but you rock on to the "The Rockford Files."
Because Carpe diem: Seize the day.
Because Carpet diem: Seize the living room carpet.
Because it's fetch.
Because Gretchen needs to stop trying to make fetch happen.
Because there's a baseball game on.
Because there's another baseball game on.
Because you're waiting for a baseball game to come on.
Because you wish there was a baseball game on.
Because you can't figure out why there's no baseball game on.
Because you remember when "Roots" wasn't just a band on "The Tonight Show."
Because you remember when "Roots" wasn't just a name for when girls grow out their hair and it's a different color.
Because "Everybody Loves Raymond."
Because not everybody loves Uncle Raymond.
Because infomercials and ShamWow and stuff.
Because you lost your sunglasses.
Because someone else lost your sunglasses.
Because the sun is sometimes too much fun.
Because cookies.
Because "The Golden Girls."
Because Betty White.
Because strange and unfamiliar cheese trays.
Because vegetables.
Because someone mentioned "The Andy Griffith Show."
Because you wish someone mentioned "The Andy Griffith Show."
Because Jack Bauer.
Because Jack Bauer says America depends on it.
Because Jack Bauer would never lie about something like that.
Because Jack Bauer might've lied about something like that.
Because Facebook.
Because twerking.
Because you twerked your back, so you need to rest.
Because reading is for Facebooks.
Because you feel like checking on the "House," meaning the TV show.
Because you feel like checking on the "House," meaning your house.
Because your kitchen is a nightmare, and you're waiting for Gordon Ramsay to show up.
Because of "Parks and Recreation."
Because Ron Swanson is the greatest American.
Because are we Americans? Or American'ts?
Because there's a show called "Dog Whisperer."
Because your dog is super loud, and you want him to learn how to whisper like the dogs on the show.
Because there's a show called "Real Housewives Of Orange County."
Because there's a show called "Real Housewives Of Atlanta."
Because there's a show called "Real Housewives Of New York."
Because there's a show called "Real Housewives Of New Jersey."
Because there's a show called "Real Housewives Of Beverly Hills."
Because there's a show called "Real Housewives Of Miami."
Because there's a show called "Real Housewives Of Vancouver."
Because there's a show called "Real Housewives Of Melbourne."
Because if a "Sharknado" hits, you have to be ready.
Because there's a show called "Jon & Kate Plus 8."
Because you can think of 8 people who probably wish there wasn't a show called "Jon & Kate Plus 8."
Because there's a show called "Ax Men."
Because "Ax Men" sounds like "X-Men."
Because "X-Men" is awesome.
Because there's a show called "Teen Mom."
Because you wish there wasn't a show called "Teen Mom."
Because you wonder whatever happened to the "Teen Moms."
Because the bro code.
Because there's a show called "Jersey Shore."
Because there's a show called "Toddlers & Tiaras."
Because there's a show called "American Pickers."
Because there's a show called "Storage Wars."
Because there's a show called "Parking Wars."
Because there's a show called "Cupcake Wars."
Because there's a show called "Amish Mafia."
Because there's a show called "Here Comes Honey Boo Boo."
Because there's a show called "Blind Date."
Because there's a show called "Who's the Boss?"
Because there's a show called "Doug."
Because there's a show called "SpongeBob SquarePants."
Because there's a show called "iCarly."
Because there's a show called "Married … with Children"
Because there's a show called "Happy Days."
Because there's a show called "Family Ties."
Because there's a show called "Rugrats."
Because there's a show called "The Ren & Stimpy Show."
Because there's a show called "The Angry Beavers."
Because there's a show called "CatDog."
Because there's a show called "The Adventures of Pete & Pete."
Because there's a show called "Hey Dude."
Because there's a show called "The Secret World of Alex Mack."
Because there's a show called "Cousin Skeeter."
Because there's a show called "Legends of the Hidden Temple."
Because the Silver Snakes were the shiz.
Because there's a show called "Double Dare."
Because there's a show called "Nickelodeon Guts."
Because there's a show called "Global GUTS."
Because there's a show called "Robot Wars."
Because there's a show called "Figure It Out."
Because there's a show called "Are You Afraid of the Dark."
Because there's a show called "All That."
Because there's a show called "Gullah Gullah Island."
Because there's a show called "Blue's Clues."
Because there's a show called "The Wild Thornberrys."
Because there's a show called "Invader Zim."
Because there's a show called "Rocket Power."
Because there's a show called "Aaahh!!! Real Monsters."
Because there's a show called "KaBlam."
Because there's a show called "As Told By Ginger."
Because there's a show called "Danny Phantom."
Because there's a show called "Avatar: The Last Airbender."
Because there's a show called "Salute Your Shorts."
Because there's a show called "Saved By The Bell."
Because there's a show called "Growing Pains."
Because there's a show called "Clarissa Explains It All."
Because there's a show called "Keenan & Kel."
Because if they don't throw candy at the parade, it's not worth it.
Because parades are overrated.
Because couches are underrated.
Because carnivals get weird.
Because baked beans.
Because weather.
Because beer makes you drunk.
Because beer doesn't make you drunk enough.
Because beverages in general.
Because why not?
Because cobbler.
Because Stephen "Cobblert."
Because "The Cobblert Report."
Because for goodness sake.
Because shortcake.
Because corn on the cob.
Because burgers.
Because you're so fancy.
Because you're not fancy enough.
Because babies.
Because babies who overestimate their cuteness.
Because watermelon.
Because barbecue sauce.
Because barbecues are messy.
Because concerts are dirty.
Because baseball is better on TV.
Because with game shows, everybody wins.
Because you can see the flag just fine from indoors.
Because it's your day off.
Because you're starting a revolution.
Because the butt indent on the couch is big enough for all 13 original colonies.
Because you declare independence from awkwardness.
Because it's what Paul Revere would've done.
Because no one cares what you do.
Because everyone cares too much what you do.
Because no one came to your party. That's not cool. You made pizza bagels.
Because too many people came to your party. That's not cool. There's only one bag of pizza bagels.
Because you didn't have a party. That's not cool. You're gonna waste those pizza bagels.
Because you can't even.
Because the sun be throwing shade at you.
Because you got sunburnt.
Because you are pretending you got sunburnt.
Because you lied about being sunburnt, and now you can't face your mom.
Because you don't have matching socks.
Because your socks match a little too well.
Because you can't find your mandles.
Because you just learned what mandles are.
Because you are waiting for Shark Week.
Because you wish Shark Week lasted all year.
Because "Cake Boss" is sweet.
Because Dumbledore died.
Because Katniss is shooting arrows at your heart like Cupid.
Because you missed the bus.
Because you wish you missed the bus.
Because you said a joke and no one laughed, so you're thinking about your life.
Because you're secretly watching "Frozen."
Because you're watching "Frozen," but it's not a secret.
Because you like to turn the volume down and add commentary. You know it's weird.
Because you're still really mad about that Dumbledore thing.
Because someone at the party used your name in that "Bananarama Fo Fama" song, and you don't know how to take it.
Because you have soul searching to do.
Because you wish you had some soul searching to do.
Because Dumbledore. Seriously?
Because you watch the Food Network for recipes.
Because you really can't deal with Karen right now.
Because you don't feel like going to the grocery store.
Because you do feel like going to the grocery story but still want to wait it out.
Because the hotdogs are gone.
Because you wish the hotdogs were gone.
Because hotdogs get on your nerves.
Because you get on hotdogs' nerves?
Because you're as mad about the hotdogs as the whole Dumbledore situation.
Damn you, Dumbledore.
Because some golf should be on, right?
Because you're still trying to figure out "The Sopranos" finale.
Because you have a theory that if you fast forward quickly enough through "Laguna Beach" Season 3, you'll go back in time, and it'll be like it never happened.
Because you wish "Jersey Shore" never did that season in Italy.
Because "Camp Rock."
Because "Camp Rock 2: The Final Jam."
Because "Camp Rock" is almost out of jam.
Because "Flavor of Love."
Because the "Flavor of Love" spinoff "I Love New York."
Because the "I Love New York" spinoff "Real Chance of Love."
Because the second season of "Real Chance of Love" called "Real Chance of Love 2: Back in the Saddle."
Because "Rock of Love with Bret Michaels."
Because sometimes you're just "So Raven."
Because sometimes you're just not "So Raven."
Because Mario Lopez hosted that show called "Pet Star," and you had to get up really early to watch it. And it had dogs that could like almost skateboard.
Because no one remembers "The Famous Jett Jackson."
Because you're breaking down old footage of "Even Stevens" to see where Shia went wrong.
Because Late Night Wars.
Because "Imma let you finish, but Beyoncé had one of the best videos of all time!"
Because you're a Pokémon Master.
Because you need to know why those "Housewives" were so "Desperate."
Because you got caught up in that damn map song on "Dora the Explorer."
Because you think "Diego" is a "Dora" wannabe.
Because you told someone you think "Dora" is "A-dora-ble." They didn't react how you wanted them to.
Because you learn life lessons from "The Wiggles."
Because you can't figure out how the letter "A" got all that damn money to sponsor "Sesame Street."
Same for "B."
Same for "C."
Same for "D."
Same for "E."
Same for "F."
Same for "G."
Same for "H."
Same for "I."
Same for "J."
Same for "K."
Same for "L."
Same for "M."
Same for "N."
Same for "O."
Same for "P."
Same for "Q."
Same for "R."
Same for "S."
Same for "T."
Same for "U."
Same for "V."
Same for "W."
Same for "X."
Same for "Y."
Because you can understand for "Z." That letter has a lot of Bitcoin.
Because you wonder why you don't have a lot of Bitcoin.
Because what the hell is Bitcoin?
Because if Ben Franklin tied a Bitcoin to the end of a kite string, he would have discovered the Internet.
Because that's what Al Gore did, right?
Because there's a show called "Buying Naked" that you just can't watch when your parents are in the room.
Because you watched the video tape from "The Ring," and then someone called you, but your phone died and they didn't leave a message, so now you need to watch it again and hope they call back.
Because taxes, right?
Because you think "Teletubbies" is based on a true story.
Because you really hope "Teletubbies" isn't based on a true story.
Because it's time to figure out why up until the '50s the world was in black and white.
Because TV always "Cheers" you up.
Because you really like using "Cheers" as a pun.
Because you wonder if Ted Danson would appreciate that.
Because your life is so like "The Mindy Project" that it's not even funny.
Because if Rachel Bilson can pull off being a doctor on "Hart of Dixie," you're sure as heck going to support her.
Because you want to remember when "One Tree Hill" was still good.
Because "One Tree Hill" was always good.
Because you're checking to see if "Lone Survivor" is On Demand yet.
Because you're checking to see if "Robocop" is On Demand yet.
Because you're checking to see if "Lego Movie" is On Demand yet.
Because everything is awesome. Everything is cool when you're part of a team.
Because you're checking to see if "Son Of God" is On Demand yet.
Because you're checking to see if "Endless Love" is On Demand yet.
Because you hope no one knows you checked if "Endless Love" is On Demand yet.
Because now you're sitting in your house, paranoid that someone knows.
Because you watch "Endless Love" and decide it was totally worth it.
Because "2 Broke Girls" is a show.
Because you like the Charlie Sheen "Two and a Half Men."
Because you like the Ashton Kutcher "Two and a Half Men."
Because "3rd Rock From The Sun" is a show.
Because "8 Simple Rules" is a show.
Because "According to Jim" is a show.
Because "The Addams Family" is a show.
Because "ALF" is a show.
Because "Aliens In The Family" is a show.
Because "American Dad!" is a show.
Because "Angela Anaconda" is a show.
Because "A.N.T. Farm" is a show.
Because you watch "SportsCenter" for the first time today.
Because you watch "SportsCenter" for the second time today.
Because you watch "SportsCenter" for the third time today.
Because you watch "SportsCenter" for the fourth time today.
Because you realize it's been the same episode of "SportsCenter" for the past 4 hours.
Because you watch "SportsCenter" for the fifth time today.
Because "Firefly" is a show.
Because "Firefly" is a show that needs to come back.
Because "The Bernie Mac Show" is a show.
Because "The Beverly Hillbillies" is a show.
Because you watch "SportsCenter" for the sixth time today.
Because TV is your life.
Because you think you might be in "The Truman Show" right now.
Because "Bewitched" is a show.
Because "The Big Bang Theory" is a show.
Because Sheldon Cooper is the man.
Because "Big Time Rush" is a show and a band, and you wish you didn't know the second part of that.
Because "The Bill Engvall Show" is a show.
Because "Blossom" is a show.
Because "Bob's Burgers" is a show.
Because "Bosom Buddies" is a show.
Because you realize Tom Hanks is a great actor.
Because you think Tom Hanks might be your favorite actor.
Because you realize T. Hanks looks like "Thanks."
Because you want to tell T. Hanks thanks for being an actor.
Because there's a "Star Trek: The Next Generation" Marathon on BBC.
Because there's a "America The Story Of Us" marathon on History.
Because "Seinfeld" was groundbreaking.
Because shovels are groundbreaking.
Because "The Brady Bunch" is a show.
Because you look on your DVR for the episode where Marcia gets hit in the nose.
Because you find it and rewind it a few too many times.
Because "Brothers and Sisters" is a show.
Because "California Dreams" is a show.
Because "Caroline in the City" is a show.
Because "Clueless" is a show.
Because "Coach" is a show.
Because "Community" is a show again.
Because you wish you could go to Greendale Community College for real.
Because actually you don't wish that.
Because "Cory in the House" is a show.
Because "Cougar Town" is a show.
Because "Crash & Bernstein" is a show.
Because "Dharma & Greg" is a show.
Because "Diff'rent Strokes" is a show.
Because sometimes you confuse Arnold and Webster, so you like watching "Diff'rent Strokes" to keep things straight.
Because "What you talkin' bout Willis?"
Because "Dinosaurs" is a show.
Because "Doogie Howser, M.D." is a show.
Because "The Drew Carey Show" is a show.
Because "Ed, Edd n Eddy" is a show.
Because "The Ellen Show" is a show.
Because "Everybody Hates Chris," but everybody loves his show.
Because "The Facts of Life" is a show.
Because "Family Guy" is a show.
Because "Family Matters" is a show.
Because "Family Ties" is a show.
Because "Flight of the Conchords" is a show.
Because "The Flintstones" is a show.
Because "The Flying Nun" is a show.
Because "The Fosters" is a show.
Because "The Fresh Prince of Bel-Air" is a show.
Because you remember every word of the "Fresh Prince" theme song.
Because "This is a story all about how my life got flipped, turned upside down."
Because "What ever happened to predictability? The milkman, the paperboy, evening TV!"
Because "What would you do if I sang out of tune? Would you stand up and walk out on me?"
Because "I'll be there for you, when the rain starts to pour. I'll be there for you, like I've been there before."
Because "Cleveland rocks! Cleveland rocks! Cleveland rocks! Cleveland rocks!"
Because "Who lives in a pineapple under the sea?"
Because "Who you gonna call?"
Because "Bad boys, bad boys, whatcha gonna do? Whatcha gonna do when they come for you?"
Because "Are you ready for some footballllll!"
Because you're too hungover.
Because you're not hungover enough.
Because there's no ice cubes at the party.
Because there's no Ice Cube at the party.
Because you survived Y2K.
Because you don't know what Y2K is.
Because freedom is spelled with 7 letters.
Because united we stand. Divided we "Falling Skies."
Because "I have a 'Dream Girls.'"
Because the only thing to fear is fear itself … and if your favorite show gets cancelled.
Because liberty and "Justified" for all.
Because God bless "America's … Got Talent."
Because "Oh, say can you CNN."
Reasons 1001 - 1776. Because America.
REAL LIFE. REAL NEWS. REAL VOICES.
Help us tell more of the stories that matter from voices that too often remain unheard.
BEFORE YOU GO
PHOTO GALLERY
"Game Of Thrones"