Costa Rica is a paradise, but it can be difficult to find fun activities to do for budget travelers. When you start researching online for your Costa Rica vacation you will likely be bombarded with amazing adventure activities such as deep sea fishing and zip lining. I agree, sometimes you need to splurge for unique experiences, but there are also plenty of FREE activities you can do in Costa Rica which you will also love. Here are 18 great options!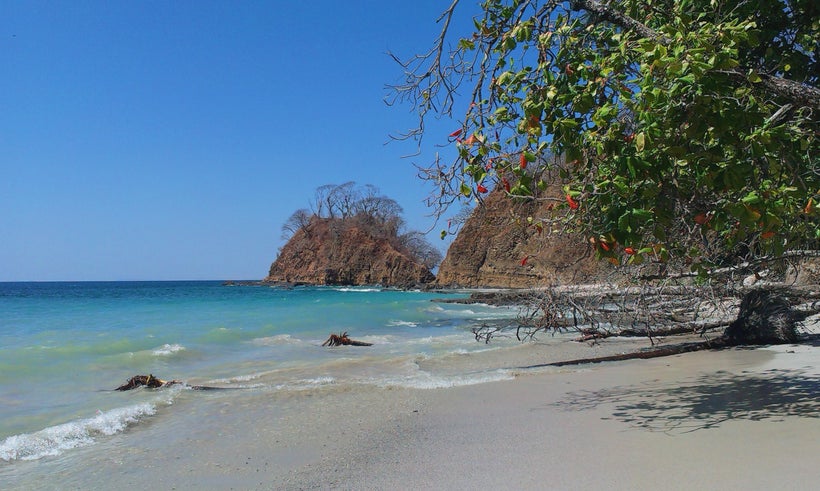 One of the many amazing thing about Costa Rica is that all beaches need to have public access. This means there is no such thing as private beaches here. I suggest checking out Playa Blanca near Jaco and Playa Penca near Playas del Coco. Both beaches involve a bit of adventure to get to but the reward is worth it.
If you are feeling adventurous you can just hop in your rental car (but read this before you rent a car) and start looking for a good beach. If you want a little more guidance you can ask at your hotel if they know of any secret beaches in the area. They may help you out, but sometimes they might be hesitant about sharing their secrets with you.
Wait until all the beachgoers leave for the day and the sun sets. Now it is time to strip those clothes off and run into the ocean. Yea, I get it. It's a bit daunting to go naked into the dark water, but what a fun experience to have!
3. Walk around downtown San Jose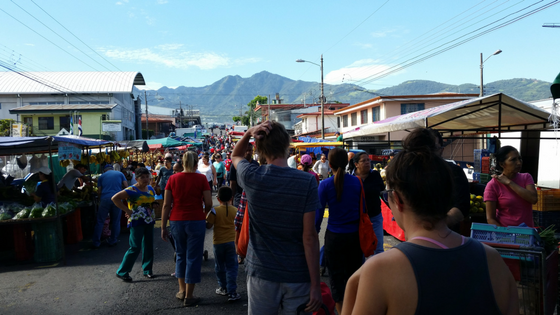 San Jose is not the world's most beautiful city, but it does have its charms. The downtown area has some interesting historical buildings and museums which are worth checking out.
4. Watch the planes take off
OK, this terrifies me, but it's so cool. At the San Joe airport planes take off right over the fence. What I mean is the runway ends, there is a fence, some grass, and then a road. So you can literally have planes taking off right over your head. I like to go here around sunset and sit at the end of the runway in the grass. It's actually a pretty popular activity with locals here. It's a terrifying crazy rush to watch planes go right over your head. Bring some earplugs. It can get pretty loud.
5. Explore a farmers market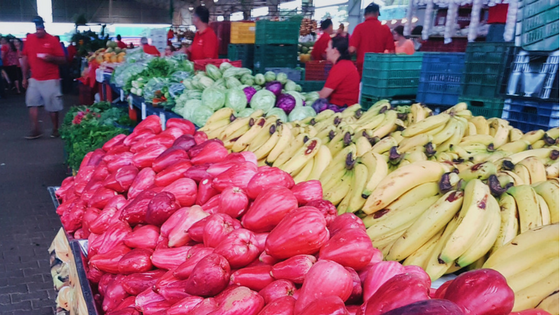 You can ask at your hotel when and where the local farmer's markets are. Also, be sure to try some new fruits or veggies. There are so many unusual items here that you likely have never seen before. I try to buy an unusual new fruit every week just to try something new.
6. Enjoy a natural hot spring
In La Fortuna, there are several fancy hot springs you can visit. However, if you want the ultimate local discounted experience, head to the free natural hot spring.
Just pull your car off to the side of the road next to Tabacon Spa. Someone will probably approach you offering to watch your car for a few dollars. Pay them (they really will watch your car and it's better to be safe than sorry). Ask them and they will show you where to go. It is a short walk down a hill to the bank of the river. Then just hop on in and enjoy the natural hot spring! Depending on where you sit it will either be really hot or cold.
7. Check out some crocodiles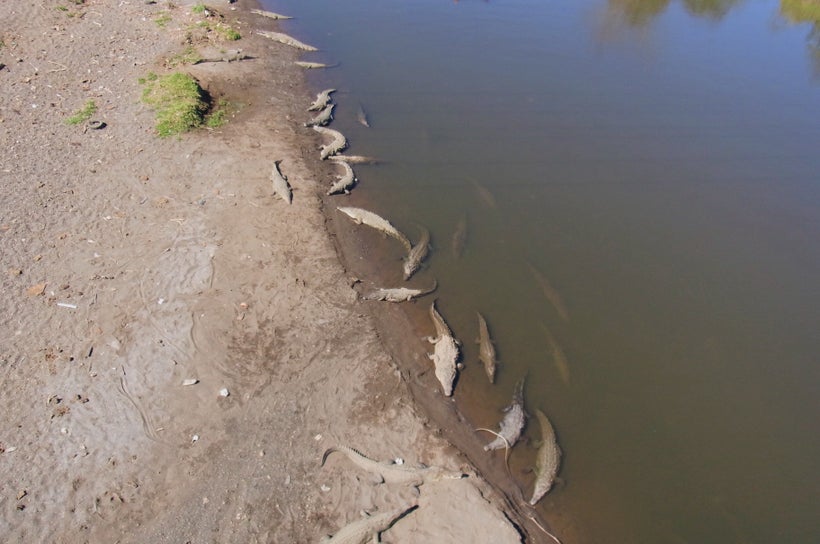 If you are heading to Jaco or Manuel Antonio from San Jose you will pass over a river called Rio Tarcoles about 1.5 hours into your drive. You will know you are there by the amount of people lined up on the bridge taking pictures. Just pull over on the side of the road, make sure there is nothing valuable left visible ad walk back onto the bridge. You'll get a nice view of some huge crocodiles chilling in the sun.
Costa Rica is a hiking paradise. You can find nice hikes in pretty much every destination of the country. I especially love San Gerardo de Dota, Monteverde, and La Fortuna for hiking. Some hikes cost money, but it is also possible to find free spots.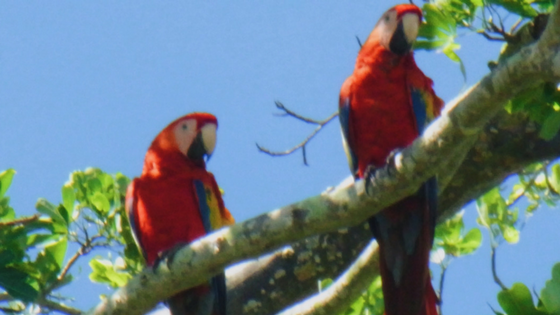 The bird watching in Costa Rica is on point. Popular areas are San Gerardo de Dota and Monteverde. You may also get lucky and find birds in random places. The parrots in the pic above were just chilling in the trees while I was on the beach in Jaco. I unfortunately only had my phone with me so I was unable to get a clear shot. Bring your binoculars and you'll be good to go!
I always suggest packing your own snorkel mask. That way you can snorkel whenever you want and don't have to pay a high price for a rental. Two good places are Playa Biesanz in Manuel Antonio and Playa Hermosa near Playas del Coco.
11. Explore some pretty churches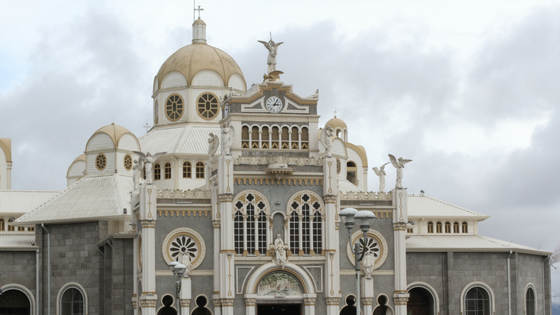 There are some amazing churches and cathedrals in Costa Rica. I particularly like the ones in downtown Cartago. The church pictured above is called Basílica de Nuestra Señora de Los Ángeles. In August people from all over the country pilgrimage here and some choose to approach the last several kilometers on their hands and knees. It's really pretty inside and free to go into, so if you are in the Cartago area check it out!
Wherever there is an easy flowing river you can find people lounging on the rocks and swimming. One of the coolest spots to do this is in La Fortuna. A bit out of the downtown (like 5 minutes) you will find a bridge. Walk down the embankment (it can be a bit slippery) and you will come to a pool with a rope swing. Now, all you have to do is jump! It's definitely not for kids or the faint of heart. In fact, it's a bit terrifying. Make sure you have travel insurance. No, it's not that scary and you don't HAVE to try the rope swing. You can just enjoy swimming.
13. Go swimming in the ocean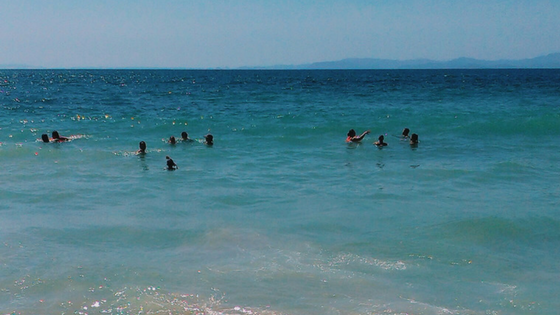 Another thing I love about Costa Rica is that the water in the ocean is always a nice temperature for swimming. In some areas you need to be careful about rip currents, so please be aware of that before going for a nice swim.
Sitting on the beach on a clear night and watching the stars is one of the most beautiful and relaxing experiences you can have in Costa Rica.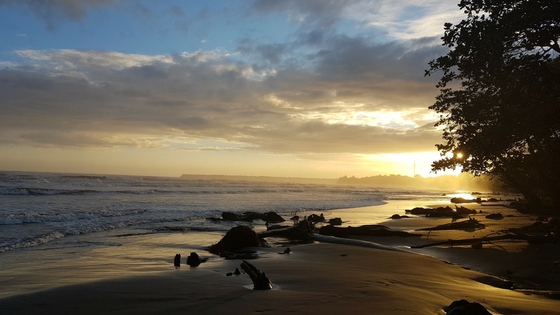 Cahuita and Puerto Viejo are great places on the Caribbean coast for an amazing sunrise view. Just be ready to get up at 5am to catch the sunset.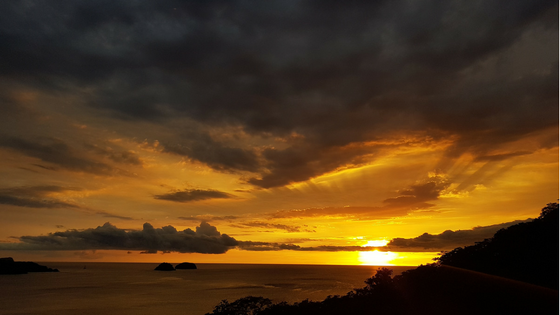 You can't go wrong with the sunset view anywhere on the Pacific coast. I especially like Manuel Antonio and Playas del Coco area because it is possible to watch the sunset from the cliffs above.
You can always take an expensive deep sea fishing tour, but if you are on a budget do as the locals do and just bring a spool of line with a hook on the end. You can then fish anywhere in the country for free.
18. Check out San Jose from above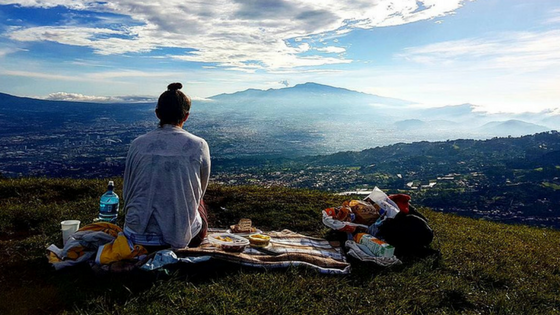 Get out of the city and head into the mountains. From above, San Jose is absolutely beautiful. In fact, this is where my fiance proposed to me.
This post was published on the now-closed HuffPost Contributor platform. Contributors control their own work and posted freely to our site. If you need to flag this entry as abusive,
send us an email
.