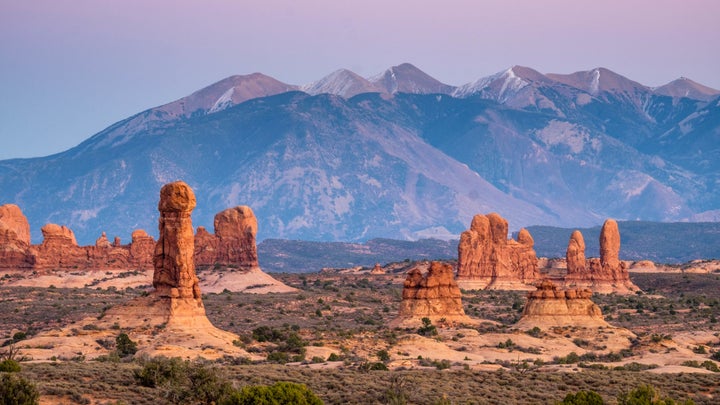 Mother Nature is the master sculptor of the American west and in no place is that more evident than at Arches National Park in Utah. Across the vast landscape of rose-colored sandstone lives more than 2,000 arch formations, and thousands of other wonders in the shape of pinnacles, spires, needles, hoodoos, gargoyles, balanced rocks, and domes that all teem together to decorate the Utah skyline.
Four miles down the road from Arches is the desert town of Moab, streamlining access between services and the park. You've probably heard of it – Moab is legendary to adventurers the world over because of its close proximity to Arches, its neighbor, Canyonlands National Park 28 miles up the road, the snow-capped La Sal Mountains (the second largest range in the state of Utah rising to 13,000 feet), and the adjacent Colorado River. Moab and surrounding landmarks provide a buffet for outdoorsman – where rock climbers, canyoneers, dirt bikers, and whitewater rafters can feast – and the serene southwest setting and desert climate is perfection for landscape photographers who relish in capturing shot-after-brilliant-shot created by the desert sunrise, sunset, blue hour and brilliant night skies.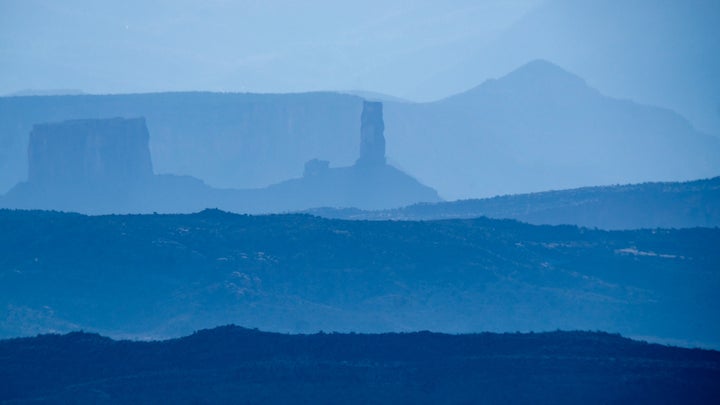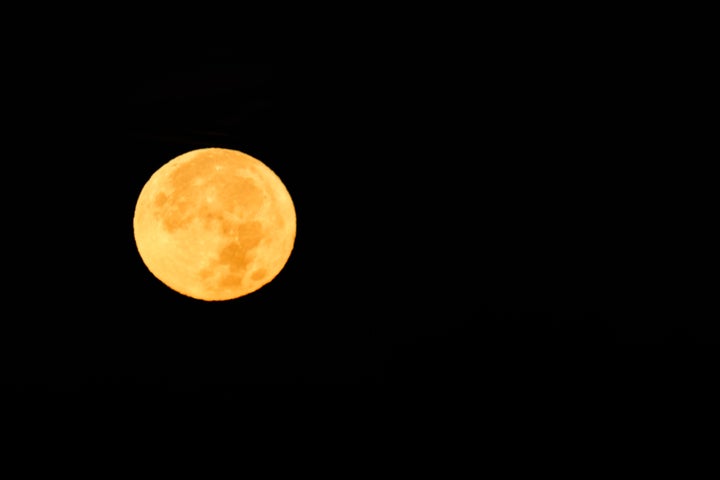 With thousands of arches and other intriguing formations rising from the rugged landscape, and with remarkable hikes leading to most of them, it can be a real challenge to determine what to see and do with a limited amount of time in this red rock wonderland. The first step is to head off on the 26-mile scenic loop drive inside of the park; the second is to choose which landmarks in the area speak to you. We've highlighted below what we think some of the top stops are in hopes that it will help other travelers maximize their time and help focus photo ops while visiting this jewel in the American Southwest.
1. Delicate Arch is the emblematic symbol of Arches National Park and the state of Utah and is arguably the most famous natural arch formations in the world... If you see only one arch in the park, this is the one to see.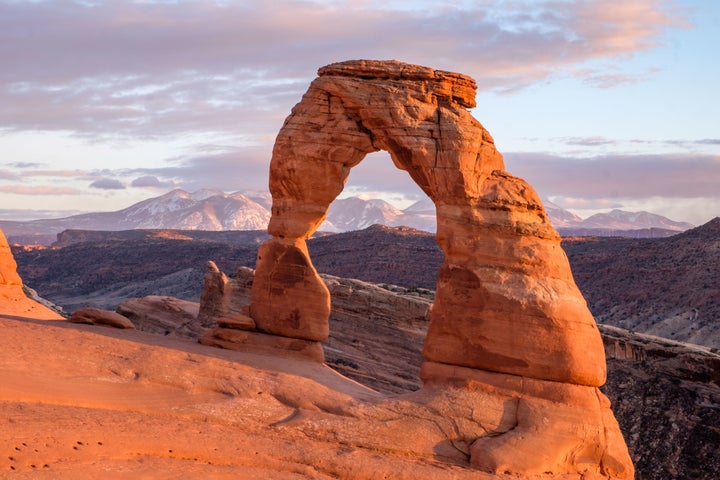 2. Balanced Rock is a massive boulder made of Entrada sandstone that sits atop a pedestal made of Dewey Bridge mudstone – fused together, they become stronger. The perch is 128 feet tall and together they are estimated to weigh 3,577 tons (about equivalent to 27 blue whales.) With tons of great hiking nearby, striking scenery in every direction, and its close proximity to the paved park road, it is as easy to explore as it is popular.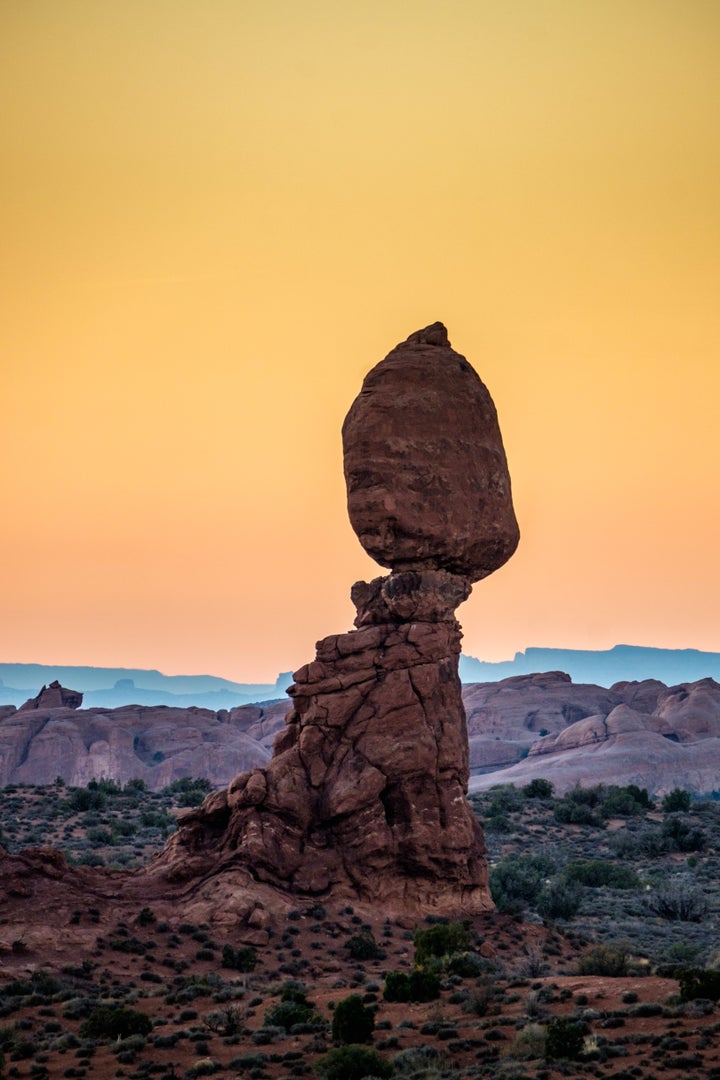 3. Double-O Arch (not to be confused with Double Arch, not featured in this section) is made up of two arches standing on top of each other seeming to dance in infinity. It is one of the great sunset spots in the park. You'll want to make your way out there in the mid-afternoon to catch the sunset and be hiking back to the trailhead as soon as the golden hour ends to beat nightfall (it's about 2 miles between Double O and the Devils Garden Trailhead.) Don't forget your headlamp!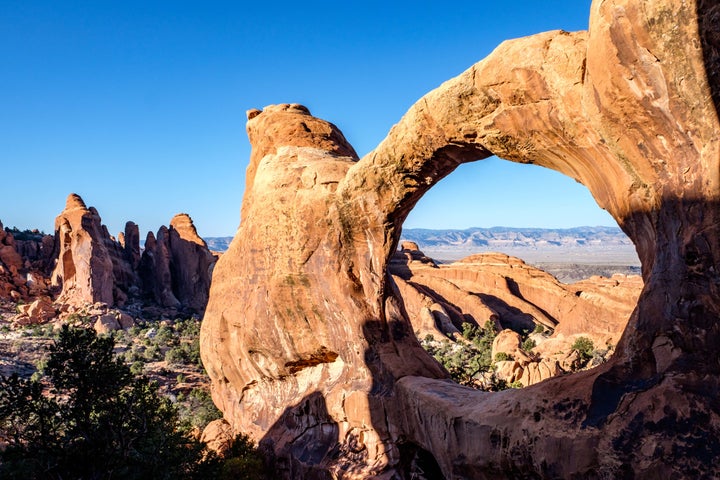 4. Fiery Furnace is a fascinating maze of sandstone passages weaving through towering walls that have been etched by erosional forces over the course of millennia. The labyrinth can only be visited on a ranger-led hike or with an NPS-issued permit from the visitor center used to vet would-be hikers (GPS doesn't work in Fiery Furnace and getting lost is a relatively common occurrence.) As is always true in our national parks, your safety is your own responsibility!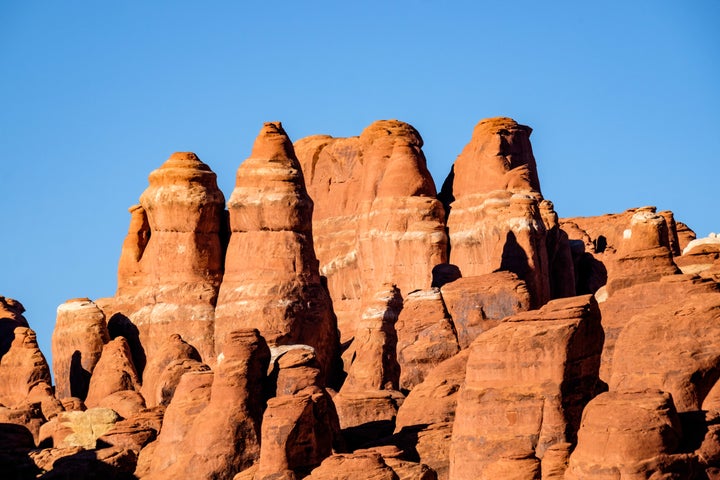 5. Turret Arch is relatively young and small and is framed perfectly through North Window, making it a beloved photography subject in the park. It is one of three arches on Windows Loop Trail.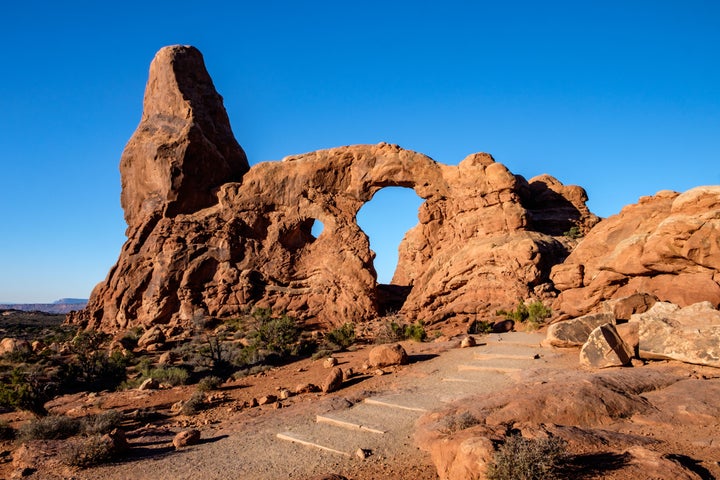 6. North Window is a sunrise photographer's dream, where one can perfectly frame Turret Arch in the center of its wide opening. It can be a frustrating place to shoot because people are constantly posing in the arch-way... sometimes it is just best to just loop them into the shot.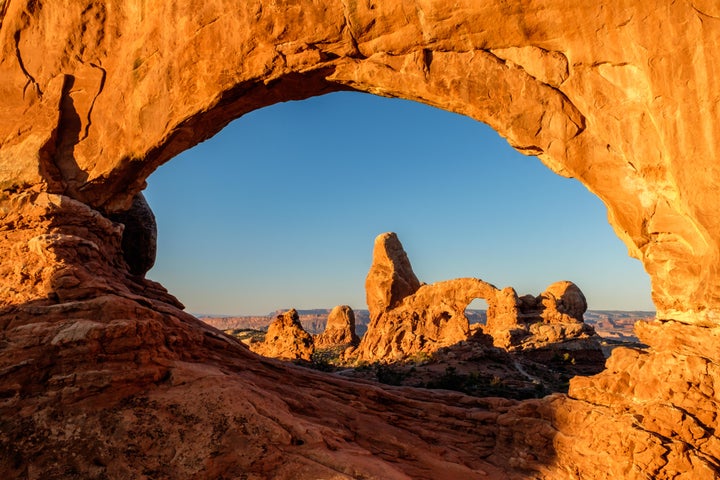 7. The Park Avenue viewpoint is a stunning scene and is one of the first landmarks reached after entering the park on the scenic loop road. Be sure and take some time to wander down into the wash of sandstone and absorb the scenery around you – Queen Victoria Rock, Sausage Rock, and Courthouse Towers are all nearby. But don't walk on the crypto!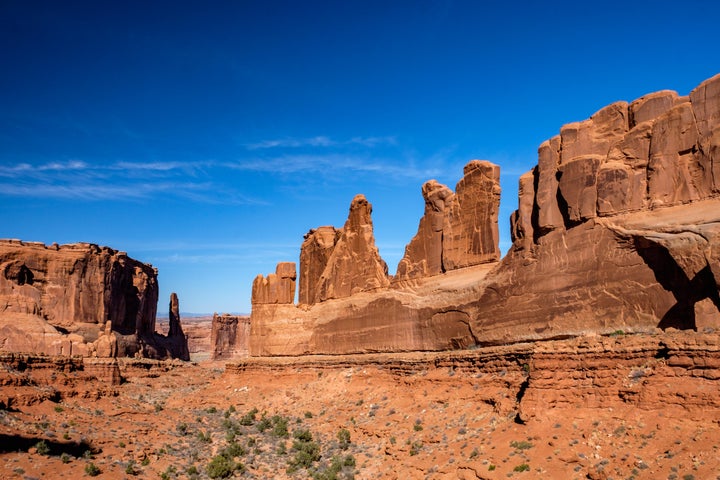 8. Landscape Arch has one of the longest spans of any natural arch in the world, and the largest in North America measuring at 306 feet. It is easy to access along the Devils Garden trail area right off of park road. Wander farther onto the primitive trail and visit Double O Arch, as well as Navajo and Private Arches to get the most bang for your buck.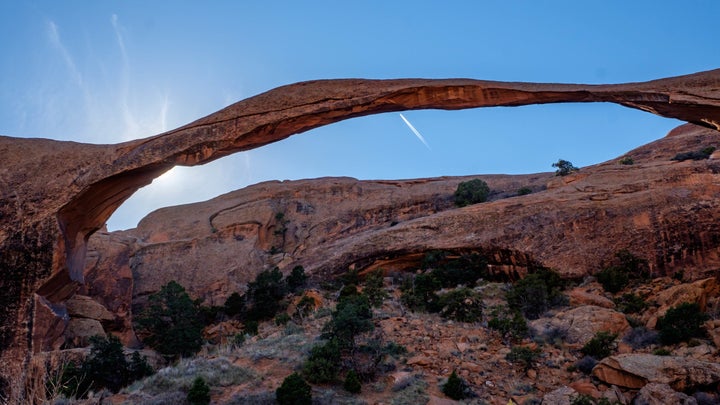 9. The Three Gossips is a statuesque formation named for its striking resemblance of three people chatting (er, gossiping.) This mid-size formation that stands at 350 feet is located near the Courthouse Towers in the Windows section of the park.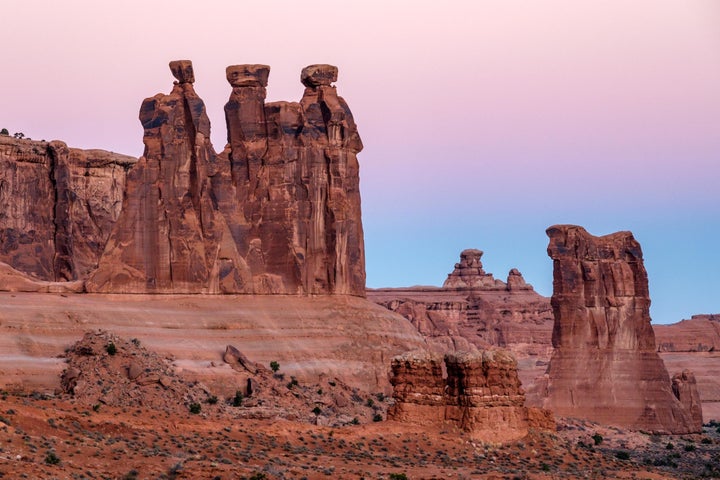 10. Navajo Arch, located on the Navajo Arch Spur Trail, feels like more of a cave than an arch, and it tends to be a bit less visited than other well-known arches in this network of trails which can allow for a bit of uncommon solitude.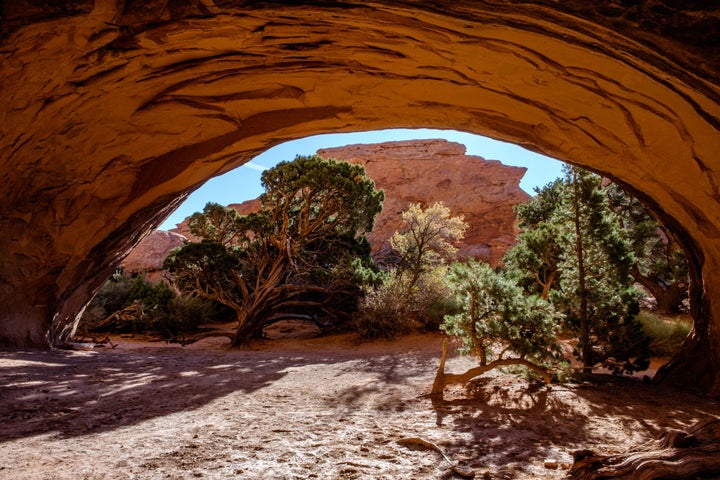 11. Partition Arch is a window-shaped arch that can be found on foot on the way to Double-O Arch on Navajo Arch Spur Trail. It shares the same backbone (fin) as Landscape Arch and shares a picture-perfect view of the landscape as well.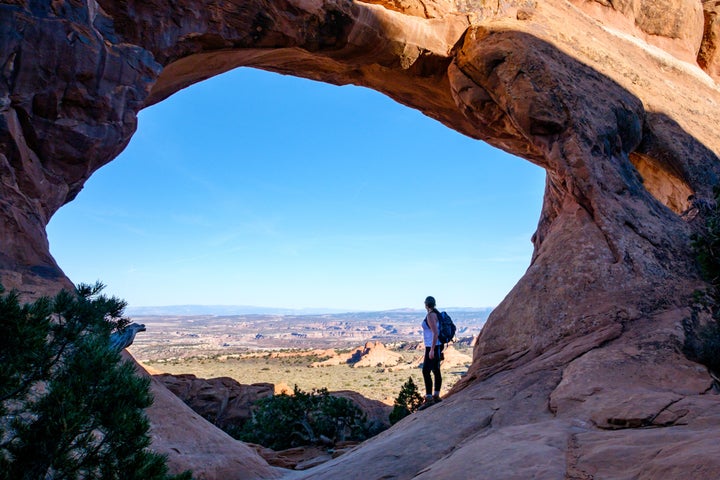 12. Courthouse Towers can be viewed near the Park Avenue viewpoint just 9 miles after entering the park. This beautiful wall of sandstone proves early on in any visit that there is much more to this park than just arches.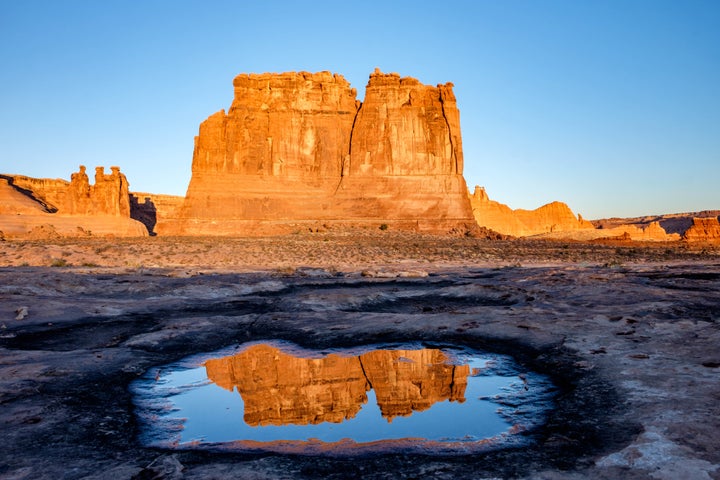 13. Broken Arch is a huge picture window in the north area of the park with easy hiking surrounding it. The 2-mile trail from the parking lot is a favorite during wildflower season when the area is awash with colorful blooms. Despite its name, Broken Arch is not broken, just wearing thin over time.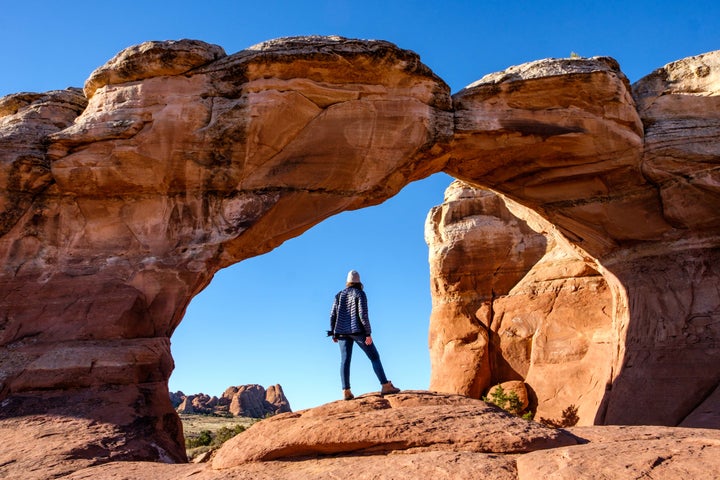 14. Sand Dune Arch is a fun and easy place for kids of all ages to explore being that it is located just next to the parking lot, has no elevation gain/loss, and the ground-scape is covered with soft sand. This is a great place to practice abstract photography by playing with the large streams of shadow and light that dance in through the slotted fin walls.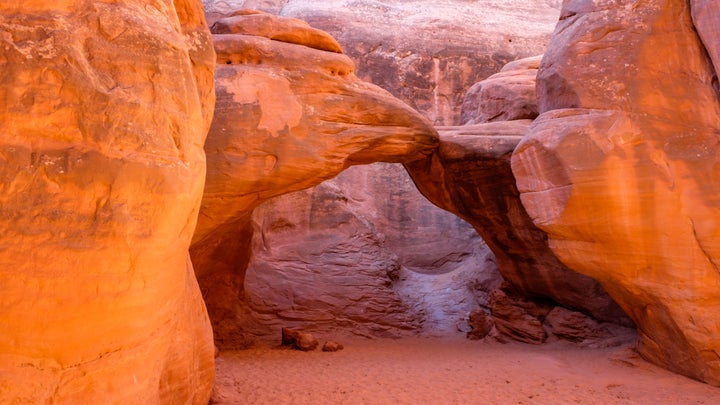 15. Dark Angel is 150 foot sandstone tower that is easy to reach from Double O Arch (just .5-mile.) We actually thought the hike and panoramic views were more interesting than the structure itself, though it is always good to visit with an angel whenever possible...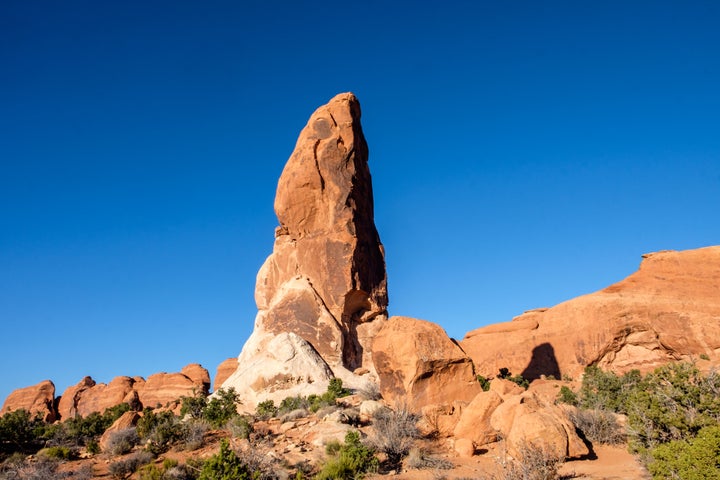 16. Petroglyphs seen at Wolfe Ranch are believed to be designed by the nomadic Shoshonean Ute and Paiute Indians, who were introduced to horses by the Spanish who had entered the area during the 17th century (you will see people on horseback in the wall art depictions.)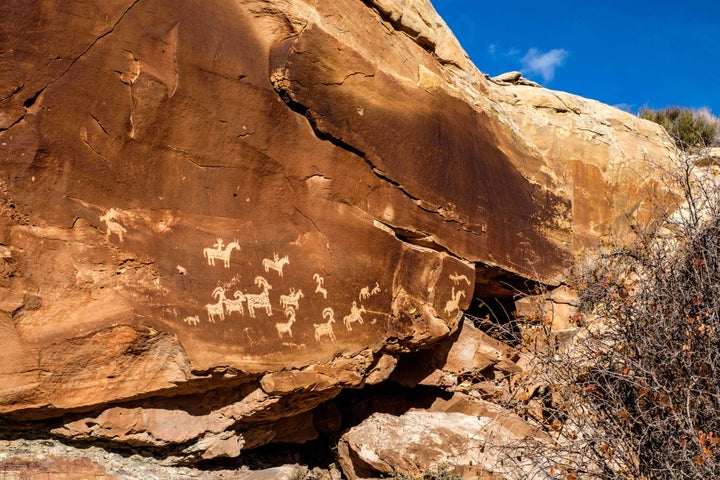 17. The Petrified Dunes at Arches are remnants of ancient sand dunes that have hardened to stone over time. This uniquely beautiful oddity can be seen off-road in the Windows section of the park, with the snow-capped La Sal Mountains hanging as a perfect backdrop behind them.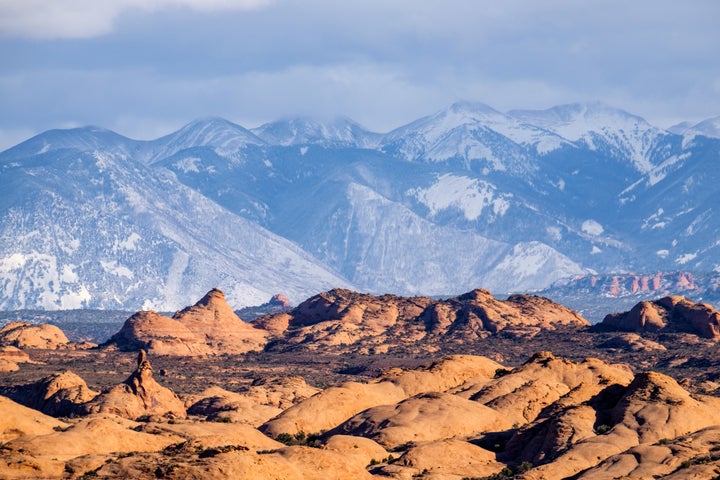 And a hearty shout out to Wally the Airstream, our brave co-pilot who traveled with us safely to all of the national parks that can be driven to. Here he stretches his legs on park loop road...