I've been writing about cars for awhile, and it has its perks. Mainly, getting to test drive dream rides, but also the occasional chance to attend auto-sponsored events. As a guest of Lexus (Stylish vehicles! Good gas mileage! Liquid assets!), I went to the U.S. Open at Bethpage on Saturday, hospitality tent pass in hand. The weather was brutal, but it worked out for the best, at least for one person.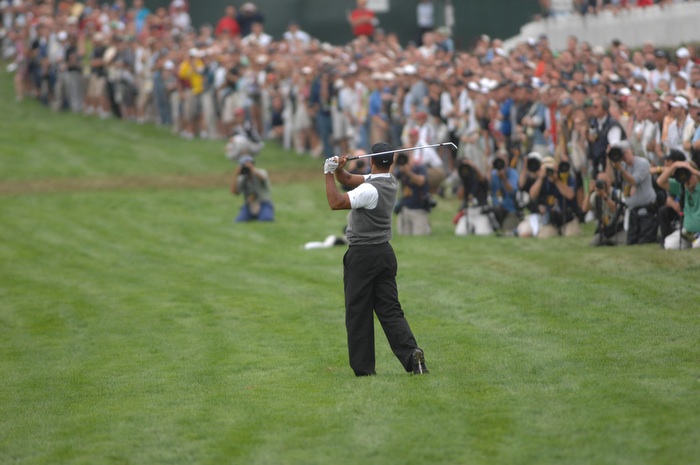 The USGA made Thursday's rain-out passes good for the final round, so I lucked out and also attended championship Monday after the former ticketholders left town. There was no test drives, but I did see the Lexus IS convertible that was in heavy advertisement rotation throughout the Open. From a distance, it looks sharp, but somehow I missed the custom dimpled like a golf ball LS460. Alas, that's a corporate suck-up story for another day.
You already know what happened at Bethpage, but I thought you might like an insider's log of the sights, sounds, and smells (And Woah Nelly! Did it ever smell) of the 2009 U.S. Open. I'm a casual fan at best, so don't expect golf insights. But I know from my tipsy New Yorkers, so let's tee it up, shall we?

Front Nine: Saturday June 20
1.) There was a mix-up as to whether I had a media credential that would allow me to bring in a camera. For obvious noise-making reasons, nobody is allowed to bring personal electronic devices, including cellphones, into the US Open. I wasn't on the list, so the camera went back to the car. No problem. However, there was no reason for the USGA media relations woman to offer up the observation, "we don't give photo credentials to websites," and "the Huffington Post isn't exactly a sports site, we deal with publications like Sports Illustrated." In other words, "suck it, new media."
2.) In the media tent, I ran into Cameron Morfit, a writer friend who does excellent work for Golf magazine. He was working on a short feature on Lucas Glover, who it turns out is a Southern gentleman intellectual type with a predilection for all things New York City, including Jerry, George, Elaine and Kramer. ("Jimmy's Down!") It's too bad the fans didn't know this ahead of time; Glover might have gotten a little more love. Covering a major is tricky because unlike the Super Bowl it isn't over that day, but unlike the World Series, it isn't spread out enough for storylines to have a shelf life. Such is the golf writer's existence, but Morfit backed the right guy, even if Glover is, unfortunately, a Yankees fan.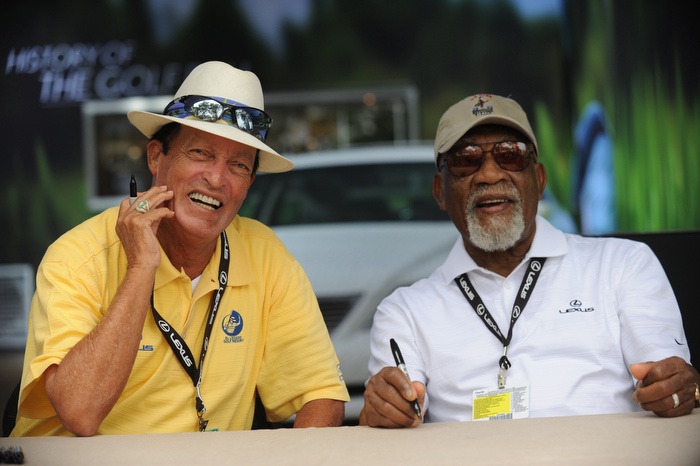 3.) You saw the monsoons on the course, but what you missed was the deep wells of mud everywhere else. It was Tiger Woodstock. It was everywhere. It smelled like manure, or maybe that's just Long Island. People were covered in the stuff, so fortunately, one truism was proven out. Watching drunk dudes slip and fall down mud-soaked hills is always funny. Always.
4.) Somehow, I managed to miss the fact that both Chi Chi Rodriguez and Charlie Sifford were hanging around the hospitality tent. Sifford, often referred to as the "Jackie Robinson of golf" was the first African-American to play on the PGA, racking up two victories. I saw both men as they were leaving and regretted not asking Sifford, 87, his thoughts on the state of golf today. As for Chi Chi, the man is 73, but looks like he could still get carded for a senior discount. Apparently, "sword dancing" and endless charity work keeps you young. It's amazing to see civil rights pioneers in the flesh, a slap-upside-the-head reminder that they aren't only found in history books.
5.) I read a number of articles about the drunken hecklers raining down obscenities on the poor fragile golfers. I am going to call at least half-bullcrap on that storyline. Sure, by the time Saturday's skies open up and poured around 7 p.m., there were plenty of soused golf fans that had put in a full day's drink. Including, umm, many of those who took shelter throughout the day in the hospitality tent. Was there some friendly taunting? Sure. And maybe "friendly" in the New York City area comes off as "aggressive and hostile" elsewhere, but I never heard anyone yell during a golfer's swing, nor did I hear any cursing at a particular player (Although I was never near poor old Fred Funk.) Yes, the mooks were out in full force, but they were mostly having fun, the obnoxious drunks were far outnumbered by people having a big time in the heavy stuff.
6.) Perhaps, if the Open returns to Bethpage, there should be a brief tutorial on affectionate swearing vs. angry cursing. After some no-name barely missed a lengthy putt, a guy did scream out, "You've got to be fu*king kidding me!" But he was clearly yelling at the ball. He loudly vocalized what the golfer himself was thinking, and that's more than showing support. It's damn near a public service.
7.) Tiger. Tiger. Tiger. Tiger. Tiger. Tiger. Tiger. Tiger. Tiger. Tiger... I know Tiger is the preeminent name in sports, but he's bigger than I ever would've guessed. Everyone was constantly talking Tiger, way more than even Mickelson. He played a decent round Saturday, but it wasn't like Woods tore up the course. Yet, you could ask anyone, anywhere, anything about his current status and they would have the instant update. Even when it became clear he had little shot of winning, people talked like all Tiger had to do was pull out his magical U.S. Open-Hole-in-One driver from the bag and the tourney was his for the taking, and people seemed to believe it. I am now convinced Tiger Woods could play a four-day tournament by himself and thousands would show up to bask in his messianic glow.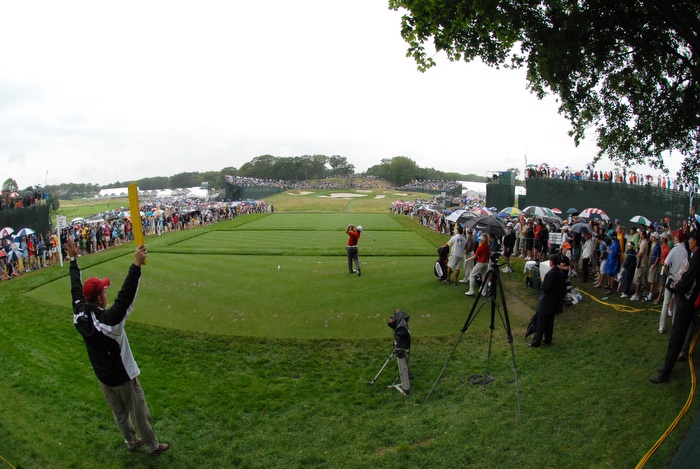 8.) I heard two men arguing for five minutes about whether bearded golfer Stefan Edfors looks more like a construction worker or a Swedish pop star. Consensus was not reached.
9.) Late Saturday, my wife and I camped out on the 13th hole, hoping to get a glimpse of Tiger up close. (Naturally, he got to the 11th before the thunderstorms hit.) In the grandstands on that long hole, a group of volunteers were offering up "Hip Hip Hoo-Rays" every time a golfer made an impressive putt. Rory McIlroy got a resounding, "Hip-Hip Ror-eyy! Hip-Hip Ror-eyy!" While his playing partner Anthony Kim got nothing. Explained the head cheerleader, "You gotta' earn it. We're not giving 'em away."
Naturally, the loudest roar, the one that got a huge full-throated chant from the entire grandstand was " Hip-Hip-SQUEE-JEE! Hip-Hip-SQUEE-JEE!"
BACK NINE: Monday June 22
10.) I hopped on the LIRR early, with an extra US Open ticket in hand. Pathetically, I couldn't find any takers on a free ticket to championship Monday. And yes, the hospitality tent was still in play. It worked out alright though, because American Express gave out free earpieces with XM coverage of each hole. On this day, I was able to run around the course at will and saw Woods, Mickelson, Cabrera, Barnes, Glover and Duval in the flesh without having to factor in another person's gameplan.
11.) Here is one of those Malcom Gladwell Blink-style snap judgments based on seeing Tiger and Phil close up; Mickelson enjoys the ride a whole lot more. Granted, Tiger probably knew it was going to take a miracle to win, and Phil had just tied for the lead with an eagle on 13, but their facial expressions seemed to play right into their accepted narratives. Phil was all smiles, thumbs-up signs, high-fives and friendly banter. Woods had the grim look of a man walking towards his executioner. Joy and pain. Like sunshine and rain.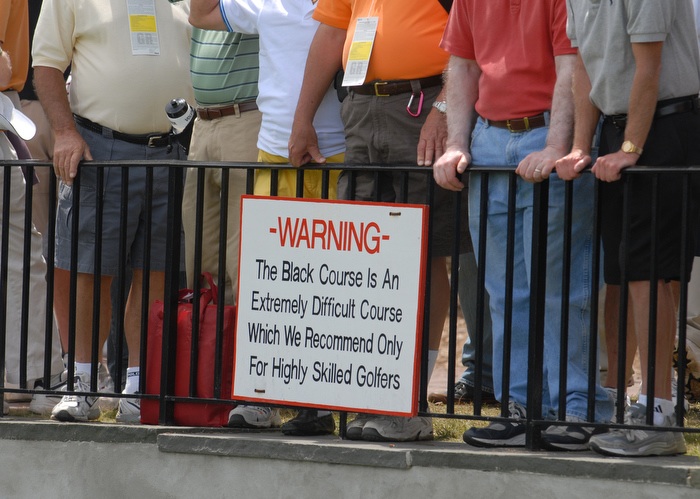 12.) Out on 15, I had a great sightline to watch Woods hit his second shot from the fairway. At that point, he would've needed a string of birdies just to have a chance, and you could hear from the huge groan of the crowd that he clunked the shot. I didn't follow the ball, though. I stared at Tiger as he removed his hat and stared at the ground. He looked almost...despondent, like Charlie Brown when he gives up the game-winning walk-off. It was only a few seconds, but it was still shocking to see the man who is the best that's ever lived duff it like a commoner and react like he was watching his own funeral. But hey, Beethoven must have missed a few notes and Michelangelo probably painted outside the lines a few times, right?
13.) I was well positioned on the short par-3 14th to watch Mickelson. This was right after the eagle and the roar of the crowd was as loud as any noise I ever heard at a sporting event. Thousands of fans came storming over, shouting in pure ecstasy, an American version of a coronation. Obviously, his wife's cancer made the "people's champ" even more popular and right after his tee shot landed near the pin, it felt like watching a cliched sports movie come to life. The only drawback? As Mickelson made his way down the hill, the charge was lead by wee sportswriter Mike Lupica. He may be the dean of New York scribes, but how about not making yourself part of the story, Mike? He was out front, waving to fans, shaking hands, and marching to the green in all his Napoleonic glory. For Calvin Peete's sake, Lupica, couldn't you have at least walked behind Phil?
14.) I circled back to catch the flip side of greatness, watching Lucas Glover and Ricky Barnes try not to blow their shot at the trophy on 13. I sat next to a guy in a Cubs tee shirt, drinking beer by his lonesome. We both thoroughly enjoyed when a big dude tumbled down the grandstands and mud-footed an elderly gentleman, caking the backside of the poor fellow's fancy dress shirt in Bethpage's stinky muck. Turns out, I found myself a playing partner for the rest of the day. I gave my extra hospitality pass to "the Ultimate Fan," Andrew Van Cleve, who runs the website Anygame-Anywhere.com. A Chicago business consultant, Van Cleve's workload is as slow as the rest of ours, so he decided Sunday night to fly to Islip, rent a car, and take in some golf. He had no ticket at the start of the day, but that's his usual m.o. It has to be, considering he attends upwards of 180 sporting events a year. (Yes, he's married to an extremely open-minded woman.) Van Cleve is no front-running poser, either. The day before, he'd attended the Women's Professional Billiard's event in Michigan City, Indiana. Needless to say, it was one of the all-time great afternoons to be underemployed.
15.) I should add that the roars/groans of the fans were not the only amazing sound I heard at the U.S. Open. The PING! of a professional golfer hitting a drive off of a tee makes a noise I am unfamiliar with.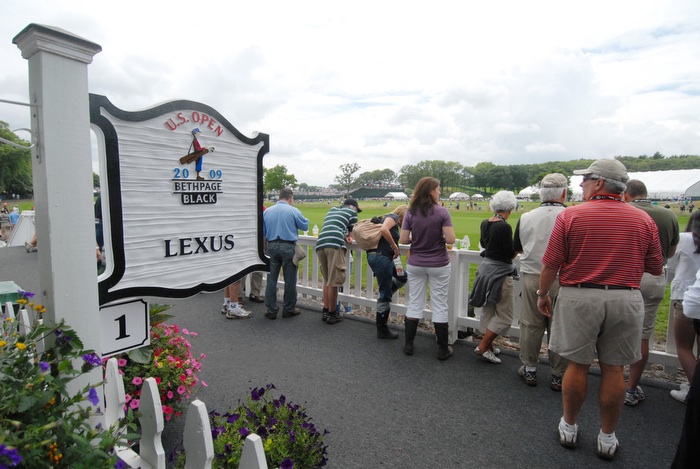 16.) Years ago, I worked at Maximum Golf magazine. (Golf! Boobs! Beer! Golf!) At the time, the three biggest stars were Woods, Mickelson and David Duval. But then Duval disappeared. Ranked 882 coming into the U.S. Open, Duval found himself in contention in the final round. People told me that he'd had personal problems and injuries. Whatever the case, his former Adonis-sculpted frame now carried a pot belly, and his stoic robotic demeanor gave way to a dude having the time of his life. Mickelson was the overwhelming sentimental favorite, but I was pulling for Duval. Any pro athlete that's my age and body type will always hold my rooting interest. Go get 'em, Double D, a nickname that takes on a whole new meaning as middle-age approaches.
17.) We made our way to the 17th grandstand to watch Glover putt in on 18 to win the U.S. Open. The crowd gave him a solid shout-out, although it was clear that everyone wanted a play-off with Mickelson, and/or the other golfers who were within a couple of strokes near the end. Still, in a wild weekend that will best be remembered for the Who'll Stop the Rain course and the boisterously boozy New York fans, perhaps an unassuming golfer with a deep love for Gotham makes the most sense. Congratulations, Lucas Glover, you endured. And at the moment, that's about the best we can all hope for.
18.) There was one final thrill at the 2009 U.S. Open. The grounds crew let fans walk the course. Fathers and sons, mothers and daughters, fans old and young alike, quietly strolled out of Bethpage, pantomiming their golf swings, imagining what it must be like to play with the world's best. Fairways and greens were off-limits, but on the way out, I stopped in the 18th-hole rough, picked a few blades of grass, soaked in a gust from the Gods, and called it a day.
The New York crowds weren't great?
You gotta' be fu*king kidding me.
(All photos courtesy of Lexus photographer Bob Straus.)
Calling all HuffPost superfans!
Sign up for membership to become a founding member and help shape HuffPost's next chapter