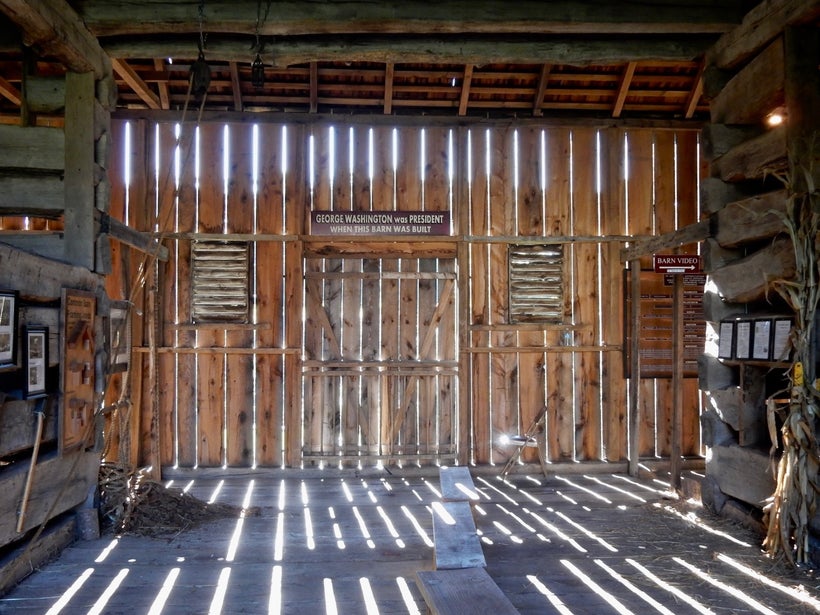 Maryland is one of the most oddly configured states in the country – extending from the shores of the Atlantic Ocean, around the Chesapeake Bay, and all the way "out west," nearly to Ohio. While the bay and ocean shorelines of the east, and the mountains out west have obvious appeal, the parts of middle MD, commuter towns just west of the Baltimore-Washington Metro Area, have to work a bit harder to attract visitors.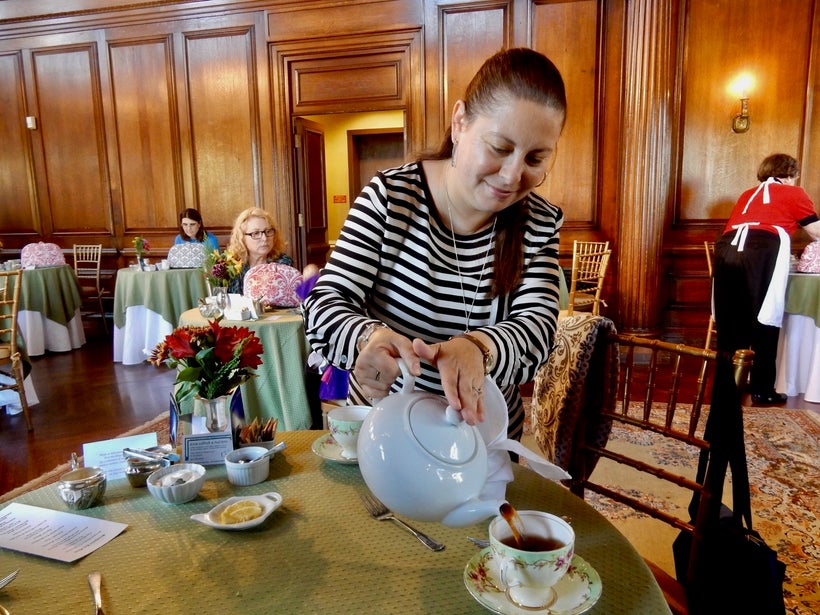 Here are 18 mostly low-cost ideas for the ultimate date night, day, or sleepover in suburban Montgomery County and agrarian Carroll County MD. Discover more about these and other Offbeat Escapes in the Northeast at GetawayMavens.com.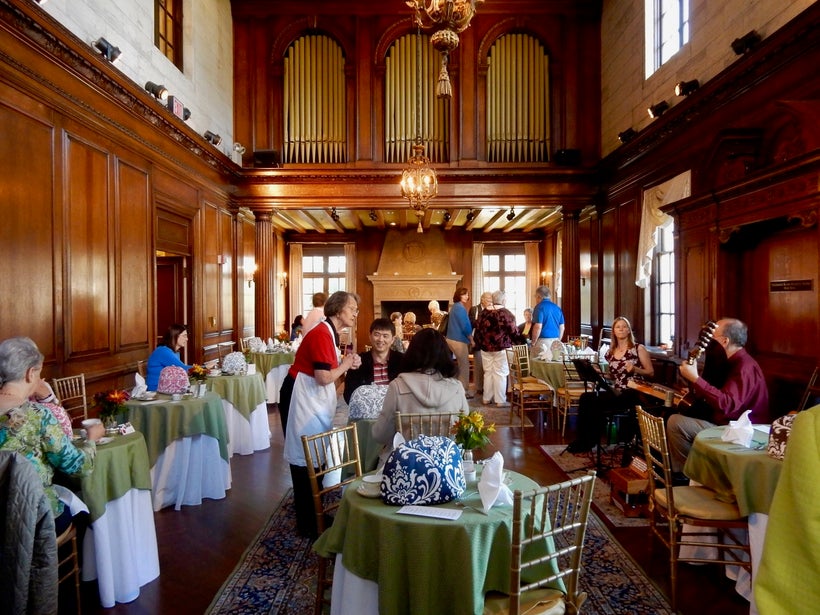 1. Take Tea With Chamber Music at Strathmore Mansion, N. Bethesda. There are two buildings on the Strathmore campus, and it is impossible to confuse them. One is the contemporary 2,000-seat modern glass concert hall that would not look out of place at, say, Lincoln Center in NYC. The other is the 1899 Georgian Mansion, "one of the handsomest summer homes near Washington," according to the Washington Evening Star in 1903. The latter is where you want to be for an indulgence rarely seen anymore: afternoon tea, served by volunteer "Tea Ladies" in a soaring wood paneled room while classical musicians play. Dining on scones with clotted cream, crustless cucumber sandwiches, and an abundance of sweets in the middle of the day is the ultimate guilty pleasure. Tues, Wed. 1pm, $24pp, $28 for specialty teas.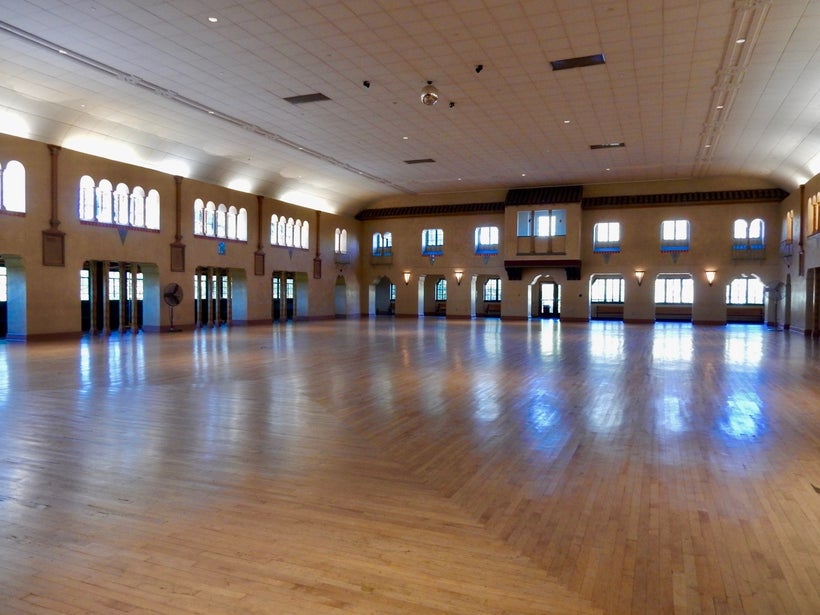 2. Learn to Swing, and then dance the night away to live music at Glen Echo Park. The famous Spanish Ballroom opened in 1933 with 7,500 square feet of dance space to accommodate 1,800 dancers, and still attracts multitudes for Thursday Night Blues Dancing, Friday and Sunday Contra Dance, and every Saturday night – Swing. Amazingly, $18 pp buys you an hour Swing lesson and three hours of dance time to a live band – one of the cheapest date nights ever.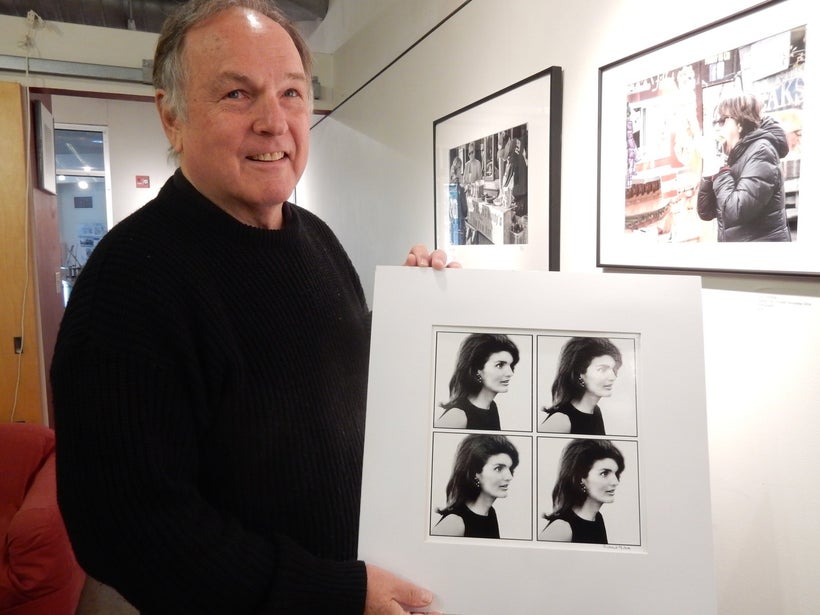 3. Unleash your creativity together at Glen Echo Park - a former amusement park turned Performing and Fine Arts Center, where budding photographers, painters, silversmiths, jewelry-makers, sculptors, writers, musicians, actors, glass and clay artists, and dancers can learn from the best. There are over 1,000 classes to choose from – many just a few hours long. Take a "Mindful Watercolor Workshop," enhance your digital camera skills at Photoworks, or create a unique piece of jewelry for each other. Most are multi-class series, but you'll also find three and four hour classes, in the $45-$100 range. Walking the grounds and stopping into art galleries in this renovated Art Deco complex is free.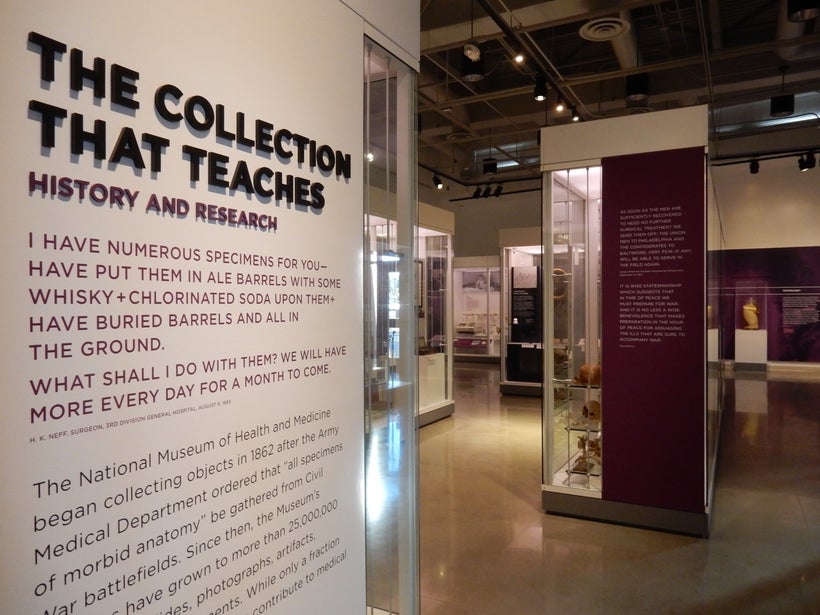 4. Check out Civil War musket wounds at the National Museum of Health and Medicine in Silver Spring. Physicians, history buffs, and military couples (and some of the rest of us) will find NMHM a macabre but thoroughly mesmerizing place to spend a couple of hours. Not only does the this little known museum display the bullet that killed President Abraham Lincoln (in the Lincoln's Final Hours Exhibit), it also features a slab of concrete floor, pitted and iodine-stained, from Trauma Bay II: the Air Force Theater Hospital Balad in Iraq, among millions of body parts, tools, and other medical artifacts. Founded by Surgeon General William A. Hammond in 1862, this institution highlighted the "Medical and surgical history of the War of the Rebellion." Now, the Department of Defense's National Museum of Health and Medicine is tucked away in a modern building behind the U.S. Army Forest Glen Annex in Silver Spring MD. Best of all, it's free to see.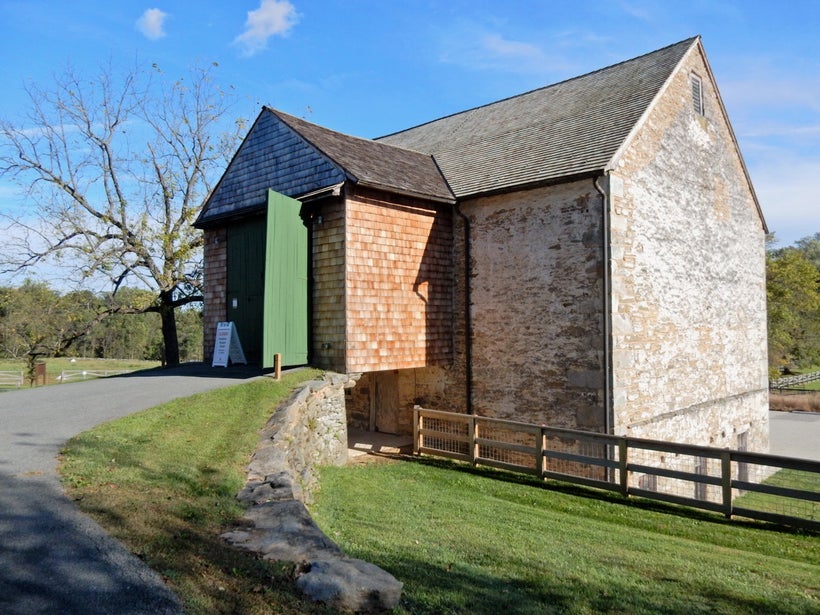 5. The walls literally talk at Woodlawn Manor Cultural Center in Sandy Spring, where couples who wish to delve into the history of slavery in America will find a unique and fascinating way to do so. After a major renovation in 2016, the 1832 Stone Barn on this farm managed by the Montgomery Park System is one of the most engaging ways to learn about slavery and the difficult decisions encountered by both the enslaved (to run or stay) and slave owners (to free them or not). Interactive exhibits highlight the area's agricultural landscape, the Underground Railroad and the Quaker experience in Montgomery County, revealed through the lives of the Woodlawn's residents – the Palmer family and enslaved laborers. The three-story Stone Barn serves as a multi-media museum, where roughhewn stonewalls come alive with projections of ten 90-second video vignettes of actors in period dress interpreting the enslaved and slave-owning families. $5 pp.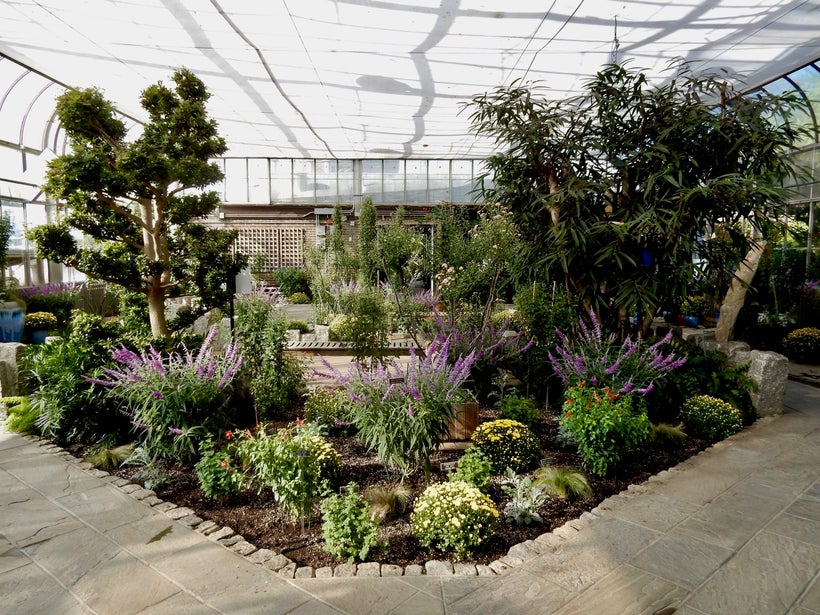 6. What's dreamier than gardens in bloom, especially off-season? Plan a morning or afternoon at Brookside Gardens in Silver Spring to meander through and around fifty stunning acres of gardens, woodlands, ponds and terraces – and two indoor Conservatories, where hot-house flowers show their pretty faces year round. Free, gardens open daily sunrise to sunset, Visitor's Center 9-5.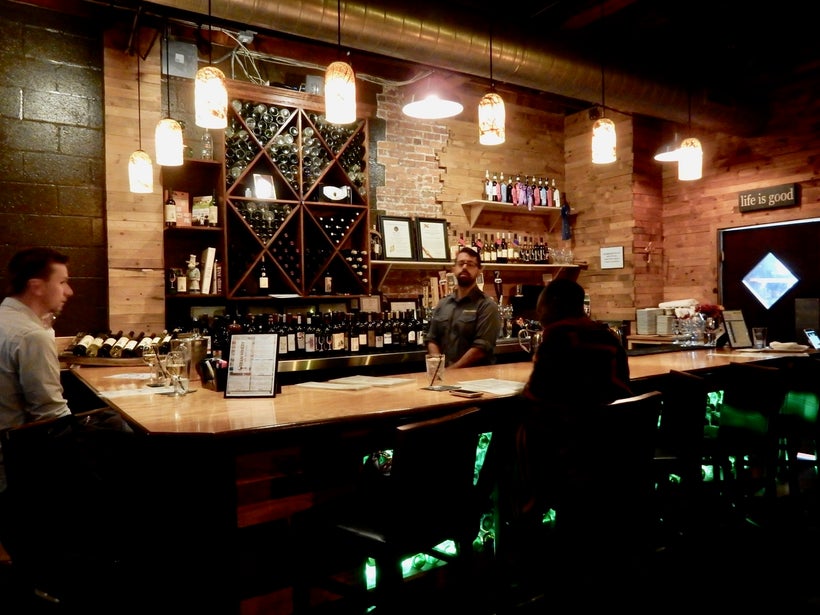 7. Sign up for a winemaking class at Urban Winery in Silver Spring, one of the most romantic things that oenophiles can do in the metro-DC area. Or just enjoy the fantastic Reds and Whites made from mostly Maryland grapes, along with "mezze" – Mediterranean cheeses, meats, dips, and ambrosial breads. Owners Damon and Georgia Callis honor their Greek heritage by turning out some of the finest wines in the region, serving them, along with lip-smacking wines from around the world, in their small side-street production and tasting rooms.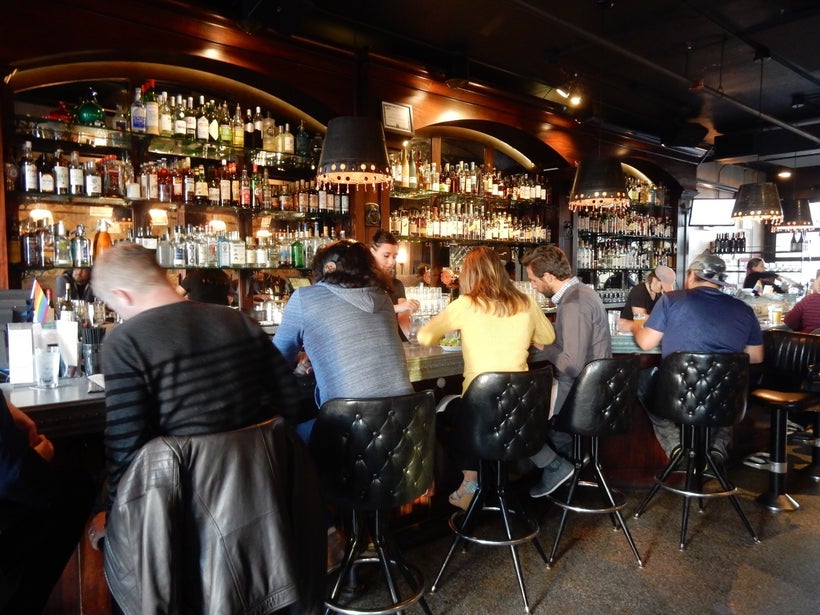 8. Young married's in love, love Takoma Park. Formerly a hippy hangout, you'd be hard pressed to tell the difference between Takoma Park and Park Slope, Brooklyn at the moment. On the DC border, this enclave of independent shops, boutiques, and restaurants pulses with young parents pushing strollers and holding toddlers in check. Last year, Thrillist declared Takoma Park Washington DC's "Coolest Suburb in America's 35 Biggest Cities." Plan Happy Hour or diner at Republic for toothsome spiced cauliflower bites and other trendy appetizers, or Mark's Kitchen for the vegan in your life.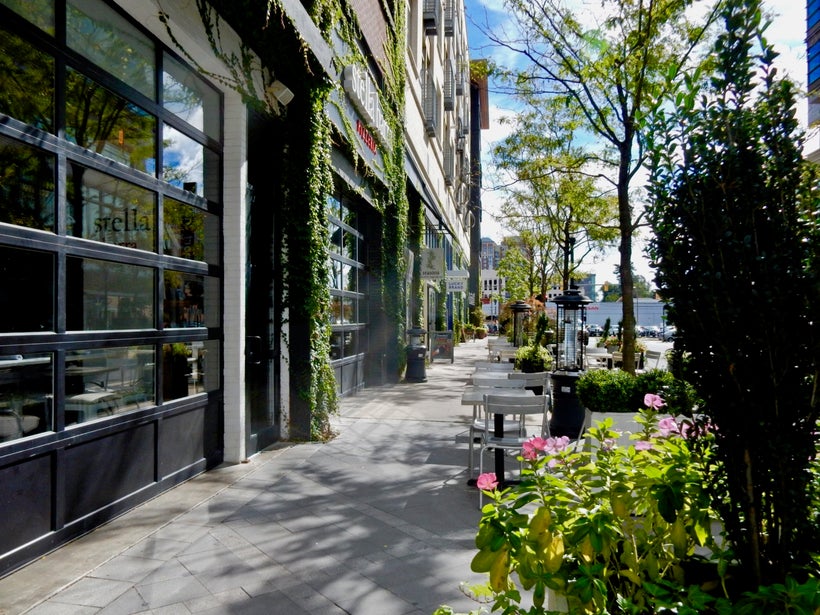 9. Pike and Rose, on the border of Rockville and Bethesda, is one of the most exciting mixed-use developments to come down the pike, with all the trendy big box fun and games to recommend it. Find R.E.I., LL Bean, Nike, Gap, Sephora, H&M, Lucky, Pinstripe Bowling and Restaurant, I-Pic Movie Theater (with lounge chairs, blankets, food and food service), as well as some of the area's best restaurants, like the California-cool Summer House Santa Monica (order the excellent Poke Bowl!). When the design-forward Canopy Hotel opens in March '18, this happening corner of the Bethesda/Rockville border is bound to be a huge tourist draw.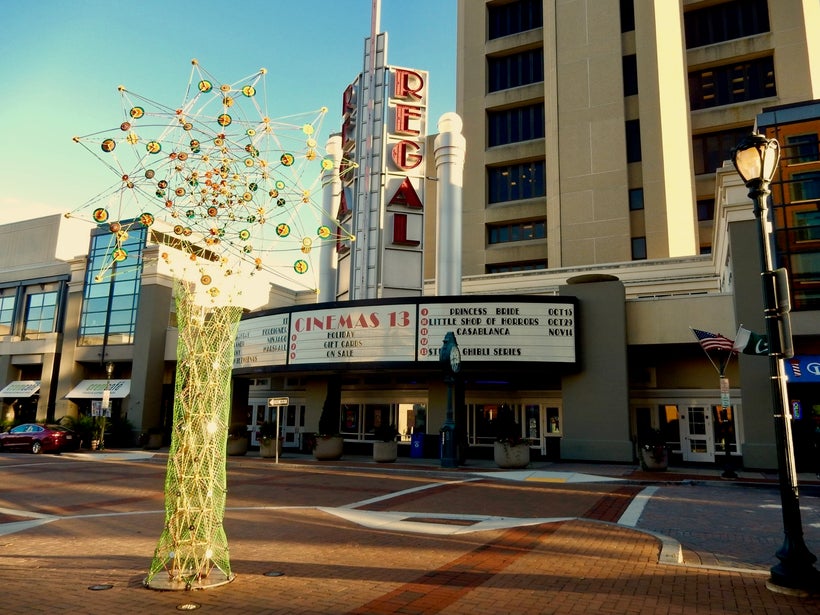 10. See a movie at the vintage-looking Regal Theater Cineplex in Rockville Town Square, and then walk across the street to your upscale room at Cambria Hotel and Suites (#11, below). Another mixed-use development, Rockville Towns Square, with plenty of eateries (e.g. Mellow Mushroom Pizza), a brewery (Gordon Biersch Brewery), and indie shops, proves that Montgomery County has figured out how to create lively, walkable neighborhoods, within steps of a Metro Stop, from scratch. For a "farmy" kind of meal, head three miles out of Rockville Town Square to Founding Farmers, and order the Spatchcock Chicken ($17), a quarter bird quick-roasted in an 800 degree oven, which keeps the meat moist and the skin crackly.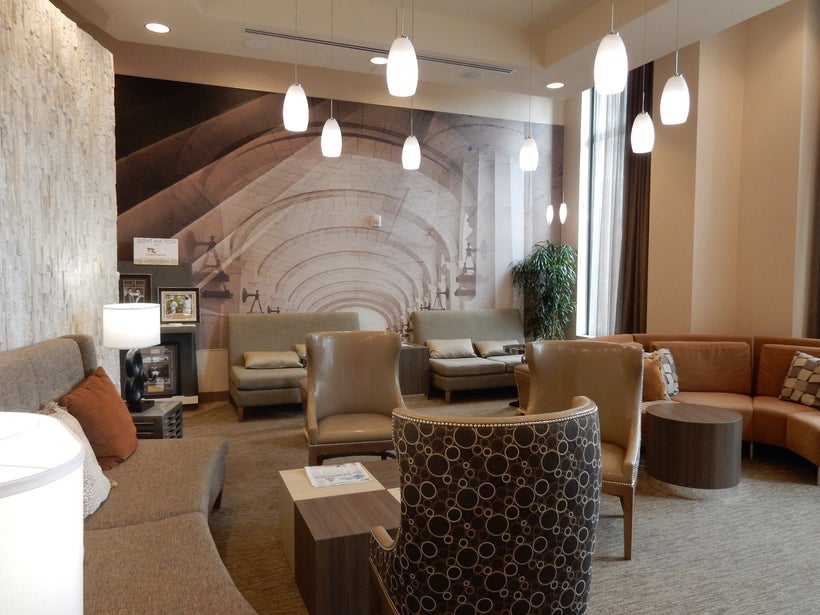 11. Staying at Cambria Hotel Rockville is a great upscale alternative to more expensive options in Washington DC, just a 25 minute metro –ride away. The stylish lobby – in hues of brownstone and sand – serves as a popular gathering place, with plenty of seating and outlets for laptops. Sunlight, pouring through floor to ceiling windows, reflects off a curved separation wall of sparkly quartz. And even the smallest guestrooms are a spacious 320 sq. ft. – plenty of room for you and your honey to spread out. Rates start at $109 per night.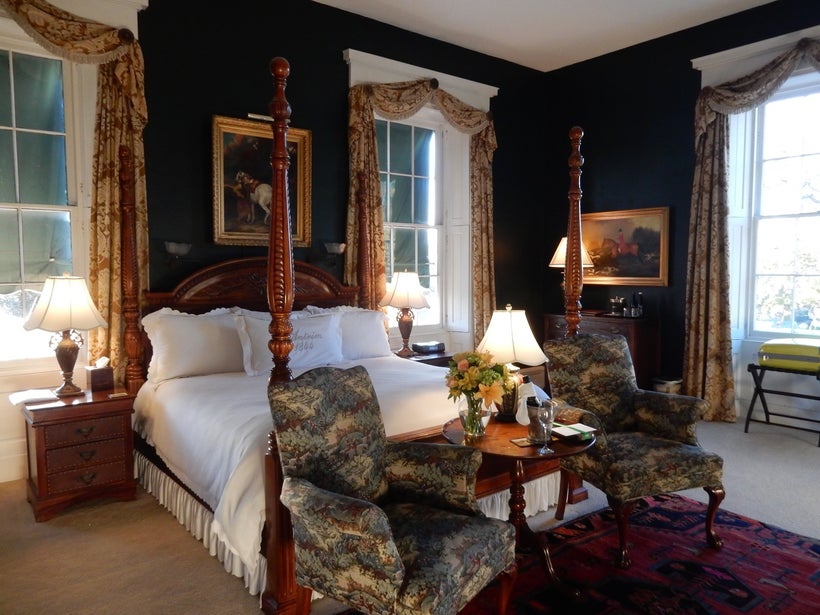 12. For a splurgy romantic getaway, there is only one clear choice in Carroll County MD: Antrim 1844. A Civil War era mansion with laid-back personal service, finery, five star dining, high ceilings, grand appointments, and floating curved staircase, Antrim 1844 is a stunning surprise in the tiny town of Taneytown. Antrim 1844 encompasses 40 unique guest rooms in several buildings on beautifully landscaped grounds. Wine Spectator Magazine has bestowed its Award of Excellence upon its destination-worthy Smokehouse Restaurant - with new chef, Andrew Fontaine, late of Napa County CA - and 22,000-bottle wine cellar, 17 years in a row. On par with many Relais & Chateaux or Leading Hotels of the World properties, and on the Select Registry and the National Historic Register, this is not your average dusty antique inn resting on its laurels.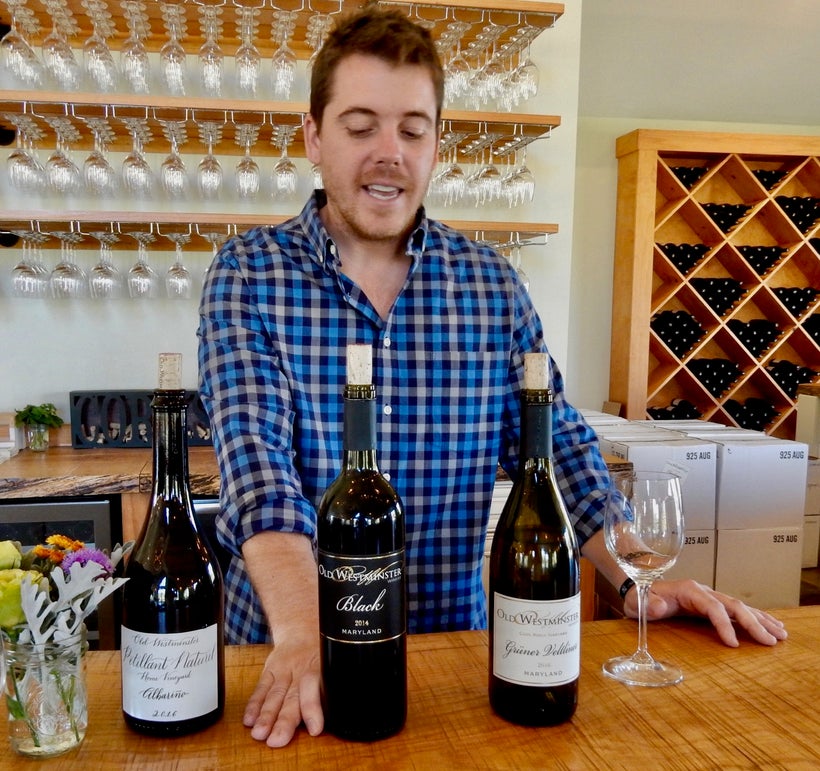 13. Sip on effervescent "pet-nat" wines at Old Westminster Winery, owned by three Baker Siblings: Drew (with wife, Casey), Lisa – a Chemistry major turned winemaker, and Ashley. Experimentation, says Drew, is a core Old Westminster principal. "We make delicious unadulterated Maryland grown wine." Though the classic red blends are popular, including the deep, dark, mostly Merlot and Cabernet Franc Black, Old Westminster is known for its unique "pet nat" blends, in the bottle within a month of harvest. An ancient, now resurging method of sparkling winemaking, most of the fermentation happens after bottling. Old Westminster was among the first in the county to employ this ancient process in the making of wines, and after releasing its first, The Daily Meal ranked Old Westminster among the Top 101 wineries in the USA. Other Carroll County wineries are surprisingly innovative, as well. Nearby Serpent Ridge Winery, outside of Westminster, is such a small operation, owners Roche and Karen Smith cork bottles by hand using the newfangled plastic "Zork" wine cork – a bottle sealing device that's a snap to remove and reseals easily after opening.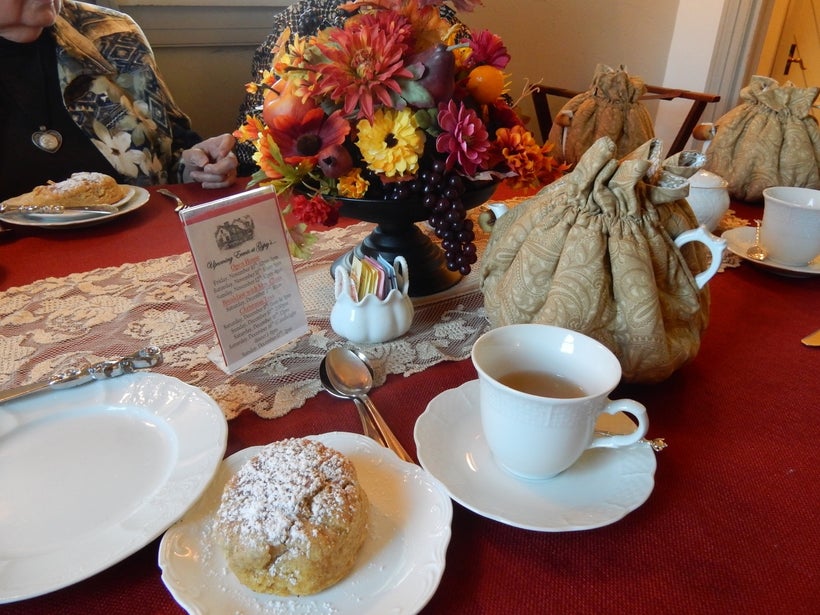 14. Mid-Maryland really likes its Tea Rooms (see Strathmore, Montgomery County), and in Westminster, adoring duos flock to Gypsy's Tea Room. It makes sense for romantics of all ages to enjoy this most English of rituals in William Winchester's home, built in 1760 when the US was still a British colony. Owner Gypsy Jo Flack provides that elusive "personal touch," welcoming every guest warmly into her gift shop, though a warren of intimate rooms – and even into the kitchen to make scones with her on select dates. Though not ostentatious, this is a complete tea with all the bells and whistles – scones and clotted cream, cucumber sandwiches, baked goods, and of course, you choice of tea. Afternoon Tea available daily 11-3, $26 pp.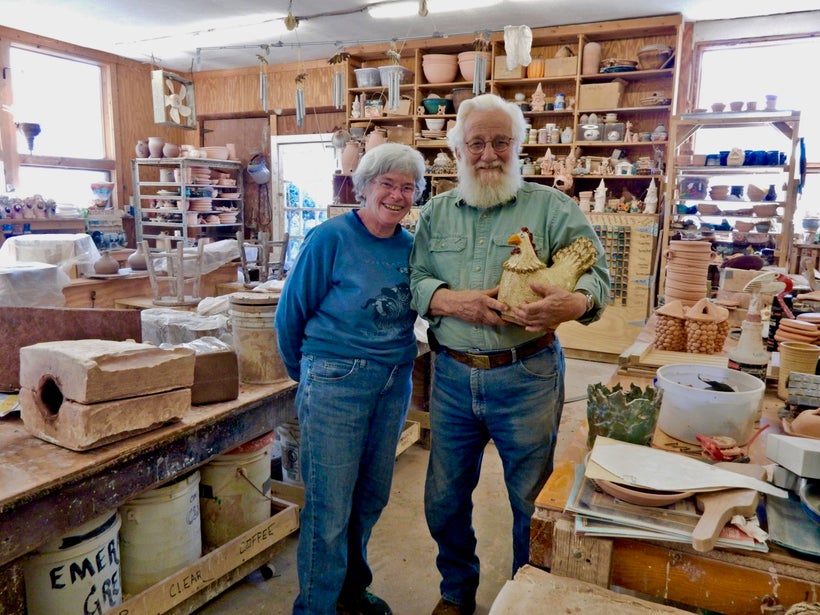 15. Throw clay or make (and take) a complete Adirondack Chair together at Shiloh Pottery, Hampstead. If you've ever wondered where Woodstock went, it packed up and moved to this jumble of buildings, playground, chickens, woodworking and ceramic shops on land that used to be a "Kosher Jewish Summer Camp" from 1967-1976 – with pond, pool, and recreational opportunities for Baltimore kids. Ceramics educator, Ken Hankins, who looks (and acts) like Santa Claus as rendered by Mad Magazine and his wife, Marty, now offer workshops and classes for kids and adults onsite. It's hippy-dippy and tons of fun.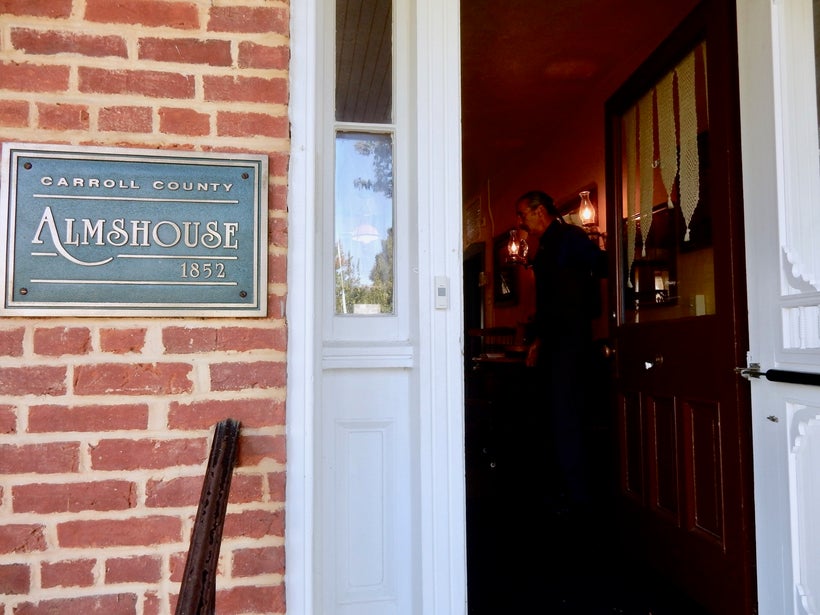 16. Up to 50 years ago, people who fell on hard times could rely on the kindness of Carroll County to provide housing and meals and to give them a second chance. Those passionate about doing good for others might be stoked to learn this history at the very interactive Carroll County Farm Museum – on the grounds of the former Alms House – where the destitute were given room, board, and skill training in exchange for working the land and at a trade. From 1852 until 1965, the Alms House and its 300-acre farm housed up to 90 men, women, and children (who had to live separately by gender), at any given time. Touring the Alms House, men's dorms, and historic outbuildings and barns (one, the Hoff Bank Barn, built "when George Washington was President,") is remarkably compelling.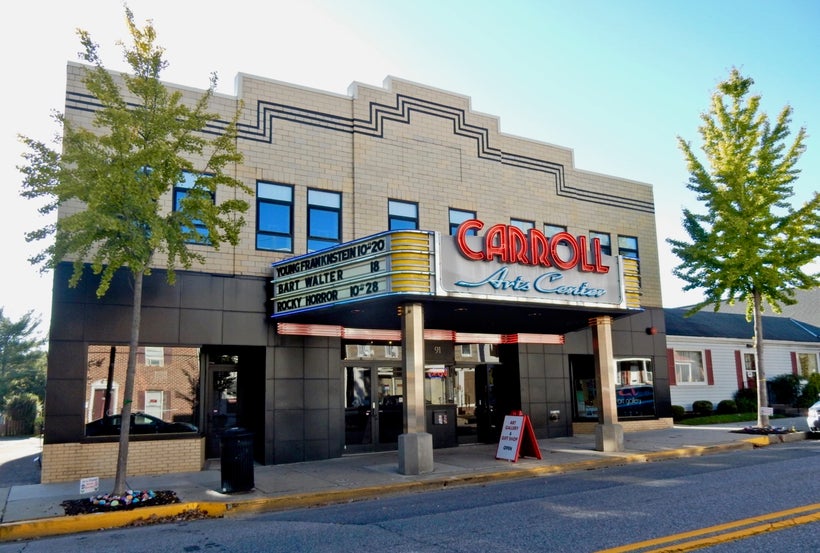 17. Lovers of historically preserved old theaters will admire the Carroll County Arts Center in Westminster MD, not only for its exquisite multi-million dollar restoration (in the early "aughts), but also for the quality of its constant stream of art shows, book talks, vintage movies, lectures, and theatrical performances. The Arts Center's annual PEEPshow, a competition that attracts the most whimsical art assembled from those iconic age-resistant Easter-time marshmallow chicks, is by far the theater's best known event, drawing tens of thousands of visitors from all over the world for ten days every early Spring.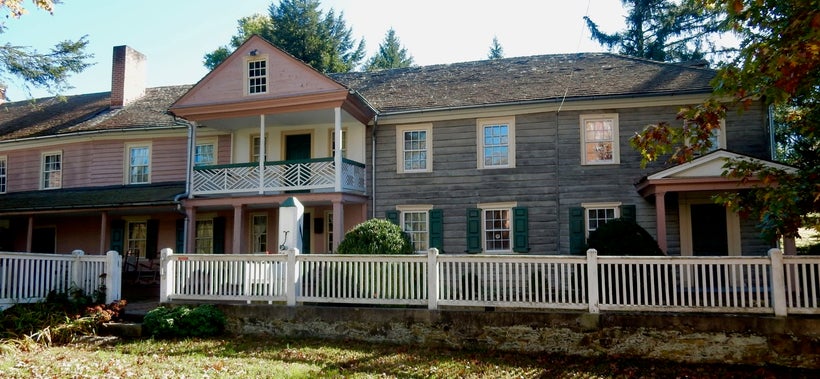 18. If you and your honey thrill to 1700's celebrity family scuttlebutt, plan a trip to Union Mills Homestead – the Shriver Family business and residential compound. In 1797, brothers Andrew and David Shriver built two 14 ft by 17 ft homes side by side near a creek and set up their gristmill, sawmill, and tannery. The home's last occupant was the artistic and quirky Bessie Shriver Kemp, who planted the property's beautiful gardens and passed away in 1957. A tour brings you through the two homes, linked together and expanded over 160 years – six generations – of the Shriver family. And yes, this is the same family that eventually merged with the Kennedy Family when Sergeant Shriver, Jr. married Eunice Kennedy. A wonderful tour weaves together tales of both branches of the family, and ends at the still operational gristmill.
Calling all HuffPost superfans!
Sign up for membership to become a founding member and help shape HuffPost's next chapter
This post was published on the now-closed HuffPost Contributor platform. Contributors control their own work and posted freely to our site. If you need to flag this entry as abusive,
send us an email
.