The world's most expensive Cognac hit the shelf at Financial District Wine and Liquor in NYC, retailing at a whopping huge price tag of $156,700. Yes, you read that correctly, that's one bottle of Cognac for over $150,000. The single harvest 1858 Cognac Croizet, Cuvée Léonie, took the record with the Guinness Book of World Records when a bottle sold at auction in September 2011, officially making the 1858 Croizet Cuvée Léonie the world's most expensive Cognac.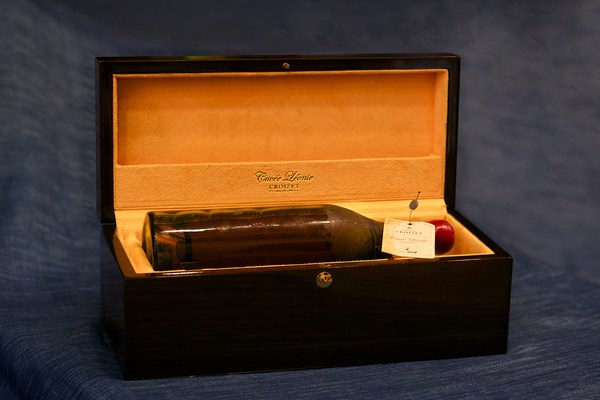 1858 Croizet Cuvée Léonie (Photo by Tomas Vrzala)
The bottles themselves are the original blown glass, heavy, deep yellowish-brown, and shaped like a wine bottle. The Cognac was bottled back in 1859 from the 1858 harvest, and will be sold in these original bottles. Of this, Lee Tachman -- owner of Financial District Wine and Liquor -- said, "What impresses me about this Cognac is that Croizet resisted the temptation to transfer this magnificent Cognac into a fancy modern bottle. It's still in its original hand-blown glass bottle from 1858, with dust and dirt on it from the Paradis cave where it has been sitting for over 150 years."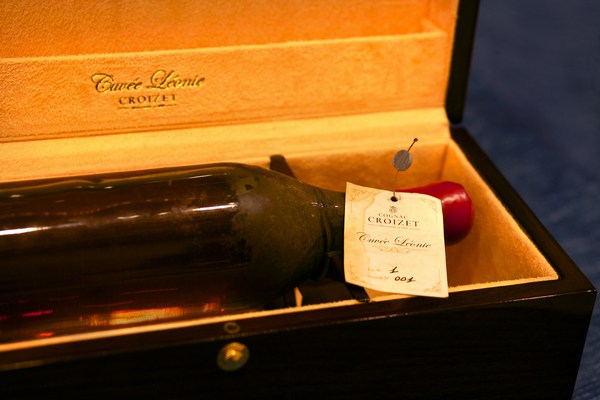 Close-up of the 1858 Croizet Cuvée Léonie (Photo by Tomas Vrzala)
According to Gennady Agrest, President of Croizet Cognac Americas, the company chose Financial District Wine and Liquor as one of a handful of US outlets because owner Lee Tachman "understands and appreciates the history of the brand." Agrest went on to explain that "Lee does a lot of business with high end liquor, and I have a lot of trust in him. To sell the world's most expensive Cognac, we have to identify with the right sellers. Financial District Wines has a very impressive collection of other liquors and wines, and his clients are exactly the kind of people we want to experience our full line of Cognac Croizet, and give the opportunity to buy the 1858 Cuvée Léonie."
Tachman added, "We have other very fine bottles in our inventory including Haut Brion, Petrus, and other years of Croizet Cognac including the 1883 and 1889. Since we are based in the Financial District of New York and are near the Gehry building, we have clients that do extremely well. It is my personal opinion that the buyer of this bottle will be a self-made person buying a gift for him or herself, a colleague or perhaps a charity will have an event and this bottle could go to the highest bidder."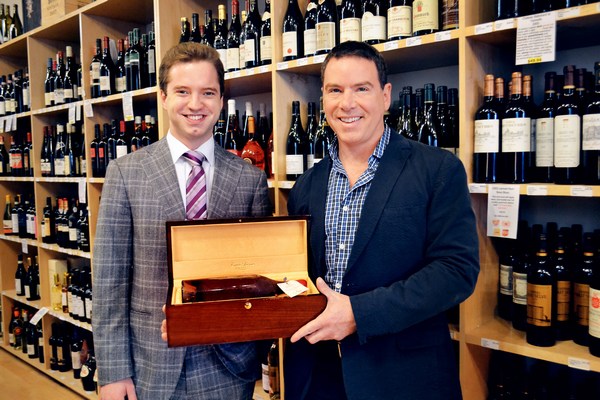 Gennady Agrest (left) and Lee Tachman (right), proudly present the 1858 Croizet Cuvée Léonie upon its arrival at Financial District Wine and Liquor (Regina Varolli)
Taking that photo, I asked Lee Tachman if holding the bottle made him nervous. He laughed and replied, "Not as nervous as when someone else tries to pick it up!" Of being chosen to be the first retailer in the U.S. to sell the 1858 Cuvée Léonie, he remarked, "It's an honor that our store was chosen among all the thousands of stores in the U.S. We do have extra measures of security. Nobody has access to the bottle except myself. We make appointments for prospective buyers to spend time with the bottle. I have also taken it to certain clients to display at their charity events."
While there's not just one bottle of Cuvée Léonie that's selling around the globe, I couldn't get Agrest to tell me just how many bottles are there. The tag on the bottle I saw at Financial District Wines said "Bottle No 1"... but of how many? Agrest just wouldn't give it up, saying with a sly smile, "I can't disclose that. We want to keep it a company secret."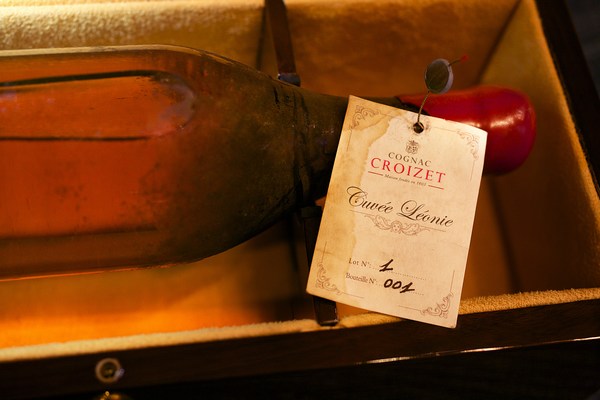 Numbered label included on all bottles of 1858 Croizet Cuvée Léonie (Photo by Tomas Vrzala)
What they aren't keeping secret is the interesting history of the 1858 Cuvée Léonie. Agrest shared that the 1858 Cuvée Léonie was on the Titanic. It was also the Cognac sipped by Winston Churchill and Dwight Eisenhower when they were planning the Allied Forces D-Day Landings. And, it's from a single harvest before the time of the Phylloxera disease that nearly killed the Cognac industry in France.
"In 1870 the whole Cognac region was ravaged by Phylloxera. Our founder's grand-son Benjamin Croizet, brought American root-stock to our vineyards and grafted the two together. He was the first to do this, and other Cognac producers followed his lead, thus saving the French Cognac industry. So this bottle, the 1858, is a timeless piece."
Croizet's focus on New York City as part of the overall U.S. strategy isn't just a random thing. As Agrest, who lives in Financial District explained, "We feel a special connection with America and especially with New York City. Our offices in France are located just down the road from the limestone quarry where all of the stone for Lady Liberty was mined." For those not in the know on some history, the Statue of Liberty was actually a gift from the French people to commemorate the France - American Colonial alliance during the American Revolution.
The Croizet family's vineyards in Grande Champagne -- the finest growth territory in Cognac -- have been held by the family since the 16th Century. Today the brand is one of only three Cognacs that has never lost the right to commercialize single vintage Cognacs. As Agrest explained, "In 1963 there was a lot of fraud in the Cognac business, so the governing body stripped this distinction from all but three Cognacs. Croizet is one." Single Vintage is aged a minimum of 15 years, and it's from a single harvest from one year.
As I held the bottle of 1858 Croizet Cuvée Léonie in my hands (perhaps making Lee Tachman a bit nervous), I joked, asking when I could taste it. Agrest laughed and replied, "Um, even I haven't tasted it!"
Calling all HuffPost superfans!
Sign up for membership to become a founding member and help shape HuffPost's next chapter