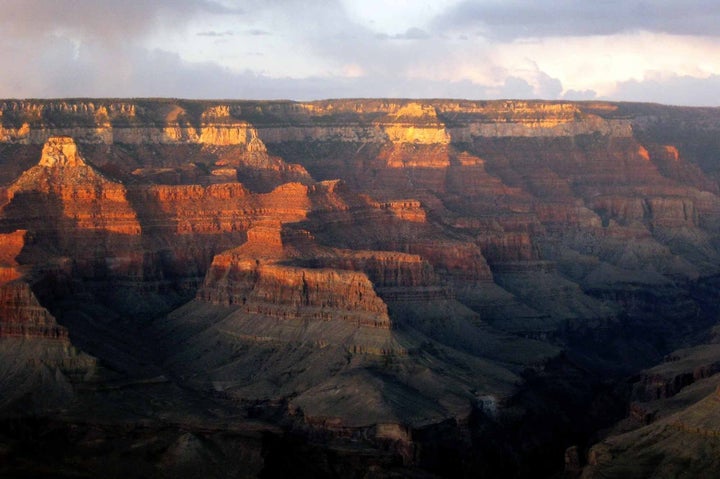 WASHINGTON (Deborah Zabarenko) – A U.S. law from the pick-and-shovel days of the Western frontier now threatens natural treasures including Grand Canyon National Park as mining claims on public lands proliferate, an environmental group said on Friday.
The 1872 Mining Law, signed by President Ulysses S. Grant, allows mining companies -- including foreign-owned ones -- to take about $1 billion a year in gold and other metals from public lands without paying a royalty, according to a report by the nonprofit Pew Environment Group.
"The law was enacted ... to encourage the development of the West and ... rewarded those people who trekked across the frontier and gave them the right to mine gold, silver, whatever other valuable metals they could find on public land in unlimited amounts for free," said Pew's Jane Danowitz.
While the law has remained largely unchanged, the mining industry has expanded so that now multinational corporations still enjoy "basically free access to a majority of public lands," Danowitz said in a telephone interview.
She said the government estimates these companies legally take at least $1 billion a year worth of gold, uranium and other metals from public lands without compensating U.S. taxpayers.
This contrasts with the oil, gas and coal industries, which have paid royalties to the U.S. Treasury for decades.
As prices for uranium and other metals have risen steeply in the last decade, mining claims near the Grand Canyon and other natural landmarks have soared, according to the report, available online at http://www.pewenvironment.org/uploadedFiles/PEG/Publications/Report/10%20Treasures.pdf .
Federal data show that more than 8,000 mining claims have been staked in national forest and other public land around the Grand Canyon since 2004, an increase of 2,000 percent, while more than two-thirds of the claims on public lands near Yosemite National Park and 99 percent of claims surrounding Arches and Canyonlands in Utah have been staked since 2005.
The report found mining claims have also been staked around Joshua Tree National Park in California, Mount Rushmore National Memorial in South Dakota, Mount St. Helens National Volcanic Monument in Washington state, Siskiyou Wild Rivers in Oregon, Gila Wilderness in New Mexico and Dinosaur National Monument in Colorado and Utah.
Congressional efforts to overhaul the 1872 Mining Law stalled in 2009, prompting Interior Secretary Ken Salazar to start a process to protect approximately 1 million acres around the Grand Canyon that were threatened by uranium mining operations.
The Obama administration called for comment on four versions of this protection plan, and a decision is expected this summer.
(Editing by Xavier Briand)